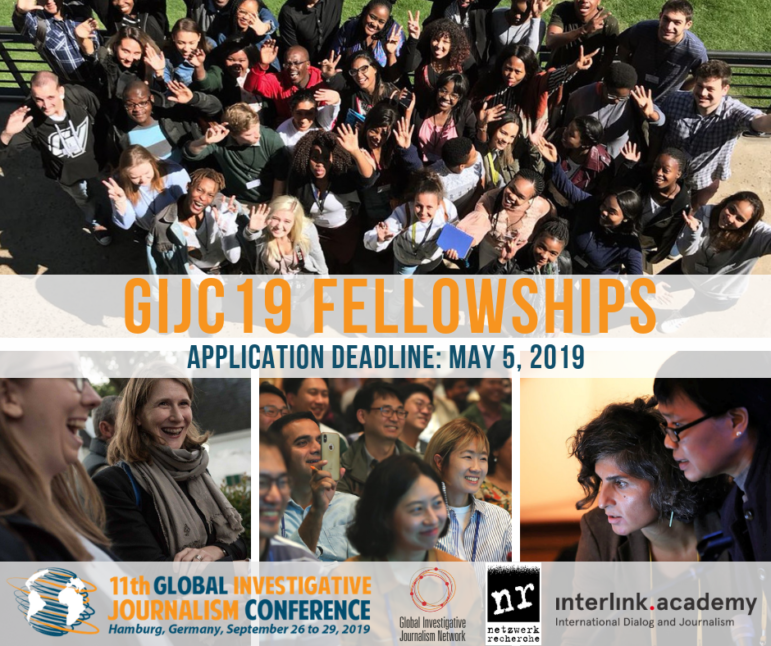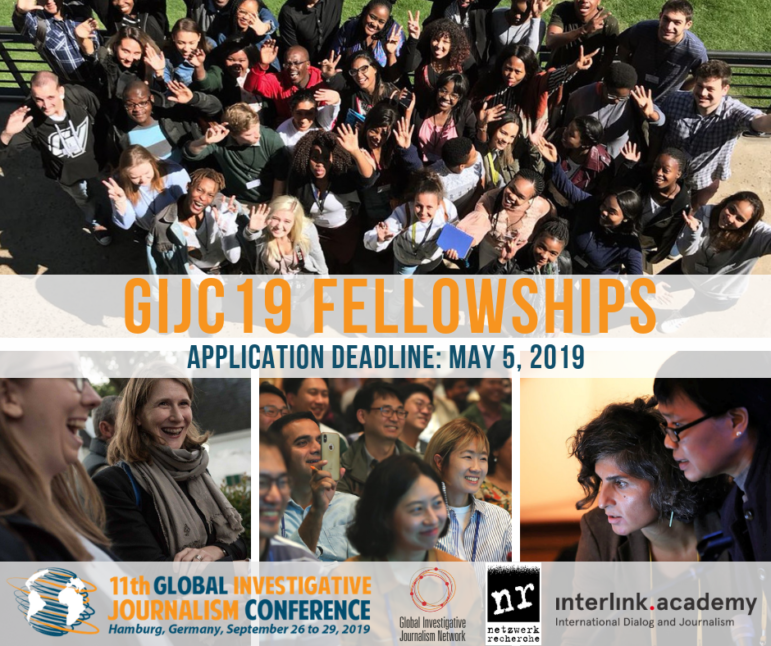 Fellowship applications are now CLOSED. The deadline to apply for the GIJC19 fellowship was May 5, 2019, 11:59 p.m., Eastern Daylight Time (GMT -5). Successful fellows will be notified by June 30.

To learn about future fellowship opportunities, be sure to subscribe to GIJN's fortnightly newsletter.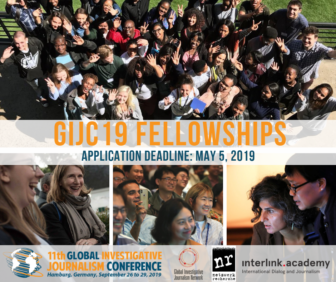 The Global Investigative Journalism Conference (GIJC) is the premier international gathering of investigative and data journalists, held once every two years. This year, the 11th conference will be held in Hamburg, Germany, from September 26 to 29, and is being co-hosted by the Global Investigative Journalism Network, Netzwerk Recherche and Interlink Academy.
GIJC19 will feature over 150 exciting panels, workshops, and networking sessions, ranging from cross-border collaboration and corruption to advanced data analysis. We will have special tracks on documentaries, sustainability strategies, safety and security, and more. Here's a chance to learn from the best in the field and enhance your skills with the latest tips and tools.
With the support of our sponsors, the conference is offering more than 200 fellowships to both established and young promising journalists in developing and transitioning countries, and for journalists from specific communities such as indigenous peoples, to participate in this prestigious event. Competition is keen so you need to convince us that you will make great use of the training GIJC19 offers.
To stay up-to-date on the fellowships, the global conference, and other opportunities from GIJN, you can subscribe to the GIJN Bulletin.

Eligibility
+ Open to full-time print, online, television, video, radio, documentary and multimedia journalists in developing or transitioning countries;
+ Experience in investigative or data journalism a plus;
+ Special categories for journalists from indigenous communities, citizen investigators, and journalists exiled from their homelands;
+ Sorry, Western journalists based overseas are not eligible.
Fellowship Requirement
Following the conference, fellows are required to either produce a story directly related to #GIJC19 or give a presentation of the knowledge you have gained at #GIJC19 in your home country to other colleagues or the journalism community at-large. Examples here.
GIJC19 Fellowship Includes
+ Round-trip airfare to Hamburg, Germany
+ Hotel room for four nights
+ Transport between Hamburg airport and the conference hotel
+ Breakfast and lunch on conference days
+ Award ceremony banquet dinner
+ Conference fee
NOTE: The fellowship does not include a per diem, visa fees, or transport to and from your home country airport. This is a training conference, and fellows are expected to pay for these costs.
APPLICATION DEADLINE: May 5, 2019. Successful fellows will be notified via email by June 30, 2019.