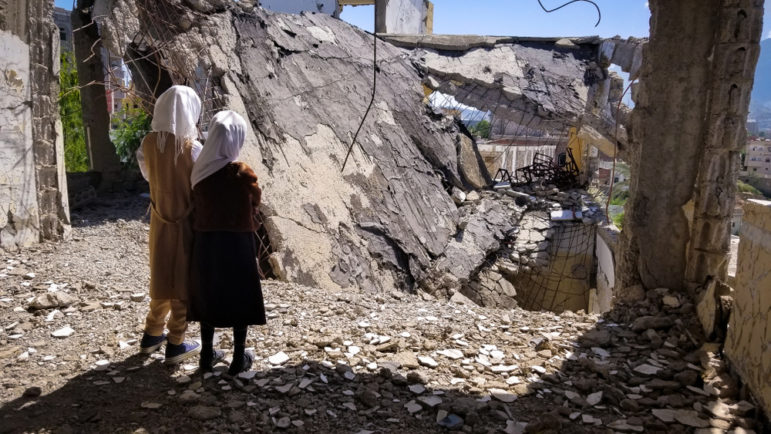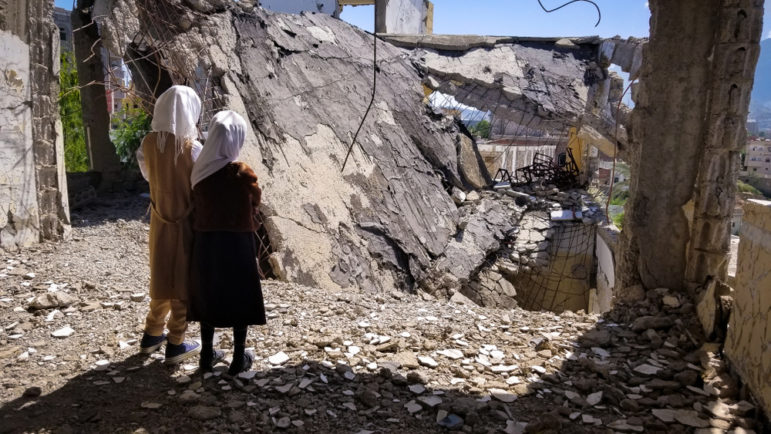 Massive Coalition bombing campaigns, like those conducted on rebel areas around Taiz, have also destroyed civilian infrastructure like schools and homes. Image: Shutterstock
Global Lessons from Exposing War Abuses in Yemen
Read this article in
The nearly eight year-long war in Yemen has been described by the United Nations as the world's worst humanitarian crisis, with 13.5 million Yemeni civilians at risk of starvation.
Following the seizure of Yemen's capital city by Houthi rebels in 2014, the war in Yemen has since featured a widespread, US-supported bombing campaign by a Saudi-led coalition of nine Gulf and North African states, as well as sectarian conflict and intervention by regional powers like Iran. Coalition airstrikes alone have killed nearly 9,000 Yemeni civilians, according to the Armed Conflict Location and Event Data Project (ACLED), a US-based nonprofit that tracks political violence around the world.
On one side is an internationally-recognized government, backed by the Saudi-led alliance; on the other, the Houthi rebels supported by Iran. The sheer diversity of military actors – together with severe restrictions on free expression and travel within the country — has made it especially difficult for journalists to identify culprits behind the countless human rights violations taking place.
However, in a presentation at RightsCon 2022 – billed as "the world's leading summit on human rights in the digital age" – several nonprofit research organizations showed how innovative methods can cut through the chaos to hold individual actors accountable, and could potentially have a similar effect in other conflicts as well.
These investigative methods range from traditional text searches of military journals to the use of databases on attacks and procurement, 3-D modeling of bomb destruction, and geolocation of objects in videos posted to social media. One striking takeaway from the session on the Yemeni crisis is that journalists and researchers are publishing datasets that are free-to-use for other investigators, resulting in an ever-deepening knowledge base of verified facts about the conflict.
"Because of the lack of access and the wide range of dangers for people documenting human rights violations when on the ground, we, as a community, really depend on open source information for a huge part of our work," said Dearbhla Minogue, legal officer for the Global Legal Action Network.
Earlier this month, a major investigation by The Washington Post and Security Force Monitor (SFM) showed that Gulf coalition squadrons involved with indiscriminate airstrikes had benefited from numerous US defense contracts since the start of the bombing campaign.
Tony Wilson, director of SFM – based at Columbia University Law School's Human Rights Institute – said this investigation centered on a traditional data methodology: patient analysis of text sources, including military aviation journals, enthusiast magazines, and authoritative books.
At the most unconventional end of the data spectrum, the Yemeni Archive – a project of human rights group Mnemonic – showed the RightsCon audience how two of the most ephemeral phenomena in the world – clouds and shadows – were used to confirm the source of a missile attack on Aden International Airport in 2020. (More on that below.)
In a blog post detailing its methodology in researching the US contracts, SFM explained how this technique could be used elsewhere: "Advocates and human rights researchers can use this same approach to monitor future US sales to coalition countries, as well as sales from any other country to the air forces of the Saudi-Emirati coalition."
Wilson said the key to tackling accountability in air wars is to identify individual squadrons involved with campaigns: understanding the types of aircraft, weapons, and contracts used by each; and, eventually, tracking individual aircraft by their tail numbers.
"What we found with the Post team was that, in total, there were 39 squadrons from all coalition countries that could have conducted airstrikes in Yemen, and confirmed 19 squadrons that definitely did serve in Yemen," he said. "The US support was immense: There were at least 94 US contracts that went to benefit these squadrons."
SFM has also published a searchable database, called WhoWasInCommand, that reporters can use to dig into military and police units around the world, key officers in charge, and past allegations of misconduct.
Digging into Air Force Units and Their Suppliers
Using the Yemen investigation as an example, SFM's Wilson shared several strategies that reporters can use to identify the units and weapons behind airstrikes in any country:
Aggregate data from specialist industry reports to understand the structure and make-up of fighter squadrons that could be involved with strikes that killed civilians. In Yemen's case, SFM consulted Airforces Monthly, Times Aerospace, and the Scramble database of the Dutch Aviation Society to build a spreadsheet on the region's air force units.

Partner with local experts on language and affected communities. Wilson said SFM partnered with Yemen's Mwatana for Human Rights nonprofit in reviewing Arabic language sources and state media reports.

Use cross-referencing and video analysis to establish which squadrons were involved in a particular air campaign. SFM identified individual tail numbers shown in news reports or propaganda imagery, and matched these to plane lists from sources like Airforces Monthly.

Look for contracts and support from foreign powers. For US sales to the coalition, Wilson's team mined the Major Arms Sales database at the US Defense Security Cooperation Agency (DSCA), as well as the US Department of Defense contracts portal. Wilson warned that these two datasets – while very detailed – often contain typos or confusing coding, and that journalists need to read and re-read the contracts with care. "For example, the DSCA website often announces sales to the same country under multiple tags – Saudi Arabia has five different tags," said Wilson. "And DOD [Department of Defense] announcements can sometimes refer to countries in multiple different ways, in particular the [United Arab Emirates], or even misspell the name of the country – 'Jordon' rather than 'Jordan.'"

Create your own open database on weapons sales that are linked to human rights violations. SFM created a database of US equipment and weapons sales to the Saudi-led coalition. The aircraft and equipment used by the coalition can be found in this dataset.
Last year, Yemeni Archive partnered with investigative nonprofit Bellingcat to trace the origins of three rockets that killed 22 people at Aden International Airport on December 30, 2020. They found that – in a coordinated attack – two rockets were launched from a police training center at the Houthi-controlled town of Dhamar, and two more were fired from another rebel-held town, Taiz. (One rocket failed en route.)
How the Yemeni Archive Tracked Rockets Used to Attack Aden's Airport
Baraah Tarek, an investigator with Yemeni Archive, explained the geolocation and verification steps used to identify the source of the airport attack:
The team identified and preserved three social media videos that appeared to show a missile launch from Dhamar, a city in southwest Yemen, and used the Who Posted What? tool to search by dates on social media.

The relative positions of the videographers were triangulated by matching a small, distinctively shaped cloud and the missile trail. "That way, we found and confirmed that the videos were taken in close proximity to each other," said Tarek.
They geolocated the launch site and the missile trajectory by matching large buildings seen in the videos, and then finding those same buildings, and a highway, on Google Earth.

They then fixed the time of day of the videos and missile launch by measuring shadows from buildings with ShadowCalculator – a tool more commonly used by residential home buyers and builders to see how much sun their gardens will get in different seasons. "We analyzed the shadow features, and used the tool to confirm the videos were taken at 13:22 local time, which matches the time the first missile hit Aden airport," Tarek said.

For many investigations, Yemeni Archive draws from war incident descriptions collected by the Yemen Data Project – an independent nonprofit that aggregates data on the conduct of the conflict.
"We have a huge archive, so if you are a journalist, researcher, or legal practitioner, we'd be glad to answer your questions on the evidence," said Tarek.
Afrah Nasser, Yemen researcher for Human Rights Watch, said she had seen a "notable de-escalation" in violence since a UN-brokered truce between the warring parties in April.
"Yet it is important to continue to single out violations in the past seven years, which has seen numerous abuses and killed thousands of civilians," Nasser emphasized. "We at Human Rights Watch have documented at least 100 unlawful attacks by the Saudi/UAE coalition. Military units have used banned anti-personnel mines and fired artillery indiscriminately into civilian areas, and enforced disappearances have been on the rise."
But there is plenty of blame to go around. "Houthis are also responsible for a wide range of abuses," she added. "There are no clean hands in this war."
This story is the latest in a series looking at investigative journalism in the Middle East and North Africa region.
Additional Reporting
10 Tips for Using Geolocation and Open Source Data to Fuel Investigations
Planespotting: A Guide to Tracking Aircraft Around the World
15 Tips for Investigating War Crimes
---

Rowan Philp is a reporter for GIJN. He was formerly chief reporter for South Africa's Sunday Times. As a foreign correspondent, he has reported on news, politics, corruption, and conflict from more than two dozen countries around the world.