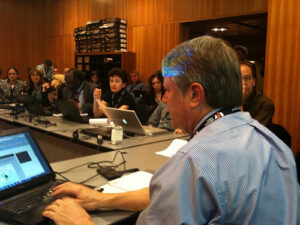 Event Date:
Thu, 2010-04-22 00 – Sun, 2010-04-25 00
Hundreds of journalists from around the world gathered at the sixth Global Investigative Journalism Conference in Geneva despite the travel chaos created in Europe by a volcanic eruption in Iceland. The first day began with dynamic presentation by Robert Saviano and was followed by panels on covering the Russian oligarchy, climate change, undercover broadcast reporting and how to organize and finance investigations.
At only 31 years of age, Roberto Saviano became famous for his in-depth investigations of the Mafia circle, and in particular, that of the Neapolitan Camorra. During months, this writer and competent investigator delved into this dangerous world in order to decode its functioning, its clans, and its economic logic. The result of this work is the publication of a bestselling book entitled "Gomorrah", with five million copies sold, and a cinematic adaptation, in 2008.
For more than four years, Saviano has been living under police protection. He is the target of death threats from numerous Camorrists. So, his presence at the Conference is a strong gesture, which honours investigative journalists from around the world. Read excerpts of his remarks: http://www.gijc2010.ch/en/home/65-conference-saviano You can also watch videos of other sessions at http://www.livestream.com/ejcnet.
Friday will open with a session by legendary investigative journalist Seymour Hersh that will be moderated by Brant Houston, a co-founder of the Global Investigative Network and currently the Knight Chair in Investigative Reporting at the University of Illinois. That session will followed by presentations on investigating public figures, covering secret services in Russia in a panel that features the brother of slain reporter Paul Klebnikov, and investigations into the Mexican drug cartels.
Each day of the conference also has classes on using computer-assisted reporting for investigations.