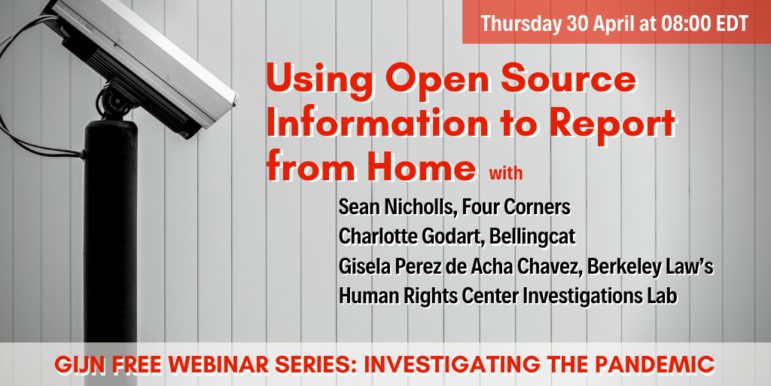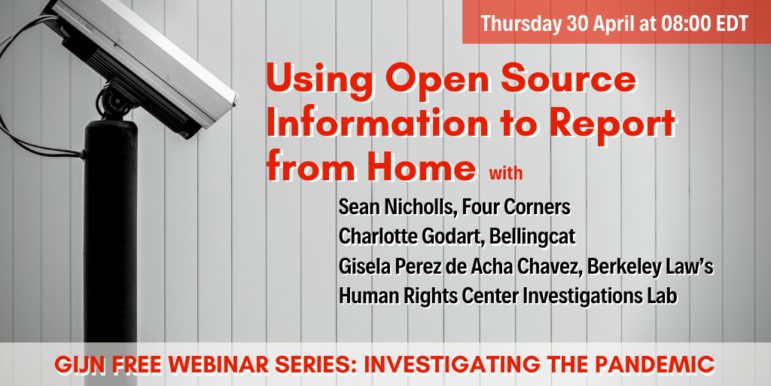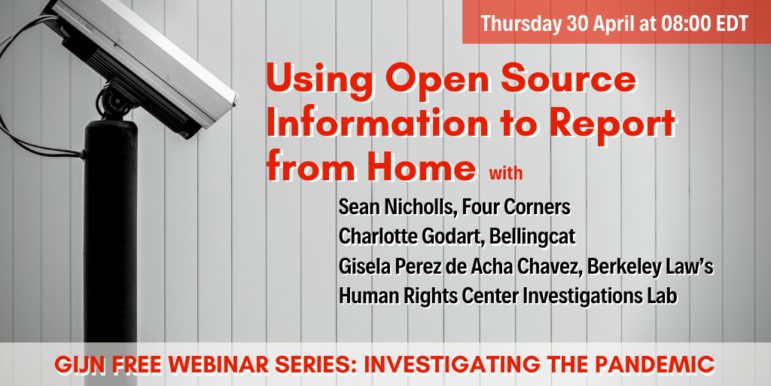 Editor's note: This webinar has now taken place. You can see the recording on GIJN's YouTube channel.
In many parts of the world, working as an investigative journalist has long been perilous. Now, the COVID-19 pandemic brings yet another level of danger to the press: reporting on the ground and interviewing people face-to-face have become high-risk activities — even illegal in some countries. But there are ways to continue investigative work using your laptop, your wit and some very useful techniques — as three experienced investigators will highlight in this GIJN webinar, Using Open Source Information to Report from Home, part of our series, Investigating the Pandemic. 
Australia Broadcasting's Sean Nicholls will explain how his team from ABC's Four Corners program  produced a powerful documentary about Covid-19's human toll in Wuhan province in China — with the use of amateur video shot on smartphones. Open source experts Charlotte Godart, of investigative hub Bellingcat, and Gisela Perez de Acha Chavez, from the Investigations Lab at the University of California, Berkeley's Human Rights Center, will focus on using a range of social media tools. They'll also discuss how to identify, verify and protect sources.
This one-hour webinar is free and designed for journalists interested in investigating the pandemic. It is the sixth in a GIJN series, Investigating the Pandemic. Watch our Twitter feed @gijn and newsletter for details of coming programs.
About the Speakers

Sean Nicholls is a reporter with the ABC's Four Corners program. He has been reporting on state and national affairs for more than 20 years. A former news editor at the Sydney Morning Herald, he also spent seven years as NSW political editor. In 2012 Sean broke the first stories in what would become Operation Spicer, the Independent Commission Against Corruption's landmark investigation into rorting of political donations laws by the NSW Liberal Party.

Charlotte Godart is an investigator and trainer for Bellingcat. Before working at Bellingcat, she was a researcher and team manager at the Investigations Lab within the Human Rights Center at UC Berkeley, her alma mater. During that time, she taught other students how to conduct open source investigations for a number of different clients (humanitarian, legal, and governmental).

Gisela Pérez de Acha is a Mexican human rights lawyer and data journalist, currently specializing in digital investigations at UC Berkeley Graduate School of Journalism. She leads cybersecurity at Berkeley Law's Human Right Center Investigations Lab, where she also documents war crimes in Latin America. Additionally, Gisela is also a researcher at the Center for Long Term Cybersecurity and is currently investigating online hate speech against migrants at CITRIS Policy Lab.