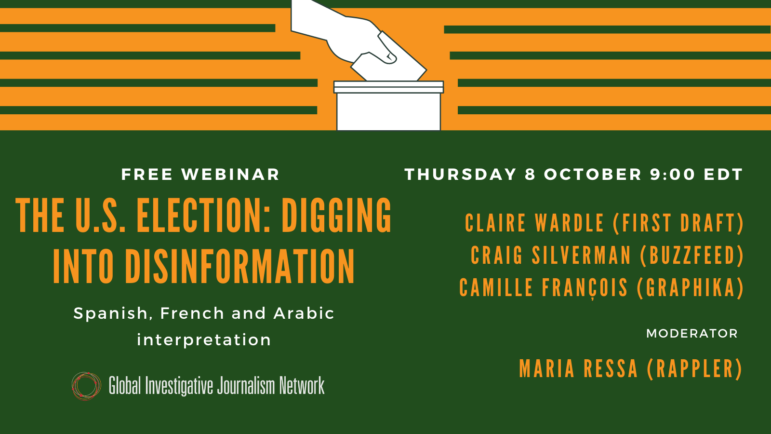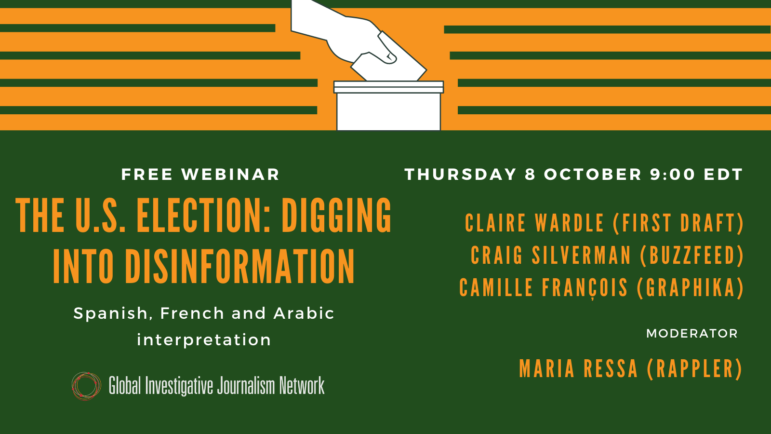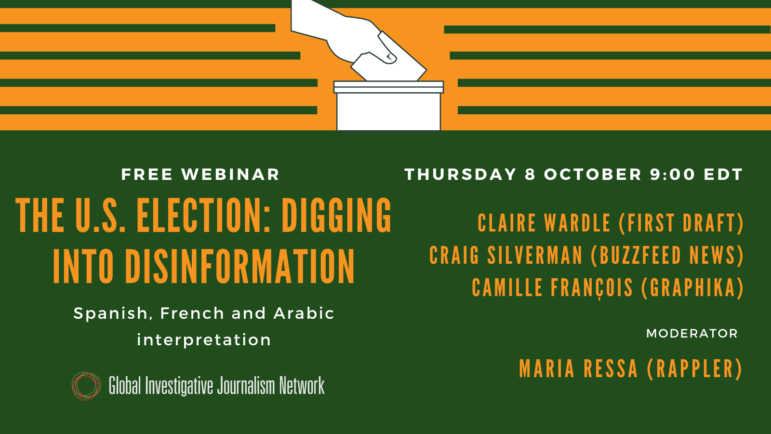 Editor's note: This webinar has now taken place. You can see the recording on GIJN's YouTube channel.
The American election has become an information war, a billion-dollar battlefield marked by unverified, misleading and false information, involving American and non-American players alike. The flood of disinformation poses a threat to democracy, and the impact of this pivotal election will be felt worldwide.
In this GIJN webinar, The US Election: Digging into Disinformation, the second of two that focus on the US Election, we bring together three extraordinary journalists who will share their analysis of the election info wars —  and their tips for navigating the tsunami of disinformation while investigating in the public interest.
Camille François is Chief Innovation Officer at Graphika, where she leads the company's work to detect and mitigate disinformation, media manipulation and harassment. François was previously Principal Researcher at Jigsaw, an innovation unit at Google that builds technology to address global security challenges and protect vulnerable users. She has advised governments and parliamentary committees on policy issues related to cybersecurity and digital rights.
Claire Wardle, an expert on user-generated content and verification, is Executive Chair of First Draft, a nonprofit dedicated to educating journalists about reporting in an age of information disorder. First Draft has led pioneering work around combatting disinformation during elections in a number of countries. She has also co-authored Information Disorder: Toward an Interdisciplinary Framework for Research and Policy Making, a report for the Council of Europe.
Craig Silverman is an award-winning journalist and an expert on online misinformation, fake news, and content verification. He is the media editor of BuzzFeed News where he leads a global team covering platforms, online misinformation and media manipulation. Craig was named to the Politico 50 for his work exposing fake news and its effect on American politics. He edited The Verification Handbook and The Verification Handbook for Investigative Reporting, and is author of the award-winning book Mafiaboy.
The session will be moderated by Maria Ressa, a journalist for three decades and founder and Executive Editor of Rappler, a digital news site in the Philippines. She spent nearly two decades working in Southeast Asia for CNN and as head of news and current affairs at ABS-CBN. She is author of "From Bin Laden to Facebook: 10 Days of Abduction, 10 Years of Terrorism" and "Seeds of Terror: An Eyewitness Account of al-Qaeda's Newest Center of Operations in Southeast Asia."
This webinar will also be offered in Arabic, French, and Spanish.
Helpful Resources
GIJN Election Guide: GIJN's new guide — Essential Resources for the US Election: A Field Guide for Journalists on the Frontlines — lists over 100 links to the most authoritative sites.
GIJN Election Watchdog Alert: Follow our daily stream of updates of the latest tools to dig into Election 2020 on Twitter at #gijnElectionWatchdog and in Spanish at #gijnLupaElectoral.
Have an addition or update? Email us at ElectionWatchdog@gijn.org.