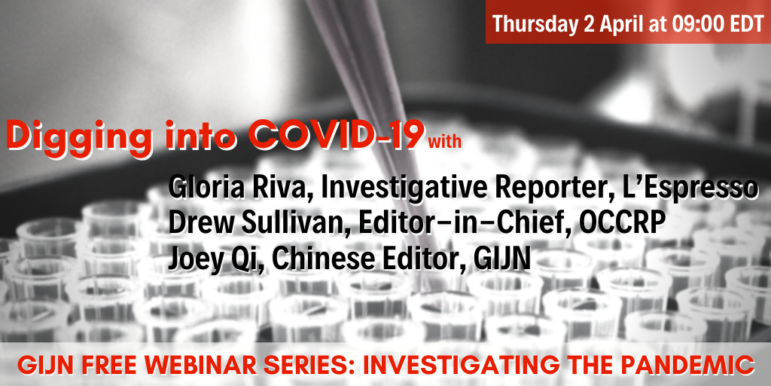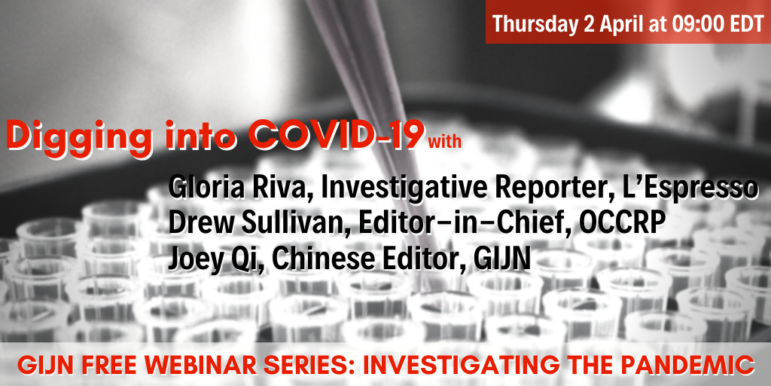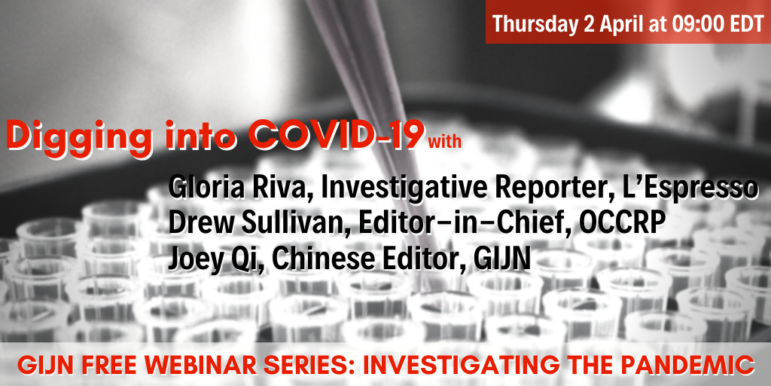 Editor's note: This webinar has now taken place. You can see the recording on GIJN's YouTube channel.
In this unprecedented global pandemic, journalists around the world face huge challenges in reporting complex and rapidly changing developments, often with little evidence or solid data. Reliable news coverage and clear explanation of the pandemic is essential. But it's never too early to start asking questions and working on investigative angles – or keeping tabs on them for future work.
GIJN is pleased to introduce its first webinar in a series of free hour-long programs on COVID-19. GIJN Webinar: Digging into COVID-19 Stories features three veteran journalists: Gloria Riva, who covers health and business for Italy's weekly l'Espresso, is reporting from the epicentre of one of the worst-hit countries; Joey Qi, GIJN's Chinese editor, has chronicled the resurgence of investigative stories coming out of China and what journalists everywhere can learn from their experience; and Drew Sullivan, editor-in-chief of the Organized Crime and Corruption Reporting Center, is focused on how criminal groups and corrupt officials may benefit from the pandemic.
All three speakers will share investigative angles to the crisis that have emerged and need following up, and offer practical tips and advice. You will also have a chance to ask questions.
This 1-hour webinar is free and designed for journalists who are interested in investigating the pandemic. It is the first in a GIJN series, Investigating the Pandemic. Watch our Twitter feed @gijn for details of coming programs.
About the Speakers

Drew Sullivan co-founded the Organized Crime and Corruption Reporting Program (OCCRP) where he now serves as editor-in-chief. He is a journalist and social entrepreneur who founded the Center for Investigative Reporting in Bosnia-Herzegovina in 2004 as well as the Journalism Development Network, an innovative media development organization with programs worldwide. Under his editing direction, OCCRP has won the European Press Prize, the Daniel Pearl Award (twice), the Online Journalism Award for investigative reporting (twice), the Global Shining Light Award (four times), the Tom Renner award for Crime Reporting (twice) among dozens of others. OCCRP contributed to the Panama Papers which won a 2016 Pulitzer Prize.

Gloria Riva is an investigative journalist at l'Espresso from 2014 and an Italian member of the International Consortium of Investigative Journalism, Icij. She is part of the Pulitzer Prize-winning team of journalists that broke the story on Panama Papers in 2016. She covered many international stories about tax evasion, fiscal heaven, financial scandal, as Lux Leaks, Swiss Leaks (well known as Lagarde's List), Paradise Papers, Bahamas Leaks, Panama Papers 2, Implant Files and more. Her main areas of investigations are economics, political economy, public economy, public health system

Joey Qi is the editor of GIJN in Chinese. He has over seven years experience in journalism, including three years in media management. He is one of the founding members of The Initium Media, where he designed the daily news section and built the reporting team.