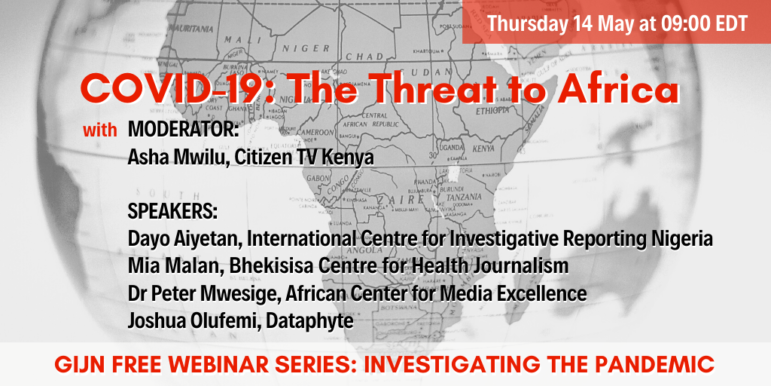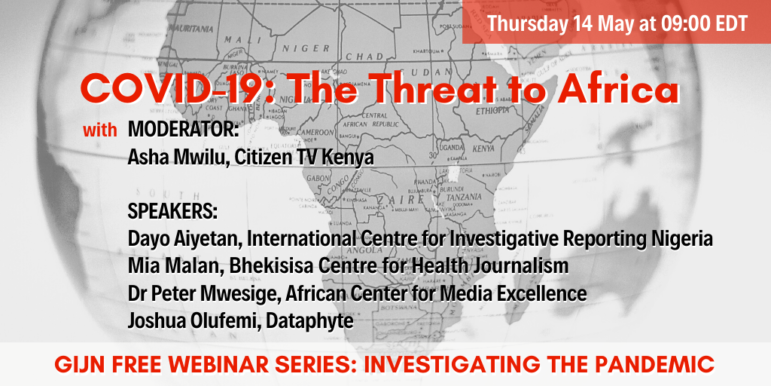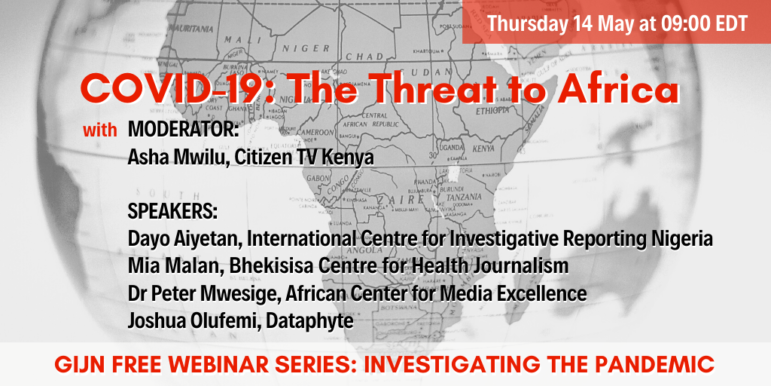 Editor's note: This webinar has now taken place. You can see the recording on GIJN's YouTube channel.
As the pandemic spreads across Sub-Saharan Africa, the stakes could not be higher. With 1.1 billion people, the region's 46 countries have at best rudimentary public health care systems, while lockdowns and social distancing pose special problems in impoverished areas.
Although the continent so far has escaped the kind of death toll and sickness seen in Europe and the United States, in recent weeks infections have grown exponentially, raising concern that the region could become the world's next pandemic epicenter, according to the World Health Organization. Experts warn that if not controlled, COVID-19's impact could be devastating, overwhelming local health services and worsening regions already caught up in natural disasters and conflict.
Pandemic angles for Africa's investigative journalists are plentiful, from medical readiness and response to crunching the data and following the money. But like their colleagues elsewhere, reporters there face extra challenges digging into the many issues affected by the pandemic: heavy-handed censorship, secretive officials, and threats of prosecution and even violence. Despite all this,  some great COVID-19 stories and investigations are being published and broadcast on the continent.
In this latest of GIJN's webinar series Investigating the Pandemic: The Threat to Africa, experienced African journalists will share their assessment of the COVID-19 coverage to date, offer suggestions for future investigations, and share their strategies, tips and tools to help journalists to investigate the most important pandemic stories on the continent.
Dayo Aiyetan is the Executive Director of the International Center for Investigative Reporting in Nigeria; Mia Malan, the Editor-in-Chief of the Bhekisisa Centre of Health Journalism in South Africa; Dr Peter Mwesige is the Executive Director of the African Center for Media Excellence; and Joshua Olufemi is the founder of Nigeria-based Dataphyte.
The moderator of this webinar is Asha Mwilu, Special Projects Editor, Citizen TV, Kenya.
This one-hour webinar is free and designed for journalists interested in investigating the pandemic. It's the eighth in a GIJN series, Investigating the Pandemic. Watch our Twitter feed @gijn and newsletter for future events.
About the Speakers

Dayo Aiyetan, an investigative reporter, newsroom mentor and media trainer, is the Executive Director of the International Centre for Investigative Reporting, based in Nigeria, which he founded in 2010. He has done major investigative reporting of his own, exposing corruption in a nation where corruption is endemic.

Mia Malan is Bhekisisa Centre for Health Journalism's editor-in-chief and executive director. Under her leadership, Bhekisisa's online readership increased 30 fold and its donor funding eightfold between 2013 and 2019. Malan has won more than 20 African journalism awards for her work and is a former fellow of the Reuters Institute for the Study of Journalism at Oxford University.

Dr Peter Mwesige, a co-founder of African Centre for Media Excellence (ACME), has worked as the group training editor of the Nation Media Group, East Africa's biggest multi-media company. He was in charge of newsroom training at the company's nearly dozen print and electronic media outlets in Kenya, Tanzania, and Uganda.

Joshua Olufemi is media innovation and development entrepreneur and the founder of Dataphyte, a data journalism website. He has eight years of experience in investigative journalism, open data advocacy, civic innovation, and media development in Nigeria. He has trained over 300 journalists across Nigeria on data-driven journalism and has managed more than eight accountability and governance projects on a range of issues, including election monitoring, public procurement, health, and press freedom.