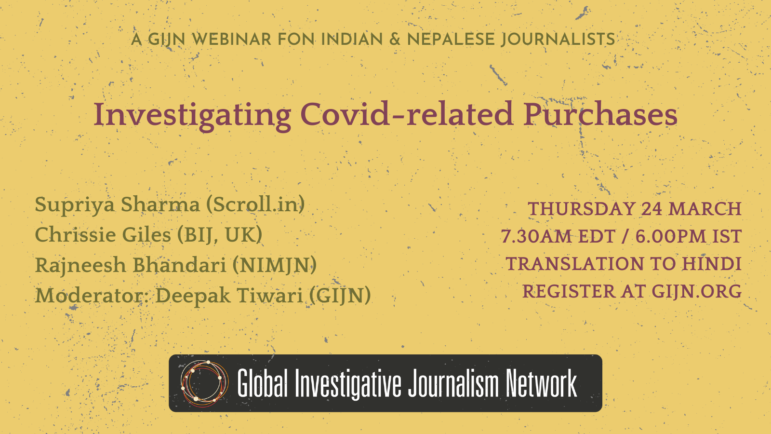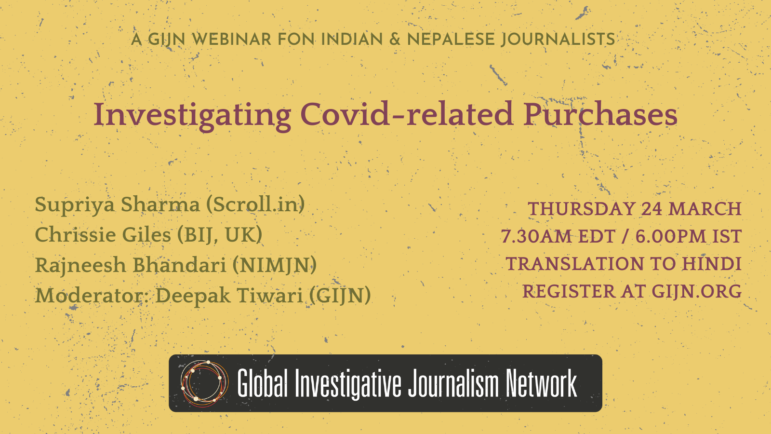 GIJN Webinar: Health and Accountability: Investigating Covid-related Purchases
Read this article in
Translation to Hindi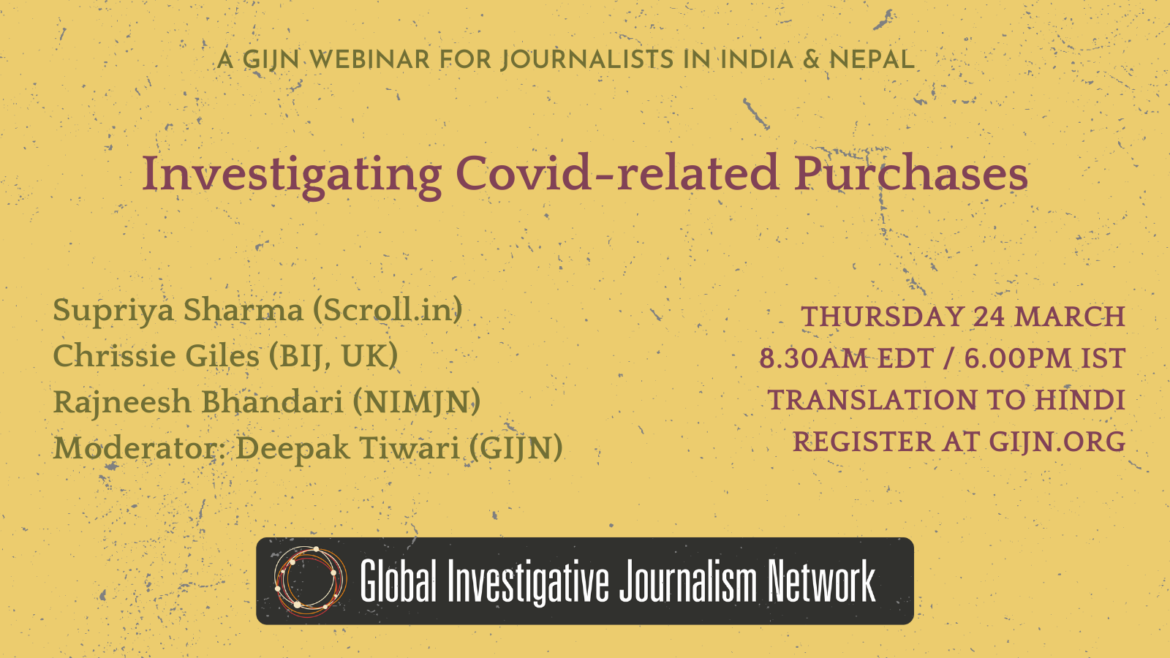 Like the rest of the world, South Asia has seen Covid-19's disastrous effects. Since the outbreak of the pandemic in late 2019, billions of people have taken ill and millions have lost their lives.
During the last two years of the pandemic, government expenditure in the health sector has increased significantly. While the bulk vaccine purchases accounted for a large proportion of the total expenditure, buying sanitation equipment, creating makeshift isolation centers, the commissioning of oxygen plants and emergency services all saw huge increases in spending. 
Transparency and accountability are a prerequisite for the spending of public money. Post-pandemic budgetary outlays are on the rise and watchdog journalists around the world have an important role to play in digging into corruption and other kinds of malpractices associated with such spending.
In this GIJN Webinar we bring together three senior journalists who will share their experiences and discuss different ways to undertake investigative reporting in this critical area. They will share their advice on uncovering wrongdoing in the health sector, and offer tips on how to find information when governments are less than transparent – or worse – when it comes to health sector related contracts and other relevant financial dealings.

Chrissie Giles is Global Health Editor at Bureau of Investigative Journalism. Previously she worked for Wellcome, one of the world's largest health foundations, where she was editor of the award-winning longform publication Mosaic. She studied biochemistry at university and completed a master's in science communication at Imperial College, London.

Supriya Sharma is a senior journalist and investigative reporter. She is executive editor of Scroll.in – renown for its investigative reportage. She has worked for NDTV and Times of India. She is recipient of India's prestigious Ramnath Goenka Awards and Chameli Devi Jain Award for Outstanding Woman Journalist. She is a former Fellow of the Reuters Institute for the Study of Journalism at the University of Oxford.

Rajneesh Bhandari is the founder, chief editor and CEO of Nepal Investigative Multimedia Journalism Network (NIMJN). He is an independent multimedia journalist, investigative reporter, filmmaker, and educator based in Kathmandu. His multimedia work on different issues have appeared in The New York Times, National Geographic, Aljazeera, AJ+, BBC Reel, Contrast VR, NPR, and other outlets. He has worked as the Multimedia Editor for European Journalism Center-supported news website and data/multimedia editor for the Journalists for Transparency's investigative reporting website J4T.org. 
The moderator of the webinar is Deepak Tiwari, Hindi Editor at GIJN. 
Date: Thursday 24 March 2022
Time: 08:30  AM (Washington DC)
12.30 AM (London)
17:30 PM (Islamabad)
18:00 PM (Delhi)
18:15 PM (Kathmandu)
18:30 PM (Dhaka)
Watch our Twitter feed @gijn and newsletter for details on future events.