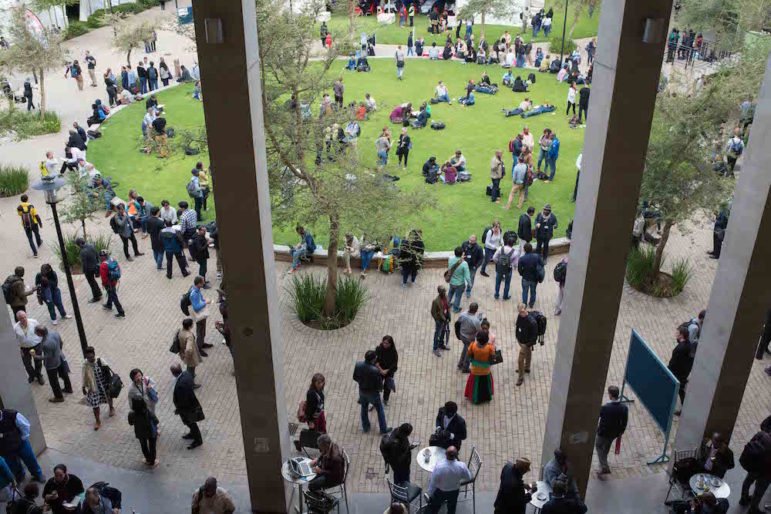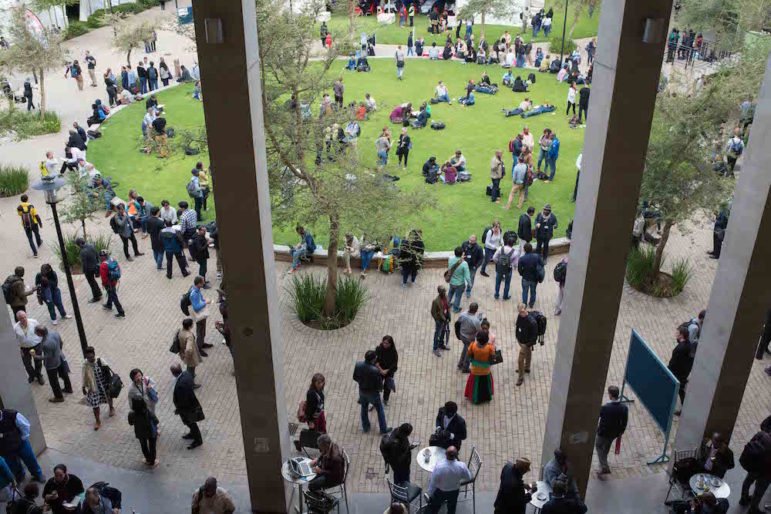 جمع من الحاضرين في استراحة القهوة في المؤتمر العالمي للصحافة الاستقصائية في جامعة ووترستراند، جوهانسبرغ، جنوب افريقيا تصوير: ديلين بول
Check out our #GIJC17 highlights in Chinese, German, Spanish, Arabic and Russian.
At the heart of Africa's City of Gold — where people from around the world have been trying to dig up their own piece of regional riches since the 1800s — lies the University of the Witwatersrand, one of the continent's most highly ranked universities.
Earlier last month, the Johannesburg-based university played host to 1200 investigative journalists from 127 countries who came to learn and share ideas about digging of a different sort: rooting out corruption and exposing hidden truths in pursuit of stronger, more transparent societies.
https://twitter.com/AntonHarber/status/931068134336888832
With an estimated 245 registered attendees from South Africa alone — part of the nearly 500-strong African delegate contingent — conversations about African investigations permeated lecture rooms and university corridors. Nearly every African country was represented, with discussions in English, French and Portuguese mixing with talk of cross-border reporting projects stretching from India and Iraq to Ukraine and Venezuela.
Anton Harber of Wits University's Journalism Programme, co-convenor of #GIJC17, spoke to GIJN on the sidelines of the conference.
Nigeria Takes Center Stage
The Global Shining Light Award was issued to two winners this year — and one of these teams was from Nigeria.
The 55-strong Nigerian contingent of investigative journalists formed the second largest group of African journalists registered to attend the conference.
Musikilu Mojeed, who shared the prize with Emmanuel Mayah, both from the Premium Times Center for Investigative Journalism, talked to GIJN about the fight to do quality reporting in Nigeria.
#GIJC17 has been real for @OSIWA1 ! Our partner @PremiumTimesng is winner of the 1st prize of the #GlobalShiningLight Award for an Investigative journalism report on extra-judiciary killings in #Nigeria ??? pic.twitter.com/1fECN7n7ZD

— Hawa Ba (@niallee04) November 19, 2017
#GuptaLeaks: Collusion and Corruption
The massive email dump and subsequent investigation in South Africa, dubbed the #GuptaLeaks, dominated conversations among local participants. Named after an Indian family which aligned itself with President Jacob Zuma and a massive email leak, the investigation further exposed corruption and collusion between the Gupta family, private and public entities and Zuma and his associates.
The #GuptaLeaks emails were first given to Daily Maverick, which sought investigative non-profit and GIJN member amaBhungane's assistance, and later together included other publications. They have worked collaboratively to ensure the safety of the whistleblowers, the emails and other information, which along with other publications they are interrogating and releasing to the public — story by story.
Last month, select emails were initially released to the public by non-profit legal support organization, founded by French Advocate William Bourdon, Platform for the Protection of Whistleblowers in Africa (PPLAAF), which represents whistleblowers connected to the leaks, following PPLAAF's submission to South Africa's Parliamentary Portfolio Committee on Public Enterprises.
The entire database is now hosted on the global investigative reporting platform Organised Crime and Corruption Reporting Project (OCCRP)'s Investigative Dashboard, a database of curated information, documents and business connections and designed to provide research support for journalists. Access to the emails is limited to qualifying investigative journalists, on application and after review by a committee only.
Challenging Secrecy
Journalists at the conference had an opportunity to question, engage with and learn from the Pulitzer Prize-winning International Consortium of Investigative Journalists (ICIJ), whose latest cross-border collaboration, the Paradise Papers, further exposes the secret offshore world of tax "paradise" islands. ICIJ released the project's database of leaked documents at the conference.
"Secrecy is at the core (of how they operate)," explained keynote speaker Joseph Stiglitz about the cloak of secrecy under which many multinationals and governments operate.
The Nobel Prize-winning economist reminded journalists that the lost taxes hidden in these "paradise islands" could be used to sustain developing countries.
But Stiglitz's criticism was not limited to developing countries and their governments. He summarily noted the link between these loopholes in the developing world to the developed world and challenged the investigators to do the same.
The Legal Link
Just as Zimbabwe was throwing off decades of rule under now-former President Robert Mugabe, Beatrice Mtetwa, the renowned Zimbabwean human rights lawyer, led the annual Carlos Cardoso lecture during the conference. The lecture is named after a slain Mozambican investigative journalist and activist.
"Doing Investigative Journalism is a form of activism," says Beatrice Mtetwa #gijc17

— Bridget Gallagher (@GallaGroupNYC) November 16, 2017
To Mtetwa it is a common passion that human rights lawyers and investigative journalists share.
You don't do journalism for the fame, because there's little fame, you don't do journalism for the money because there's little money. You do journalism for the passion – Beatrice Mtetwa #GIJC17 @gijn

— Emmanuel K. Dogbevi (@EmmanuelDogbevi) November 16, 2017
She pointed out that apart from collaboration with other investigative journalists, the nature of current global investigations also demanded collaboration with the legal fraternity.
"If we are to do a great job, it is sometimes useful to collaborate a little more." #Zimbabwe's human rights attorney Beatrice Mtetwa supports #collaborative work at #GIJC17 https://t.co/RVII9a3uL2

— GIJN (@gijn) November 18, 2017
As Zimbabwe braced itself for a dramatic and unexpected changing of the guard, Mtetwa reflected that Zimbabweans have never actually been free. She shared her perspective of the sentiment amongst Zimbabweans at the time, which came ahead of news that Mugabe had finally given up power.
75 Years of African Muckraking
Headlining the African discussions was also the launch of African Muckraking: 75 years of Investigative Journalism from Africa, a new anthology of writings that span 41 countries.
The book was edited by Anya Schiffrin, with George Lugalambi. Schiffrin runs the Technology, Media and Advocacy Program at Columbia University's School of International and Public Affairs in New York, while Lugalambi is a media development specialist and researcher based in Uganda.
At the launch, Schiffrin said that while reading through mounds of articles from old newspapers, she found that the topics discussed over the years seemed to mirror current conversations. She hoped the quality investigations showcased in the book illustrate the decades of relentless work of African journalists.
Meanwhile, another book was causing a stir — both among South Africans and conference-goers from around the world. Veteran investigative journalist Jacques Pauw's recently-released book, The President's Keepers: Those Keeping Zuma in Power and Out of Prison, had come under threat of censorship by the country's State Security Agency.
While Pauw spoke about what analysts were calling "state capture" at the conference, he received a pledge of support at the opening session from the entire #GIJC17 assembly, as they stood to publicly demand that the South African government "cease attempts to suppress such information and withdraw threats to prosecute" him.
Building African Investigative Networks
One of the key commitments reached in an Africa networking session was a commitment to work together. A meet-up with journalists from a dozen African states discussed how to best move forward with a discussion about hosting a networking platform for African muckrakers.
This arose out of discussions with representatives from other key groups present, including the Thomson Reuters Foundation, amaBhungane, ENACT, the Africa Investigative Publishing Collective, Nuba Reports, GIJN, and other publications, groups, and independent reporters.
Additionally, participants in a breakaway group agreed about key issues facing Africa included corruption, tax-abuse, the abuse of funds in non-profit organizations, sourcing and documenting data for Africa.
GIJN Africa is keen to continue working on this with our African colleagues on Twitter and Facebook.
Chatter in the Corridors
While these key discussions set the tone for investigative discussions at #GIJC17, sometimes it was in the quieter exchanges that some of the most pertinent conversations took place, particularly for the African delegates who seldom get to meet.
https://twitter.com/demnutsonline/status/931888363166224384
Meanwhile, delegates also discussed how to acquire data and data sources with Africa Check's Nechama Brodie.
Justin Arenstein, a long-time member of the investigative, data and technology community in Africa and founder of Code4Africa, was also present, talking about how his group is using drones and data on the continent.
Like most media internationally, journalists from African investigative units that GIJN spoke with said they still required consistent funding to operate efficiently. Another concern was the need to tackle the narrative about Africa.
Evelyn Groenink, cofounder, Forum for African Investigative Reporters: 'Internationally, Africa is still often portrayed as a mass of hungry people who all need help – which leaves looting dictators to go free.' #GIJC17

— Alison McKenzie (@bethelmckenzie) November 18, 2017
Nigerian journalist Dapo Olorunyomi cautioned against reliance on business interests, saying it can affect editorial independence.
Camaraderie and Support
Despite a new era of journalism compounded by a radically changing journalism industry, journalists found support, camaraderie and community among each other.
The Saturday night unwind session was a favorite for all, with attendees dancing on stage with Femi Koya's Afrobeat Band, a Nigerian-born South African musician who kept things high-paced with a mix of his own beats and tunes from the African greats Fela Kuti, Angélique Kidjo, Yvonne Chaka Chaka and even Brenda Fassi. The musicians finally left the stage, exiting in song: "We are tired now, we are going home."
While the conference was not without its challenges, including visa issues that prevented some delegates from attending, journalists also spoke of the community and inspiration they gained from the conference.
The conference was sponsored by and enjoyed support from global co-sponsors and in Africa, from the Norbert Zongo Cell for Investigative Journalism in West Africa, Africa Check, Tanzania Media Foundation, the African Investigative Publishing Collective and South Africa's eNCA and Eyewitness News.
Find out more about the panel discussions at #GIJC17 in our conference news coverage, videos and the tip sheets shared by speakers with us. For more news about investigative journalism in Africa, follow us on Twitter at @gijnAfrica and on our Facebook page.
---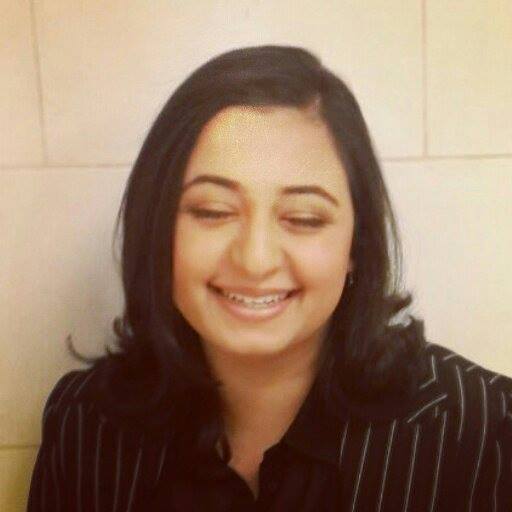 Safeeyah Kharsany is GIJN's Africa Editor. She has worked in Qatar at Al Jazeera English, in Italy at United Colors of Benetton's Colors Magazine, and in South Africa at Media24.