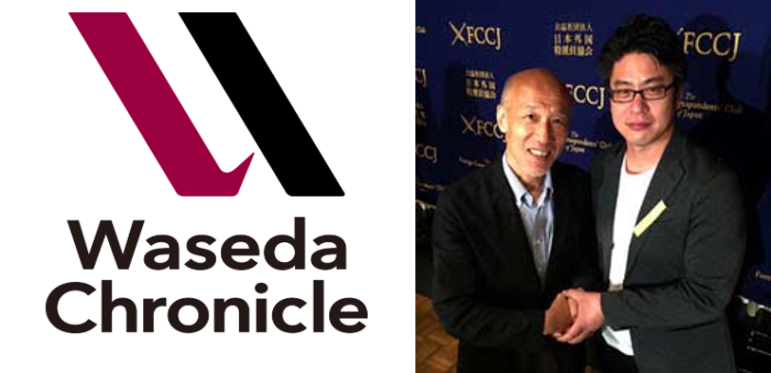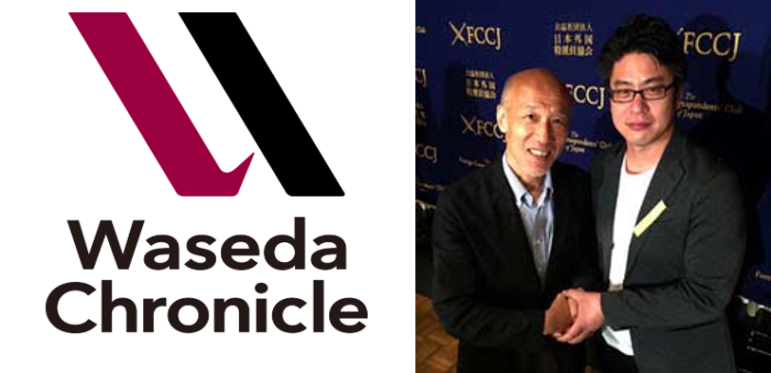 Fighting for an Investigative Press: GIJN Member Gets Award in Japan
Editor's Note: Recent shifts in Japan have threatened the country's history of free expression and undermined its democratic principles. Japan's tradition of investigative reporting faces perhaps its greatest challenges in the postwar era. 
But there are signs of hope. On September 11, two crucial supporters of investigative journalism in the country were honored by the Foreign Correspondents' Club of Japan. Tatsuro Hanada, director of Waseda University's Institute for Journalism, and Makoto Watanabe, editor-in-chief of the Waseda Chronicle, received the 2017 Freedom of Press Award for Supporter of the Free Press. In June, the Waseda Chronicle, formed in 2016 and based at the Institute for Journalism, became GIJN's first member in Japan. 
In its announcement, the FCCJ warned that "now is a particularly sensitive time for press freedom in Japan," with growing self-censorship and fading watchdog journalism. "In this context it is essential that Japan have an entity like the Waseda Institute for Journalism — and the Waseda Chronicle — that is committed to advancing the principles of a free and open press and training a new generation of journalists… The Institute has shown a unique dedication to changing how journalism is practiced in Japan and is now working with foreign news organizations to explore best practices worldwide and bring those ideas to Japan. The committee was also impressed by how much the Institute and the Waseda Chronicle have been able to accomplish in just a short amount of time."
Following are the acceptance speeches by Hanada and Watanabe.
---
The Foreign Correspondents' Club of Japan's recognition of the work of the Waseda Chronicle and the Institute for Journalism at Waseda University has special value for me. Our university-based, nonprofit newsroom is struggling in the Galapagos-like landscape of media and journalism in this country, but we are looking forward to joining the global movement of investigative journalism.
The Chronicle is currently running alone, on its own track, without any other Japanese media organizations or journalists. But this award shows us that we are not alone and that our work is being watched carefully and appreciated by foreign correspondents in Japan. We are encouraged, too, by the support of donations and messages from Japanese citizens.
Today, coincidentally, is September 11. In addition to being the anniversary of the attacks in the US 16 years ago, the date is bitter and auspicious here, too.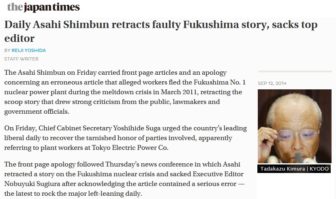 Three years ago on this date, the head of Asahi Shimbun, Tadakazu Kimura, retracted a major investigative story about the Fukushima Dai-ichi nuclear plant under pressure from conservative forces. Kimura apologized and the journalists responsible for the story were punished. Three months later, in this room at the FCCJ, I gave a joint press conference to protest that retraction. The birth of the Waseda Chronicle is a consequence of that suppression of investigative journalists, who subsequently left Asahi.
Our project promoting watchdog journalism is also a response to this year's Japan report on the promotion and protection of the right to freedom of opinion and expression by the Special Rapporteur of the Human Rights Council of the United Nations, Professor David Kaye. In the report, Kaye strongly recommended Japanese journalists promote independent reporting.
Our journey of journalistic innovation has just begun. I am sure that this journey will be difficult, but the Waseda Chronicle is proud to stand on the common ground of international corroborations with the journalism community. The Chronicle will never give up! — Tatsuro Hanada
---

We have been honored with 2017 FCCJ award, but I have strong doubts as to whether we have actually contributed to supporting a free press. I say this because unlike in the case of the Moritomo issue, reported on by the Asahi Shimbun, our investigative reports on Dentsu and their pharmaceutical clients have received no coverage by the mainstream legacy media.
Receiving this award from the FCCJ is a great encouragement for us, and we are thrilled to feel that we finally have an ally in our work.
We can't let ourselves become complacent, however. Japan does, in fact, have a free press. Except for very rare exceptions, journalists in Japan do not get arrested or killed. Nonetheless, the fact that these awards exist and that we were able to receive one is a sign of the sad state of journalism in Japan today — namely, a state in which press freedom is in dire need of support. The Waseda Chronicle has only just gotten off the ground, in terms of our financial base and in other respects, but we look forward to your continued support. Thank you so much! — Makoto Watanabe
---
These speeches were made by Mr. Hanada and Mr. Watanabe at the Foreign Correspondents Club of Japan on September 11, 2017, and are reproduced here with permission.