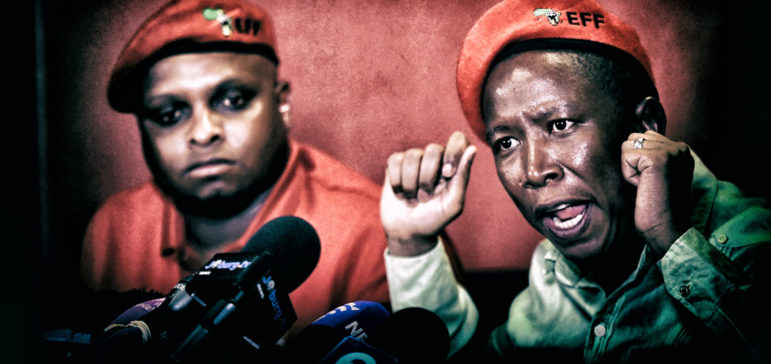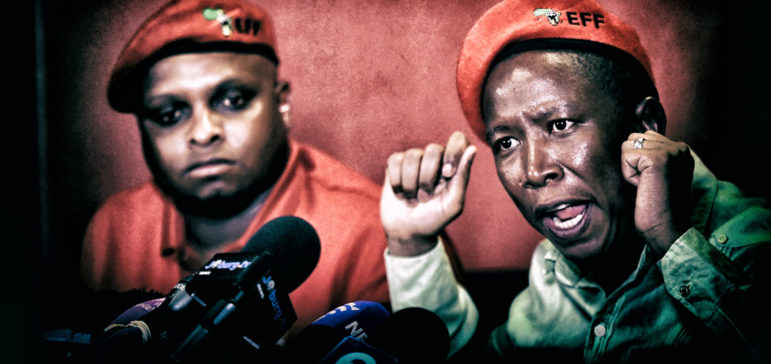 EFF's president Julius Malema (right) and Floyd Shivambu, the party's vice president. Credit: Daily Maverick
Editor's Pick: Best Investigative Journalism in Sub-Saharan Africa 2018
Press freedom varies widely across sub-Saharan Africa. While muckrakers in Ghana were able to unearth corruption in the upper ranks of the judiciary and in South Africa, investigative reporters played a big role in the downfall of a corrupt presidency,  in Eritrea and Djibouti press freedom is non-existent.
Overall, the situation improved slightly on the continent in 2018, according to Reporters Without Borders. But there was no shortage of troubling trends.
Attempting to control the narrative of the separatist rebellion in its English-speaking regions, Cameroon's government often brands reports it doesn't like as "fake news" and detains journalists. In Tanzania, the government has tightened the free media space with the arrests of reporters and closures of media platforms. An independent investigative platform in Botswana, which reported on a leaked intelligence report, had its offices broken into and its managing editor questioned by the police. And just this week, the offices of the Daily Trust in Nigeria were raided by the army and a bureau chief and reporter were detained.
Such difficult reporting environments notwithstanding, journalists in sub-Saharan Africa produced some seriously impressive investigations in 2018. As part of GIJN's Editor's Pick series for 2018, GIJN Africa editor Raymond Mpubani compiled a list of some of the top stories produced this year, published by outlets based in the region.
In January, the Ghanaian journalist Anas Aremeyaw Anas hinted about a story that would reveal secrets about some respected officials. The undercover reporter's investigations usually become the talk of the country, and many waited with anticipation.
But this time, the focus was not just Ghana. The documentary, in partnership with the BBC's Africa Eye, was released in June and revealed that across the continent, nearly 100 football referees and officials were filmed taking cash bribes ahead of important matches.
The two-year undercover investigation featured jaw-dropping scenes, including recordings of a Kenyan World Cup-bound referee accepting $600 from a reporter acting as a football association representative, and the top Ghanaian football official accepting $65,000 from a reporter posing as a businessman. The team also showed how a referee who had accepted $700 from a Ghanaian team "official" awarded a disputed penalty during an African Champions League game in that team's favor.
The president of the Ghana Football Association, Kwesi Nyantakyi, resigned following the exposé, even as he denied any wrongdoing. The international football governing body FIFA also temporarily suspended him for 135 days and launched an investigation into allegations in the documentary. The Confederation of African Football also suspended a number of referees and Ghana's referee association issued eight lifetime bans and 53 10-year bans.
More than 20,000 civilians from Zimbabwe's Ndebele community were killed by the national army's Fifth Brigade between 1983 and 1987. Former president Robert Mugabe and current president Emmerson Mnangagwa had previously been implicated in the massacres, which were carried out under the pretext of cracking down on dissidents or supporters of Mugabe's political rival.
The Botswana-based Ink Centre for Investigative Journalism obtained a new cache of documents and, in collaboration with the Zimbabwe Independent, published supporting evidence of Mugabe's failure to stop the killings. The dossier was a collection of reports on the military campaign, compiled by NGOs working in Zimbabwe at the time, which provided a copy of their findings to Mugabe. It also listed, for the first time, the names of those killed.
Uganda has been lauded globally for its reception of refugees and resettlement programs. But that narrative took a big hit this year after an investigation by the Daily Monitor revealed abuse of refugees by government officials.
The story started with a disturbing tip-off. Officials working with the Ugandan police, the government ministry in charge of refugees, and the United Nations High Commissioner for Refugees were pimping refugee girls in hotels around Kampala, the source said.
According to the investigation, the officials were targeting desperate girls, many living in urban areas where they did not receive UNHCR or government assistance. One Burundian refugee reported being offered by an official to trade sex in exchange for a $300 ID card. The investigation also found that individuals from the refugees' own communities smuggled girls into Uganda specifically for sex work.
Most of the African names in the International Consortium of Investigative Journalists' Offshore Leaks database belonged to politicians — or people close to them — and that's what made the regional examination of these individuals' activities so crucial.
The Washington-based ICIJ partnered with 13 reporters from 11 West African countries to work on the project. Over six months, teams led by ICIJ and Burkina Faso-based Norbert Zongo Cell for Investigative Journalism analyzed over 27.5 million leaked files. The stories that followed exposed how tax evasion and illicit financial flows out of West Africa are orchestrated by politicians and powerful businessmen.
The investigation unearthed secretive companies and offshore bank accounts of public figures, including a presidential candidate from Mali, the mayor of Cote d'Ivoire's richest city, and a member of the Togolese ruling dynasty's inner circle.
There were also plenty of shady deals. In Niger, an obscure New Zealand-based company signed a $31.8 million contract with officials to construct a modern abattoir (a slaughterhouse), a structure that was never completed. And in Senegal, one of the world's largest construction firms benefited from a favorable treaty that saved it from paying $8.9 million in taxes.
South Africa's public schools have a toilet problem. As of March 2018, some 8,679 schools around the country still had pit latrines on the grounds, despite 2013 regulations banning them. These figures were released after a nationwide audit prompted by the death of a five-year-old, who fell into a school pit latrine in March 2018. Another five-year-old had suffered the same fate in 2014.
Passmark, a project of the Media Hack collective, analyzed the data and concluded that at the current pace, it will take the government 19 years to eradicate pit latrines.
Passmark, which analyzes and visualizes education data for greater accountability, received repeated recognition for the project work in 2018. Media Hack's Alastair Otter and Laura Grant also won the prestigious Vodacom Journalist of the Year Award, and were the first winners of Vodacom's new data journalism category, in which the judges noted "how data that has been available for a long time can be revisited to extract new meaning, understanding and insights in order to bring new perspective to a burning issue."
(Disclosure: Otter is GIJN's IT Coordinator and Tanya Pampalone, GIJN's managing editor, is a founding editor of Media Hack.)
Beautify Malawi Trust is a not-for-profit founded in 2014 by Malawi's first lady Gertrude Mutharika, and still controlled by her. According to its now defunct website, the organization aims to improve sanitation and health in the Southern African country, and involve communities in the sustainable management of waste and sanitation facilities.
But the Centre for Investigative Journalism Malawi found that since 2014, when Peter Mutharika became president, the charity has received at least $300,000 in donations from foreign oil companies, which in May 2017 came under the investigation of Malawi's Anti-Corruption Bureau into how they were awarded six energy exploration contracts.
CIJM used leaked documents and interviews to raise questions about a potential payoff for a coverup since the previous administration. An anti-corruption official told CIJM that the Bureau received a call from a state house official asking that the investigation be dropped. Just two months after it was launched, the Bureau declared it did not have the financial resources to proceed with the probe.
An investigation published by Kenya's Daily Nation in July found that the energy utility company, Kenya Power, was purchasing and installing defective transformers, which inflated its customers' bills. Even though the transformers had failed the company's own quality control tests and were losing excessive power, this did not stop the power company from installing them.
A spokesperson for Kenya Power said the company was required to award tenders to the lowest bidder, apparently at the expense of everything else. Internally, concern had been raised about the "trend of supplying of defective and failed transformers" which "posed serious danger to the public and loss of sales."
The Daily Nation linked the faulty transformers to higher power bills, which had led to a national outcry. The reporters alleged that the company was likely passing on its losses to the customers, but Kenya Power denied that allegation.
Early this year, a video showing the execution of two women and two children by French-speaking men in camouflage was widely circulated on social media. From the accents, people speculated that the perpetrators were Cameroonian soldiers, a claim the government initially dismissed.
BBC Africa Eye and collaborators used digital investigative tools to prove that the soldiers were indeed Cameroonian, and the killings had taken place in 2015 in the northwest part of the country, near the border with Nigeria.
The three-month team effort relied on open-source intelligence investigators, freelance journalists, and the Bellingcat community. They sourced leads on Twitter and used satellite imagery tools to identify and verify clues of timing and location. The team also analyzed uniforms and weapons to debunk government claims that the soldiers were not Cameroonian, and then used social media to find some of the soldiers' identities.
Going by votes in the last general election, the left-wing Economic Freedom Fighters is South Africa's third largest political party. Since it was formed in 2013, EFF has been a vocal critic of the ruling African National Congress, decrying corruption and a poor governance record.
Yet, EFF's leaders — who were once leaders in the ANC Youth League — may not be so clean themselves. A series of stories by Scorpio, the investigative unit at South Africa's Daily Maverick, linked the party's top two officials to allegations of corruption that led to the collapse of VBS Mutual bank. The officials allegedly used their relatives as proxies to channel illicit VBS funds to themselves.
British consulting firm Cambridge Analytica became infamous worldwide for harvesting private information of millions of Facebook users to build tools that could be used to manipulate voters. Its clients included the presidential campaign of Donald Trump and the United Kingdom's 2016 Brexit referendum. The firm was also involved in elections in Africa. It reportedly tried to help Nigeria's President Goodluck Jonathan get re-elected in 2015, and has been accused of using divisive tactics to re-elect Kenya's President Uhuru Kenyatta in 2017.
Meanwhile, in Ghana in 2015, Cambridge Analytica was hired to carry out a national survey to inform healthcare planning. But a Ghanaian minister at the time admitted that the survey added "a number of issues that were initially not within the scope of the research," including an assessment of public confidence in the administration of then-president John Mahama.
According to the investigation by Ghana's Joy News, the money paid to SCL Social, Cambridge Analytica's parent company, was from a $175 million loan for the construction of seven hospitals and an integrated IT system, and not intended for political surveys. That fact was hidden from the country's parliamentarians, who approved the contract.
For more on GIJN's regional Editor's Pick series for 2018, check out round-ups from Sub-Saharan Africa and Mainland China, as well as in Spanish, French, Portuguese and Russian and Ukrainian.
---

Raymond Mpubani is GIJN's Africa Editor and a journalist based in Kampala, Uganda. As editor of @gijnAfrica, he oversees GIJN's sub-Saharan Africa social media and helps represent GIJN in the region.