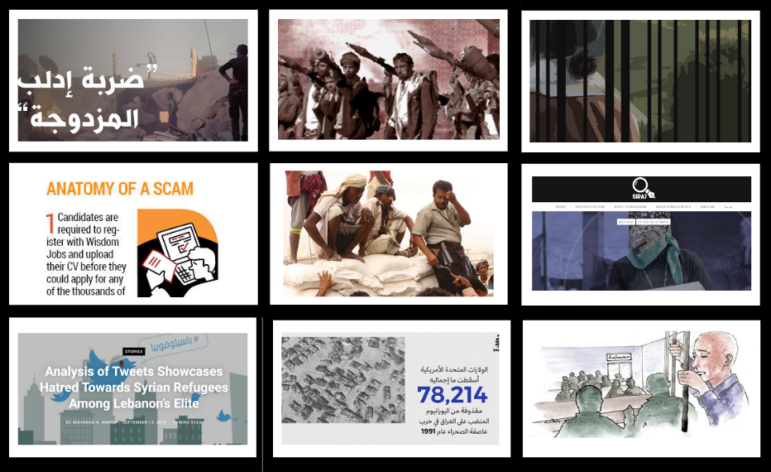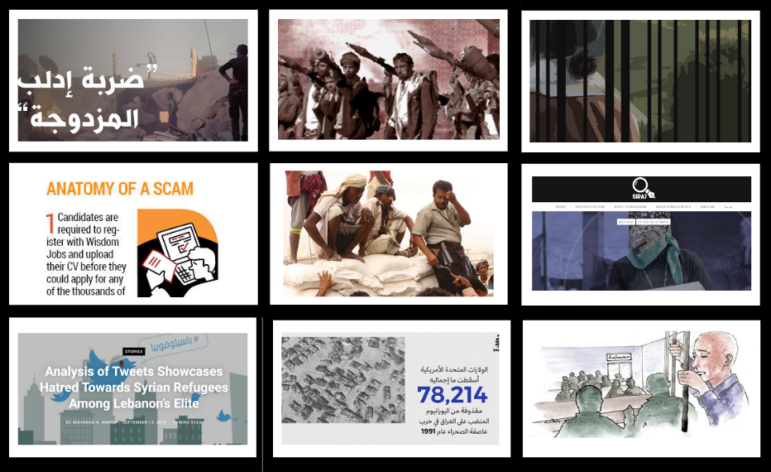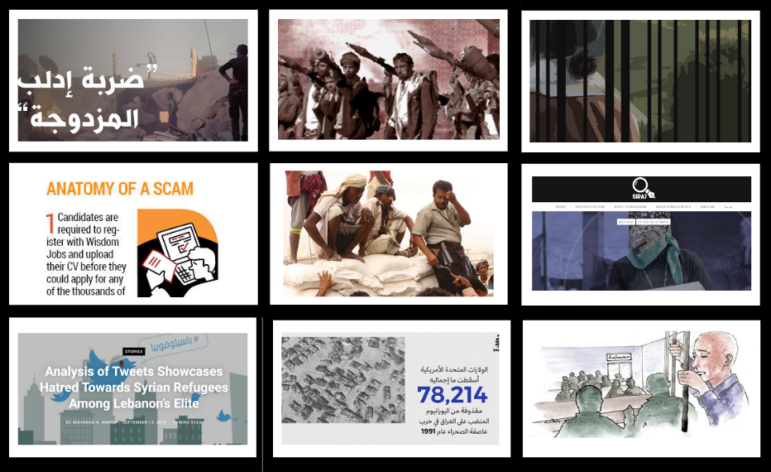 Investigative reporters in the Middle East and Northern Africa operate in a region that UNESCO says is the world's most dangerous for journalists, making it extremely difficult for them to do their jobs. This year has been no exception.
In November, Egyptian authorities arrested three Egyptian journalists, Solafa Sallam, Hossam El-Sayyad, and Mohamed Salah, who remain in detention. They also raided the offices of independent outlet Mada Masr and briefly detained four of its journalists. The same month, the Saudi regime detained at least seven journalists, bloggers, and columnists. But amid all this bad news, there were also some rays of light: In April, Maggie Michael, Nariman El-Mofty, and Maad al-Zekri of the Associated Press won the 2019 Pulitzer Prize for International Reporting — the first all-Arab team to be honored with the prestigious award.  
At this year's Global Investigative Journalism Conference in Hamburg, 50 Arab journalists gathered for a networking session in which they addressed the challenges of working in the MENA region. Participants said the three main challenges that investigative journalists face — outside of safety and security — are a lack of hands-on training programs, a shortage of collaborative cross-border projects, and a dearth of funds to help newsrooms tackle lengthy and costly investigations. 
In honor of these journalists who continue their work despite extreme challenges, GIJN's Arabic Editor Majdolin Hasan rounded up some of the best investigative reports published this year in the Middle East and Northern Africa.
This BBC Arabic investigation found evidence of war crimes being committed in a July 22 rocket attack on a public market in downtown Maarat al-Numan, a city in the south of Syria's Idlib governorate, in which 39 people were killed. The investigation revealed that the Russian attack followed a technique known as a "double strike," which is when the first airstrike is followed by a second attack using the same aircraft, killing rescuers trying to help the wounded. By analyzing videos from the scene of the attacks as well as satellite imagery from Google Earth, reporters were able to determine the exact locations and times of the strikes. Their report contradicted Russian authorities' claims that they did not target civilians. 

This investigation formed part of the Associated Press series Yemen's Dirty War, which won the 2019 Pulitzer Prize for International Reporting as well as the McGill and Batten medals for courage in reporting. The report reveals how the Houthi government in the north of the country and the US-backed government in the south skimmed off money and supplies allocated for cholera vaccinations and treatment, selling the stolen goods on the black market. In some cases, treatment centers for people who had contracted cholera existed only on paper, even though the UN disbursed money to fund their operations. In order to authenticate this story, journalist Maggie Michael reviewed confidential documents and interviewed 29 people, including aid officials previously based in the country and officials from health ministries run by both the Houthi rebels and the internationally recognized government in the south. Statistics showed that the outbreak may have resulted in more than 1 million cases of cholera.
The investigation, which was conducted by Syrian Investigative Reporting for Accountability Journalism (Siraj), tells the stories of Syrian women who have been subjected to sexual exploitation and physical and verbal harassment in the temporary accommodation centers set up for displaced people in Damascus and its surrounding rural areas. Women said they were coerced into having sex with shelter supervisors and officials in return for humanitarian aid, and were pressured to keep quiet out of fear of being thrown out, defamed, having their aid cut off, or even being arrested. Journalist Nour Ibrahim made successive visits to several shelters in and near Damascus, interviewing eight women who were forced into sex by male managers and supervisors. Ibrahim also met with 35 male and female volunteers at the shelters, who unanimously corroborated the widespread phenomena of sexual extortion of displaced women in exchange for food.
Journalists at Cairo-based Infotimes and Siraj collaborated to investigate the hostility of Lebanese politicians towards Syrian refugees. The presence of Syrian refugees has been a major part of the public discourse among influential public figures in Lebanon. Over the course of 10 months, the journalists documented, filtered, and analyzed thousands of social media posts by public figures in order to identify supporters of Syrian refugees, and those who oppose taking them in. During the reporting period, the country saw numerous campaigns and calls from Syrian and Lebanese activists who tweeted under the hashtag  #عرسال_تستغيث — meaning "Arasal (a Syrian refugee camp in Lebanon) Cries for Help" — in an attempt to send a distress signal about the horrid living conditions refugees endure in camps. But this data-driven story revealed that more than half of the tweets analyzed rejected the presence of Syrian refugees. Opposition was stronger on the part of men than women, with 95% of tweets by men opposing the refugees, compared to 5% of tweets by women.
Human trafficking in Tunisia takes many shapes, including forced child labor, domestic servitude, and sexual exploitation. Inkyfada's Monia Ben Hamadi and Ayman Touihri took a close look at modern-day slavery in Tunisia, where victims are left to an uncertain fate at the hands of human traffickers. The journalists investigated how young girls in rural areas are forced to leave school and are trafficked to big cities to work as domestic helpers. Meanwhile, they discovered that authorities in Tunisia turn a blind eye, leaving the girls in a living nightmare. 
In January 2019, Gulf News' investigative journalist Mazhar Farooqui blew the lid off a multi-million dollar global recruitment racket spanning the US, Canada, South Africa, India, New Zealand, Italy, Malaysia, Singapore, and the Middle East. His investigation uncovered how the award-winning India-based job portal Wisdom Jobs, with 33 million registered users, had been using in-house call center agents to impersonate recruitment managers of top companies to offer non-existent jobs in the UAE. Within days of the exposé, the Indian police launched a massive crackdown on the company and arrested its CEO and 14 other staff members. They were charged with collecting millions of dollars for service fees and other bogus charges from over 100,000 job seekers worldwide.
This VICE Arabia investigation revealed major problems with the humanitarian assistance that has been flowing into Yemen since the beginning of the war in 2015. Journalist Aseell Sarih dug into official reports that confirmed that large quantities of humanitarian aid provided by the World Food Programme were expired or damaged. These reports, issued by Yemen's Standardization, Metrology & Quality Control Organization, showed that large quantities of humanitarian aid provided by the World Food Programme were not suitable for human use, according to laboratory tests. After tracking the official records, the reporter interviewed more than 35 Yemenis who received this food and medical aid. They said that they were forced to consume them, for lack of alternatives.   
This investigation shows the devastating effects of the use of munitions manufactured with depleted uranium in Iraq during the 1991 Gulf War, as well as in the 2003 war that toppled Saddam Hussein's regime. Journalist Mizar Kemal conducted video interviews with people who were diagnosed with cancer; they developed the disease after their towns were targeted by US air force raids using shells containing depleted uranium. The reporting was backed by scientific studies and statistics that show dramatic increases of cancer diagnoses following the 1991 and 2003 wars.
The idea for this investigation came after reporter Nadine Nimri from Al Ghad newspaper in Jordan read a tweet about a girl who was sentenced to three years in prison for allegedly making false testimony in a sexual assault case.  Nimri wanted to find out if this was part of a larger trend of children being accused of perjury in sexual assault cases. Her investigation showed that the number of child sexual assault cases hovers around 300 cases per year, while the conviction rates for these crimes does not exceed 30% and about 15% of the children are convicted of perjury and sent to juvenile detention centers. 
---

Majdolin Hasan, GIJN's Arabic editor, is an award-winning journalist who has worked with Global Integrity, 100Reporters and Arab Reporters for Investigative Journalism. She was the director of an investigative journalism unit in Jordan and was the first Jordanian to file a case against the Jordanian government for denying her right to public information.