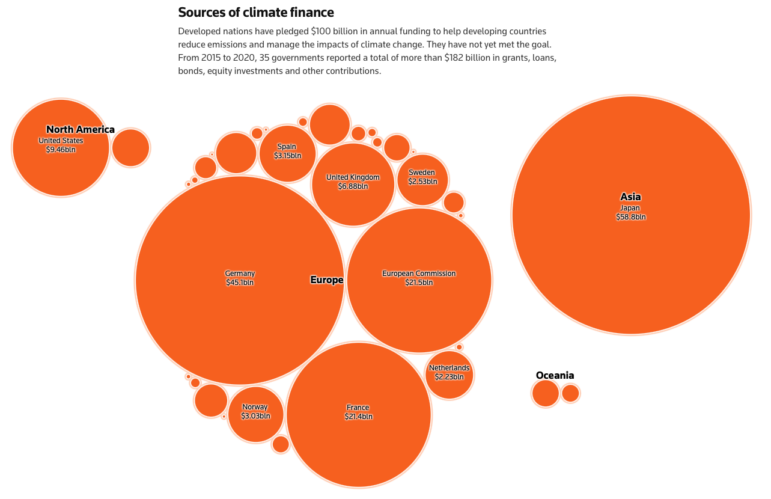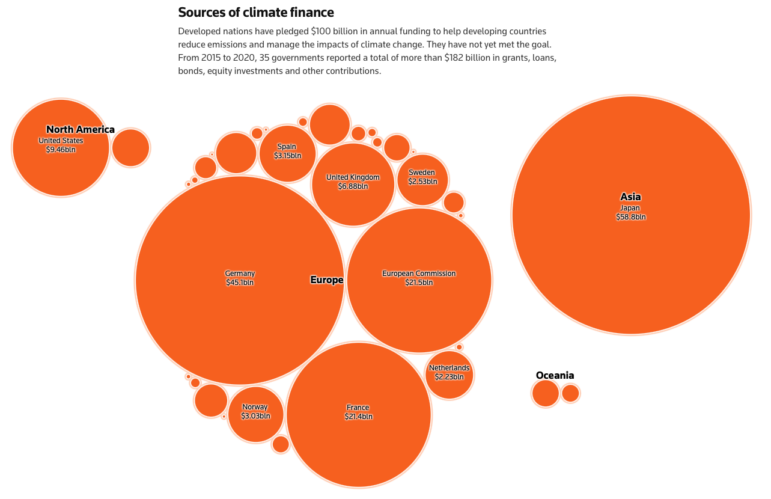 Image: Screenshot, Reuters
Data Journalism Top 10: Dodgy Climate Finance Deals, Tracking Dark Fleets, and the Rise and Fall of Argentine Kidnappings
Read this article in
Funds earmarked for fighting climate change have been used for opening chocolate and gelato stores across Asia, a hotel expansion in Haiti, and a coal plant in Bangladesh, according to a Reuters investigation that discovered questionable, yet legal, accounting of climate finance transactions. This week, GIJN also highlights a New York Times analysis of ships employing GPS spoofing tactics to mask their real locations, a FiveThirtyEight data dive on the effect of consistent lineups on a football team's performance, a ProPublica interactive on the constitutional rights at risk in the United States, and InsightCrime's look at the downward trend of ransom kidnappings in Argentina.
Misuse of Climate Finance Funds
Developed nations have committed to channeling some US$100 billion per year to finance activities in developing countries that aim to mitigate or adapt to the effects of climate change. In an effort to track accountability of these pledges, Reuters and Stanford University's Big Local News examined thousands of records that countries submitted to the UN to document climate finance contributions. Journalists found a concerning lack of transparency and details in these reports, as well as projects that seem to have little or nothing to do with reducing emissions or managing the effects of climate change.
Hidden Marine Fleets Moving Russian Oil
The first sign that something was up with the Cathay Phoenix, a huge oil tanker, was when transmitter signals seemed to show the ship sailing in circles in the sea west of Japan. Further analysis — using satellite imagery — revealed that in reality, there was no ship there at all. The visual investigations unit at The New York Times dug into the mystery using marine traffic data, satellite images, and social media footage to explore how this ship is part of a so-called dark fleet using fake signals to hide its true location. The practice — known as "GPS spoofing" — sees ships using cutting-edge technology to cover their clandestine activity, amid concerns the practice is being used to evade oil sanctions linked to Russia's war in Ukraine.
Consistency Champions
As the Premier League for leading UK football (or soccer) clubs drew to its summer close, the data team at FiveThirtyEight decided it was time for a deep dive. Instead of creating simple charts of top scorers and goals conceded, this project analyzed starting lineups and substitutions throughout the whole of the last season to tell readers how similar each team looked every moment on the pitch. FiveThirtyEight created their own scoring system to try and find out if a team with greater consistency throughout the season performed better than expected, and provided data for super fans interested in a team's "cohesiveness, strategy, and luck."
US Rights at Risk
A year ago, the US Supreme Court overturned a decades-old constitutional right to abortion — triggering fears that other rights seemingly enshrined by the court likewise may not be as secure. ProPublica analyzed judicial opinions, academic articles, and public remarks by sitting justices, to find out which rights have been questioned so far, by whom, and which are most at risk of being undone.
Alexey Navalny's Solitary Confinement
Russian opposition leader Alexey Navalny is currently serving a nine-year sentence in a maximum security prison. Independent Russian media outlet Mediazona analyzed the 867 days the anti-corruption activist and Kremlin foe has spent behind bars so far, including 180 days for which he's been confined in a grim isolation cell called SHIZO. The team created an interactive graphic showing the dates he has been kept in solitary, detailing reasons why he was confined and other notices about his treatment. Once he was put in isolation for having an unbuttoned collar, another time, for not walking with his hands behind his back. See also the 3D model designed by the team so readers can explore the cell.
Rise and Fall of Ransom Kidnappings in Argentina
Kidnapping for ransom was once a major problem in Argentina: famously used as a tactic by guerrilla groups in the 1970s, hostage-taking for profit later became a tool of organized crime gangs. But in this project by GIJN-member organization Insight Crime, reporter Christopher Newton uses data to show how kidnapping for ransom has declined "from hundreds of cases in the early 2000s to just 27 last year." He charts kidnappings over time, and maps where hostages were taken to show how the region around the capital, Buenos Aires, was at the heart of the problem. He also looks at economic data, and how the police have taken down big-name kidnapping groups, to try and explain the phenomenon. Find this story in English and Spanish.
Taiwan's Indispensable Tech
Taiwan is a crucial player in the global tech supply chain, which raises some concerns when the country is also the subject of geo-political wrangling between China and the US and has seen military drills just off its coastline. Reporters at The Financial Times combined data and reporting to illustrate how — alongside neighboring China — the island dominates the global trade in cutting-edge semiconductors and chip manufacturing, and dug into Taiwan's biggest trade partners. The visual storytelling team also digitally deconstructed an Apple iPhone to show how many of the most valuable components — including core processors, 5G modems, Wi-Fi chips, and premium camera lenses — come from the island.
Doughnut Divide
The first Friday of June each year is designated as National Doughnut Day in the United States. The Washington Post's Department of Data took this opportunity to investigate a reader's hunch: that some states were saturated by a single doughnut brand while other states had a smattering of options. By using data on Yelp, a crowdsourced site for reviewing businesses, The Post found this hypothesis to be true. Across the US East Coast, Dunkin' dominates, while the West saw more competition from individual shops. Also worth a look: The Post's middle class calculator.
De-Russification
Efforts at de-Russification — a process whereby countries that were formerly part of the Soviet Union try to restore their own national identity, language, and culture — have intensified since Russia launched an invasion against Ukraine in 2022. The Central Asian Bureau for Analytical Reporting (CABAR.asia) examined Google search query data in Tajikistan to find out whether attempts to pivot from Russian to the Tajik language have been successful. It found that majority of the searches in the country were still made in Russian, and were on average, used to search for things 4.13 times more often than in Tajik.
Spending by Former Brazilian Presidents
One of the perks of being an erstwhile leader of Brazil is that former presidents are entitled to six paid staff to help with "security, personal support, and advice," as well as two chauffeured official vehicles. The cost to the national coffers of these former heads of state was R$7.6 million in 2022 (US$1.5 million) according to an analysis of official data by the independent outlet Fiquem Sabendo and UOL Noticias. Reporters charted expense bills for the last three years for former presidents and found that the most expensive so far in 2023 — and well ahead of his peers — is former President Jair Bolsanaro, who traveled for three months to the US with his team.
Bonus: Breaking the Rhythm Rules
One of the most basic elements of music is keeping time and following a steady beat. Legendary producer James Dewitt Yancey, better known as J Dilla, was known for breaking this rule with beats that may sound like chaos but are actually grounded in "rhythmic sensibility" — coined as Dilla Time. The Pudding created an interactive explainer (with audio of course) to explain how J Dilla fused three different elements to create interesting deviations to standard grooves.
GIJN's Data Journalism Top 10 list is curated weekly. Send your suggestions to us.

---
Laura Dixon is an associate editor at GIJN and a freelance journalist from the UK. She has reported from Colombia, the US, and Mexico, and her work has been published by The Times, The Washington Post, and The Atlantic. She has received fellowships from the IWMF and the Pulitzer Center.
Eunice Au is GIJN's global team manager based in Budapest, Hungary. Previously, she was a correspondent for Singapore's The Straits Times, and a journalist at Malaysia's New Straits Times. She has also written for The Sun, Malaysian Today, and Madam Chair.