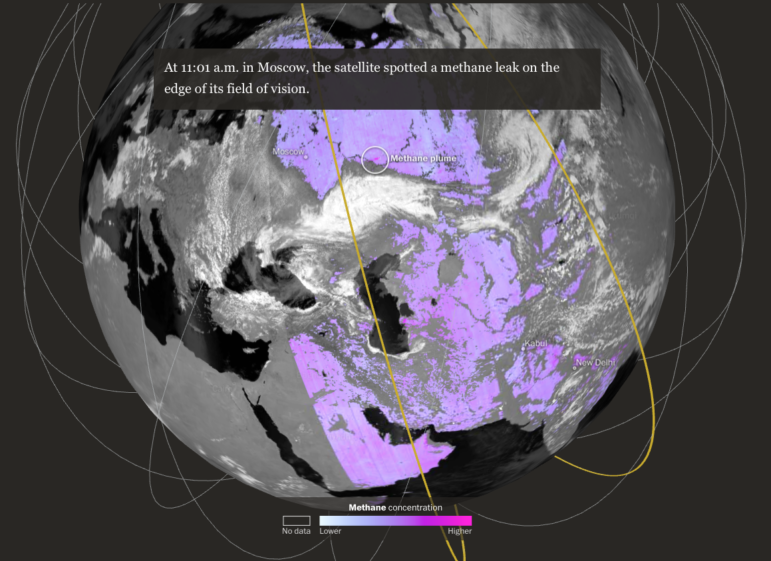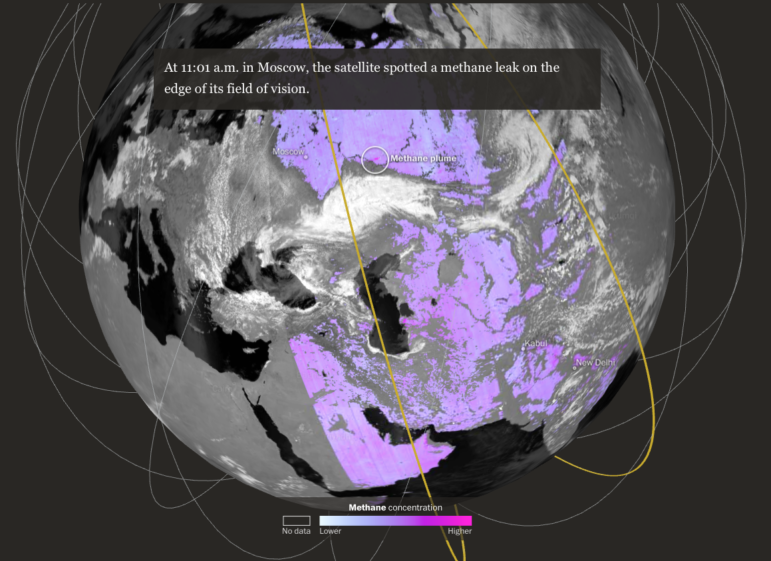 Data Journalism Top 10: Disappearing Bumblebees, Russia's Methane Leaks, Warming Siberia, Top TV Shows
Read this article in
The COP26 climate summit starts in Glasgow, Scotland, this Sunday, and could mark a turning point in the battle to bring climate change under control. In the run-up to the conference, our analysis of the most popular data journalism stories on Twitter features several climate change-related pieces, including a project by The Washington Post exploring a large methane leak in Russia, and a story by IStories on rising temperatures in Siberia and the Arctic. This week, we also feature a look at the declining bumblebee populations in the US, the second part of a cross-border investigation into a massive European tax scam, and a list of the longest-running shows on television.
The Bumblebee's Plight
In North America, bumblebees play a key role in the ecosystem by pollinating a large range of flowers and helping the growth of commercial crops. But due to a steep decline in population, 12 of the 46 bumblebee species on the continent are now classified as vulnerable, endangered, or critically endangered. The Wall Street Journal examined one particular species — the American bumblebee (Bombus pensylvanicus) — whose population in the US has plummeted by around 89% in the past two decades. The Journal highlights which states have seen the largest decline and what impact that can have on the environment.
https://twitter.com/WSJ/status/1452103826555785220
Detecting Methane Leaks
In early June, a European Space Agency satellite hovering 520 miles (837 kilometers) above the Earth spotted a large methane leak over the state of Tatarstan in Russia. The leak was caused by a defect in an underground steel pipeline, which allowed the greenhouse gas to escape into the atmosphere at a rate of approximately 395 metric tons an hour. Thanks to modern satellite technology, it didn't go unnoticed. After examining methane and orbit data, The Washington Post published an interactive piece diving into this and other incidents which indicate that Russia has been underreporting its emissions.
https://twitter.com/washingtonpost/status/1450491863849263104
The Dixie Wildfire
Earlier this summer, large parts of California were engulfed in flames as intense wildfires destroyed towns and prompted one of the largest firefighting operations in the state's history. The Dixie fire generated powerful firestorms and almost reached one million acres (405,000 hectares) in size before being stopped in its tracks. The New York Times used high-resolution radar data to visualize the fire's storm clouds and illustrate the scale of the damage.
Tax Scam 2.0
In 2018, an international collaboration led by the German nonprofit newsroom CORRECTIV, a GIJN member, exposed how a global network of lawyers, bankers, traders, and some of the world's richest people created the largest tax scam in European history. The CumEx Files investigation concluded that this illicit network stole a total of 55 billion euros (US$64 billion). Now, three years later, the second part of that investigation shows large-scale tax evasion schemes have not gone away. In fact, they have cost European governments an estimated 150 billion euros (US$174 billion) in lost revenues.
https://twitter.com/jsachse/status/1451269648104710144
Gender Pay Gap
Despite calls for equal pay in the US, the gap between white men and certain women of color remains striking. For every dollar a non-Hispanic white man earned in 2020, Latinas averaged only 55 cents. This disparity has significant long-term effects, which USA TODAY visualized in this graphics project. Their team analyzed national employment data and labor statistics to show how race and gender play a key role in inequality.
https://twitter.com/JZarracina/status/1451162325235425280
Warm Arctic, Warmer Siberia
Extreme weather events such as floods, hurricane winds, droughts, and mudflows have been at the center of media coverage and political debate in the West in 2021. But in Russia, no one keeps a cumulative record of all these phenomena. Like the rest of the globe, the country has seen rising temperatures in recent decades. IStories studied data from 519 Russian weather stations from the past 59 years and highlighted how the climate is changing in Siberia and the Arctic.
https://twitter.com/istories_media/status/1450348520754630656
Tiny Wrists in Cuffs
After George Floyd was killed in police custody in 2020, his death sparked a global wave of protest against the disproportionate use of force against minorities by law enforcement. But activists and lawmakers pushing for reforms often overlook children who are victims of brutal treatment by police officers. The Associated Press examined 3,000 instances of police use of force against children under 16 in the US over the past 11 years. Although this represents a fraction of police encounters nationwide, the data tells a story about kids subjected to physical force and serious mental health trauma.
https://twitter.com/AP/status/1450694217156730883
Saber-Rattling in the South China Sea
Chinese military aircraft have flown through Taiwan's air defense identification zone (ADIZ) 159 times since the beginning of October. These provocative incursions have enabled Taiwan to gather intelligence on China's airborne activities. Reuters used data from Taiwan's government to illustrate the frequency of these flights and what they might mean about Chinese airpower.
Immigration in Music and Numbers
Data and music can work together in unexpected ways. This collaboration between the Financial Times, British composer Nitin Sawhney, and the Royal Albert Hall is a unique multimedia project looking at immigration in the UK. Musicians and journalists teamed up to tell a story about migrant workers and rising labor shortages.
Longest-Running TV Shows
Late-night programs have a long history on broadcast networks around the world, and have given rise to some of the most influential satirists and political commentators, such as Jon Stewart, Stephen Colbert, and Conan O'Brien. With almost 4,000 episodes, The Daily Show occupies the top spot in ranking the longest-running shows on IMDb that have ratings. The ranking was compiled and graphed by data visualization expert Nathan Yau.
https://twitter.com/flowingdata/status/1449061111651700738
Thanks again to Marc Smith and Harald Meier of Connected Action for gathering the links and graphing them. The Top Ten #ddj list is curated weekly.

---

Peter Georgiev is GIJN's social media and engagement editor. Previously, he was part of NBC News' investigative unit in New York. He also worked as a correspondent for Bulgarian National Television and his reporting has been published by the Guardian, Deutsche Welle, and other international outlets.
For a look at NodeXL's mapping on #ddj and data journalism on Twitter, check out this map.