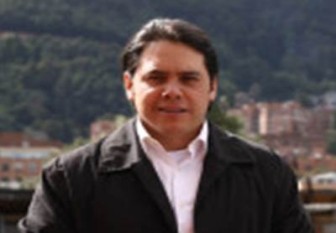 Carlos Eduardo Huertas is the Director of CONNECTAS  and also the Chief of Party of the Investigative Reporting Initiative in the Americas, a project of the International Center for Journalists (ICFJ).
CONNECTAS is a regional journalistic platform that promotes the interchange of information and knowledge about key issues in the Americas. It started during Huertas period as a Nieman Fellow 2012 at Harvard University with the support of the Knight Foundation. Now, this platform is consolidating in the region of the hand of the alliance with ICFJ.
For more than a decade and until July 2013, Huertas worked with Semana Magazine, one of the publications top leaders in Latin America and he was its Investigation Editor. In 2006 he founded Consejo de Redacción, a professional association in Colombia that promotes investigative journalism.  He also is member of the International Consortium of Investigative Journalism (ICIJ).
His reports on corruption, human rights violations, and environmental issues have earned him several national and international awards. He was part of the winning teams of the King of Spain Award (2008), and the IPYS – Tilac Award for the best investigative report in Latin America (2007, 2009). The winning investigations exposed illegal spying by Colombian intelligence officials on judges and human rights activists, and the links between Colombian politicians and right-wing paramilitary groups.
As a candidate for the new board in GIJN, he says:
I believe that Latin America lives a vibrant moment for new independent journalistic organizations. That is a great opportunity to work in cross border collaboration following the common interest to do very good journalism. In this goal is relevant that the region be active part of the global movement.

In the region we have the skills, the talent, the motivation, the courage and a particular reality full of stories. My commitment is to continue the work as facilitator looking for more participation and opportunities to the members in the region, and looking for interchange with the members of others regions.

I have been working as part of the Volunteer Group of GIJN. And for years I have helped to facilitate links between organizations and people in the region to build various initiatives.

Most of my career I have been worked as an investigative reporter and I know well that we face interesting challenges ranging from to improve the training and the immersion of the majority in the use of new technologies, to to look for sustainable models for the new journalistic organizations.

With your support to be part of GIJN Board I offer my better disposition to serve as a bridge to help strengthen and consolidate what is already happening in the region.