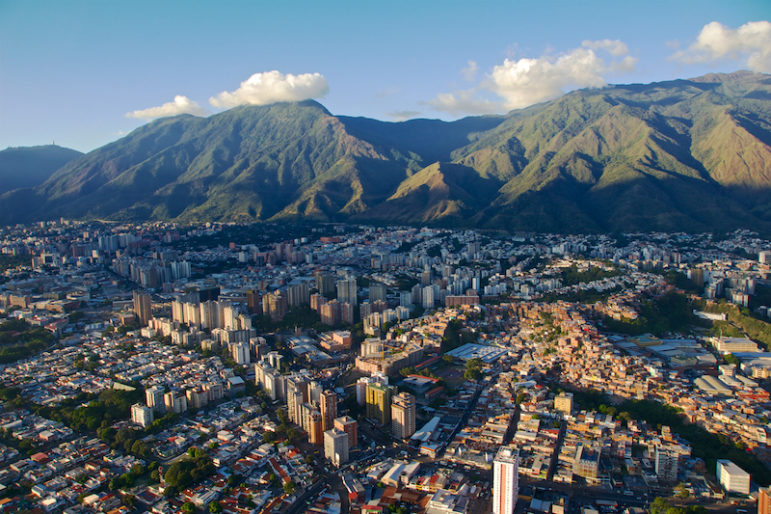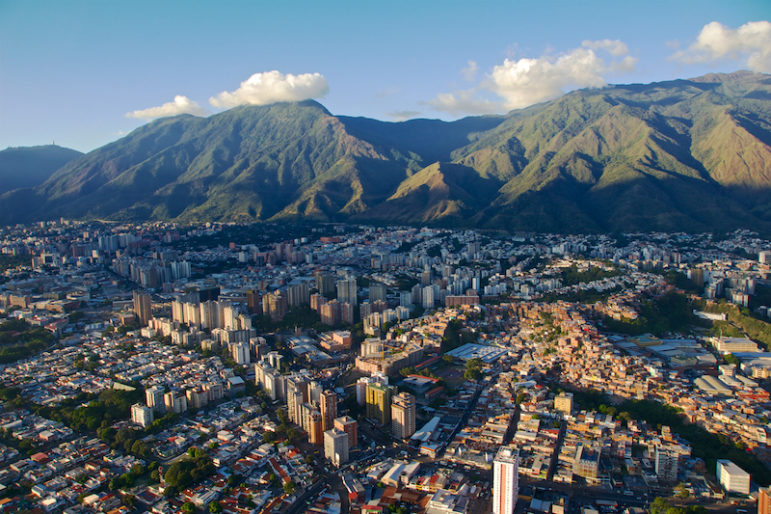 Caracas, Venezuela. Photo: Shutterstock
Cabot Prize: Exiled Reporters Track Corruption and Human Rights Abuse in Venezuela
The year 2014 undoubtedly set the stage for the current situation in Venezuela. In that year, there were massive protests that began in February and lasted until June, with a balance of 43 people killed, 878 wounded, and 3,306 detained, including opposition leader Leopoldo López, according to information obtained by the Inter-American Commission on Rights Human (IACHR).
In this context of violence, freedom of expression and of the press were also affected, as detailed in the 2014 annual report of the Office of the Special Rapporteur for Freedom of Expression of the IACHR. It was precisely in that year that some of the native digital media were born that are currently recognized for continuing their journalistic work independently and in a context of constant threat.
This was recently pointed out by the jury of the Maria Moors Cabot Prizes, given by the School of Journalism at Columbia University, which decided to give a special mention to the site Armando.info, which is "published by a group of courageous investigative journalists operating in one of the most hostile environments to the free press." The Cabot Prizes, founded in 1938, are the oldest international awards in journalism and among the most prestigious for work on Latin America and the Caribbean.
Precisely for continuing its journalistic investigations in a hostile environment, Armando.info has come face-to-face with Venezuelan authorities. In September 2017, journalists and co-founders of the site Alfredo Meza, Joseph Poliszuk, and Ewald Scharfenberg, and the site's reporter Roberto Deniz, were sued criminally for continued aggravated defamation and aggravated injury by Colombian businessman Alex Nain Saab Moran.
The lawsuit originated in two reports made by Deniz, in which he reported a link between Saab and the government of President Nicolás Maduro in the food import business for the state program of the Local Sourcing and Production Committee (CLAP, for its acronym in Spanish). In early 2018, the four journalists decided to leave the country because of what they said were a lack of judicial and procedural guarantees, and have been in exile since.
"With their colleagues, they continue covering the political and humanitarian crisis in Venezuela exposing corruption, human rights violations, and environmental crimes, among others," the Cabot jury said.
The site continues its operations with the team divided between Bogotá (Colombia) and Caracas. A situation that makes carrying out journalistic investigations "even more difficult," as Poliszuk told the Knight Center. In this interview, Poliszuk, who is currently the Press Freedom Fellow for the John S. Knight (JSK) Journalism Fellowships at Stanford University, talks about the meaning of this recognition for the team and what comes from here on out.
Armando.info was born "formally," as it says on your site, in 2014. However, since 2010 you had been working as an investigative outlet. What led you to create this space? What did you see or what was needed in that Venezuela media spectrum almost 10 years ago?
Armando.info was born in 2010 as a budding project of the Press and Society Institute of Venezuela (IPYS Venezuela) – an NGO that Ewald [Scharfenberg] was leading – due to a need to stimulate and support journalistic investigations that transcended the coverage of traditional media in an environment adverse to freedom of expression. But in 2014, when the first protests against Nicolás Maduro began, and his government, through offshore companies, began buying traditional media such as El Universal – the newspaper where I worked for almost 10 years – to censor them, [this] became an opportunity to launch our own media outlet, but we also [saw] the need to open an independent journalism space when the government sought to make us kneel, journalists in general, and us in our work in particular.
What were the biggest challenges to starting and maintaining Armando.info?
This has been a race of endurance. If we look back, I think it was difficult to think about everything that has happened to us since then. Naturally, exile has been one of the most difficult things to face personally and professionally, but it has also been a challenge to work, to sustain and to maintain the operation at a distance both economically and in work dynamics.
Sustaining our operation in a society with hyperinflation has not been easy; neither has establishing a newsroom and building a team in a country in which there is a massive wave of people, and professionals in particular, that abandon the country month after month.
In these five years it has also been a challenge to create a structure in a fragmented and dismembered country. In an environment that is aggressive against independent media and any civil society initiative, it has not only been difficult to do journalism in a country with closed sources, but even to sustain our daily operation.
It is not the same to make good journalism, as to build a structure that allows us and others to do it.
Precisely about the exile you mention, four journalists were forced to leave the country because of a lawsuit. How did this affect your personal lives and the way you do journalism? What are the current working dynamics and decision-making of Armando.info like?
Our editorial meetings are remote. Our newsroom is divided between Caracas and Bogotá. The dislocation and being forced to be away from home has been hard, but beyond the personal, our work is even more difficult at a distance. Sustaining our operation from Bogotá has also become more expensive.
In any case, it is also true that the dynamics of Venezuelan migration have allowed us to find and search for sources in exile in general and in Bogotá in particular. The technology and characteristics of the emerging diaspora have opened the possibility of covering Venezuela from a distance.
The media situation in Venezuela has attracted international attention for some years now, but what is the media situation in the country today? What role do you think Armando.info's work has in this context?
In Venezuela, censorship is direct, but also sneaky. It has been a real challenge to search, build, and obtain alternative sources of information in a country where even the hyperinflation figure or murder rate of one of the most violent countries in the world is hidden.
The government has been violating all spaces of freedom of expression. First they bought and censored the troublesome media, now they block IP addresses and confiscate journalists' passports. There are communication professionals – like Jesús Medina – in jail. It is a spiral against all freedoms.
In that scenario, Armando.info has focused on investigative journalism. It is the only media outlet dedicated exclusively to journalistic investigation in Venezuela. At a time when institutions such as the Office of the Prosecutor and the Comptroller do not do their job, Armando.info has set up one of the largest archives on corruption and human rights violations in Venezuela these days. It tries, in fact, to explain and understand Venezuela beyond the day-to-day of the news.
How could the international community support the Venezuelan media more?
We are building a community and for us it is essential that people know us, participate, and get involved with our work. We also need to continue sustaining our operation. Despite Venezuelan hyperinflation, investigative journalism is often expensive and our means of financing are scarce.
What is the most important story in the Americas today?
There are many, but without a doubt the Venezuelan case crosses the continent.
The jury of the Maria Moors Cabot Prize decided to grant this recognition "for the relentless efforts of your journalists, and their contributions to our understanding of the dire situation facing the Venezuelan people." What does this recognition and special mention mean to you?
It is an endorsement of years of effort that began even before our first publication, when we decided to avoid censorship and go beyond the story that usually appears in the traditional media. It has also been a balm against exile and the ups and downs that there usually are in a newsroom working long distance where we have lost the opportunity to work together. We are extremely grateful and honored. After the heartaches of having to work remotely and away from home, this is an incentive to continue doing what we know and like.
What comes next?
We want to remain focused on investigative journalism. We have special projects and we hope that many more join our community and support us in the search for information and resources.
---
This article first appeared on the Knight Center for Journalism in the Americas site and is reproduced here with permission. Armando.info is a GIJN member.

Silvia Higuera is a Colombian journalist who has written for the Knight Center since 2012. She worked with the Office of the Special Rapporteur for Freedom of Expression of the Inter-American Commission on Human Rights during 2014 and has written for the Colombian newspaper Vanguardia Liberal, The Miami Herald and El Nuevo Herald.