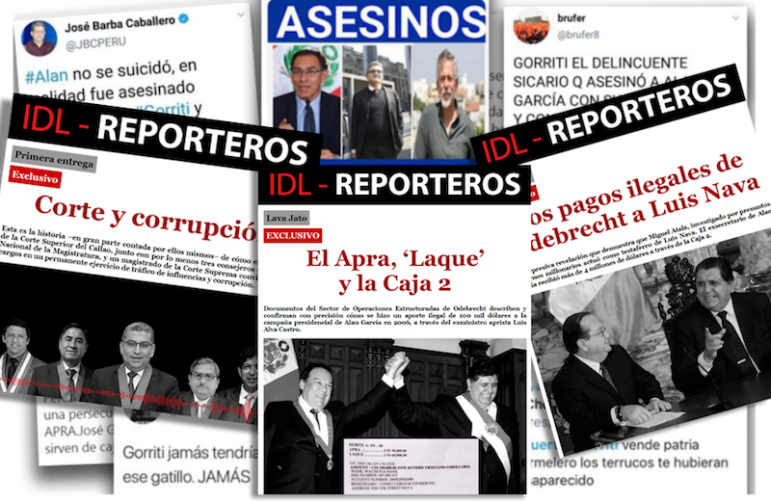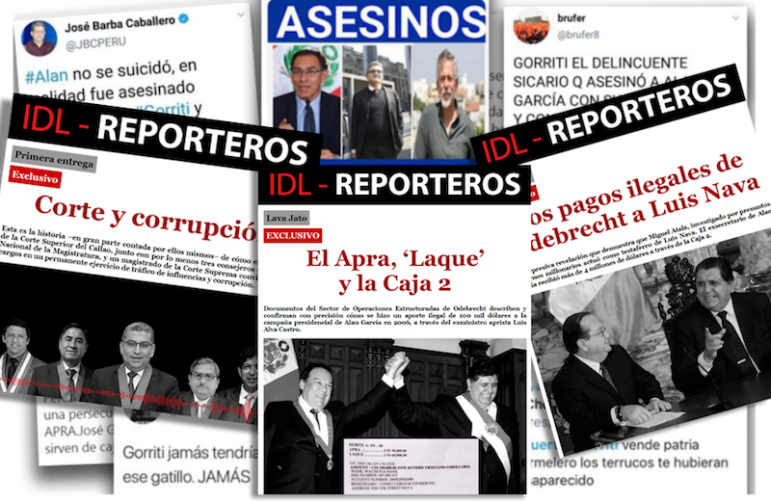 Image credit: IDL-Reporteros
After the Tragedy: IDL-Reporteros' Gorriti Speaks Out Following Peru Ex-President's Suicide
Editors' Note: Four years ago, Peruvian journalist Gustavo Gorriti and his team of reporters at IDL-Reporteros began investigating the "Car Wash" or "Lava Jato" case, a huge scandal of corporate corruption involving the Brazilian construction company Odebrecht and its hidden deals with businessmen and politicians across Latin America. Among those implicated was former Peruvian president Alan García, who committed suicide last week when prosecutors came to detain him. Many of García's followers and members of the Aprista political party have since accused Gorriti of causing his death, as his stories exposed the hidden payments the former president had received from the company.
Since then, the political climate in Peru has grown increasingly tense and police squads have been guarding the headquarters of IDL-Reporteros' offices in Lima to prevent mob attacks. Despite the threats and pressures, Gorriti says he will continue with his investigations, which have also exposed corruption inside Peru's judicial system through the "Lava Judges" case. In this editorial, originally published in Spanish on Tuesday on the IDL-Reporteros site (and translated here by GIJN), he explains his motives for pushing on.
---
IDL-Reporteros decided not to publish anything last week, out of respect for the mourning time following the tragic death of former President Alan García. But it's now time to respond with this editorial.
Less than a year ago, in July 2018, IDL-Reporteros started publishing an investigative series "Court and Corruption" (which later came to be known as the "White Collars" or "Lava Judges" case). The series portrayed, with the indisputable eloquence of its own perpetrators, the judicial corruption that ran deep and wide throughout the entire system: the Superior Court of Callao, the Supreme Court of the Republic, the National Prosecutor's Office and the National Council of the Judiciary.
While indignation and disgust spread throughout the country, there were several attempts to block our investigation. Without a court order, a prosecutor and several policemen attempted to raid the headquarters of IDL-Reporteros and seize journalistic material used for the story; a supreme prosecutor, Víctor Raúl Rodríguez Monteza (later implicated in the case), ordered us to hand over the supporting documents in a threatening manner. The Permanent Commission of the Congress also summoned us to demand that we give them our recordings.
We refused to do so, each and every time. People's overwhelming support for us was vital. Those who were trying to cover it all up took a step back and we continued with our investigations. President Martín Vizcarra listened to people's outrage and gave his full support to the cause. Some judges were removed from their posts; the National Council of the Judiciary was dissolved; and with reform on the way, the country seemed to steer towards a more transparent and better future.
Before that, during the month of July,  Mauro Medina, then interior minister, was summoned to Congress to testify during a private session held by the Supervisory Commission on the case. There, congressmen such as Edwin Donayre and Héctor Becerril acrimoniously questioned the interior minister, asking him how it was possible that he had not done something about IDL's investigations and its director. Didn't he realize that they were endangering the government's stability and national security? They were not the only ones to speak in that tone to the minister, who tried to handle the situation as best as he could.
What is the definition of stability and national security to these men? An empire of sleaziness and parasitic corruption. That is what they, and their track records, represent. There is no need to bring up those records again; all you need to do is type their names on IDL-Reporteros' archives (or in Google, if you prefer) so you can see a full list of their unpunished misdeeds. But the shamelessness with which these men have hijacked these very respectable ideas, for their own immoral benefits, must be underlined again.
After publishing the "Lava Judges" investigation, IDL-Reporteros continued with additional investigations into the "Lava Jato" case involving politicians, which it had been working on for more than four years. At this stage, we decided to focus on what had occurred during the term of a specific political figure, one that had not really been investigated until then: former president García.
The first results of our investigation were published on Nov. 15, 2018. IDL-Reporteros revealed that Brazilian conglomerate Odebrecht had paid García for a conference he gave in São Paulo in May 2012. Despite initial denials, it was later confirmed that the way García had been contracted and paid for the conference occurred just as IDL-Reporteros had described it.
During this month of April 2019, IDL-Reporteros continued to publish four successive stories that revealed the documents demonstrating how Odebrecht had made a hidden payment of $200,000 dollars to the presidential campaign of García in 2006, through Luis Alva Castro, under the alias of "Laque."
We also discovered that Miguel Atala (former president of the state-run Petro Peru company) had been the figurehead for the offshore Ammarin Investment, registered in the Banca Privada D'Andorra. The funds deposited in the account were assigned to Luis Nava (presidential secretary under García) who used the alias "Chalán." He received more than $4 million dollars in that account. Nava's son, José Antonio Nava Mendiola, also received illegal payments from Odebrecht , using the alias of "Bandido." Because  Nava denied these payments, IDL-Reporteros decided to publish essential parts of the documents that described the payments and named those who were hiding behind the aliases. Part of those documents were also published by other media.
The special team of prosecutors, in turn, requested preliminary detention measures for Nava and his son, the former minister Enrique Cornejo, Miguel Atala, his son Samir, and former president García. The judge in charge of the case approved them. The attempt to detain García ended with his tragic suicide, which shocked the country and Latin America. IDL-Reporteros deeply regrets this misfortune.
As the initial shock of this news slowly starts subsiding, we are obliged to ask ourselves: What should we do? Should we continue with the investigation of the most important case of public-private corruption in our country's history, or not?
I imagine that the vast majority will say yes. There might be those who consider it necessary to improve the methods of investigation, streamline the judicial and accusations processes, shorten preventive detention measures. But I assume that there is an overwhelming majority that believes, as the Lava Judges case demonstrated, that the country's future is at stake in this fight against corruption.
So, we have to continue, right?
But it seems that this is no easy task and that today there are many more threats than in the past. The wake of former President García was dominated by the "ruinous use of a tragedy," as journalist Juan Carlos Tafur wrote in a recent article on the subject. He described the motives of those who seek "… to take advantage of the commotion caused by the tragedy to halt the anti-corruption process in which the country has embarked on …'We must end the judicialization of politics,' they shout. And we ask, how we can aspire to do this if it is precisely those corrupt politicians who have paraded and will parade through, despite accusations of proven corruption against them?"
That's the way it is. But now, when the most important chapter of the Lava Jato investigation is about to close, the corrupt coalition has decided to play an all-or-nothing game with extreme methods: promoting fanaticism, awakening the demons of violence and blood and calling for murder, derived from the grossest of lies they camouflage as laments.
IDL-Reporteros and I, as its director, have become one of their main targets. In the absence of reason that reigns during a time of mourning, the very first thing these Pharisees did to prod their militants was to declare that what happened was not a suicide but a murder. [Editor's Note: GIJN decided not to translate and reproduce several social media messages which expressed that García's death was the result of the campaign carried out by Gustavo Gorriti. Some of them include the hashtag #DeathToGorriti. They are in the original Spanish version of this editorial.]
These are samples of messages that encourage fanatics, or hired assassins disguised as fanatics, to attempt to murder their declared targets. The corrupt men of past times have joined forces with today's bullies to try to eliminate those who have investigated them effectively.
Does it matter that everything that these people shout or howl is a lie? And not even just a part of it, but everything. Pure lies.
Is investigating the same as persecuting? Is shedding light on real events, proven in the Lava Jato case, the same as pulling a trigger? Is revealing what is hidden to clarify a case of hyper-camouflaged corruption the same as attempting to take someone's life?
Did IDL-Reporteros lie to reveal how it was all arranged and who paid for the conference in São Paulo? Did IDL-Reporteros lie when revealing the identities of "Laque," "Chalán" and "Bandido," and how much money they received, in what accounts, in what way and the overpricing of the project? Did IDL-Reporteros lie by exposing the Lava Judges case?
Or is it because we have we done our job that the rascals are now enraging fanatics, sharpening knives, barking revenge? Every threat, every conspiracy to carry out an attack must be taken seriously. And we really take it seriously.
There are easier ways of doing journalism, but none serve democracy and the people in the same way as investigative journalism. It has other values, but this is the highest of them all. When investigative journalism is strong, there is, or there will be, a powerful democracy in which ordinary citizens are equally respected as those of greater fortune.
There is now a general attack, and it's no coincidence, against investigative journalism in Peru. The biased ruling against Pedro Salinas and Paola Ugaz in Piura; the irrational sentence for Ojo Público's Óscar Castilla and Edmundo Cruz for their investigation of Eteco; the murderous instigations against IDL-Reporteros and its director.
I hope that civil society understands what is at stake and mobilizes in time, with the same energy and indignation that have been decisive in so many other victorious days. If you don't act soon, you might have a lot to regret later.
Meanwhile, we at IDL-Reporteros will defend ourselves and will continue to defend our investigations with resolute energy. We will seek the punishment of the criminals who are calling for murders. We will identify those who are behind them and will do everything in our power so that they don't get away with it.
For freedom, advised Don Quixote, "just as for honor, you can and should risk your life." That is true and it must be done, if there is no other way. But it is better to aim towards victory than to offer one's life for it and strive to build a vigorous democracy, a society free of corruption so that, two hundred years after its birth, our Republic comes closer to fulfilling its ideals.
---

Gustavo Gorriti is the director of GIJN member IDL-Reporteros, an independent program of the Instituto de Defensa Legal (IDL), Peru's premier human rights organization. He is a member of the International Consortium of Investigative Journalists. Back in 1992, he was forced to leave Peru, largely due to his reporting. During the April 5, 1992, coup, he was arrested by Peruvian intelligence squads and "disappeared" for two days until international protests led to his release. He worked in the United States and Panama before returning to Peru in 2001.