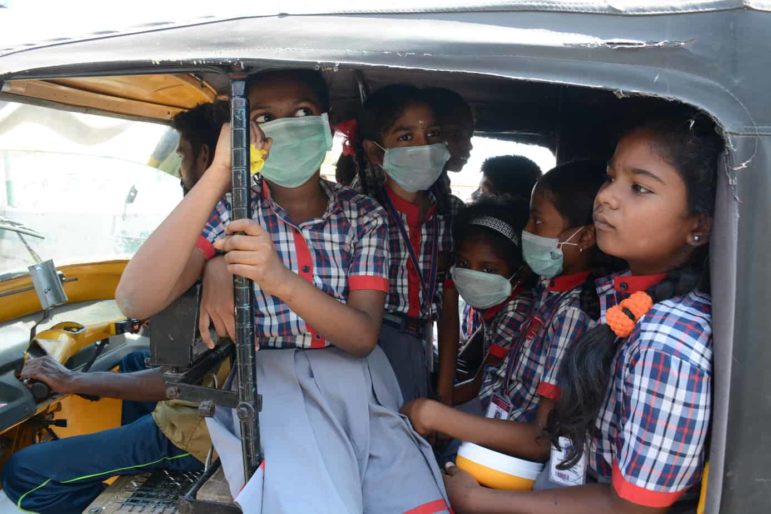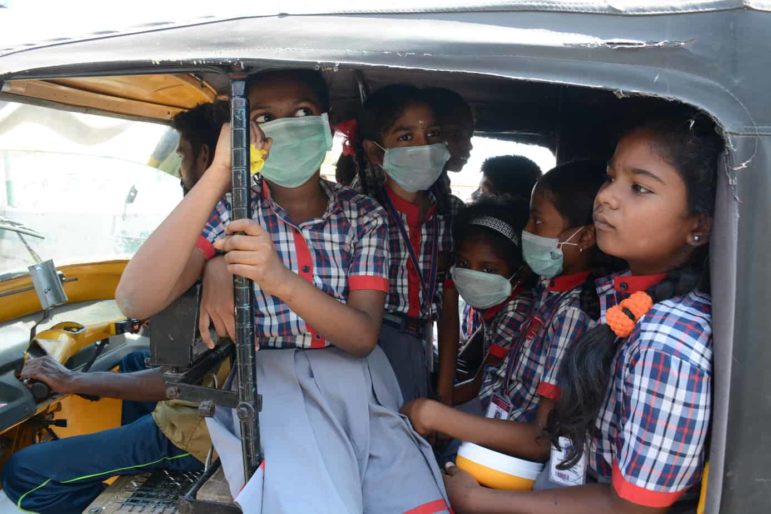 A Small Publication in India Plays a Big Role in Citizen Matters
Read this article in
In late July, Citizen Matters, a community-focused news organization, received a tip-off about growing hunger among children in the southern Indian city of Chennai. 
A nonprofit had told them that the closure of government-run kindergartens, called anganwadis, was severely affecting nutrition in the young population. Without kindergartens, children did not have access to midday servings that ensure at least one nutritious meal per day. While the centers were told to supply dry rations to the children's families, that was not being done, since staff were diverted for COVID-19 relief measures. 
With more than 5.4 million COVID-19 cases, India is currently the second most seriously affected country in the world, behind only the United States, in terms of number of cases. And while the pandemic has created a significant health crisis, the team at Citizen Matters who pursued the kindergarten story wanted to show the effects on hunger and malnutrition, where dangerous outcomes can remain hidden. 
After the story was published, the state department of women and children reached out to offer a solution. That was an unexpected but successful outcome for the team, who had spent the last six months trying to show the effects of the pandemic in the communities they serve. 
And another takeaway from that story? It's that small publications like Citizen Matters have a crucial role to play in the midst of a global health crisis, especially when it comes to providing accurate information, delivering news that quells disinformation, and holding government accountable.
Citizen Matters launched in 2008 as a local news magazine with online and print editions. In 2013, it became part of the Bengaluru-based Oorvani Foundation, a GIJN member and nonprofit working on open knowledge platforms that help develop better cities. Today, it has successfully transitioned to become an online-only news site, and has been expanding its reach to other cities. 
"Our mission is to engage with citizens at a hyper-local level," Meenakshi Ramesh, one of Oorvani's trustees, told GIJN. "The only line we take is what is good for the citizens," she said, about the editorial line of Oorvani —  which means "people's voice" in the south Indian language Kannada.
And that connection to its readers is what makes Oorvani popular among both readers and media experts. "What I like about Oorvani is the association is very strong in terms of how it affects people; the mission is close to people's lives," said Nasr ul Hadi, a media-watcher and Knight Fellow at the International Center for Journalists (ICFJ). In a time of crisis, that mission is as important as ever.
From Bengaluru to Chennai
Citizen Matters was started when Oorvani founders Meera K and Subramaniam Vincent noticed a gap in civic journalism in their city: Local newspapers were dying, and the existing news outlets didn't connect with their readers as a community.
While, interestingly, none of the founders have a background in journalism, their solution was to create an outlet that promotes citizen journalism, and which ensures that the outlet is never far behind the stories that people are talking about in the communities it serves.
"What we do here is truly community-driven journalism," said Satarupa Bhattacharya, one of the Citizen Matters' editors, who says that the aim is to focus on issues that affect the daily lives of citizens and making the readers feel involved in the reporting. 
The publication first launched in the capital of the southern state of Karnataka, Bengaluru (also known as Bangalore), a city packed full of start-ups and known as India's Silicon Valley. Citizens here have a reputation for civic activism, which made this sprawling city of over 8.4 million perfect for this kind of an experiment.
So far it seems to be working: In the last four years, Citizen Matters has started fully-fledged reporting operations in Chennai, another politically active city in southern India, where it has three full-time writers focusing on governance, heath, and infrastructure. There are two dedicated staff writers in Bengaluru, and the site also covers several other cities in the rest of the country with a network of freelance contributors.
Editors say most of the stories are also a result of the proactive nature of their readers, and the publication has cultivated a community of keen consumers who not only provide feedback, but who also send tips. 
On a typical day, Bhattacharya coordinates reporters and freelancers across the cities to ensure that the news that Citizen Matters puts out "treads the balance between investigative, utilitarian, and civic-driven." Before the pandemic, they investigated environmental issues, used data journalism to write about social issues such as child labor, and provided in-depth election coverage through a community lens.
Reporting on a Society Under Threat
When India's national lockdown was ordered in March, one of the major challenges journalists across the country faced was getting on-the-ground stories at a time when reporters saw their movements severely restricted. But according to Bhattacharya, Citizen Matters was able to tap into a strong network of contacts in civil society organizations across the regions where they work, enabling them to get in touch with some of the most vulnerable people affected by COVID-19 and the ensuing economic crisis. 
"We've never really made ourselves too dependent on a physical space," Bhattacharya said. "The basic premise on which Citizen Matters was set up was that news has to come from the ground. The pandemic has shown that it's still possible to get a lot of hard hitting stories done." As examples, Bhattacharya cites recent investigations on migrant workers' plight during lockdown and a shortage of hospital beds for COVID-19 patients.
"What we generally do is when we get a lead, we sort of weigh its potential for an investigative story, and if there is something that needs to be followed up more closely and we need to do a more thorough background check, and get a staff journalist involved," Bhattacharya said.
She measures success in terms of how the coverage generated by Citizen Matters affects citizens and what further steps it urges them to take. "For me, the greatest satisfaction comes from the kind of well-rounded stories that we have done," she said. "When you come at any issue with sustained focus, it automatically triggers a much-needed dialogue among your readers." Citizen Matters' most read article is a guide on how to file a public interest litigation, which highlights the civic affairs bent of its readers.
Right now, of course, the focus his shifted to covering COVID-19. "We have pivoted our work to ask, 'What is it that citizens are looking for at this time?'" Oorvani trustee Ramesh explained. "What kind of information will be useful? How do we use a platform like ours in a post-COVID world?"
The lack of transparency from the government right now means that "even getting routine stuff feels like investigative journalism," Bhattacharya added, leading to questions such as "What is working?" and "Can there be guidelines put in place that will help people?" Those questions led to explainer story ideas, such as how to segregate COVID-19 waste in homes and how to set up a COVID-19 care center in residential buildings.
Expanding Across India's Mega-Cities
After expanding into Mumbai in July, and with a planned delve into New Delhi in the coming months, the team is facing a series of new challenges. They are taking lessons learned from the last seven years, while simultaneously trying to experiment with new projects. 
But there is an awareness that there are key geographical and social differences across these different cities, and that Bengaluru's population may have adopted Citizen Matters in a way that may prove more difficult elsewhere. 
"Oorvani's approach works for Bengaluru because it has a sensitized audience that is primed for this kind of media," said ul Hadi, the ICFJ Knight Fellow. "I can't imagine it working for North Indian cities, where there isn't as much a culture of being active, participative citizens — everything becomes more political than collaborative."
But Ramesh is more optimistic. "While each city is unique, at some level we're all the same," she said. 
And while an active citizenry can be cultivated, Oorvani faces other pressing issues, such as navigating the challenge of procuring funding in the absence of an ecosystem for media development in India.
Currently, a "donate" button on the site encourages readers to contribute. "People are willing to pay for the journalism they care about," Ramesh said. "We wanted to give our readers a way to pay even small amounts. If you like an article, even if you want to pay Rs 500 (a one-off payment of about $7 USD), we are happy. We know you are with us in this journey."
Oorvani's annual budget is around $90,000, which is used to run Citizen Matters and India Together, a news website focusing on development, policy, and social issues. Funding from individual readers provides around 20% of the budget, with grants providing for a further 25%. The remainder of the funds come from high net worth individuals and other sources, such as nonprofits and journalism initiatives.
But funding remains precarious. "The challenge is really for us to find a strategic donor who understands us. We need an anchor donor," Ramesh said.
The kind of hyper-local reporting done by Citizen Matters is arguably needed now more than ever, with many larger publications such as Hindustan Times and The Hindu closing local bureaus. While there are other non-legacy, non-TV startups appearing every year, what separates Citizen Matters from news startups such as IndiaSpend and Scroll is its focus on civic reporting.
The challenge, though, is sustainability. Reader-funded media is picking up in India, but support from philanthropists is still lacking. 
Ramesh rues the lack of an evolved donor model for journalism. "The challenge is to make donors see journalism as an activity worthy of charity. But awareness of citizens is not in the same emotional heartstring league of feeding poor people, or giving computers to schools," she said.
Note: An earlier version of this story gave Citizen Matters a different launch date and named a third founder who in fact, joined the team at a later date. 
Additional Reading
Powering Up Geo-Journalism for Investigative Environmental Reporting
A Ukrainian Investigative News Team Fights for Media Freedom
The Tunisian Journalists Who Built a Business Model That Frees Them to Investigate
---

Amruta Byatnal is a journalist based in New Delhi. She is an associate editor at Devex, where her reporting focuses on gender, health, and citizenship. Her articles have appeared in Foreign Policy, The Lily, and The New Humanitarian.