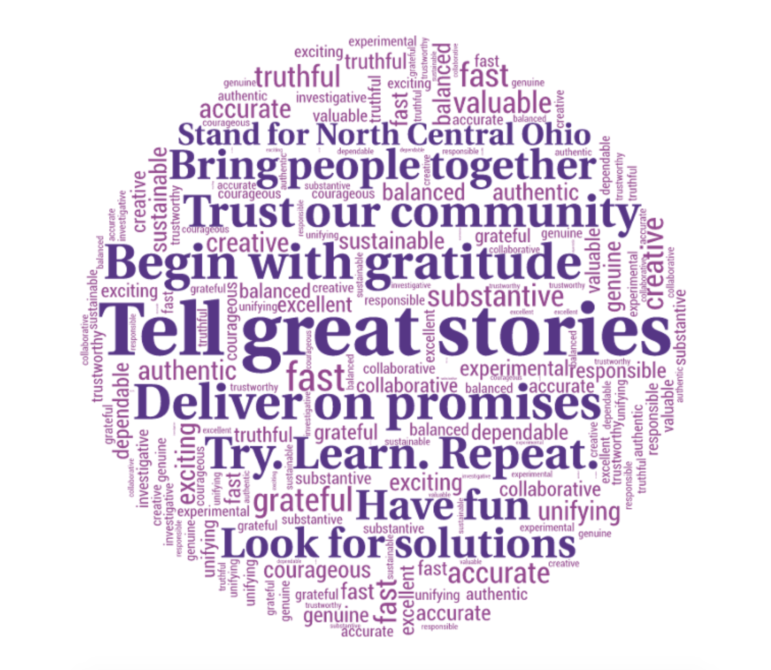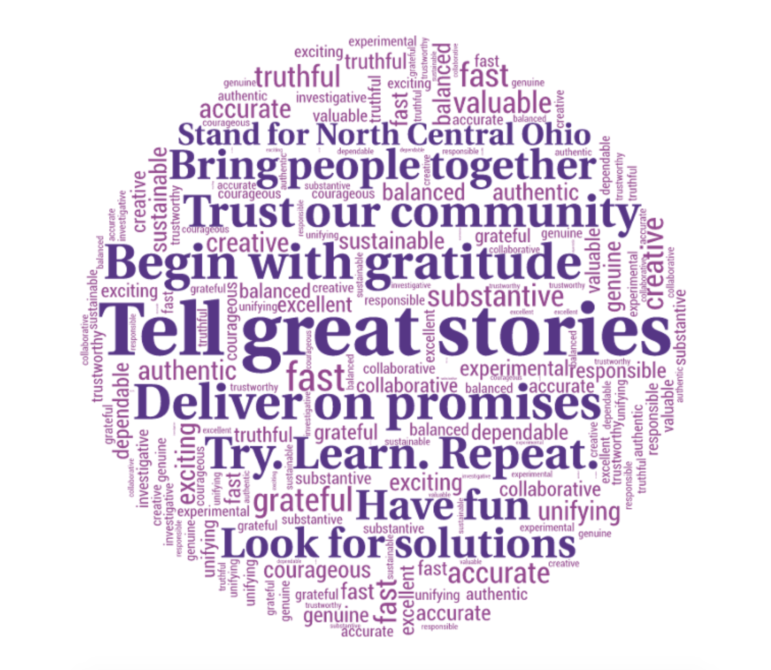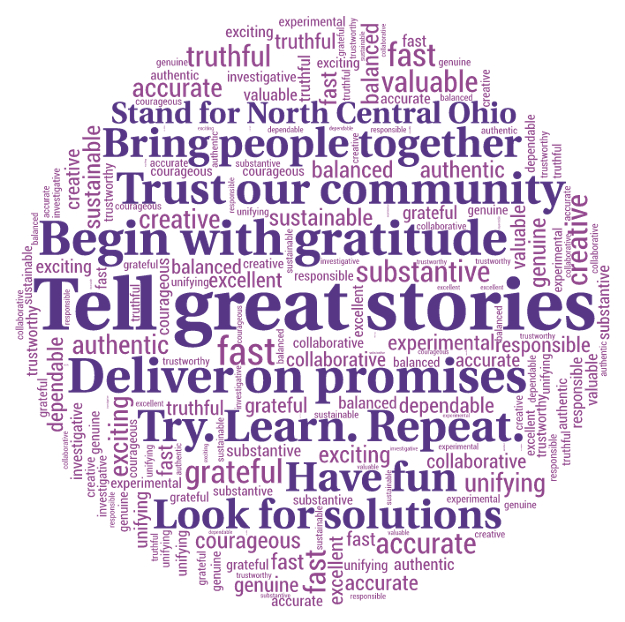 Editor's Note: This article comes to GIJN from Local Independent Online News  Publishers (LION), an association of US and Canadian news entrepreneurs. The advice below is based on the experience of the Richland Source, an online community news site founded in 2013, serving the city of Richland (population 120,000) in the US state of Ohio. While rooted in the US experience, many of the lessons below we believe are applicable around the world. 
---
1. Say it with me, "We can do this."
2. There are people and organizations that believe in you.
The company I lead, Richland Source, announced recently that we raised $168,000 of operational funding from corporate supporters. Combined with an individual membership program, we're projecting nearly $250,000 in community support for our local newsroom in 2021.
That is hardly eye-popping money these days. But it matters a lot to us. When a small [US-based] midwestern market grows community revenue nearly 10 fold in three years, we think it's a signal in the noise. We also think it's replicable, which is why we're sharing what's worked for us.
Richland Source and our sister sites in Mount Vernon and Ashland, Ohio, have been around since 2013. We are a for-profit organization. We were founded with an investment that provided the runway to get going while we pursued ambitious local journalism and deep engagement with our communities.
Here are the steps we took to develop our Newsroom Partnership (NRP) program and grow community revenue to $250,000.
Step 1: Do Your Values Inspire Support?
This is hard work, and it's critical to include more people than yourself in the conversation. At minimum, you need all your leaders. Ideally, everyone is involved.
The core questions are: Do we have a clear set of values? Do our values show up in our work? Do they resonate with readers and stakeholders? You need to be able to answer, "Yes!" to have success.
It doesn't matter the tax status; you have to be clear on how exactly you are of service to your community.
As we developed this process at Richland Source, we were fortunate to have figured out the company values several years prior.
Step 2: Involve the Newsroom
A newsroom that hasn't bought in — or worse — feels unconsidered and unheard will not be enthusiastic about the next steps. Every newsroom is unique. Yours will have their own set of "no-fly" zones that relate back to the values and mission of your organization.
It helps to start the conversation with this question: "What would make us feel gross about accepting corporate support?" Note the answers. Don't do those things. Once you understand what to never do, the possibilities open up to what you can do that you never thought of before.
In our case, the zones were reasonable and predictable. NRP's should never read stories before publication. Funders should have no power to direct story selection or otherwise influence what gets reported or published.
Step 3: Figure Out Your Value Proposition
You cannot move past this step until it is done. Your value proposition is the most distilled and powerful expression of your case for support. It's the north star for your newsroom and should serve as the foundation for all the marketing your organization does to support its work.
Your value proposition is the one thing every team member ought to be able to express from memory, even if they forget everything else.
A great value proposition combines three compelling elements about your organization into one statement.
Where were we the first? When are we the only? How are we the best?
"Whoa. Do we need to call a consultant and schedule a three-day retreat for this?"
Nope. When you are ready to get started, use this method Elizabeth Hansen and Ariel Zirulnick wrote about for the Membership Puzzle Project's incredible handbook. The process, which is powered by thinking from Strategyzer, is simple and it works.
Here's what Richland Source came up with in a couple of hours:
The Source's Newsroom Partnership program helps you make Richland County a better place through support for independent, solutions-focused reporting. Newsroom Partnership bridges the gap between you and the reporters that cover your life. Together, we form a vital partnership that fosters trust, togetherness, and growth through journalism.
Step 4: Lay Out the Problem and the Stakes
The reflexive "because-the-press-is-under-attack!" argument works in journalism school and on newsy Twitter threads, but probably won't resonate with local funders. Why? Virtually no one trusts the national media. They just distrust different sources depending on where they live and who they vote for.
There's no question that the problems that plague the news business are real, but there's no reason to alienate funders by applying a national lens. They might not trust Fox News, but they probably trust you.
Instead, go back to your value proposition. Frame the problem and the stakes in a way that's relatable to your community. Here's an example of a problem, the stakes, and how your funders can help you solve it:
The news business is broken
One after the other, local newspapers across Ohio have closed or been sold to hedge funds. Print advertising revenue declines every year. There are 51% fewer reporters than just a decade ago. Trust in news media has never been lower.
It doesn't have to be this way.
The Source's Newsroom Partnership program helps you make Richland County a better place through support for independent, solutions-focused reporting. Newsroom Partnership bridges the gap between you and the reporters that cover your life. Together, we form a vital partnership that fosters trust, togetherness, and growth through journalism.
Step 5. Be Specific About Your Goals
Define what you will accomplish with your fundraising. "We need more money!" won't work, even if it's true.
Do you need operational funding? Are you embarking on a major project? Did you just get approved for a Report for America corps member? How much are you asking for? Be specific.
Next, identify who the funding will impact and how you will use it. Will the funding support a year-long series on eldercare that specifically engages older adults and those in their orbit? Will you hire a reporter who focuses on the intersection of the local public universities and racial equity? Again, be specific.
Why be specific? It will guide who you identify as potential supporters.
For example, 100% of all membership and Newsroom Partner funding goes to our newsroom and funds reporting. No overhead, no admin. Just news.
Bonus points: How will you measure the impact of the funding? No impact measurement is perfect, so don't obsess over that. Just give yourself and your supporters something to be accountable to, report back on, and evaluate.
Step 6: Hone Your Offer
You now have a value prop, you understand the problem and the stakes, and you have a clear goal. Awesome.
Now it's time to hone your offer. Work backward from your goal number. If you want to raise $100k, that breaks out into a pyramid of slots, with the single largest at the top. Make it simple, easy to understand, and use levels like Platinum or Gold to create scarcity and aspiration.
Whatever you do, do not over-promise. Leverage your strengths. Lean into your value proposition and build an offer that you can deliver on.
We've found that recognition, access, and communication matter way more than swag or some other transactional item.
Step 7: Identify Your Prospects
Now for the fun part. Who will you approach? Here are a few things we learned along the way about the best candidates:
Look for people or companies that have a history of supporting the public good. Good bets are folks who have supported the arts, civic projects, brick and mortar initiatives, and so on.
Avoid transactional personalities and horse traders.
Look for alignment with your value proposition.
Traditional advertisers are a good start, but think beyond that. Manufacturers, large employers, wealthy individuals, community foundations.
And for God's sake, don't do this in a vacuum. Involve everyone. Brainstorm like crazy to build your list. Use your local Chamber of Commerce directory to spark your thinking. Go take a look at the giving tree plaque at the local YMCA, community theater, or wherever. These are your people.
Step 8: Make the Calls
If you've read this far, the person making the ask will probably be you. Gulp. Time management will be key if you're a small shop and you're wearing a lot of hats. This is gonna take a month or two. If you aren't used to sales (that is what you are doing), it'll likely feel intimidating. You can do this.
Professional fundraisers will tell you that asking for money is a very personal thing and they are right. In-person is always best. However, since you are probably not a professional fundraiser (neither are we) and have only so much bandwidth, you might have to hack your way through it. Here are some tips we've found helpful.
Block time. Block off time in two to four hour chunks twice a week for a month or two. No interruptions, no excuses.
Work a process. First email, second email, follow up call, in-person Zoom call, proposal, follow up, close, thank you card, add to partner landing page, etc. There are a million variants. What matters is you pick one and then move your prospects along the pipeline.
Track everything. A Google Sheet or Airtable is fine for this. If you already have a customer relationship management (CRM) system like Pipedrive, that's even better. But no matter what, use something.
Email is an acceptable place to begin. The work you did in steps 1–6 is the rock solid foundation for an email that invites a conversation. Hear me on this: Do. Not. Bury. The. Lede. Your job is to invite a conversation and be responded to or — at least — remembered. And before you do anything, read this. It's my very favorite guide to persuasive writing.
Look for a leadership funder. Work that prospect(s) first. Once the first one is on board, the next ones will be easier.
Follow up, but don't be annoying. People are busy. Respect their time.
Step 9: Say "Thank You"
It is likely that every single one of your funders will have given to many other deserving organizations before you came along. The quality and authenticity of your gratitude is an area that can set you apart and will be noticed.
Handwritten thank-you notes are an absolute must, but it doesn't need to end there. We whip up certificates in Canva and buy frames in bulk. The whole team signs them. Reporters and editors deliver them in person to each Newsroom Partner. It's easy, inexpensive, and feels special.
As a media organization, you have a monster-sized advantage in the form of your reach. You can call funders out specifically in an announcement, tag them in accompanying social posts, leverage your email list to thank them publicly in front of your most engaged readers, use your About page to highlight them, and so on.
Once again, it's about authenticity and sincerity. You'll find lots of ways to do this that feel exactly right to you and your team if you have built a solid foundation in the earlier steps.
Step 10: What Happens After You Raise that Cheddar?
You're accountable, that's what. Reason #1 to under-promise and over-deliver. Easy things that pave the way to long-term support are:
Proactive communication. Our top editor sends a monthly email to Newsroom Partners that links out to his favorite stories, loops them in on what we're up to, and so on.
Get-togethers. If you can't be together in person, consider a monthly or quarterly call. Have an agenda. Deliver something of value to this cohort of supporters. Everyone has an uncle they can't communicate with or an employee that is giving them problems. If you're a Solutions Journalism devotee like us, perhaps a short trip into the world of Complicating the Narrative would be a fun exercise. The funders gain insight into your world and leave a little better than when they showed up.
Nothing is perfect, but our experience with Newsroom Partners has been positive and they've become huge ambassadors for the brand. They respect the boundaries, require very little from us, support and cheer-lead our work, and are often valuable and enthusiastic sources of expertise when we need them.
Developing a local community of funders is not easy work. This is especially true the first go around. Like gardening, that first harvest is the most expensive one to produce. The good news is that it gets easier and gains momentum if you tend to it. And when you think of it that way, doesn't food you've grown yourself just taste better?
This article was first published by Local Independent Online News (LION) Publishers on Medium, and is republished here with permission. You can subscribe to the LION newsletter for more local news tips, tricks, and ideas to steal, or become a member to join their community of 275+ independent online news publishers.
Additional Reading
GIJN Resource Center: Sustainability
GIJN Videos: Making Investigative Journalism Sustainable
Considering a Membership Model for Your Newsroom? There's a Guide for That
---

Jay Allred is the president of Source Media Properties, which includes three local news sites, a full service digital marketing agency, and an AI startup. His work focuses on on local media and solutions journalism.