Tips and Strategies: Freelancing during the COVID-19 Pandemic
Read this article in
Freelancing as an investigative journalist is challenging in the best of times, and it has proven even more difficult during the coronavirus pandemic. From managing physical risks to losing work due to the global economic slowdown, the difficulties are unique and the challenges varied.
Here are some tips and ideas that might help.
A GIJN webinar — Freelance Investigative Journalism During the Time of COVID — was held July 9, 2020, as part of GIJN's Investigating the Pandemic series.
Guests were Safa Al Ahmad, a freelance documentary filmmaker; Cecilia Anesi, co-founder of the Investigative Reporting Project Italy; Emmanuel Freudenthal and Fisayo Soyombo, both freelance investigative reporters; and Tom Giles, executive director, Current Affairs at Britain's ITV, and former editor of the BBC's Panorama program.
Financial Resources
Measuring the Financial Impact
Publications That Have Cut Freelance Budgets during COVID
A list maintained by Study Hall of publications that have cut their freelancing budgets. With an accompanying "updates" spreadsheet with chronological listings.
Exposed: The Crisis Facing Journalism in the Face of COVID-19 
Three in four journalists have faced official restrictions, obstruction, or intimidation in reporting on COVID-19, according to a survey of more than 1,300 frontline journalists in 77 countries by the International Federation of Journalists in April.
How Is COVID-19 Impacting Freelance Rates, Pricing and Project Flow?
A Forbes article on the overall impact of the pandemic on all sorts of freelancing, not specifically journalism. It reveals a mixed impact on availability of work and wages. Also see this report from Payoneer.
This Is How Freelancers Are Managing Unique COVID-19 Challenges
The results of a survey of international freelancers (broader than writers) by ProWriter. Roughly half of the respondents — 46% — said they had lost work due to economic slowdowns.
Networking
The United Kingdom's Press Gazette writes about the boom in online networks for freelancers during the pandemic, including links to groups and resources, in this article by John Crowley.
The Journalism Assembly was started in June 2020 by the European Journalism Centre "to serve as a meeting point where freelancers will gather and work together to strengthen the resilience of the freelance journalism community in Europe." Enrollment is free. "In this time of uncertainty, freelance journalists need a support network more than ever."
Hostwriter, a network that helps journalists collaborate across borders, in partnership with the European Journalism Centre, launched the COVID-19 Collaboration Wire in May, a tool that helps editors find journalists all over the world.
A Slack group that offers support for freelance journalists during the coronavirus crisis was created by the Society for Freelance Journalists, a new group formed in March 2020 by Laura Oliver, a UK freelancer, and others in partnership with the European Journalism Centre.
For $4 a month studyhall.xyz provides access to a wide-ranging listserv and a weekly roundup of editors looking for freelance pitches. Mostly US focused.
Personal Challenges and Responses
Five Tips for Freelance Journalists to Cope with Coronavirus Cancellations  
The five tips from the team at Journalism.co.uk are: Editors still need stories, seek support networks, return to lost gems, juggle your responsibilities, and make the most of the situation.
Key Quotes on COVID-19's Effects on Freelancing  
A summary of a webinar sponsored by IJNet on the state of freelancing. It featured independent journalist and filmmaker Zoe Flood, speaking with Melissa Noel, an independent multimedia journalist, and Marc Perkins, the managing editor for BBC Africa Eye.
Sustaining a Name as a Freelance Journalist during COVID-19 
An article in FrayIntermedia by Ntombi Mkandhla says "many freelance journalists are bearing the brunt of the crisis" and addresses the impact in Africa.
Coping with the Impact of Coronavirus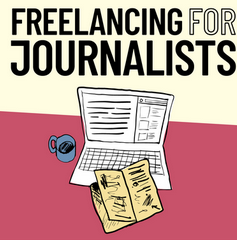 A podcast by freelance journalists Lily Canter and Emma Wilkinson discusses revenue streams, diversification, and making the most of a difficult situation during the pandemic.
Prevent Coronavirus from Killing Your Freelance Income
Carol Tice — who blogs at Make a Living Writing — offers 10 ideas for freelancers.
Working as a Freelance Journalist Right Now is Hard but Not Impossible
US freelancer Meena Thiruvengadam wrote this for the Poynter Institute: "As a freelancer during the pandemic, I've felt more empowered and secure than I expected. But I've had to pivot." She also did a webinar for the Denver Press Club.
How Freelancers Are Making the Most of the Pandemic in Asia
In Splice Media, Meghna Rao writes about the experiences of four Asian journalists.
A Freelancer's Guide to Managing Job Uncertainty during the Coronavirus Crisis
An article by Guilia Pines in Money magazine that focuses on financial planning and making adjustments.
With Work Drying Up, Here's How Freelancers Can Pivot to Make It through the Coronavirus Pandemic
Financial and adjustment advice from Fortune magazine columnist Jennifer Mizgata.
Freelancers, This Is the Time to Diversify our Sources
Carolyn Crist writes a regular column for freelancers on the Association of Health Care Journalists' website, including tips specific to covering COVID-19.
Resources for Freelance Writers during the Coronavirus
South African freelancer Rebecca L. Weber has a series of The Writing Coach podcasts on pandemic-related challenges.
On the Record with Elizabeth Yuko, Ph.D.: The Press Industry in the Time of COVID-19
An interview with freelance writer Dr Yuko, who says she lost her main sources of income.
The Coronavirus and Freelancing: How Creative Professionals Are Adjusting to Weather COVID-19
A piece on resilience by Rose de Fremery in Skyword.
To Stay or Go? International Freelancers Face Challenges during Pandemic
An article about the quandary facing freelance journalists who work outside of their native countries: whether to stay in their new home or return to their native country. Written by US freelancer Kristi Eaton, published in IJNet.
Freelance Journalists Risk Lives and Livelihoods Amid COVID-19 Pandemic
An article by Dr Courtney C. Radsch, the advocacy director at the Committee to Protect Journalists.
---

Toby McIntosh is GIJN's Resource Center senior advisor. He was with Bloomberg BNA in Washington for 39 years. He is the former editor of FreedomInfo.org (2010-2017), where he wrote about FOI policies worldwide. His blog is eyeonglobaltransparency.net.