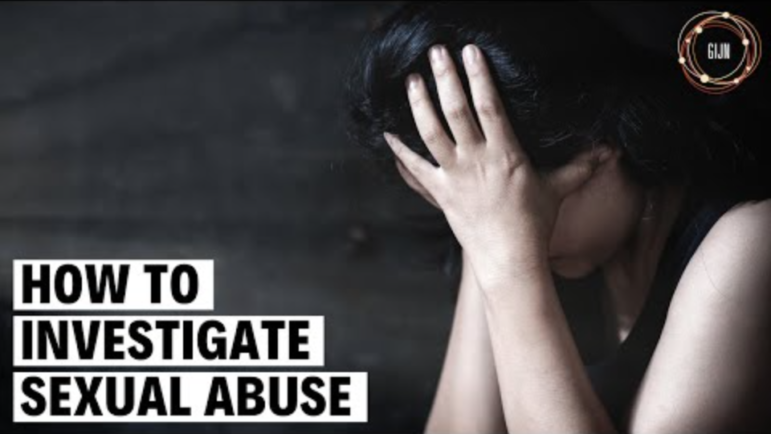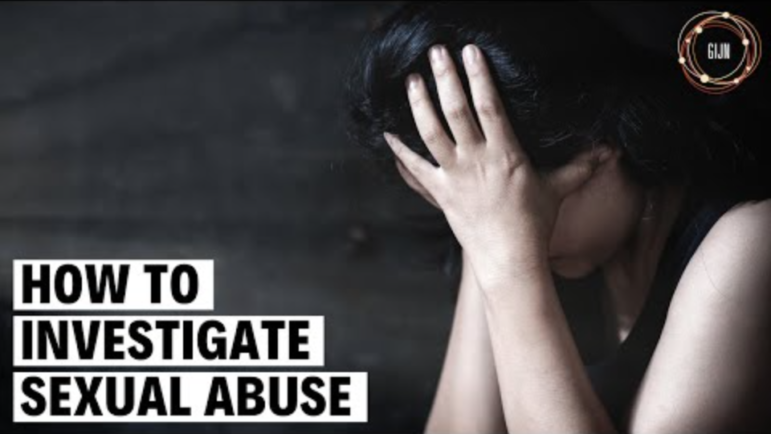 Investigating Sexual Abuse: An Updated Reporting Guide
Read this article in
Editor's Note: This guide was updated in 2023 by GIJN's Leonardo Peralta and edited by Nikolia Apostolou.
The subject of sexual violence remains a sensitive if not taboo subject in much of the world and often goes unreported. Watchdog journalism has started digging deeper into sexual violence, but these investigations are still few relative to the estimated number of cases worldwide.
This guide is based on tips and techniques drawn from a previous GIJN webinar, Investigating Sexual Abuse, and augmented by a GIJN Resource Center search of relevant case studies, useful organizations, and guides. The webinar featured speakers Lénaïg Bredoux, gender editor at Mediapart; Sophia Huang, a freelance journalist in China; Ashwaq Masoodi, a freelance journalist in India; and moderator Susanne Reber, executive producer of podcasts at Scripps, a US media company.
The World Health Organization (WHO) defines sexual violence as "any sexual act, attempt to obtain a sexual act, unwanted sexual comments or advances, or acts to traffic or otherwise directed against a person's sexuality using coercion, by any person regardless of their relationship to the victim, in any setting, including but not limited to home and work."
In conflict zones, the situation is perilous — according to the UN, for every rape that is documented in war, between 10 and 20 rapes go unreported. But even in more stable societies, the numbers are alarming. According to the US Department of Justice, nearly 80 percent of rapes and sexual assaults go unreported. In Indonesia, Lentera Sintas, a support group for victims of rape, reported that number is over 90 percent. Meanwhile, the University of Southern Denmark found that, despite that the Nordic country being regarded as one of the safest for women, 890 rapes were reported in a year, while 24,000 women had actually experienced rape or attempted rape. Among the reasons for refusing to report assaults, survivors mention shame, fear of reprisal, judgment, or even being ostracized from their social group, along with the injustice they may face in criminal trials.
This tipsheet is based on tips and techniques drawn from the GIJN webinar, Investigating Sexual Abuse (See YouTube video below).
Use the menu below to navigate through the tipsheet.
Seven Tips for Reporting on Sexual Abuse
Useful Resources and Organizations
Research local conditions and understand the cultural environment.
Gather statistics for your region; find data on the prevalence of sexual violence.
Be aware that statistics indicate that most victims do not report sexual assaults to law enforcement.
What percentage were reported to the police? What percentage were not?
How many cases were prosecuted? What percentage resulted in a conviction, or acquittal?
Understand relevant laws, regulations, and definitions of common terms.
Find experts, groups, or organizations to help make your story more accurate, and to provide different perspectives.
In a session on Investigating Sexual Harassment at the 2019 Global Investigative Journalism Conference, Pascale Mueller from BuzzFeed News Germany listed these ways to find stories:
Tips from anonymous sources (via Signal or SecureDrop).
Tips from researchers/unionists.
Tips from the survivors themselves, or witnesses.
Join social media groups and ask questions.
Have a public, easily accessible, and secure way for people to contact you.
Reach out to the community you want to cover.
Be clear with survivors about your process, and explain your work every step of the way.
Tell them it will be long and difficult, and it is your job to corroborate information.
Acknowledge the risk they took to come forward.
Explain why it will take time, how you work, and how you collect evidence.
Understand that it's about ongoing consent, and it's a relationship, not a transaction.
Survivors may have been robbed of their agency (power); let them decide how to communicate, where to meet, when to talk, and for how long.
Mediapart investigative reporter Marine Turchi notes that there is "a time for listening and a time for fact-checking."
It is not just a question of "he said, she said." There is often tangible evidence that can be compiled. So when you are told there is "no proof," look for a body of evidence:
Survivors' documents, text messages, emails, social media content, diary, letters, and pictures to show they knew each other.
Documents from family, friends, colleagues of the victim, and accused.
Other victims or witnesses, first-person accounts.
Victims may have deleted their messages to the perpetrator, but often they would have spoken about it to others. Look into ways to recover deleted messages.
Financial or legal records, like disciplinary records, testimony, and lawsuits. These may reveal who else was involved, and who else knew.
Verify dates and locations to build a timeline.
Sexual violence is about power and domination.
Stories are stronger when they involve multiple victims because that shows a pattern.
Multiple witnesses may have spoken with the perpetrator and can tell whether the person used sexist language or behavior, showing patterns of behavior.
Understand imbalances related to gender, social class, and hierarchies.
Contact institutions accused of complicity, but don't reveal everything you know or give clues about your sources.
Carefully choose words and phrases. Definitions matter. Rape is violence, not "sex."
Let survivors pick words that fit their situations (e.g., "survivor," "victim").
Avoid asking survivors "why" questions, which may imply they were responsible in some way.
Question institutional failures, not the victim. Ask "What prevents you from going to the police?" not "Why didn't you go to the police?"
Reporting stories of sexual assault requires a combination of compassion, thick skin, empathy, sensitivity, respect, and psychological awareness. We report the stories when a private issue becomes a public concern.
Respect survivors and their right to say no, and to make their own choices.
Constantly balance between empathy and facts.
After the story is released, keep in touch with the survivor.
Upon publication, survivors may find consolation with other survivors or groups.
Here is a selection of recent stories about investigations into sexual abuse or violence.
Alleged sex abuse by aid workers unchecked for years in UN-run South Sudan camp (2022). This investigation by The New Humanitarian and Al Jazeera draws heavily on unpublished documents, and it is part of TNH's ongoing coverage of aid sector accountability around sexual abuse.
New sex abuse claims against Ebola aid workers exposed in Congo (2021). An investigation by The New Humanitarian and Thomson Reuters Foundation of claims by 22 women in Butembo, who alleged that male UN aid workers in the eastern Democratic Republic of Congo offered them jobs in exchange for sex or raped them.
The Only Ones Arrested After a Child's Rape: The Women Who Helped Her (2021). A New York Times piece on the assault of a 13-year-old girl in Venezuela and the arrest of her mother and a teacher who helped her end the pregnancy. The jailing of the two women, while the rapist remained free, prompted a national debate about legalizing abortion.
We exposed aid worker sex abuse during the Ebola outbreak. Now what? (2021). The New Humanitarian and the Thomson Reuters Foundation interviewed more than 70 women who said that aid workers from some of the world's largest organizations offered them work in exchange for sex during the Ebola outbreak in the Democratic Republic of Congo between 2018 and 2020.
The Only Ones Arrested After a Child's Rape: The Women Who Helped Her (2021). A New York Times piece on the assault of a 13-year-old girl in Venezuela and the arrest of her mother and a teacher who helped her end the pregnancy. The jailing of the two women, while the rapist was still free, forced a national debate about legalizing abortion.
The French Journalists Behind Trail-Blazing Investigations into Sexual Violence (2020). GIJN's French Editor Marthe Rubio talked with Lénaïg Bredoux and Marine Turchi about the methodologies and motivations behind the French website Mediapart's investigations into sexual violence.
The Impact of #MeToo in France: An Interview with Lénaïg Bredoux (2019). Bredoux discusses her work covering sexual misconduct allegations, and having to defend it in court, with Aida Alami for The New York Review of Books.
Verified (2020). This 10-episode investigative reporting podcast from the Investigative Reporting Network Italy (IRPI) and US company Stitcher tells the story of a sexual predator who drugged and assaulted women vacationing in Italy. RivistaStudio reviews the podcast in Lo Stupratore su Couchsurfing.
A #MeToo Awakening Stirs in Iran (2020). Accusations of sexual misconduct over a 30-year span against Iranian artist Aydin Aghdashloo, published in The New York Times.
Rodney Edwards: How One Brave Man Walked into our Newspaper Office to Uncover Shocking Abuse Cases (2019). Edwards writes about how he and child abuse victims exposed wrongdoing in Ireland in their award-winning probe.
New York Times & New Yorker Series on Harvey Weinstein and Others (2018). The Pulitzer Prize in Public Service was shared by The New York Times for reporting led by Jodi Kantor and Megan Twohey, and The New Yorker, for reporting by Ronan Farrow, for journalism that exposed powerful and wealthy sexual predators in Hollywood.
'She Said' Recounts How Two Times Reporters Broke the Harvey Weinstein Story (2019). A review of the book that grew out of The New York Times investigation into Harvey Weinstein and other high-profile men implicated in systemic sexual abuse.
Advice for Reporters Working with Survivors of Child Abuse (2019). Tips from journalists at GIJC19 on how to carry out sensitive investigations into abuse.
The Pathology of a Predator (2019). This four-part series from Australia's online site Crikey reports on pedophiles in the Catholic Church through interviews with priests, brothers, seminarians, and victims. Investigative reporter Suzanne Smith went on to write the book The Altar Boys, a history of clerical pedophilia, published in 2020.
Investigative Journalists Propel #MeToo Reporting at China's Universities (2018). Three cases at China's top universities on the front lines of #MeToo reporting in China, as profiled by GIJN's Ying Chan, Siran Liang, and Lizzy Huang.
How #MeToo China Inspired a User-Generated Model of Investigative Journalism (2018). The second in a series on the wave of investigative reporting behind the #MeToo movement in China, by Ying Chan for GIJN.
Belatedly, The Indianapolis Star Gets Its Due for Gymnastics Investigation (2018). This piece explores the two-year investigative project that led to the arrest of the former doctor of the US Gymnastics team, who was accused of molesting more than 100 girls and women, including Olympic athletes.
What Happens When #MeToo Goes to Court (2018). Ashwaq Masoodi writes about the years-long road to justice in India for victims of sexual harassment.
Politiken's investigation of abuse of child actors in Danish film industry (2018).
Covering Sexual Assault (2017). Reporting on rape and sexual assault presents challenges for journalists in building trust with sources and avoiding injecting bias into the story. In NiemanReports, Michael Blanding wrote about the importance of covering sexual assault, and how to do it well.
No #MeToo in China? Female Journalists Face Sexual Harassment, but Remain Silent (2017). A profile of Chinese journalist Sophia Huang Xueqin and the problems of sexual harassment and abuse in China.
Rolling Stone's Investigation: 'A Failure that was Avoidable' (2015). The Columbia University Graduate School of Journalism's investigation into a story of rape on campus that had to be retracted, due to widespread failures in reporting, editing, editorial supervision, and fact-checking.
Bangladesh: Protests Erupt Over Rape Case (2020). According to Human Rights Watch, attackers in Bangladesh are rarely held to account, with a conviction rate for rape below 1%. Women often tell the media they do not feel comfortable going to the police.
Sexual Violence: Uganda Police Should Support Victims, Not Blame Them (2020). Human Rights Watch.
Finding the Courage to Cover Sexual Violence (2014). Frank Smyth of the Committee to Protect Journalists reviews the strategies and repercussions for journalists who cover sexual assault.
Investigating Rape: An Examination of How the Police and Prosecutors Approach Rape Allegations (2014). The Bureau of Investigative Journalism analysis includes case studies and reports from independent panels.
Catholic Church Abuses (2003). The Boston Globe won the Pulitzer Prize for Public Service for its comprehensive coverage of sexual abuse by priests in the Roman Catholic Church (dramatized in the movie "Spotlight"). The Dart Center interviewed the Spotlight team in 2016 to talk about how they did it, and here's GIJN's David E. Kaplan on Eight Lessons on Investigative Reporting from "Spotlight."
The Dart Center for Journalism & Trauma: Sexual Violence has many resources for covering sexual violence, including quick coverage tips (also in Arabic and Japanese), as well as advice on how to maintain boundaries with sources and colleagues.
Best Practices for Journalists Covering Conflict-Related Sexual Violence (2022). GIJN reports on how to cover sexualized violence when it's often used as a weapon of war, because it targets entire communities.
Interviewing Child Witnesses and Victims of Sexual Abuse (2022). This guide describes approaches and techniques that are designed to be legally defensible while minimizing further trauma to the interviewed child. These techniques emphasize maintaining an objective perspective by the interviewer by avoiding leading questions, especially with young children, who may be susceptible to the suggestions of adults.
My Story is Not Your Trauma Porn: How Not to Interview Survivors of Sexual Assault (2021). In this article, a survivor of sexual assault recalls the experience of agreeing to an interview about her assault and explains the mistakes made by the producers in arranging the interview and the questions they asked her.
The Fundación Gabo translated into Spanish this Dart Center tipsheet on covering rape cases.
IJnet Español translated into Spanish the Dart Center's Tips for Journalists Covering Sexual Abuse Cases.
The UK's Independent Press Standards Organisation (IPSO) gives guidance to reporters investigating sexual offenses. It also offers links to organizations in the UK that deal with rape victims.
Angles, a UK-based organization whose goals are to increase understanding of sexual and domestic abuse and violence, offers resources, statistics, reporting guidelines, and useful contacts for journalists.
The African Commission on Human and Peoples' Rights. Woven out of the African Union, this commission, set up to tackle human rights issues, has a sexual violence component. Here's the commission's guide to combating sexual violence and its consequences across Africa.
Africa's Institute of Security Studies publishes resources for the continent, including items like this policy brief on sexual violence in South Africa.
Safe Spaces strives to be South Africa's key knowledge hub for resources, good practices, and events on a wide spectrum of topics related to community safety as well as violence and crime prevention, including sexual violence.
OCHA ReliefWeb produced this Handbook for Journalists, Reporting on Violence Against Women and Girls (also available in Russian, Arabic, Kyrgyz, and Mandarin).
Sexual Violence Research Initiative (SVRI) is a global network focused on researching violence against women and children.
National Sexual Violence Resource Center (NSVRC) is a US-based nonprofit that works with the media to promote informed reporting on sexual violence.
The US-based Rape, Abuse & Incest National Network (RAINN) is the nation's largest anti-sexual violence organization. It produced these Tips for Interviewing Survivors for journalists and a glossary of key terms and phrases, and can even accommodate requests from the media to speak with survivors.
The Investigation and Prosecution of Sexual Violence, a working paper from the Human Rights Center at the University of California, Berkeley, School of Law, lays out the difficulties that arise when investigating sexual violence.
Reporting on Rape & Sexual Violence: A Media Toolkit to Better Media Coverage from the Chicago Taskforce on Violence Against Girls & Young Women, includes examples of good and bad reporting on sexual violence, along with tips and notes on understanding statistics.
These handbooks are written for local US reporters, but they both provide a good guide on questions to ask and processes to follow: Reporting Sexual Assault: A Guide for Journalists from the Michigan Coalition to End Domestic & Sexual Violence and the Minnesota Coalition Against Sexual Assault's Reporting on Sexual Violence: A Guide for Journalists.