Competition for the 2023 Global Shining Light Award (#GSLA23) is now CLOSED. The deadline to apply for the Global Shining Light Award was February 28, 2023. The winners were announced at the Global Investigative Journalism Conference in Gothenburg, Sweden, in September 2023.

To learn about future GIJN opportunities, be sure to subscribe to GIJN's fortnightly newsletter.
Every two years, the Global Investigative Journalism Network presents the Global Shining Light Award, a unique award which honors investigative journalism in a developing or transitioning country, done under threat, duress, or in the direst of conditions. After a pause during the pandemic, we are pleased to bring back the award, which will cover the period from January 1, 2021 through December 31, 2022.
There are two award categories: Small & Medium Outlets (organizations with staff of 20 or less, including freelancers); and Large Outlets (organizations with more than 20 staff). Top winners will receive an honorary plaque, US$2,500, and a trip to the 2023 Global Investigative Journalism Conference to accept the award in front of hundreds of their colleagues from around the world.
Due to the high volume of applications, we ask that you send us online links to your work samples. If your sample is not available as a public link, you can easily upload your document to a platform such as Google Drive or Dropbox, and share the link with shininglightaward@gijn.org. If you run into any problems, send us an email. If submissions are in languages other than English, you must provide a detailed English-language summary of a print or online story, or an English-language transcript of a broadcast script.
Competition is keen. In 2019, the awards drew a record 291 submissions. The quality was extraordinary. From 12 impressive finalists, the judges gave out three awards and two citations of excellence.
Background
Each year dozens of journalists and media workers are killed – and hundreds more are attacked, imprisoned or threatened – just for doing their job. Many of these violations of free expression occur in developing or emerging countries, and quite often during military conflicts. There are a number of international awards recognizing such attacks on freedom of expression.
But there is another clear trend that emerges in analyses of global attacks on reporters and the media. More and more journalists are being killed, and media outlets attacked, because they are carrying out important efforts in investigative journalism – exposing uncomfortable truths, shining light on systematic corruption, and providing accountability in societies yearning for democracy and development. More journalists  are killed each year covering corruption and politics than are killed covering wars, according to the Committee to Protect Journalists.
On behalf of the global investigative journalism community, GIJN is pleased to recognize and celebrate these courageous investigative journalists and their work. Read more about the previous winners and their remarkable investigative stories below.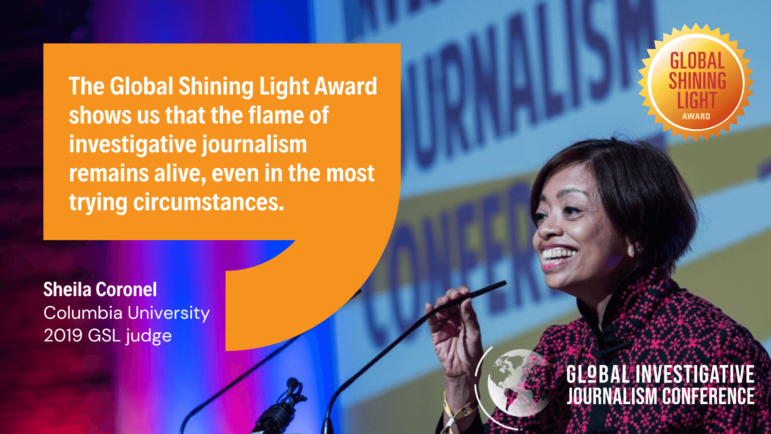 Criteria
The journalist, journalism team, or media outlet will have produced independent, investigative reporting, which:
Originated in and affected a developing or transitioning country;
Was broadcast or published between January 1, 2021 and December 31, 2022;
Was of an investigative nature;
Uncovered an issue, wrongdoing, or system of corruption which gravely affected the common good;
And did so in the face of arrest, imprisonment, violence against them and their families, or threats and intimidation.
Award Categories

Small and Medium Outlets (organizations with staff of 20 or less, including freelancers)
Large Outlets (organizations with more than 20 staff)
Judging Process
An international panel of judges, consisting of investigative journalism experts, will decide on the winner. The judges, in their discretion, may select more than one winner to recognize outstanding work.
---
Previous Winners of the Global Shining Light Award
2023
Small Outlets Category
Joint Winners
Team: Sashka Cvetkovska, Elena Mitrevska Cuckovska, Maja Jovanovska, Dajana Lazarevska, Lila Karatasheva, David Ilieski, Trifun Sitnikovski, Trajche Antonovski, Atanas Velkovski, Gorjan Atanasov, Mladen Pavleski, Vlatko Vladimirov, Luka Blazev, Denica Chadikovska, Martina Siljanovska, Sergej Sarchevski, Bojan Stojanovski, Aleksandra Denkovska, and Ivana Nasteska.
In one of the most ambitious COVID-19 profiteering probes to emerge from the pandemic, an all-women reporting team decided to investigate coronavirus-related deaths, treatments, and patient billing at North Macedonia's most prestigious private hospital. After months of investigations into several parallel angles, the Investigative Reporting Lab (a local member center of the Organized Crime and Corruption Reporting Project) found that the hospital had performed unsanctioned and unsafe blood purification treatments on numerous patients, while also concealing vital patient information and allegedly manipulating infection data. A striking feature of the effort was that these reporters were undeterred by the deep technical complexity of COVID-19 treatments, and a deluge of arcane medical spin from hospital executives. Reporters and a senior editor were assailed with pervasive online harassment, gendered smears, and death threats. Said one judge: "This story was impactful, and how they went about their reporting was dogged and systematic." Another juror added: "I think some people didn't take these reporters' inquiries too seriously — and then they nailed it!"
Reporter: Daneel Knoetze.
Like many classical investigative stories that achieve lasting impact, this piece makes institutional failure, rather than wrongs by individual officials, its central focus. This multi-year investigative series revealed a stunning lack of accountability for South African police officers implicated in crimes like rape, torture, assault, and even murder — as well as a system that enables rogue cops to reoffend. It also held individuals to account, despite the constant risk of reprisal. Remarkably, Viewfinder — a tiny nonprofit news organization — also created a unique, easily searchable public databaseof tens of thousands of registered complaints about police misconduct. Said one judge: "There was very intense reporting, and the storytelling is good, and, in every couple of sentences, you see a link to evidence the reporter provides — all kinds of documents."
Certificate of Excellence
Team: Four journalists who cannot currently be named for safety reasons, along with Tasneem Khalil, Nazmul Ahasan, Zulkarnain Saer Khan, and David Bergman.
In a critical piece of watchdog journalism, Netra News — an exiled nonprofit newsroom for Bangladeshi audiences based in Sweden — revealed the existence of a secret detention center holding a wide range of dissidents and criminal suspects in the capital of Dhaka. This investigative documentary, which the outlet says has been viewed more than one million times, included testimony from former detainees, verification from current military officers, and photographs of the cramped and inhumane conditions inside. One panelist noted that Netra News "covers the untold stories in the country, and are always at risk from the authorities. This particular story exposed a 'torture cell' of the Bangladesh military which is, in any circumstances, the bravest example of Bangladeshi journalism."
Large Outlets Category
Joint Winners
Team: Joseph Poliszuk, María de los Ángeles Ramírez, and María Antonieta Segovia.
This epic project involved sophisticated data mapping, innovative sourcing, and courageous field reporting to reveal a vast network of illegal mining operations in Venezuela and their corresponding threats to the environment and Indigenous communities. Published simultaneously by Armando.info and the Spanish daily El País, with support from the Pulitzer Center, the project mapped 3,718 illicit mining locations across an area twice the size of Germany, and also exposed routes used by cross-border organized crime gangs. The team used AI tools, databases, a satellite tracking program, and physical surveys of remote jungle routes to tell a story that also included powerful graphics. One jury member noted that "This story is taking us to where journalism is going — and it was a task so immense they used AI to crack the code of a story we would not otherwise have seen." Another judge noted: "Yes, they used tools like AI, but there was also the threat of guerilla and narco gangs — so it was difficult and dangerous work; it was really brave."
Team: Yusuf Anka, Tom Saater, Jamil Mabai, Daniel Adamson, Kai Lawrence, Bulama Bukarti, Tom Roberts.
Every few years, a piece of journalism emerges that reveals an entire, largely hidden world — one that should deeply concern the world outside. In a two year-long investigation that involved stunning bravery, BBC Africa Eye exposed the pervasive conflict and banditry that has engulfed Nigeria's northwestern state of Zamfara. For the first time, it also showed the motives and causes of a conflict that killed hundreds of people in 2022, and displaced hundreds of thousands more. The reporting centered on the unique access to warlords and victims gained by one reporter who traversed dangerous roads by motorcycle to conduct equally perilous interviews. According to BBC Africa Eye: "At huge personal risk, a young Nigerian journalist and law student, Yusuf Anka, visited bandit leaders in remote encampments across the state — including one of the men who, in February 2021, abducted nearly 300 girls from a high-school in Jangebe." One Global Shining Light Award juror noted: "It's a great piece of work, with the reporter going from one side to the other, giving us context — amazing." Another panel member added: "He displayed extraordinary bravery in going to the heart of the conflict between ethnic groups in Nigeria, and was at the scene almost as soon as some of the events happened. He really took us to the heart of a story I haven't seen anyone else tell."
Certificate of Excellence
Team: Kira Tolstyakova, Valeriya Yegoshyna, Nataliya Sedletska, Kyrylo Lazarevych, Pavlo Melnyk, Maksym Asyka, Heorhii Shabaiev, and Anna Peterimova.
Schemes, an investigative project of Radio Liberty's Ukraine service, submitted a number of excellent stories on suspected Russian war crimes for the Global Shining Light Award, all of which were produced under harrowing conditions. For a finalist spot, the jury chose one Schemes story that not only exposed the origins of mass graves in the Kharkiv region, but also found evidence of civilian torture, and identified the overlapping Russian occupation brigades behind these systematic human rights abuses. The reporters even unearthed conversations in which Russian soldiers discussed their crimes. While the team used documents and open source tools, this emotionally powerful story revolved around interviews with volunteers who had to bury hundreds of fellow Ukrainians. One jury member noted: "This story really showed the drama of the murder of civilians, which is important. This is a group of reporters who worked as a single newsroom — assigned to report parts of de-occupied Ukraine — and they revealed crimes and even the Russian military units involved."
2019
Large Outlets (Joint winners)
Team: Patricia Evangelista, Carlo Gabuco, Lian Buan, Rambo Talabong, Chay Hofileña. (Rappler, the Philippines)
This series tells the story of President Rodrigo Duterte's so-called war against drugs, which has claimed the lives of tens of thousands of people since he took office in 2016. Rappler's six-month investigation showed strong indications that the police were outsourcing extrajudicial killings to a vigilante gang.
Team: Adi Eyal, Adriaan Basson, Angelique Serrao, Antoinette Muller, Branislav "Branko" Brkic, Craig McKune, Lester Freamon (pen name), Lionel Faull, Marianne Thamm, Micah Reddy, Pauli van Wyk, Pieter-Louis Myburgh, Rebecca Davis, Richard Poplak, Sally Evans, Stefaans Brümmer, Stephen "Sam" Sole, Susan Comrie, Tabelo Timse. (Daily Maverick (Scorpio investigative unit), amaBhungane Centre for Investigative Journalism, News24, OpenUp, and Finance Uncovered, South Africa)
This collaborative investigation was based on a massive cache of emails from inside the business empire of the Gupta family, three brothers who moved to South Africa from India in the 1990s. Close to former President Jacob Zuma — who stepped down not long after the leaks were published — the series showed how the family "captured" the South African state, siphoning public cash to their companies in the process.
Large Outlets (Citation of Excellence)
Team: Ilgar Agha, Roman Anin, Anna Babinec, Sophie Balay, Attila Biro, Jan Bratanic, Anuška Delić, Ricardo Ginés, Pavla Holcová, Khadija Ismayilova, Elena Loginova, Miranda Patrucić, Madina Mammadova, Paul Radu, Atanas Tchobanov, Jonny Wrate, Carole Kerbage, Dragana Peco, Nadia Shiyyab, Friedrich Lindenberg, Amy Guy, Lion Summerbell, Ilya Lozovsky, Jody McPhillips, Drew Sullivan, Birgit Brauer, Lejla Čamdžić, Roxana Jipa, Ana Poenariu, undisclosed Azerbaijani journalists. (Organized Crime and Corruption Reporting Project (OCCRP) in collaboration with numerous international outlets, Azerbaijan)
This collaborative, cross-border investigation uncovered how ruling elites in Azerbaijan benefited from a complex money-laundering operation and slush fund. Banking records revealed that some $2.9 billion passed through four shell companies registered in the United Kingdom over a two-year period.
Small/Medium Outlets (Winner)
Team: For the "Car Wash" series: Gustavo Gorriti, Romina Mella, Hernán P. Floríndez, Rosa Laura, Margot Desautez. For "White Collars" series: Gustavo Gorriti, Romina Mella, Hernán P. Floríndez, Rosa Laura, Margot Desautez, Patricia Mayorga, Cruz Silva, Luis Miguel Purizaga. (IDL-Reporteros, Peru)

Peru's IDL-Reporteros was one of the first media outlets to report on the bribes of Brazilian construction company Odebrecht and its complex corruption network — dubbed by prosecutors as "Operation Lava Jato" (Operation Car Wash in Portuguese) — that reached many other countries in Latin America, implicating presidents and other top government officials and politicians. As IDL-Reporteros doggedly continued reporting the case, their journalists uncovered another major story: corruption at the highest levels of Peru's courts. Their "White Collars" series has prompted the state to make structural reforms to the justice system.
Small/Medium Outlets (Citation of Excellence)
Team: John-Allan Namu, Elijah Kanyi, Samuel Munia. (Africa Uncensored, Kenya)
This three-part documentary shines a light on how certain members of South Sudan's elite have profited from the civil war and plundered their nation, all the while investing in Kenya and other East African countries. The investigation shows how these individuals move funds and obtain weapons with support from government and military officials, business people, and financial institutions in neighboring countries.
More information about the 2019 finalists here + video for small/medium outlets and large outlets.
---
2017 (Joint winners)
Journalist: Emmanuel Mayah; Editor: Musikilu Mojeed. (Premium Times, Nigeria)

A two-month long investigation by Mayah uncovered multiple mass graves, lending support to allegations that police and military forces have been targeting a minority ethnic group for abuse and extrajudicial killings. Following reports that included photo evidence, human rights groups called for an independent probe and the army announced another investigation.
Journalist: Asaad Al-Zalzali; Photography: Thaer Khalid (Beladi TV channel, Iraq)

When $200 million allocated for public schools in Iraq went missing, reporter Al-Zalzali followed the money, which led him to a bank and to another country. The story exposed the magnitude of corruption in the country's Ministry of Education and led to a conviction and a settlement that returned half the stolen money.
Citation of Excellence
Reporters: Lawrence Marzouk, Ivan Angelovski and Miranda Patrucic; Additional reporting: Atanas Tchobanov, Dusica Tomovic, Jelena Cosic, Jelena Svircic, Lindita Cela, RISE Moldova, Pavla Holcova, Stevan Dojcinovic and Pavle Petrovic; Editors: Drew Sullivan, Jody McPhillips, Rosemary Armao, Gordana Igric and Anita Rice (Balkan Investigative Reporting Network and the Organized Crime and Corruption Reporting Project)

The joint investigation uncovered an arms pipeline between Central and Eastern Europe and the Middle East worth €1.2 billion. The weapons flow, reporters found, were being financed by Saudi Arabia, Jordan, the UAE and Turkey, and systematically diverted to extremist groups, including the Islamic State.
After the story was published, the European Union announced it would monitor the flow of weapons and several countries reviewed their policies.
Citation of Excellence
Journalist: Rana Ayyub (self-published)

Reporter Rana Ayyub went undercover for nine months to record top officials speaking candidly about the 2002 riots in Gujarat, which left at least 1000 Muslims dead. When one of the targets of Ayyub's investigation was poised to become the country's new prime minister, Indian media houses got cold feet. Despite threats and surveillance, Ayyub self-published the transcripts that revealed complicity by India's top officials in the attacks.
More information about the 2017 finalists here and video here.
---
2015 (Joint winners)
Journalists: Miranda Patrucic; Dejan Milovac; Stevan Dojcinovic; Lejla Camdzic, Drew Sullivan, Jody McPhillips, Rosemary Armao (Organized Crime and Corruption Reporting Project)
This year-long investigation exposed how Montenegro's once-untouchable Prime Minister Milo Djukanovic and his family bank are at the center of an unholy alliance of government, organized crime, and business. Far from a model candidate for the EU, Montenegro in effect functions as a mafia state.
Journalists: Mauri König with Albari Rosa and Diego Antonelli (Brazil); Martha Soto (Colombia); and Ronny Rojas (Costa Rica), Gazeta do Povo, Brazil
A five-month investigation revealed how cigarette smuggling is overtaking marijuana and cocaine as the most profitable racket in parts of Latin America. The illicit trade is reshaping the geopolitics of organized crime in South America, and is covertly led by Paraguay President, Horacio Cartes.
Citation of excellence
Journalists: Dmytro Gnap; Anna Babinets; Vlad Lavrov; Oleksandr Akimenko; Katya Gorchinskaya; Natalie Sedletska; Oleg Khomenok; Mariya Zemlyanska; Olesya Ivanova; Maksym Opanasenko; Kateryna Kapliuk; Denys Bigus.
In the chaotic days of Ukraine's 2014 revolution, an impromptu team of journalists banded together to rescue 25,000 documents nearly destroyed by the country's fleeing president. Their work documented an extraordinary history of corruption and became evidence in criminal cases against Yanukovych and his cronies for stealing millions of dollars.
More information about the 2015 finalists here and video here.
---
Journalists: Khadija Ismayilova, Nushabe Fatullayeva, Pavla Holcova, and Jaromir Hason in a collaboration by the Organized Crime and Corruption Reporting Project, Radio Free Europe, and the Czech Center for Investigative Journalism
The story laid bare the questionable business dealings of president Ilham Aliyev's family, who stood to add billions of dollars to their already enormous wealth through a gold mining operation. The team exposed how the family used a consortium of one UK and three offshore companies as a front for their business dealings.
Citation of excellence
Journalists: Umar Cheema, Center for Investigative Reporting in Pakistan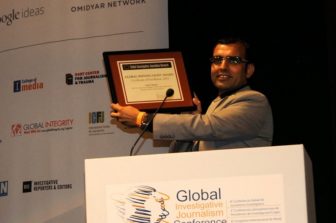 Cheema obtained and analyzed tax records of all 446 members of Pakistan's parliament and the president. His investigation revealed that nearly 70 percent of lawmakers failed to file tax returns. The story caused huge controversy and debate in Pakistan, a country that suffers from one of the world's lowest rates of revenue collection.
More information about the 2013 finalists here and video here.
---
2011
Journalists: James Alberti, Katia Brembatti, Karlos Kohlbach, and Gabriel Tabatcheik, Gazeta do Povo and PRC Television, Brazil
The reporters spent two years building a database to reveal how the Parana state legislative assembly systematically pilfered as much as $400 million in public funds. The 2010 series drew 30,000 people to the streets in anti-corruption protests and resulted in more than 20 criminal investigations.
---
2010
Journalists: Vitalie Calugareanu (Moldova), Vlad Lavrov (Ukraine), Stefan Candea (Romania), Dumitru Lazur (Moldova), and Irina Codrean (Moldova)
The journalists worked together to expose how the former president of Moldova abused his power to enrich himself and his family. They obtained information on Voronin's private properties from 1996-2009 and showed how he used his position to create monopolies for his family businesses.
---
2008
Gangsterism and the Faulty Legal System
Journalist: Sonali Samarasinghe (Sri Lanka)
Sonali Samarasinghe exposed how a powerful government minister used his influence and connections to the prime minister to run roughshod over the media and the justice system. Samarasinghe was later forced to flee the country after her husband was murdered and her own life was threatened.
---
2007
Journalists: Paul Christian Radu and Sorin Ozon, Romania Centre for Investigative Journalism; Eldina Pleho and Alison Knezevic, Centre for Investigative Reporting in Bosnia; Stanimir Vlaglenov (Bulgaria), and Altin Raxhimi (Albania).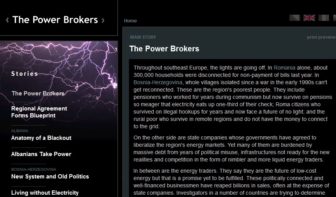 The project investigated an energy crisis that caused massive power outages across Romania, Bosnia, Bulgaria, and Albania. The series exposed questionable deals by shadowy businessmen operating across the Balkans that returned huge profits to power traders but resulted in exorbitant electricity rates applied to impoverished citizens.
---
*NOTE: The 2013 Global Shining Light Award originally had two winners. Due to reporting errors and other problems in Cato Manor: Inside a South African Police Death Squad, the Sunday Times of South Africa in 2018 disavowed the work and returned all awards given to the team behind the story. In response, GIJN has removed Cato Manor as a Global Shining Light Award winner.