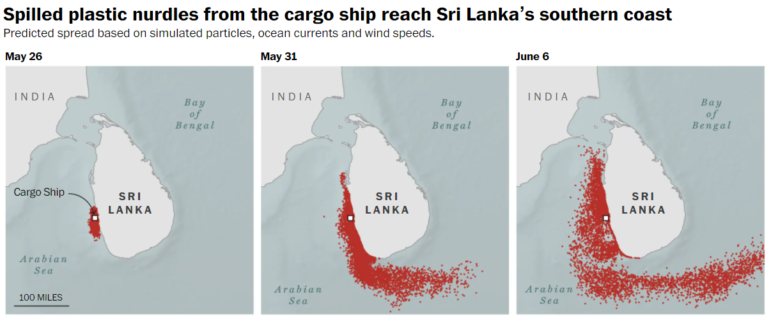 A sunken ship with a toxic cargo threatens to cause one of the worst environmental disasters in the history of Sri Lanka. Our NodeXL mapping from June 14 to 20, which tracks the most popular data journalism stories on Twitter each week, found a story by The Washington Post examining what caused the incident and evaluating the potential damage to marine wildlife. In this edition, we also feature a piece by Al Jazeera evaluating 70 years of journeys made by refugees, an investigation into recyclable waste by Brazil's Metrópoles, and take a look at the winners of the 2021 Sigma Awards, recognizing the world's best data journalism.
Refugee Journeys
Seventy years ago, in the aftermath of World War II, the UN established the 1951 Refugee Convention to protect the rights of displaced people in Europe. It was expanded in 1967 to address displacement across the rest of the world, but the number of refugees has doubled in a decade, with more than 82 million people worldwide now displaced by conflict or persecution. Al Jazeera produced a series of infographics to illustrate the desperate journeys taken by refugees over the past seven decades.
At 6.7 million people, Syrians are the biggest population of refugees today followed by Palestinians (5.7 million) and Venezuelans (4 million).

As of 2020, 88% of the world's refugees originated from only 12 countries.

➡ https://t.co/8B9jn3QYvT | #WorldRefugeeDay pic.twitter.com/Uc7sa1RBSA

— Al Jazeera English (@AJEnglish) June 20, 2021
Toxic Cargo
After catching fire, a large cargo ship sank off the coast of Sri Lanka's capital, sparking an ecological disaster. The ship was carrying toxic chemicals as well as harmful, burned fiberglass and plastic pellets, which have polluted nearby beaches and now pose a major threat to marine wildlife. This story by The Washington Post explains what caused the disaster, visualizes the products making up the ship's cargo, and evaluates the potential damage.
Weeks have passed since the X-Press Pearl, a container ship, lit up the Sri Lankan coastline.

The ship's cargo, now partly on the ocean floor, contains toxic chemicals and harmful items that could devastate local marine wildlife and fishing communities. https://t.co/ApLNG0rbIa

— The Washington Post (@washingtonpost) June 17, 2021
Pandemic Poachers
In East Africa, ecotourism has helped wildlife conservation efforts in recent years. But the global pandemic has drastically reduced tourism revenue, a portion of which is used to protect endangered animals. A data project by InfoNile, in partnership with Code4Africa, explains how the pandemic threatens to reverse fragile gains and put wildlife back in the hands of poachers and traffickers.
🐘 Pandemic poachers pose risk to conservation gains

Read how Covid-19 is threatening to reverse the fragile gains in wildlife conservation in 🌍 East Africa in this #ddj story by @InfoNile, produced in partnership with @Code4Africa.https://t.co/I6XcaJKtg4

— Code For Africa (@Code4Africa) June 15, 2021
Greek Drug Bust
In 2018, the Greek authorities captured a Syrian ship bound for Libya carrying over $100 million worth of cannabis and "Captagon," an ampetamine-like drug popular in the Middle East. An investigation by GIJN members IrpiMedia and Organized Crime and Corruption Reporting Project explores how the shipment is tied to organized crime.
NEW: In 2018, Greek authorities stopped a Syrian ship bound for Libya. Stashed aboard was "Captagon," a speed-like drug popular in the Middle East.

With @irpinvestigates, we reveal key details about this cargo, including its ties to organized crime. 1/ https://t.co/JK0aUmKqoo

— Organized Crime and Corruption Reporting Project (@OCCRP) June 16, 2021
German Voter Profiles
Germany is gearing up for crucial federal elections this fall. The newspaper Zeit found 49 people who are demographically representative of German society, and produced an in-depth data piece that offers insights into their lives, their income, education, place of residence, migration background, and more. Taken together, these brief portraits give an intimate look at the state of German society.
Einkommen, Bildung, Herkunft: Wir haben 49 Menschen gefunden, die die deutsche Gesellschaft möglichst genau abbilden. Was denken sie im Wahljahr über Deutschland? https://t.co/80NCLEyrDF #Die49 pic.twitter.com/WZ1o2LY5p3

— ZEIT ONLINE (@zeitonline) June 17, 2021
What Happens to Recyclable Waste?
Many consumers make a conscious effort to sort and recycle their waste. But have you ever wondered what happens to your trash once it leaves your home? In Brazil, the newspaper Metrópoles distributed 72 trackers to monitor the city's collection trucks for 30 days. Their investigation — supported by the Pulitzer Center — reveals that a third of the waste that could be reused gets lost on its way to garbage sorting centers.
O que acontece com o lixo reciclável em Brasília? Para responder essa pergunta eu joguei 72 rastreadores no lixo (graças a ajuda do @pulitzercenter) e vi onde eles foram parar.

O resultado está aqui:https://t.co/n7djnEyy0Z#ddj

— Lucas Marchesini (@LucasMarchesini) June 13, 2021
Carbs Are King
When the pandemic took hold last year, many Australians rushed to their local supermarkets to buy carbohydrate-rich foods. Research from the Australian Bureau of Statistics, analyzed by the Guardian, shows that sales of pasta, rice, flour, and other cereals exploded as people rushed to purchase products with a longer shelf life.
Carbs are king: cereals sales surged amid pandemic panic buying, new data shows https://t.co/ptvG1IsF0Z

— The Guardian (@guardian) June 19, 2021
Air Industry Truce
For 17 years, the United States and the European Union have been battling over subsidies for the US plane manufacturer Boeing and European rival Airbus. Each side argued that the subsidies exposed the other to unfair competition. Last week, the US, EU, and Britain finally reached an agreement to resolve the dispute. Reuters Graphics takes a detailed look at the long-running conflict and the competition between the commercial jetliners.
After EU, Britain and U.S. reach truce in aircraft trade dispute https://t.co/UehOqIlq3h

— Reuters Graphics (@ReutersGraphics) June 17, 2021
A Pulitzer for Tracking COVID-19's Toll
For 18 months, The New York Times newsroom has maintained a comprehensive database of US coronavirus cases and deaths. The effort, which was just awarded a Pulitzer Prize, involves journalists and developers sourcing data from the websites of hundreds of state and county health authorities, using a combination of manual and automated tasks. This piece gives a behind-the-scenes look at how The Times' team handled this unprecedented challenge.
For the last 18 months, newsroom developers from @nytgraphics and @NYTInteractive have led a collaborative effort to track every Covid-19 case and death across the United States. Here's how they did it. https://t.co/ypBqzvLsbz

— NYT Open (@nytopen) June 17, 2021
Sigma Awards
Looking for inspiration or ideas for your next data journalism project? Check out the 13 winners of this year's Sigma Awards, recognizing the best data reporting by news outlets and individual journalists around the world. The jury also awarded seven citations to outstanding works. Here, you can find the full list of projects, including 140 entries that made the shortlist.
📢 The wait is over. We're delighted to announce the winners of the @sigmaawards 2021: 13 outstanding winners + 7 citations, representing the best #datajournalism from around the world 🥳 The full projects info is on our website 👉 https://t.co/YtnNG65kCu #ddj pic.twitter.com/c20HRpYcMc

— sigmaawards (@sigmaawards) June 16, 2021
Thanks again to Marc Smith and Harald Meier of Connected Action for gathering the links and graphing them. The Top Ten #ddj list is curated weekly.

---

Peter Georgiev is GIJN's social media and engagement editor. Previously, he was part of NBC News' investigative unit in New York. He also worked as a correspondent for Bulgarian National Television and his reporting has been published by the Guardian, Deutsche Welle, and other international outlets.
For a look at NodeXL's mapping on #ddj and data journalism on Twitter, check out this map.