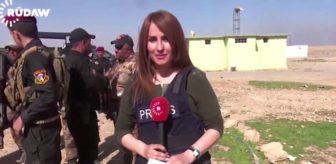 Editor's Note: A new paper by Iranian journalist Yeganeh Rezaian focuses on the difficulties women reporters face while working in Muslim countries. Rezaian, who worked for Bloomberg News and Abu Dhabi's The National, was imprisoned in Tehran with her husband Jason Rezaian of The Washington Post. Following is an excerpt from her paper, "How Women Journalists Are Silenced in a Man's World: The Double-Edged Sword of Reporting from Muslim Countries." 
---
On July 22, 2014, an odd email landed in my inbox while I was working on a story about International Quds Day, a celebration in support of Palestinians that takes place on the last Friday of the holy fasting month of Ramadan.
The sender's address was unfamiliar and in the subject line they demanded 100 million rials ($3,000). At first glance I was scared. I knew right away that something was wrong and yet I tried to calm myself down, to believe this was just a joke from a friend. I couldn't stop myself from opening it. Inevitably, it was a huge mistake. The email said I had 10 hours to pay hush money or the sender would reveal the truth about a sexual scandal I was involved in. They claimed to have pictures and a tape as evidence.
The email was threatening, demanding that I not share the message with anybody. There were no bank account details mentioned, but if I didn't transfer the funds immediately, the sender said they would forward photographs to my husband to show him who I really was and publish them on social networks such as Facebook.
I was sure there was no scandal. I had never done anything like that in my life. I had been with the love of my life for over five years and married to him for a year of that.
But the email was not designed only to threaten me and my marriage. Within five minutes of opening the message I received notifications on both Gmail and Facebook warning me there was suspicious activity on my accounts. Almost immediately after that I was barred from logging into the accounts. We would later discover I had been hacked by an account from a Russian server and my password was being repeatedly changed.
Months later, when I was in prison, an interrogator mentioned the email. He had no shame revealing it was sent to me by the IT department of the Islamic Revolutionary Guard Corps.
Another such case is that of Khadija Ismayilova, who hosted a daily radio show called "After Work" on the Azeri service of Radio Free Europe/Radio Liberty. She had been reporting on corruption by Azeri officials, including the family of President Ilam Aliyev.
Like those in Iran and other authoritarian regimes around the world, Azerbaijan's ruling elites seek secrecy so that they will not be held accountable for their private acts. After Ismayilova revealed details of corruption in her reports, she was the victim of a compromising online sex tape and a letter threatening to release additional lewd material. She claimed that the letter said, "Whore, behave. Or you will be defamed."
She went public with the threat and was subsequently arrested and sentenced to a lengthy prison term. Although she was released after being imprisoned for more than a year, she is prohibited from leaving Azerbaijan.
According to Ismayilova, the episode is still her "main challenge" because even years after the blackmailing episode "whoever wants to shut me up brings that topic forward." The impact is amplified because of her gender. "Basically, for men it would be much easier to overcome that situation," she said.
Like the other journalists interviewed for this paper, Ismayilova says her gender has also aided in her reporting. In her opinion, this is because people often underestimate women's intellect.
"Because we are women our interviewees consider us dummies and explain in more detail. So, this makes our interviews more complete. It's easier for women to get a full soundbite," she said.
Old-Fashioned Harassment
Male interviewees often treat female journalists in ways that can be hard to bear.
Some conservative male interviewees treat a female journalist with more modesty, refusing to make eye contact or keeping the conversation professionally formal. Some people may refuse to take part in an interview with a female reporter as they have the extreme view that it is impermissible to meet with a woman who is not a member of their family.
But there are others who treat you as a seductress, interacting with you as if your only use as a woman is for sexual gratification. They never say it out loud but their wandering eyes do all the talking.
I was once invited to travel with the current Iranian president, Hassan Rouhani, to cover one of his monthly provincial trips as the only journalist writing for a foreign media outlet. I felt very privileged and excited about the opportunity and accepted it right away.
When the invitation arrived, I didn't doubt its sincerity. In my mind, the most important thing was the opportunity, which was, I admit, good for my career because foreign journalists were almost never included in these provincial trips.
So, I traveled with the presidential press corps to the biggest Iranian province, Sistan and Baluchistan, located in the southeast, bordering Pakistan and Afghanistan. Soon after the two-day trip was over and I published my stories, I was contacted by a female photojournalist who had helped me join the trip. She had a message from a presidential staffer, who asked how I planned to return the favor.
In retrospect, I wonder what would have happened if I had accepted his offer. For a female journalist in that situation there is no winning answer.
Female journalists face certain threats such as sexual intimidation, sexual assault or sexual harassment much more frequently than their male colleagues, which makes the need for gender-specific security training necessary and critical, according to the Committee to Protect Journalists and other organizations. There are not enough resources and training programs even for staff members of major international media organizations to prepare women for confronting violence and other threats. For freelancers, there are almost none.
Serious Women
Ironically, working with female officials in Iran is sometimes the greatest disappointment of all.
On the evening of June 14, 2013, when Iranians were still at the ballot box voting for their next president, current Vice President Masoumeh Ebtekar was in Tehran's Hosseinieh Ershad mosque, which has served as a hub for political speeches and other Islamic events since the revolution.
With hours to go before the results would be announced, she declared to me that Rouhani would win the vote. Her confidence was what interested me. Realizing that I was a reporter for Bloomberg News, Ebtekar initially demanded I keep our conversation off the record. But within a few minutes she changed tack. "Because we are both women we understand each other better," she said. She could "trust the way in which I would write the story," so we could chat on the record.
The point was clear: although she is without a doubt the most powerful woman in the history of the Islamic Republic, she was acknowledging that we could both be relied on to self-censor simply because we are women. In retrospect, the sad truth is that she is right.
By the end of our conversation she was comfortable explaining the reformist party's efforts to support Rouhani. He may have been a new name for the public, but he had been winning favor within the party since the last election. I had a story.
But why is a female official more comfortable being interviewed by someone of the same gender? Is it a feeling of mutual understanding or is it doubt in her interviewer's ability? If a woman is in a top position but still doesn't take you seriously as woman reporter, on some level she doesn't take herself seriously.
---
The paper was originally posted on the Shorenstein Center website. The excerpt is published here with permission.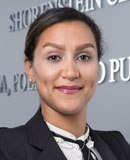 Yeganeh Rezaian covered Iranian political, social and economic news from 2009-2014, until she and her husband, Jason Rezaian, were detained and held in Tehran's Evin Prison. Rezaian had served as a correspondent for Bloomberg News and Abu Dhabi's The National. She is now a fellow at Harvard's Shorenstein Center on Media, Politics and Public Policy.