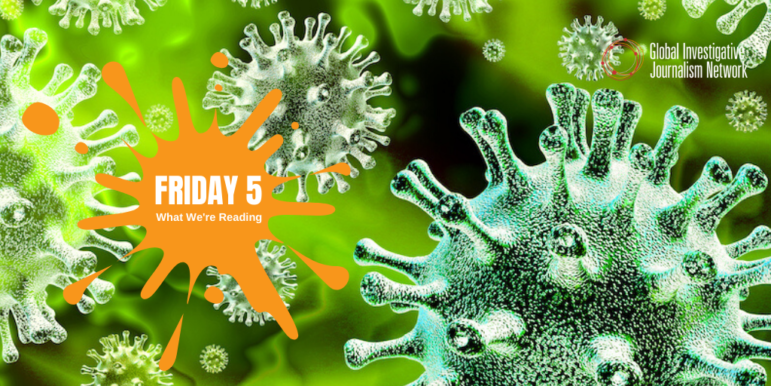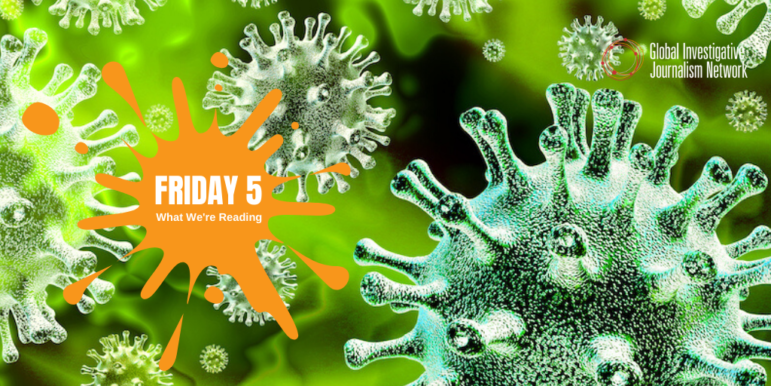 What We're Reading: Like Everyone Else, Everything About COVID-19
This week's Friday 5, where we round up our favorite reads from around the online world in English, includes tips for journalists covering COVID-19, news from Investigative Reporters & Editors about a NICAR20 conference attendee testing "presumptively positive" for the virus, and the latest on media conference cancellations around the world — including GIJN's own Asian Investigative Journalism Conference.
Tips for Journalists Covering COVID-19 (GIJN)
We don't normally lead with GIJN reads, but times like these aren't so normal. GIJN's Miraj Chowdhury rounded up a "best of" tips and resources for journalists reporting on COVID-19 — which increasingly seems to be all of us. The guide is a go-to for links to the best information sources and which experts to talk to, as well as tips on the wisest approaches to reporting (as in, let's spread good information, not panic). Also check out our interview with infectious disease expert Thomas Abraham, a regular presence at GIJN conferences, where he offers up tips on what investigative reporters need to be asking about COVID-19.
NICAR20 Attendee Tests Presumptively Positive for Coronavirus (IRE)
NICAR's data journalism conferences pull in up to 2,000 people each year. Its sponsor, the US-based Investigative Reporters & Editors, decided to go through with this year's gathering in New Orleans last weekend, despite growing concerns over the spreading pandemic. Now it turns out an attendee has tested "presumptively positive" for COVID-19 with "mild symptoms." Confirming the test will take up to a week. Meanwhile, as Nieman Lab noted, the news has prompted several US newsrooms to have their NICAR20 attendees work remotely, while scores of others are in self-quarantine for two weeks. In a statement, IRE's Doug Haddix said the attendee "is expected to make a full recovery." Follow IRE on Twitter for updates.
In his Monday Note, Frederic Filloux, associate journalism professor at Sciences Po J-school in Paris, wrote that the French government has called in Google to help get out their official public health messages about COVID-19. "Discreetly, in accordance with its internal procedures for such extreme situations, the search engine tweaked its main algorithm by pushing up the weight for the 'authoritativeness' of a source — one of the many signals compiled by Google," he wrote. This is crucial, particularly for regional information searches about COVID-19. As Filloux points out, a recent, staid press briefing by the head of the French public health system collected a handful of views. Compare that, he wrote, to the 380,000 views of a video about COVID-19 by a young French YouTuber.
While this a US-centric round-up, many media conferences around the world are being cancelled. This list includes SXSW in Austin and the Logan Symposium on Investigative Reporting in Berkeley, both events popular with journalists from around the world. The International Journalism Festival, held annually in April in Perugia, Italy, was cancelled last week, and this week we also lost muckraker meet-ups in Norway and Sweden. UNESCO's World Press Freedom Conference has been pushed to October. Dataharvest, the European Investigative Journalism Conference, says it's taking a wait-and-see approach for its May gathering. At GIJN, we're sad to announce cancellation of our own Asian Investigative Journalism Conference, which was scheduled for October in Kuala Lumpur. We're doing our best to keep up with journalism conference cancellations around the world on our event calendar. Let us know if you see one we haven't updated.
---

Tanya Pampalone, GIJN's managing editor, rounded up this week's Friday 5. Tanya is the former executive editor of South Africa's Mail & Guardian and former managing editor of Maverick (now Daily Maverick). She is a contributor to Unbias the News: Why Diversity Matters for Journalism and Southern African Muckraking: 150 Years of Investigative Journalism Which Has Shaped the Region.