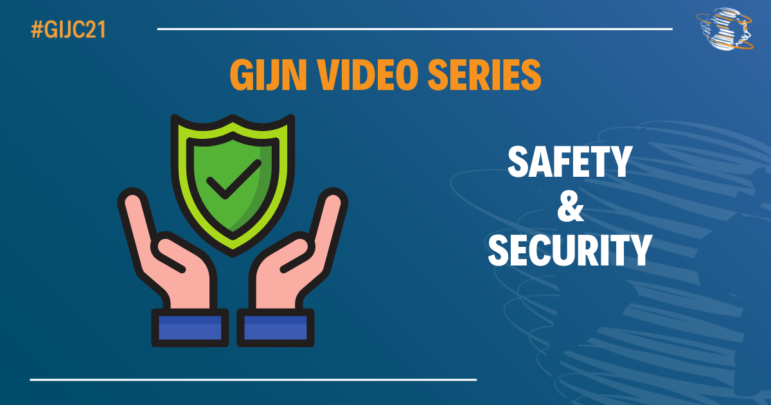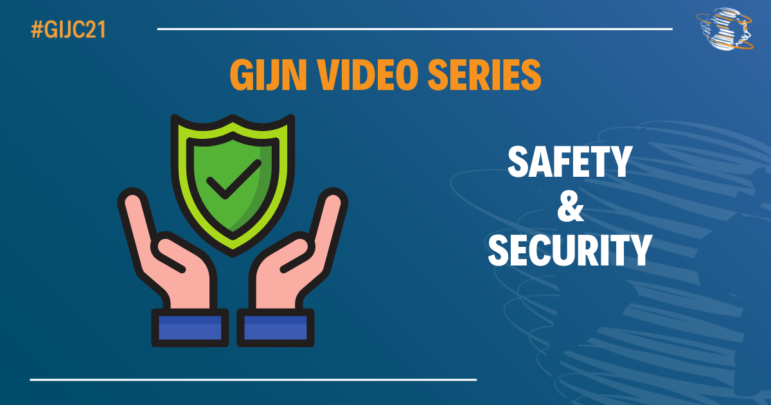 Video Resources for Investigative Journalism Safety and Security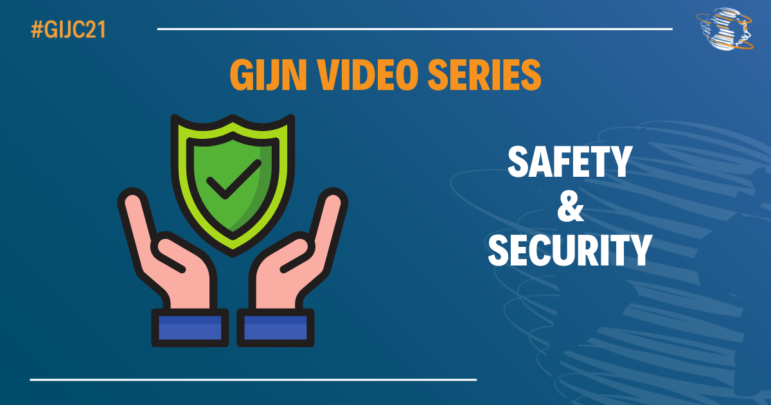 For 20 years, GIJN conferences have helped spread the best practices related to investigative journalism around the world. Our last Global Investigative Journalism Conference — GIJC21, held in November — was no different. We're now releasing videos from the conference, and this week we're featuring topics on journalism best practices related to reporter safety, digital security, dealing with stress, and source protection.
Workshop: Physical Security
Journalists can no longer ignore the threats to our sources or our own physical safety. From Serbia to Russia and even in mature democracies, reporters and their sources face attacks by security services, oligarchs, and more. In this GIJC21 workshop, two investigative editors with extensive, global experience talk about these threats. Drew Sullivan from the Organized Crime and Corruption Reporting Project (OCCRP) and Stevan Dojčinović from the Serbian investigative site KRIK, shared strategies to stay safe and mitigate the risks.
Workshop: The Journalist Security Assessment Tool
The need to protect our sources, our stories, and ourselves has never been greater. Yet studies show that many newsrooms and reporters fail to take even basic protections. To make this due diligence easier, GIJN worked with experts at the Ford Foundation to develop the Journalist Security Assessment Tool (JSAT), which launched at GIJC21. In just one hour, JSAT will help identify — and improve — your news organization's physical and digital security position. Three leading security experts who helped design the JSAT, Runa Sandvik, Matt Hansen, and Matt Mitchell, offered advice in this workshop on security best practices.
Dealing with Burnout & Stress
Journalists often work around the clock and in difficult circumstances — we witness some of the world's worst behavior, and we're under attack as never before. So how can we care for ourselves while doing our job? At this GIJC21 panel, Elana Newman and Bruce Shapiro, experts from the Dart Center for Journalism and Trauma, offered tips and insights into how journalists can care for their own mental well-being while supporting their colleagues.
Investigating Attacks on Journalists
Worldwide, journalists are dealing with an onslaught of harassment, surveillance, legal threats, and physical abuse, as powerful people seek to silence the stories the press investigates. The impunity rate for murdering journalists is nearly 90%. But the media and its allies are fighting back — increasingly by investigating these attacks and keeping alive the work of silenced journalists. GIJC21 assembled an extraordinary panel on this topic, featuring Forbidden Stories' groundbreaking work on Pegasus spyware and media attacks; the Safer World for the Truth Project by Free Press Unlimited and others; and journalists on the front lines in India, Russia, and Zimbabwe.
Workshop: Protecting Your Sources
This GIJC21 workshop, featuring New York Times security expert Jason Reich and Freedom of the Press Foundation's director of digital security Harlo Holmes, represents nothing short of a dream team on security in journalism. The safety of journalists, their sources, and the data they communicate is yet another victim of trimmed-down budgets and reduced staffing in newsrooms around the world. Meanwhile, digital hacking threats are booming, vulnerable freelancers are increasingly used for dangerous assignments, and public smears against investigative reporters and their whistleblowers as "spies" or "foreign agents" are common. Innovative solutions — from secure data governance to safety protocols for editors — were discussed by these leading experts in media security.
Workshop: Bulletproofing Your Story
Amid a plague of legal harassment of the press, it's more important than ever to "bulletproof" your work. At GIJC21, two of the best experts to help — veteran journalist Nils Hanson, who for years ran Sweden's top investigative TV program Mission Investigate, and attorney Alinda Vermeer, who runs Media Defence — provided advice on how to "bulletproof" investigations before publication. Hanson is author of GIJN's Guide to Fact-Checking Investigative Stories, while Vermeer helped produce GIJN's Journalist's Guide to Avoiding Lawsuits and Other Legal Dangers, now translated into 11 languages.
Previous installments of this video series include "Investigating Organized Crime and Corruption," "Investigating with Data," "Funding Your Investigations and Business Strategies," and "Key Issues." Coming next week: GIJC21 videos on "Investigative Journalism Tips and Tools." Check GIJN's YouTube channel for more.
Additional Resources
Investigative Journalism: Safety and Security – GIJN's Free Training Program
GIJN Launches Journalism Security Assessment Tool