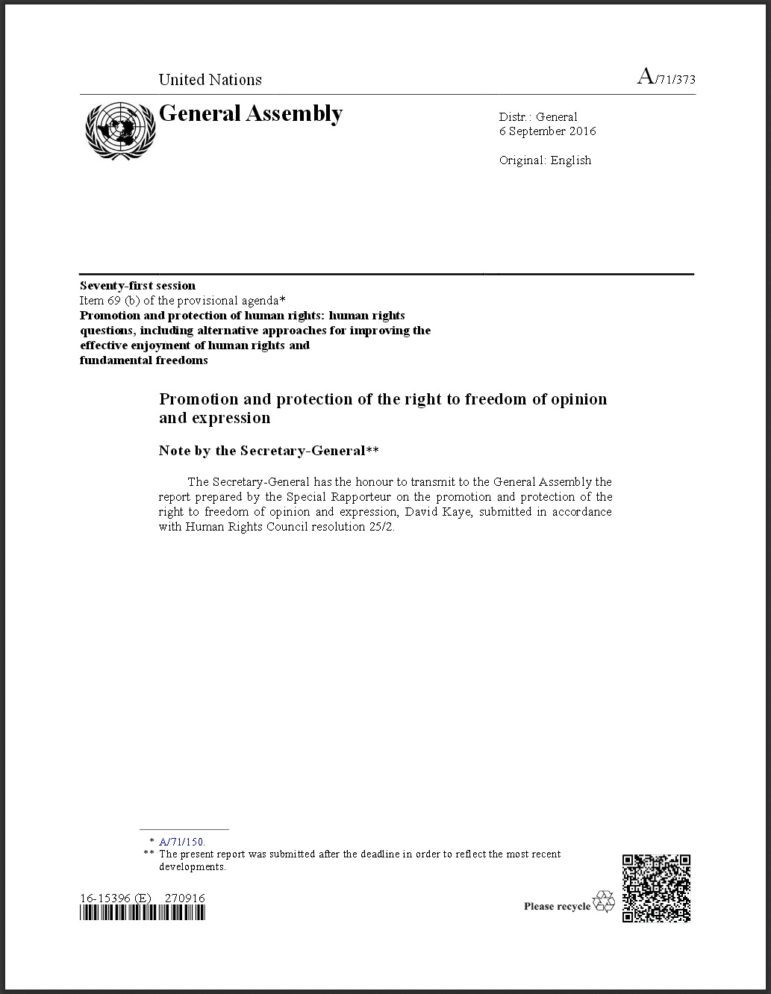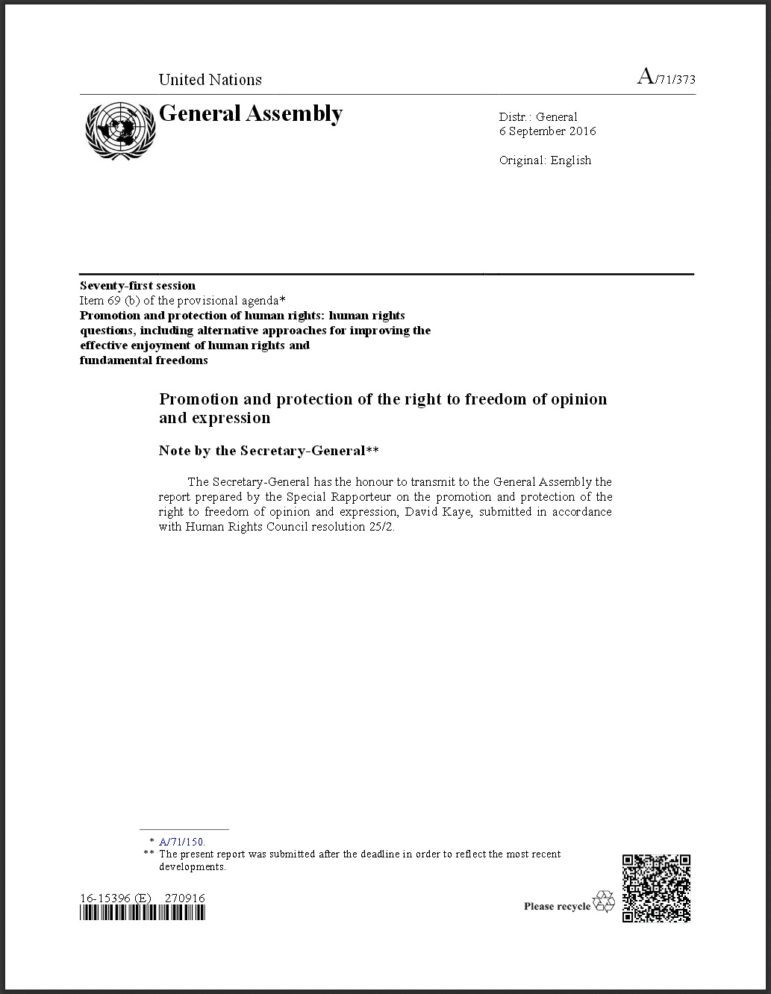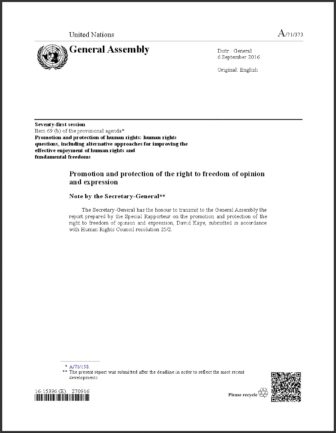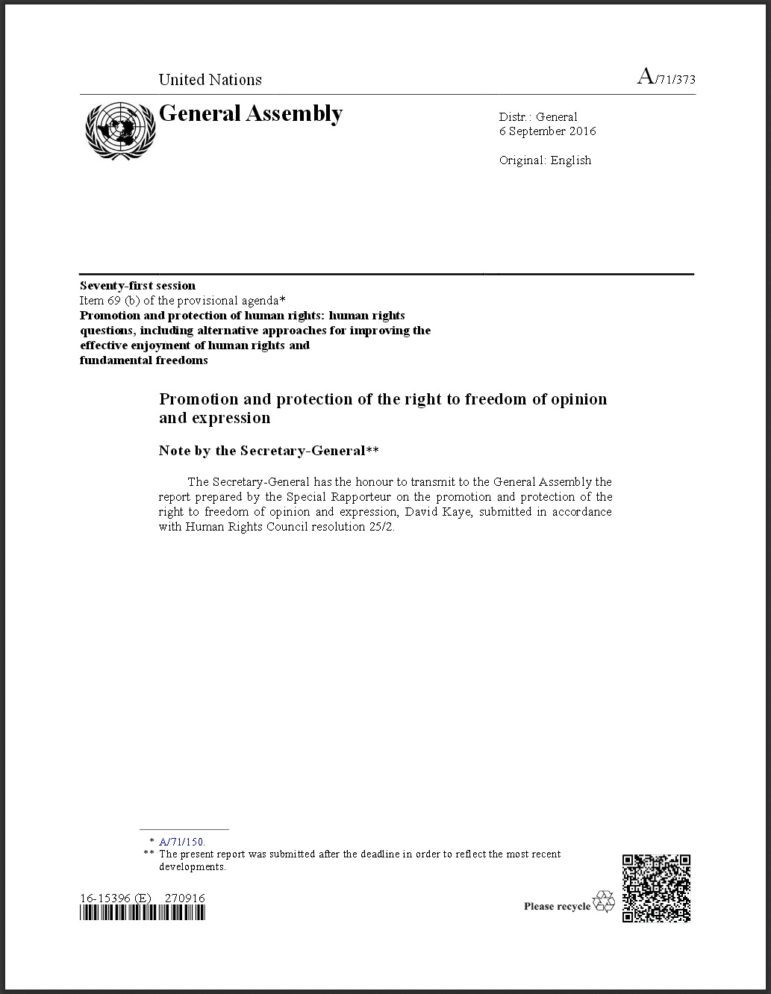 Editor's Note: On Wednesday this week, the United Nations and press freedom groups worldwide will mark International Day to End Impunity. Since 2014, the UN has commemorated the day to highlight the glaring number of unresolved journalists' murders and the lack of punishment for their perpetrators around the world. This year's awareness campaign is aptly titled "My Killers Are Still Free." More than 25 events are taking place to encourage stronger monitoring and and responses to these crimes. 
As part of a series to mark the occasion, GIJN is pleased to excerpt "The Assault on Reporting" and the introduction from a new report by David Kaye, the UN Special Rapporteur on the Promotion and Protection of the Right to Freedom of Opinion and Expression. 
---
A journalist investigates corruption at the highest levels of her Government and soon finds herself fighting fictional charges from the cell of a prison. A critic of a Government is assassinated while buying groceries. Another Government bans its main political opposition party as "extremist", sending its leaders to jail. A cartoonist faces prosecution under his country's laws against sedition. A Government shuts down the Internet in advance of public protests, while another uses surveillance to target political opposition. Bloggers are brutally murdered because their work angers religious dogmatists. Governments criminalize the praising of terrorism even absent incitement to violence. A photojournalist is held without charge. An activist is arrested for a tweet, another for a post, yet another for an e-mail.

Each year, usually in collaboration with other mandate holders, I send hundreds of communications to Governments, addressing allegations like those above. In those communications, allegations, not findings of fact, are made yet their large numbers inspire deep concern about the state of freedom of expression, and they serve as the principal basis of the concerns expressed in the present report. It is clear that non-State actors, such as terrorists or criminal gangs, are serious threats to many people exercising their right to expression, but the communications show how policies and laws against terrorism and other criminal activity risk unnecessarily undermining the media, critical voices and activists.
They underscore how Governments and officials conflate calls for public debate with threats to public order, repressing legitimate opposition and undermining accountability. They show how official or clerical dogma often criminalizes critical discussion of religious ideas or officials. They illustrate the immense and growing threats to an open and secure Internet.
In short, there is an all-too-common world view that imagines words as weapons. True, some forms of expression can impose legally cognizable harm, by interfering, for instance, with privacy or equal protection of the law. However, expression may not be restricted lawfully unless a Government can demonstrate the legality of the action and its necessity and proportionality in order to protect a specified legitimate objective.
The United Nations has long promoted the idea that expression is fundamental to public participation and debate, accountability, sustainable development and human development, and the exercise of all other rights.
Indeed, expression should provoke controversy, reaction and discourse, the development of opinion, critical thinking, even joy, anger or sadness — but not punishment, fear and silence.
The present report does not index every tool of repression, but it identifies critical contemporary challenges. Organized around the legal framework set forth by international human rights law, it evaluates misuses and abuses of the grounds for legitimate limitations of freedom of expression. The report also notes several positive trends for freedom of opinion and expression and concludes with recommendations to restrain attacks on and promote the rights to opinion and expression.
The Assault On Reporting
The tools used to criminalize criticism are also applied against those who practise journalism, that is, the regular gathering of information, with or without formal training, accreditation or other government acknowledgement, with the intent to disseminate one's findings in any form. The attacks on reporting cross many themes in the present report.
Nonetheless, it is important to emphasize that attacks on journalism are fundamentally at odds with protection of freedom of expression and access to information and, as such, they should be highlighted independently of any other rationale for restriction. Governments have a responsibility not only to respect journalism but also to ensure that journalists and their sources have protection through strong laws, prosecutions of perpetrators and ample security where necessary.
One of the gravest and most concerning tools against reporting involves the use of counter-terrorism laws to restrict and penalize reporters. The reliance on counter-terrorism serves as a catch-all to throttle the flow of information and justify the detention of journalists, bloggers and others working in the media.
In Australia, the Border Force Act of 2015 allegedly has the effect of criminalizing reporting on the detention conditions in immigration detention facilities. Ethiopia reportedly relied on its Criminal Code and the Anti-Terrorism Proclamation of 2009 to detain journalists and bloggers with the "Zone 9" collective on the grounds of "working with foreign human rights organizations and inciting violence through social media to create instability in the country", when in fact they were working for independent online media. Turkish authorities have allegedly used anti-terrorism laws to detain journalists and target academics. In 2014, Nigeria was also criticized for threatening and harassing nearly a dozen independent newspapers under the guise of fighting terrorism.
The Islamic Republic of Iran has repeatedly detained journalists and bloggers on murky charges pertaining to espionage or "conspiracy against national security" — problems exacerbated by the closed nature of legal proceedings against those detained. In Germany, while the Government swiftly and correctly reversed course, two online journalists were investigated for reporting on government surveillance practices on the grounds of protecting the public prosecutor's ability to pursue cases against extremism. A presidential decree in Ukraine imposed a one-year ban on 41 foreign journalists and bloggers who were said to pose a threat to the country's national interests and sovereignty. Indonesia detained journalists reporting on the situation in West Papua, charging them with misuse of their visas and attempted treason.
In the context of protests, it is common for journalists to be detained and prohibited from reporting. Such has been the case in Egypt, where journalists collecting information about demonstrations have been detained and charged on various grounds, including involvement in terrorism. At least seven journalists and media workers in the Bolivarian Republic of Venezuela were arrested and their equipment confiscated for covering looting and public protests. It may also be the case that local officials carry out their functions without appropriately taking into account the roles journalists play, in particular during protests. For instance, a journalist in Mexico covering protests was allegedly detained and severely mistreated by the local authorities. In the United States, journalists covering the protests in Ferguson, Missouri, in 2014 were subjected to detention by the local authorities.

Perhaps most concerning is that Governments often fail to provide measures of protection and accountability that can deter attacks on journalists. The Special Rapporteur for Freedom of Expression of the Inter-American Commission on Human Rights presented alarming statistics involving killings, kidnappings and other forms of aggression against journalists in the Americas, with extremely limited accountability despite some efforts to create special mechanisms for the protection of journalists.
Messages from the most senior leadership matter, as I have pointed out in the wake of threatening comments made by the leaders of Thailand and the Philippines. The widespread failure to hold perpetrators accountable for attacks on journalists suggests the absence of concern for the role that journalists play in democratic societies. My communications have highlighted reports and allegations of the failure of accountability in, among other places, South Sudan, where journalists have been killed and disappeared; Mexico, where journalists have been murdered and accountability is inconsistent; the Philippines, which after nearly seven years has not concluded its investigations and prosecutions against those responsible for the massacre of journalists in Maguindinao; and the Russian Federation, where there are multiple reports of journalists who have been murdered and the perpetrators not held to account.
In addition to physical violence and attacks, journalists also face a range of punitive measures that threaten their well-being and livelihood. For example, Kuwait and Bahrain have reportedly sought to strip journalists of their citizenship simply for doing their job. In Ecuador, the Government has filed copyright complaints in an attempt to take down content critical of its activities.
In my report to  the  General Assembly  in  2015  (A/70/361), I also identified the ways in which sources for journalists are under threat.
---
Excerpted  from Promotion and Protection of Human Rights: Human Rights Questions, Including Alternative Approaches for Improving the Effective Enjoyment of Human Rights and Fundamental Freedoms, a report submitted to the United Nations General Assembly.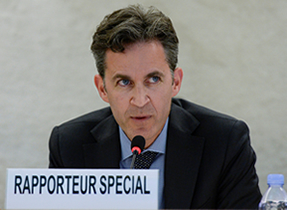 David Kaye was appointed UN Special Rapporteur on the Promotion and Protection of the Right to Freedom of Opinion and Expression in 2014. He is professor of law at the University of California, Irvine, where he teaches international human rights law and international humanitarian law and directs a clinic in international justice.