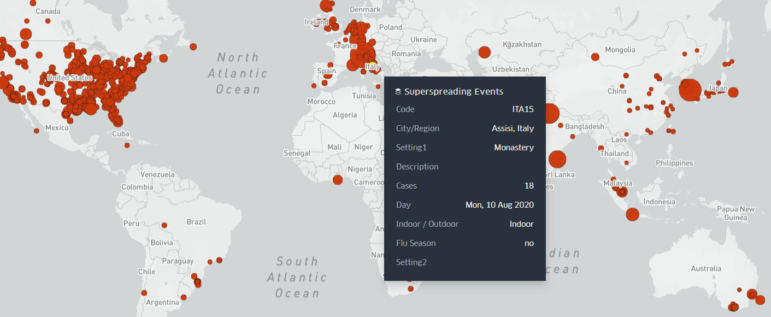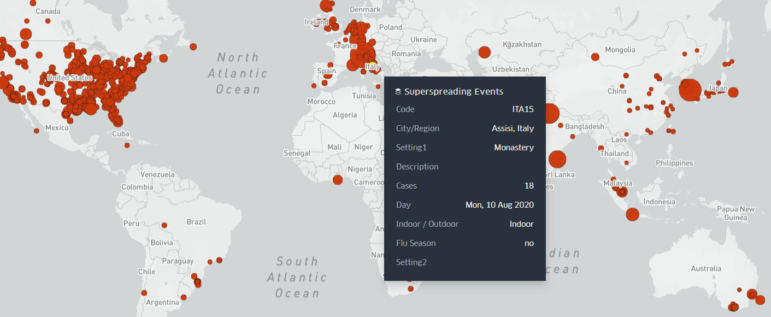 Tracking the Superspreader Events Driving the COVID-19 Pandemic
Read this article in
"Superspreading events" have emerged as major drivers of the COVID-19 pandemic, following research from southern India that represents by far the largest contact tracing study yet undertaken. While there is no common definition for superspreading, it generally refers to the transmission of a virus from one individual to many more people than the average patient.
In a study of 575,000 people exposed to 84,965 individuals with infections in the Indian states of Tamil Nadu and Andhra Pradesh, a team of researchers from India and the United States found that 71% of infected people did not infect anyone else — but that just 8% of people accounted for 60% of new cases. The findings reflect the results of smaller studies from HongKong and Israel suggesting that 70% to 80% of transmissions are traceable to just 10% to 20% of infected people. 
In an interview with GIJN, Dr Stefan Baral, associate professor of epidemiology at the Johns Hopkins School of Public Health, said new research needed to account for socioeconomic conditions, but that the disproportionate role of superspreading was an emerging picture of the pandemic.
"We have a fair bit of our own data that is very consistent with the (Indian study) — i.e., most onward transmission events come from a smaller group of folks," said Baral. "The question that I would love reporters to ask is: What was the outbreak, who was affected, what was done to mitigate it?"
Medical experts warn that global data on superspreading and cluster infections is far from comprehensive. But enough is now known for journalists to zero in on the most high-risk events, and to question government decisions that could create the conditions in which outbreaks are more likely to happen.
For instance, while colder weather is slightly correlated with higher rates of infection,  experts say human behavior in response to weather — especially when they congregate indoors — is the more important factor behind transmission. And research shows that indoor events carry a far higher risk of transmission than outdoor events, except those where attendees cluster closely together, like farmers' markets.
Researchers at Georgia Institute of Technology have developed a COVID-19 Event Risk Assessment Planning Tool to calculate the chances that one or more infected individuals will be present at a planned event, based on event size and location. The tool is US-focused but includes global estimates as well, based on a growing international database. For instance, the tool calculated a 98% chance that one or more people infected with COVID-19 would attend US President Donald Trump's rally in Macon, Georgia, on October 16.
The London School of Hygiene & Tropical Medicine (LSHTM), which defined superspreading events to mean five or more new infections from one common gathering, recently released an interactive open source tool on the threat. Its COVID-19 Superspreading Events (SSE) Database has mined four primary datasets and numerous academic preprints and media reports to compile more than 1,500 such events around the world. The events include 24 cases reported after a snowmobile club meal in Canada, and 30 cases linked to a choir practice in Catalonia, Spain. 
The database features interactive bubble maps and animated timelines, and focuses on the settings of outbreak origins and their relationship to factors like the flu season. The project website warns that the 1,500 cases are just a fraction of the likely total of superspreading events around the world, and volunteers are being sought to grow the dataset.
"The database is important as it provides a source for open access data on global clusters of SARS-CoV-2 transmission," says Dr Gwen Knight, a researcher at LSHTM who specializes in infectious disease modelling. "Many countries provide summary data on clusters, but we are trying to delve deeper into the settings which can be definitely linked to SARS-CoV-2 transmission, their characteristics, and hence what can be done to prevent transmission."
The tool's interactive maps document infections from a wide variety of events, from church gatherings in Singapore to a nightclub in Spain and a bridge tournament in the US. 
One striking find from the research is the high proportion of cases from religious events. At 7.6% of total cases, religious events accounted for almost 10 times the cases contracted from bars.
Takeaways from the dataset include:
About 200,000 infections resulted from those 1,500 superspreading events so far recorded — believed to be a fraction of the true number of events.

Recorded superspreading events have almost always occurred in indoor settings. In fact, no event confirmed to be purely outdoors was found by researchers.

While superspreading events have often happened within venues like restaurants, ships, bars, choir rooms, and places of worship, none of the 1,500 collected cases included

movie theater

s

, libraries, or theme parks.

Most superspreading events were connected with the local flu season, while others were associated with very hot weather.

Most outbreaks at factories happened in workplaces with refrigerated rooms, like dairies, frozen food factories, and meatpacking plants.
Another database created from LSHTM research shows how people infected at one event went on to pass the virus on to others at later gatherings in various countries.
The main database has been included on Emory University's Data Resources for SARS-CoV-2 page, which features several new or updated datasets useful for reporters on the pandemic beat.   
As part of the Indian contact tracing study — led by the Center for Disease Dynamics, Economics, and Policy in New Delhi — researchers traced 78 people who had sat within three rows of an infected person on long bus or train rides. They found that an astonishing 79% of these fellow passengers had contracted the virus from those journeys. By contrast, only 1.6% of people practicing social distancing in indoor settings contracted the virus from an infected person.
Additional Reading:
---

Rowan Philp is a reporter for GIJN. He was formerly chief reporter for South Africa's Sunday Times. As a foreign correspondent, he has reported on news, politics, corruption, and conflict from more than two dozen countries around the world.