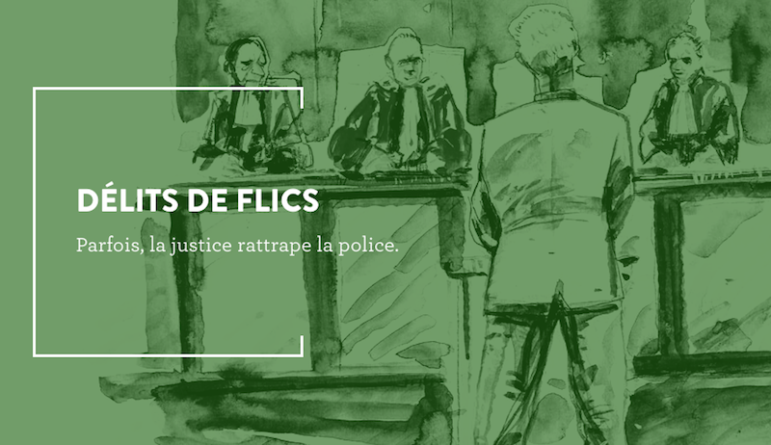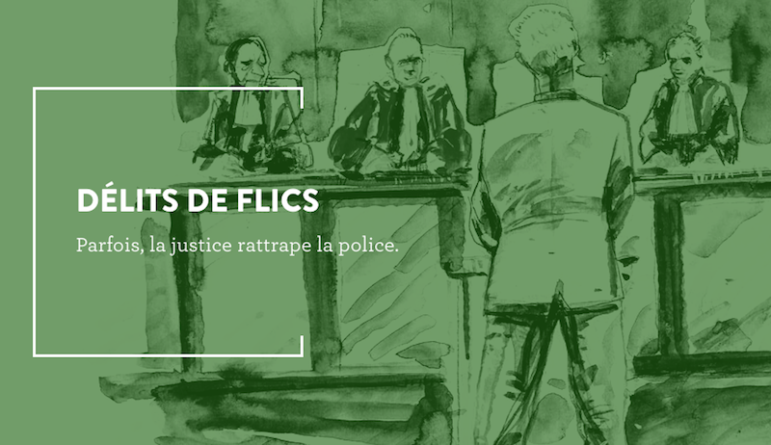 Screenshot from a Les Jours series that investigates what happens when the police end up in court.
"Synopsis," "soundtrack," "episode," "mood"… This is the language used daily within the Parisian offices of Les Jours. But don't let its vocabulary fool you: While the three-year-old media company borrows many of the codes of fiction producers for television, it actually runs a hard-hitting investigative news site.
The shared lingo is no coincidence. When the cofounders of Les Jours were secretly planning their departure from Libération, the French daily where eight out of nine of them used to work, with the intention of creating a news site devoted to deep reporting, they approached not only fellow journalists for advice, but screenwriters, too. The reason was simple: Their idea was to serialize the news, breaking stories down into nail-biting episode after nail-biting episode that would make long-form investigative journalism more accessible, and more exciting, to readers.
"The founding principle is really that news unfolds like a saga," explains Les Jours' president Isabelle Roberts. "So, if news is like a saga, let's serialize it in the most popular format of our time, that is, the format of a television series."
Les Jours refers to its series of articles as "obsessions" (not to be confused with Quartz's Obsession, a weekly newsletter that takes a close look at an offbeat topic, like laugh tracks or doorbells) and allows them to spread over as many episodes as their subject matter warrants. Some obsessions have been just a few episodes long; the longest, The Empire, about a French media mogul's ruthless takeover of a major television channel, stands at 115 episodes, and is not over yet.
"We take subjects, we grasp them and we never let them go," says Roberts, who co-authored The Empire. This methodology is reflected in the name Les Jours ("The Days"), as she explains: "It says that we were there yesterday, that we're there today and that we'll be there tomorrow, even when other news media have moved on."
That unrelenting approach to news coverage — with 115 obsessions published so far — has won the publication 11,000 subscribers, captivated readers and in some cases had a broader echo in French society. An obsession about the return of jihadists to France was made into a bestselling book, sparked a national conversation on how to handle the issue, and most recently served as a source of inspiration to director André Téchiné for his latest film, "Farewell to the Night."
Some obsessions have delved into widely-covered stories, such as the Benalla affair and the Yellow Vest movement, while others have been more eccentric in focus, such as those on the French porn industry and on the growing business around all things baby-related. But whatever the subject matter, Les Jours' unique format means that it is nothing if not thorough.
"In the context of a saturated media market, Les Jours forged their own path by inventing the 'obsessions' format," explains Clara-Doïna Schmelck, a French journalist and new media expert. "Serializing journalism allows Les Jours to build investigations that are also immersions: in a courthouse during the course of a trial; in a junior high school throughout a year; in a march during a long-haul protest movement."
Delving Deeper
Les Jours counts 12 staff members – nine of them journalists – and collaborates with dozens of freelancers. As opposed to most newsrooms, it does not section off its reporters into desks or beats, instead giving them free rein to explore their interests. Roberts argues that investigations often naturally overlap different areas of coverage, so reporters should not feel that they are shackled to a narrow beat.
One staff writer, Sophian Fanen, has written about subjects as varied as transport and the music industry; Les Jours' authors are anchored to their personal obsessions more than traditional conceptions of journalistic expertise.
Camille Polloni, a reporter who joined Les Jours shortly before it launched, says she was eager to be part of a newsroom where she would be given the time to explore the areas that interest her: true crime and the justice system. "Before Les Jours, I had the impression of always jumping from one story to another," she says. "Now, when I finish a series, I really feel that I have taken a comprehensive look at it. It's very satisfying from a journalistic point of view."
Interviewees have also proved receptive to Les Jours' approach, she says, opening up to her more than they might to a reporter covering a story only fleetingly. "It helps create a relationship that is based on trust," says Polloni, who has authored 11 obsessions. Her most recent one, Bang Bang, delved more deeply than any previous journalistic work into the use and misuse of the French police's service weapons, over the course of 16 episodes and some 30,000 words.
The risk of such work is that reporters might grow insular, each one focusing on his or her obsessions to the exclusion of all else in the newsroom. The team avoids that pitfall by holding editorial meetings twice weekly, involving each other informally in their thought process, and teaming up on projects.
Sebastien Calvet, head of photography, says he frequently pairs photojournalists with reporters to work on specific obsessions, with the objective that they will feed off of each other throughout the reporting process. This practice, common in print but still unusual online, has fostered a collaborative spirit within the team, and put photography at the heart of Les Jours' offering.
Relying on independent photographers and agencies over stock images from big news agencies and working with these freelancers over sustained periods of time has allowed the site to develop a unique look, with images that feed coherently into the narrative of each obsession.
"Our storytelling is really simultaneously textual and iconographic," Calvet says.
Binge Reading         
Storytelling takes other forms, too. When investigations rely on documents, these are published alongside the text, allowing readers to access the source material directly. Les Jours typically also publishes a list of "characters" with each obsession, to present the tale's protagonists, as well as a soundtrack that sets the mood for the unfolding narrative. Bang Bang's playlist features Bruce Springsteen's "Highway Patrolman" and a song about police brutality by French rapper Abd Al Malik.
Far from a fad, that multimedia format – enabled by Les Jours' custom-built website – immerses readers in the story, helping to hook them. And readers can then subscribe to their favorite obsessions to stay informed as soon as a new episode is added.
Though episodes typically can be read in isolation, Roberts says subscribers often do read entire obsessions, and that diehard fans clamor for new episodes on social media. To cater to that demand, Les Jours is considering releasing an entire obsession all at once – a method pioneered by Netflix – to gauge its readers' appetite for what Roberts calls "binge reading."
Greater Reader Engagement
The ad-free, paywalled site is funded primarily by its €9 a month subscription fee. The founders originally said they wanted to reach 25,000 subscribers and a staff of 25 by this point in time, so the current numbers are well below target.
But the staff does not seem overly disappointed in that outcome. "In all honesty, to have reached 11,000 subscribers within three years is quite good," Calvet says. "More importantly, we have great feedback from our readers."
Roberts is proud that over 95% of readers renew their subscription each year, and that more than half of them are under the age of 35.
She adds that Les Jours is close to balancing its budget – an impressive feat at a time when several other news startups in France have closed, or are teetering on the edge of bankruptcy.
Members of the public raised €80,000 in an initial online crowdfunding campaign in 2015, and can now, from €200 each, join Les Jours as shareholders. They currently hold 8% of the media company, while its founders hold about 74%.
The remaining shares belong to rich donors, among them businessmen Xavier Niel and Matthieu Pigasse, already widely known for their significant holdings in the French press, including the national daily Le Monde. Their participation in Les Jours has concerned some media watchdogs, including the website Arrêt sur Images. Les Jours' founders left Libération primarily because of their desire to start their own project, but also in part because another media mogul, Patrick Drahi, had taken control of that newspaper. It would therefore be a disappointing U-turn if their site now went down the same path.
But Roberts says Niel and Pigasse's shareholdings do not undermine Les Jours' independence, as their stakes are small – 5.1% and 1.6%, respectively – and both men are excluded from editorial decisions.
To stress the independence its funding model affords Les Jours, Roberts notes that the absence of ads has allowed the site to investigate topics that other newsrooms might shy away from. The cosmetics industry, a major source of advertising revenue to the French press, has been one such target.
Though the likes of Niel and Pigasse are not allowed in on the editorial process, readers are encouraged to participate by suggesting story ideas at an annual editorial meeting. A recent obsession on declining bee populations, for example, came from readers.
To expand these efforts, Polloni has recently been put in charge of reader engagement. The site has never allowed comments, in part for fear of trolls and in part to preserve its aesthetic, but Polloni says that decision has created too much of a distance between Les Jours and its subscribers. She is considering ways to bridge that gap: occasional participation in editorial meetings is one such method; holding conferences is another. Les Jours has just launched a series of talks at a bar near its offices, during which readers can discuss specific obsessions with the journalists who made them.
A Versatile Producer of True Stories
While still a small outlet, Les Jours is expanding into new areas of work. The site has an agreement with French book publisher Seuil, giving it first dibs on any book adaptation of their obsessions. Seven of them have already been made into books, selling 80,000 copies and giving Les Jours' journalism a second life, with a broader readership.
"They're neither mass media nor niche media," Schmelk notes. "Les Jours occupies a unique position in the French media landscape."
Les Jours has also produced podcasts – both original ones and adaptations of existing obsessions – and collaborated with a print magazine, La Revue Dessinée, on illustrated versions of its investigations. It is now in talks with television production companies about documentary adaptations.
"The idea is really to become a versatile producer of true stories," says Roberts, who stresses that Les Jours is open to any format, as long as it is true to the site's original vision of long-form investigative journalism.
The site now hopes to expand its editorial team to include journalists with skills in these new areas of storytelling.
Still, despite these successes, Les Jours has faced some difficult moments: One of its journalists, Olivier Bertrand, was in 2016 briefly detained in, then expelled from, Turkey, where he was reporting; Polloni learned in 2017 that French military intelligence had illegally collected information about her (she still does not know why); and pharmaceutical group Merck threatened to sue Les Jours over its 2018 investigation into one of its drugs.
But Roberts reflects on these setbacks with serenity, saying that they are part and parcel of the job of investigative journalism. She certainly has no regrets about leaving her previous role as a media reporter at Libération back in 2015, and says she's excited to explore the opportunities that lie ahead with Les Jours.
"We really want to be a laboratory for new ideas, to experiment more and more as we go along," Roberts says. Whatever happens, Les Jours is unlikely to run out of source material. "We're not the ones coming up with the news," she says. "At the end of the day, the best screenwriter is reality."
---

Olivier Holmey is a French-British journalist and translator living in London. He has written investigative reports on finance in the Middle East and Africa for Euromoney Magazine, and contributed obituaries to The Independent.