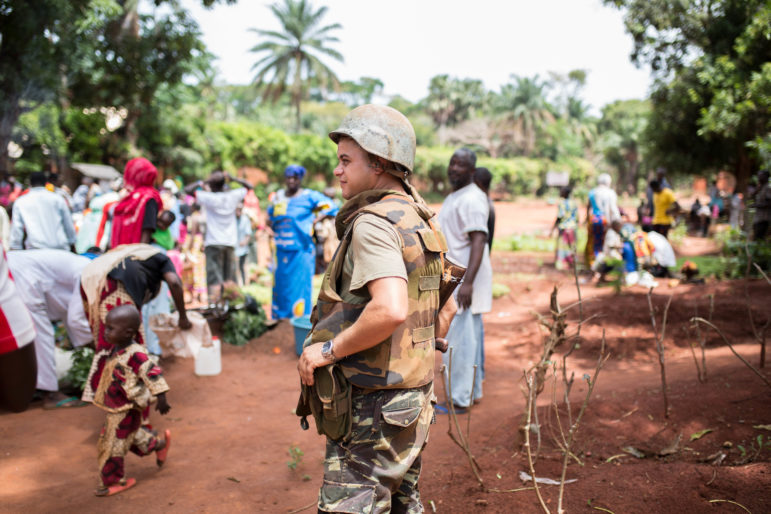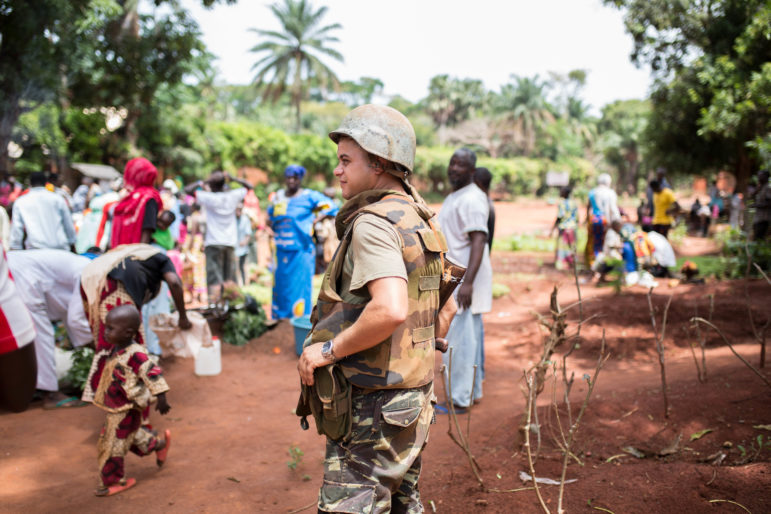 The New Humanitarian's reporting on the recent UN investigation into mass allegations of rape against peacekeepers had failed victims in the Central African Republic. Photo: Philip Kleinfeld/TNH
IRIN News was founded by the United Nations in 1995 on an astonishingly burdensome premise: that a calamity like the Rwandan genocide might have been mitigated had a newsroom like it existed to produce on-the-ground reporting on the lead-up to the violence.
Its role was not to beat commercial news media, but rather to amplify the voices of those caught up in humanitarian disasters, and to highlight where emergency aid was most needed. Among international journalists, it was perhaps best-known for shining a light on off-agenda and "forgotten" foreign stories – like returnees going missing under Kenya's amnesty for al-Shabab fighters, or mass injuries to Indonesians who fish with home-made bombs due to depleted fish stocks.
But IRIN was often the first on major stories anyhow, by virtue of its global network of stringers in the field and its ground-up focus. It was among the first to warn of the coming civil war in Syria and the growing threat facing Rohingya Muslims in Myanmar.
IRIN became independent from the UN in 2015, and changed its name to The New Humanitarian (TNH) in 2019. Based in Geneva, it has nine staff and a network of contributors. Josephine Schmidt, the group's executive editor, said the branding change reflected a shift in the humanitarian landscape, rather than in IRIN's core mission.
"The spin-off [in 2015] was pushed by a need to do honest, fact-based reporting, and to be an accountability watchdog over the whole humanitarian sector, including UN organizations, the NGOs, state actors – everyone," said Schmidt. "The sector was growing rapidly, and IRIN needed to be a credible watchdog over a sector that is largely self-regulated."
"Our broader mission remains the same – assessing humanitarian needs and informing response – but the recent name change reflects significant changes in the landscape, and in our own ambitions as journalists," she said.
TNH has recently deepened its focus on investigative journalism, producing several major stories including the revelation, which broke last week, of a major cyber attack against the United Nations in Europe. The story revealed not only that hackers had breached dozens of UN servers in its Geneva offices, and four more in Vienna, in the summer of 2019 – and that databases, emails, and internal documents may have been compromised  – but also that the UN failed to disclose the breach to staff and the public.
A Multi-Billion Dollar Industry
For Schmidt, the shifts in the $30 billion humanitarian aid industry include that humanitarian crises tend to have globalized fall-out, as illustrated by the Syrian exodus; that threats like climate change and long-lasting conflict are now endemic; and that emergency response is no longer the exclusive preserve of governments, the UN, and "Big Aid," but now also includes private individuals and local or online communities.
"We're covering some of the biggest topics of our time: migration and displacement; climate change; conflicts that have been going on for years, in places like Syria and Afghanistan," said Schmidt, who previously held several leadership roles at The New York Times, most recently as editorial director of global content and strategy. "These are issues that affect people around the world, not least because their tax dollars are paying to help vulnerable people. We also want to ensure the information is being accessed by people affected by the crises we cover."
Having inherited from IRIN a legacy audience of aid professionals and policymakers, TNH now attracts some 200,000 unique visitors to its website monthly, and more through stories republished on major media sites.
TNH produces about 40 stories per month – from briefs to long-form features – and pays contributors 40 cents per word and $40 per image. Schmidt said travel and reporting expenses were also covered for approved in-depth stories that needed extra resources.
Martin Scott, author of the book "Media and Development," said TNH helped to fill a critical gap in media coverage.
"Reporting on humanitarian affairs is one of the most costly and least profitable beats a news organization can cover," said Scott. "The New Humanitarian plays an important role in drawing attention to under-reported crises."
New Focus on Investigations
While TNH has produced investigative reports over the years, last year it stepped up its watchdog strategy by hiring an investigations editor, Paisley Dodds, and launching a dedicated investigations page.
Recent investigations include a 2018 report revealing that UNHCR had mismanaged funds to Uganda over the past two years, a scandal that led to the freezing of funds from some of its major European donors. Last August, TNH reported that a staff member at the UN's refugee agency in Sudan had solicited bribes from refugees, and in October, the TNH team found that the recent UN investigation into mass allegations of rape against Burundian and Gabonese peacekeepers had failed victims in the Central African Republic.
Using a confidential UN review, whistleblower tips, and on-the-ground interviews, reporters showed that DNA evidence was allowed to decay, that planning for the investigation had been "in disarray," that interviewers were inadequately trained, and that the atmosphere for witnesses giving testimony was often threatening. One victim, for instance, was asked – in reference to her attacker – "Did you love him?"
Most investigations of this kind start with a leaked document; findings are then humanized and contextualized by sending reporters to interview victims in the region. However – in a typical reporting model for TNH – this sexual abuse story happened the other way around: It started with sending a reporter to the Central African Republic simply to see how vulnerable people were doing.
Schmidt said: "Our contributor, Philip Kleinfeld, who is now a staff editor, went just to do reporting in the CAR, because it had been a little while since we'd been there, and CAR issues are hardly ever covered in the major media. He met a number of young women who told him about allegations of sexual assault, and that they had been left clueless about the result of the UN investigation."
Later, Dodds and senior editor Ben Parker obtained a 50-page confidential UN review that laid out the mistakes made during the UN investigation.
A recipient of a Polk Award for Foreign Reporting for her work in Haiti, as well as other prizes for her investigations into abuses at Guantanamo Bay, Dodds spent most of her 25-year career in foreign correspondent and investigative roles with The Associated Press.
"IRIN published hard-hitting stories over the years, but we're really just getting started in terms of investigations," said Dodds. "We're definitely in the market for journalists with investigative skills who are ready to pitch. Some of our core contributors have great ideas that just need to be nurtured."
For example, TNH's annual "Ten Humanitarian Crises and Trends to Watch" lists, now linked to its investigations page, has helpful "keep in mind" sections, partly to help contributors frame their pitches. (TNH's 2019 list included climate displacement, the re-emergence of infectious diseases like diphtheria and cholera, and the outsourcing of risk to local emergency responders.)
Sudden improvements in policy may also throw up areas worth investigating, Schmidt said – such as whether refugees returning to their countries will find promised services when they arrive.
Collaboration Is Key to Sustainability
Funding had grown since IRIN's independence in 2015, according to Schmidt.  "We've been lucky – our funding has been a positive story, where I know it has not been so positive for many noble nonprofit newsrooms," she said. "Many of our grants have moved from individual projects or single-year grants to multi-year grants."
Currently operating a budget of $1.96 million, TNH receives 55% of its funding from government agencies and 45% from private foundations. None of its 18 donors — which include several Scandinavian foreign affairs departments — exceed 15% of its budget.
Schmidt said TNH takes several steps to avoid any potential conflicts of interest in receiving funds from the same kinds of agencies it aims to hold to account.
"TNH maintains a strong wall between editorial and fundraising; there is as little or as much potential for conflict of interest as there is in commercial publications that write about firms or individuals who advertise on their platforms," she said. "We do not accept funding that includes a stated or suggested commitment to avoid certain topics or to adopt or emphasize a certain perspective. We perform deep due diligence on all donors before accepting funding. Our donors do not ever participate in editorial meetings or discussions."
TNH has plans to widen its audience and support. "We are planning a membership drive next year, and hoping that will add to our funding and, more importantly, build a strong community of readers," Schmidt said. However, she emphasized that TNH's small staff and limited resources mean that increased collaboration will be essential to meet the organization's deeper journalistic goals.
The team currently provides provides content for the humanitarian section of the World Economic Forum's Transformation Map, and is the media partner for the Fragile States Index, where it provides case studies to "humanize" the data. Dodds sought out new potential media partners and investigative contributors at the recent Global Investigative Journalism Conference in Hamburg.
"We're looking for partnerships with different organizations with skills or resources we don't have, and we're looking to expand coverage in areas like health and technology," she said. "I'm very interested in collaborating on specific projects, beyond sharing costs and spreading security risks amongst partners."
She added: "We provide a lot of expertise that isn't out there. When I was still at AP, I was quite jealous of IRIN's sourcing on multiple stories I was chasing. We'd be very interested in looking at collaborative consortiums on African topics, and, generally, I'm looking to expand [our reach], particularly on government corruption."
Making "Tough Calls"
What happens when one pillar of TNH's legacy mission – to help people in crisis – comes into apparent conflict with its investigative mission to hold responders accountable?
This was the case last year, when crucial refugee resettlement aid money to Uganda from several European donors was frozen, following IRIN's revelation that millions of dollars in aid had been mismanaged.
Schmidt said that while stories that lead to the freezing of needed aid are a "tough call," accountability and transparency remained TNH's guiding North Star, and, ultimately, that shining a light on humanitarian aid benefited communities that needed it most.
"We're motivated to amplify the voices and the needs of the people on the ground, whose lives have been upended," said Schmidt. "With investigations, our motive is never a 'gotcha.' But if someone who has done wrong is fired as a result of our reporting, and that action will help people rebuild their lives, or send their kids to school, or just have a cup of tea in a calm place, then that fits [our mission]."
Dr. Mel Bunce, a senior journalism lecturer at City, University of London, said TNH was well-positioned to tackle investigative stories in the sector because "they have the insider knowledge needed to understand the system, as well as the critical distance to hold it to account."
Dodds said one key challenge will be to motivate TNH's network of some 200 freelance contributors to tackle multi-layered, long-duration stories.
"Working with freelancers who have to pay the bills, it can probably be intimidating when they consider how much work is needed for some of these tougher investigations," said Dodds. "Anybody working in the humanitarian sector needs to be held accountable, including local governments. The hope is to eventually produce lots of award-winning, impactful investigations that we can point to, and to support a large stable of investigative reporters."
---
For a look at The New Humanitarian's work, check out their website at www.thenewhumanitarian.org. And don't miss their already prescient Ten Humanitarian Crises and Trends to Watch in 2020.

Rowan Philp is a multiple award-winning journalist who has worked in more than two dozen countries. Currently based in Boston, Philp was the chief reporter and London bureau chief for South Africa's Sunday Times for 15 years.