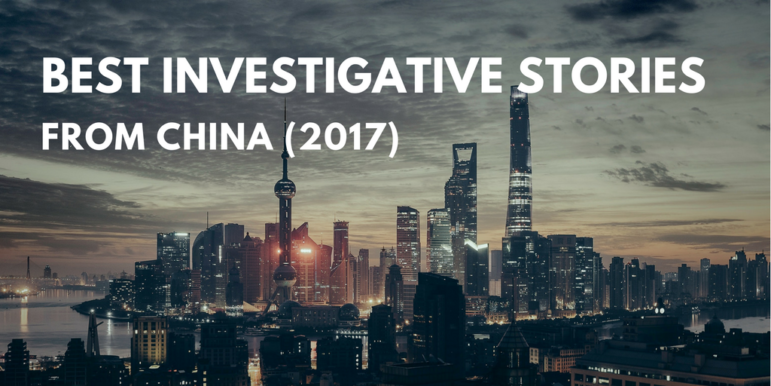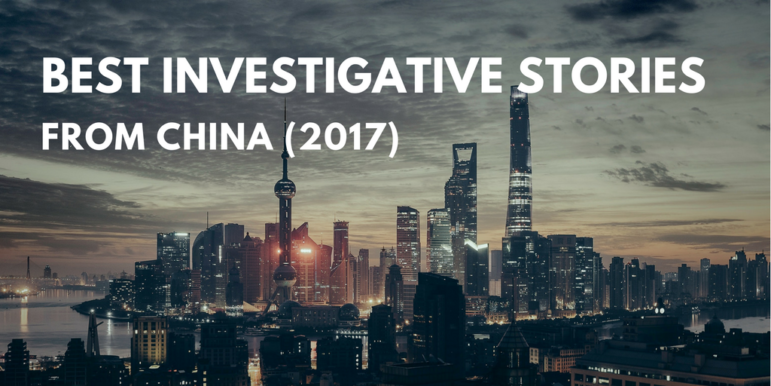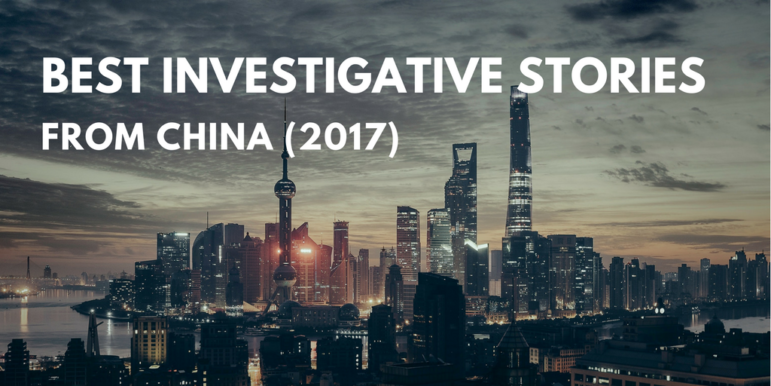 It's been a year since "post-truth" was announced as Word of the Year by Oxford Dictionaries, but the sentiment continues to resonate throughout the world. In mainland China, we've constantly encountered shifting public opinion, fake news and heavy censorship, but we also saw stories that reminded us that there are always journalists who never give up the pursuit of truth. Here's a selection of the best investigative stories from 2017 — from child abuse and fraud to the misconduct of listed companies — curated by the GIJN Chinese team.
The Death of an Autistic Teenager
On August 8, 2016, Lei Hongjian came home to find his son Lei Wenfeng, a 15-year-old with autism, missing from their house in Shenzhen, in southeastern China. But it was not until December 11 that Lei was informed that the boy had died nine days before, on December 2. He would later find out that his son was hospitalized after fainting in another city 35 miles away, where he was then was sent to a homeless care center as an anonymous homeless adult.
On February 14, 2017, Dami and Xiaomi, a media outlet focussed on autism-related issues, broke the story. Journalists from The Beijing News followed up the case, retracing Lei Wenfeng's last steps, including the hospital, the first-aid station and the day care center. They exposed substandard resources and misconduct within the center, which had amounted to 20 deaths in 49 days. The daycare center was later shut down by the government.
Killing the Debt Collector
In March, Southern Weekly broke the story of 22-year-old Yu Huan, who was sentenced to life imprisonment for killing a debt collector who harassed his mother Su Yinxia during an abusive debt collection. The story was soon picked up by several other news organizations, which dug through public records and provided a more comprehensive picture of underground usury and abusive debt collection practices in the northern province of Shandong.
The Southern Weekly story recaptured how the killing happened, while The Paper and China Youth Daily later added more details in their reporting, based on the court verdicts. Digging through court judgment records, the annual report of Su's factory, government documents and more, China Business Network, Caixin and others uncovered the financial crisis faced by Su's business to find out why she was forced to resort to usury.
A later investigation by West China City Daily revealed one of her creditors'  involvement with criminal gangs. Btime.com reported on how Wu Xuezhan's earned his "first bucket of gold," while "Meirirenwu" (a Wechat account under Beijng Boya World Media Group) told the story of Yu and his mother' life before and after the killing.
Pharmaceutical Financial Fraud
Er-Kang Pharmaceutical is a manufacturer of drug excipients (also known as bulking agents or fillers). After the company was suspected of financial fraud and fictitious assets in May 2017, the group's chairman responded to the claims, telling shareholders that the modified starch his company produced for fillers had a gross profit margin of 90.99 percent.
Based on this information, NetEase's investigative team, dubbed "Clear Stream Studio," used open databases (which they learned about from the Global Investigative Journalism Network) to check the company's shipping record.
As part of its financial investigation series into A-listed companies, the team published its  findings about fraudulent activities that the company's franchiser, SYN, had exported a certain amount of goods from Jiangxi province, China, to Canada, and then shipped the same amount of goods back along the same route within half a year. At the same time, they also discovered that the founder of SYN was working as a technician for a research company, of which Er-Kang Pharmaceutical was a 70 percent stockholder. It was solid evidence that SYN had a close relationship to Er-Kang, something which was not disclosed on the sales contract.
In August, the China Securities Regulatory Commission filed charges of financial fraud against the pharmaceutical company. The move means the company might not be able to move ahead with plans to go public.
Nanny Arson Case
On June 22, 2017, a high-rise building called "Blue Qianjiang" in Hangzhou, the capital of Zhejiang province in eastern China, was set on fire by a domestic helper, who, obsessed with gambling, tried to cheat money out of her employer by fabricating a fire-rescue situation. But the fire got out of control, and a mother and her three children died of carbon monoxide poisoning.
Journalists from Southern Weekly investigated the building's fire prevention and control system, exposing corners that were cut during the installation of fire hydrants and routine inspection. Their report also disclosed the inadequacy of governmental fire safety inspections and the building's fire drills. Both of these issues, to some extent, resulted in a delayed rescue attempt.
Meanwhile, Beijing Youth Daily interviewed a dozen domestic helper agencies and revealed that the helper's registration and employment system did not meet government regulations, making it difficult for employers to identify her history and background.
The suspect was held on charges of arson and larceny by prosecutors at the Hangzhou Procuratorate. The investigative reports motivated many citizens to purchase fire service equipment and building management companies to conduct thorough examinations of their buildings.
Mortgaging Housing for Pensions
Just mortgage your home for an investment and you'll receive high monthly interest and be able to have the principle back. What sounded like a perfect pension plan was actually a fraud targeted at the elderly, a scheme which had tricked dozens out of their housing in Beijing since 2015. Many victims lost their only apartment or went into debt.
China Youth Daily investigated cases of several victims and reported on the improper practices by notary offices that handled the mortgages. Between July, when China Youth Daily's report was published, to early August, nearly a hundred victims showed up to tell their story to the newspaper. Soon after that, Beijing's Justice Department launched investigations into the notary offices. The Notaries Association also promised to review and improve their regulations and practices.
The Death of Li Wenxing
In July, Li Wenxing, a recent university graduate, was found dead in a pond on the outskirts of Tianjin city in northeastern China. JMDedu, a website providing education information, published its investigation which pointed out that the young man fell to his death when trying to escape from a pyramid scheme. The investigation also showed the flaws of the online job seeking platform Boss Zhipin, which Li was using when tricked by the scheme, which was posing as a legitimate company.
Several other news outlets, including Southern Metropolitan Daily, Caixin and Beijing Youth Daily, soon followed up to dig deeper into the job-seeking platform as well as the pyramid-scheme gangs that have long-plagued the region. Additional investigations revealed details of how pyramid-scheme organizations operate and restrict the personal freedoms of those fall into their traps.
Four days after the JMDedu story broke, Tianjin police carried out a raid on 418 communities starting at a midnight, finding 301 gang hideouts and arresting 63 involved in the scheme.
Shanghai Day Care Center Child Abuse
In November 2017, a child-abuse scandal in Shanghai 's Ctrip Day Care Center sparked outrage on the Chinese internet. Two closed-circuit television videos quickly went viral, one revealing teachers at the center pushing kids onto the corners of tables, hitting their heads, and violently feeding them a mustard-like paste. One of the parents said their child had diarrhea six times in one hour.
The Beijing News' investigative team reviewed the history of the center, uncovering that Ctrip initially was suspended from starting a kindergarten because it lacked a school license. Later, Ctrip managed to start the center by collaborating with the Women's Federation of Shanghai. The investigation reviewed the investment history of the federation, and the huge profits it received.
After the case was reported, the governmental Women and Children Working Committee launched an investigation. Ctrip fired two deputy managers who were in charge of the business; five staff members were held on caregiver abuse, and the head of the center is currently in criminal custody.
Abuse at Gaming Addiction Center
In July 2016, Pei Xiaolong's mother brought him to the Yu Zhang Institute under the pretense of going on a trip. But the actual goal was to hand him over to the institute to tame his computer-gaming addiction. Three months later, in October, Pei told a friend that the institute was "educating" the students through violence, hitting their hands with rulers and whipping their backsides. Additionally, the institute had hidden from parents that some of their students committed suicide.
Journalists from Beijing Youth Daily interviewed Pei; another student, Zhao Yiming, who wanted to defend the institute; and Ding Bei, a former teacher. Their report uncovered a hierarchy which granted higher-ranked people the power to systematically abuse lower-ranked people, as evidenced by bruises on students' bodies and their psychological trauma.
Nanchang City Qingshan Lake District launched investigations into the allegations, and issued sanctions against the institute. In November 2017, the group was suspended, sending their current students to other schools following government approval.
Investigations into LeEco
In 2017, several Chinese media houses started to gradually investigate the notorious tech company LeEco, instead of just "recapping" its press releases.
It began in January, after the financially troubled LeEco survived a huge crisis with a new round of investment from Sunac China, a major real estate firm. TMT Post soon published a story detailing the deal between LeEco and Sunac China, showing that LeEco had relied on complex and opaque affiliate transactions and did not have actual businesses as source of revenue.
National Business Daily published an investigative series in April which looked into every LeEco product and service from TVs to electric cars; journalists even investigated Faraday Future factories financed by LeEco in the US. Caixin's story uncovered the misappropriation of funds inside LeEco and found that the CEO's private company had purchased five properties in the US.
Child Abuse at RYB Kindergarten
In November, parents posted on social media that their children at Beijing's RYB Kindergarten were believed to have been pricked by needles, given unknown medicine, and even harassed by teachers and people who were likely in the military. While having sparked widespread anger — some commented that it was China's "Spotlight" story  — news about the incident was soon censored on the internet, with media reports being removed one by one, and further investigation attempts obstructed.
Among the remaining early reporting of the issue, The Paper's story looked into the backgrounds of the founders and shareholders of the listed company, RYB Education, that runs kindergartens across the country, examining the company's prospectus and related news reports. The story also noted that there had been previous child abuse accusations at the kindergarten in April.
Police later announced the conclusion of their investigation, saying that the harassment did not happen, and arrested teachers who abused the children and those who "spread rumors" of harassment.
Hunan's Mining Pollution
In some small towns in the west of the Hunan province, an increasing number of children were found with high levels of lead in their blood, and the number of residents diagnosed with critical illnesses was on the rise.
By investigating the towns known for non-ferrous metal mining, the Beijing Youth Daily found that the long time improper industry practices, including the handling of tailings, had brought severe damage to the environment and the health of local residents, while the mining companies and local government had not yet taken effective measures to cope with the problems.
Secret Network of Longwei Culture and Media
According to a filing by Zhejiang Sunriver Culture in November, the Shanghai Stock Exchange-listed firm was fined and barred from China's securities market for five years. Chinese billionaire actress Zhao Wei and her husband Huang Youlong, who tried to acquire the company in late 2016, were also subject to the ban, for violation of disclosure rules during their merger and acquisition activities.
Dengshenxian (Depth Paper), an online media platform focusing on original, in-depth business reporting, dug up company records on Longwei Culture and Media owned by Zhao and Huang, and discovered frequent changes of CEOs and shareholders in a series of Hong Kong companies registered at the beginning of 2017. Depth Paper's report also showed the involvement of Huang's companies in the gambling industry on Macau, South Korea's Jeju Island, and Saipan of the United States.
Earlier in April, through examining Hong Kong Companies Registry and offshore company records, Depth Paper reported that Zhao and Huang had set up up to nearly 30 companies in Hong Kong and overseas since 2010, and disclosed hidden ties between Huang's companies with Mongolia, secretarial service businesses, and offshore companies.
The "Invisible" Ma Ruixia
On April 21, at a busy crossroad in the city of Zhumadian in Henan province, the 34-year-old Ma Ruixia was crossing the street when she was hit by a rushing taxi. In the next minute, more than 10 pedestrians crossed the street and 10 cars drove by, but none of them stopped to take a look at or offer help to Ma, who lay there in the middle of the road, still alive, as if she was invisible, until another SUV ran over her.
It was not until June 7 that a video clip capturing the tragic moment of the accident caught netizens' attention on Weibo, one of China's top social media platforms. On June 10, "Meirirenwu," a new platform under Beijng Boya World Media Group focusing on human-interest stories, became the first media at the time that tried to document the personal story of the victim.
By visiting the crossroads where the accident took place, the"urban village" area nearby, and the restaurant that Ma used to run, as well as interviewing her only staff member Wu Qing, "Meirirenwu" traced the peaceful and repetitive daily life of Ma, and how on the day of the accident, an occasional change of her schedule led to her death. Ma was not completely "invisible" at least, because of the story by "Meirirenwu".
---
A recent study by Sun Yat-Sen University's School of Communication found that the number of China's investigative journalists has declined by more than half since 2011, and that a majority of those who remain say they intend to change careers. Researchers found that the number of investigative journalists in China plummeted by 57.5 percent over the last six years. The reasons cited: low pay and poor chances for promotion. Add to that widespread censorship and official interference with news media, and it's not hard to understand the difficult plight of China's investigative journalists.
And yet, despite all this, consider the quality and scope of investigative reporting reflected in the stories above. Systematic child abuse, corporate fraud and secrecy, and environmental pollution were just a few of the important topics covered by China's most enterprising reporters. While much of the best reporting focused on companies behaving badly, it was the child abuse stories that received the most coverage (although those reports were largely censored after sparking furious debates on the internet).
Moreover, there is hope in recent news that major media houses with big budgets are looking to hire top reporters. Also, as seen above, a growing number of specialized media outlets (such as finance-focused TMTpost and education outlet JMDedu) are pursuing investigative stories even under difficult circumstances. That's good news for those who believe that a strong watchdog news media is essential for a healthy society. China's investigative press, while dealing with its share of challenges, is still fighting the good fight.
---
This is part of a GIJN series on best regional investigative stories from 2017. Check out our Arabic, Latin America and Former Soviet Union round-ups.