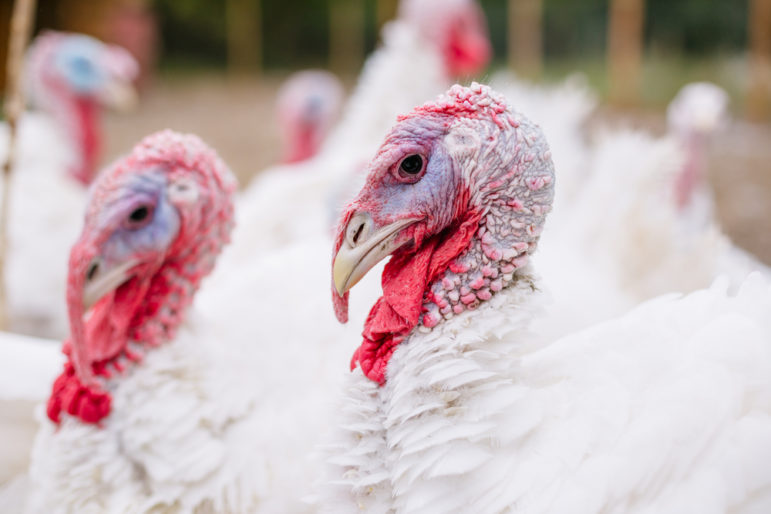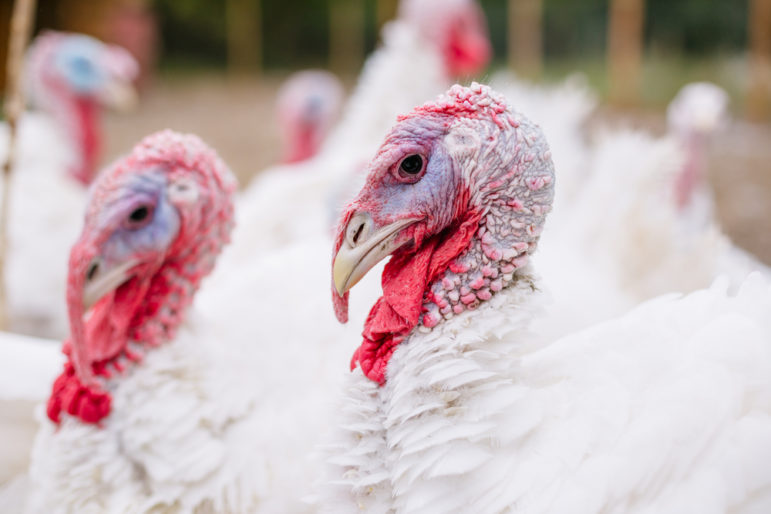 Slaughtergate! My Fowl-Play Investigation of a White House Turkey
Read this article in
It was a bright, crisp fall day in Washington, DC when I finally got to wear a White House press access badge.
Twenty five years after The Washington Post's iconic Watergate investigation, here I was – in November 2000 – about to report at that famous site of executive power and scandal – and to do it for the Post.
My editor had finally agreed to assign me a White House story, and I imagined myself learning about illicit airstrikes from a whistleblower in a darkened underground parking lot, and using their claims to confront then-President Bill Clinton's chief of staff in the Oval Office.
Instead, my editor leaned over my gray newsroom cubicle and, in her South Carolina accent, told me: "So we've arranged your Secret Service press pass – you should be happier than a pig in mud. We want you to report on the White House turkey."
Huh? "A turkey? You mean – like a chicken? Not a policy story?"
Drawing on her vast repertoire of animal-themed Southern sayings, my editor then said something like this: "Policy? – Sorry, sugar, that dog ain't gonna hunt. This is a fun holiday story – the president is gonna pardon a turkey. Because, ya know, with Thanksgiving dinners comin' up around the country, turkeys are 'bout as nervous as long-tailed cats in a room full of rockin' chairs."
As a junior, guest reporter at the Post on an Alfred Friendly Press Fellowship, I knew I was low on the newsroom pecking order. (Indeed, my entire newsroom beat was informally defined as "stories the staff reporters don't want," which at one point included coverage of the Romance Writers of America conference.) But this struck even me as a, well, poultry assignment.
One of the silliest White House traditions, I learned, involves an annual presidential "pardon" of a turkey – one of more than 50 million of the large birds that are otherwise doomed to be carved up and eaten, with some kind of cranberry or plum sauce, on the US holiday of Thanksgiving.
Most (but not all) Americans celebrate Thanksgiving on the fourth Thursday in November, which commemorates a brief, 1621 alliance in which the Indigenous Wampanoag tribe took pity on struggling Pilgrim immigrants and treated them to a harvest feast. (Historians suggest that the Wampanoags actually offered ducks to the helpless English colonists, but poultry industry lobbyists have successfully persuaded Americans that meatier, more profitable turkeys were, in fact, the birds-of-praise that day.)
Every year, US presidents now grant clemency to one such bird (as well as a back-up "vice-turkey") – carefully selected and presented by the National Turkey Federation – which then lives out its remaining days unharmed at a nearby petting zoo.
The Backgrounding and Story-Angling Phase
So, OK, I thought – maybe I could at least entertain Post readers with puns about the lame-duck president — who was about to leave office in two months — and his poultry gesture. But my newshound background research suggested that dog wouldn't hunt either.
Many journalists – and some US presidents – have incorrectly stated that executive turkey pardons began with President Harry Truman in 1947. But it turns out that this ceremony was merely a "turkey presentation" – really, a gesture to appease farming lobbyists, who were upset by his administration's ill-conceived campaign to reduce poultry consumption on, of all days, Thursdays, on which Thanksgiving always falls. Selected presidential birds were then generally slaughtered and gobbled up after the next 40 such ceremonies at the White House (with the notable exception of 1963, when President John F. Kennedy spontaneously spared a turkey presented to him, just a few days before his own assassination).
However, I was excited to discover that the presidential tradition of formally "pardoning" a turkey first hatched from a major investigative journalism topic: the Iran-Contra scandal, in which White House officials secretly arranged the sale of banned weapons to Iran to fund a right-wing rebel group in Nicaragua. During a period of political pressure in 1987 over the potential pardoning of one official whose goose appeared to be cooked – a National Security Council staffer named Oliver North — President Ronald Reagan pardoned a Thanksgiving turkey called "Charlie," in what some historians suggest was a means of making executive pardons seem less of a big deal.
When Reagan's successor, President George H. W. Bush, made turkey pardons an annual tradition, it became a plum assignment for Washington reporters for a few years, and the press gaggle would flock to the White House lawn every November. These were always, shall we say, pheasant occasions, and a fun break from the policy grind.
However, by the late 1990s, reporters would grouse that these ceremonies had become a short-straw assignment, simply because – as my newsroom colleagues warned me – all the "fowl play"-type puns were deemed to have been used up.
The Investigative Research Phase
In desperation, I resolved to channel the legendary Post reporting duo of Bob Woodward and Carl Bernstein, and instead investigate the turkey, and the constitutional mechanism behind its legal status.
According to public documents I obtained, the turkey selected for Clinton's reprieve from death row was a 45-pound male called "Jerry." But reporting any details beyond that was a struggle. I could find no fault with the evidence for the bird's death sentence: the turkey was clearly plump and likely delicious; the Federation appeared to have legal rights to select Jerry; and the evidence I did find about inhumane conditions in commercial farming – from animal rights activists – was deemed too much of a holiday downer by my newsroom colleagues. I did find evidence that Jerry's beak had been clipped, a practice criticized by the humanitarian group United Poultry Concerns, but the Federation claimed this had been done in a humane manner, and I could find no source to contradict it. Less clear was whether a US president had the legal right to pardon an animal, though the law seemed stronger on a president's theoretical power to spare them from the carving board by drafting them into military service.
So I ended up attending Bill Clinton's Rose Garden turkey ceremony with no useful investigative research at all. I went in cold turkey.
It was even worse than I imagined. Around Jerry's neck, the bird wore exactly the same kind of Secret Service-issued White House press badge that I had been so proud to hang around my own neck.
The Sources — and the Smoking Gun
I interviewed several children gathered there – who appeared much less supportive of clemency and said things like "I'd rather eat it" – but I feared that the stuffing had been taken out of my accountability project.
But then I found and collared the main government contractor for the event, with whom I could talk turkey: Jerry Jerome, then chairman of the National Turkey Federation.
In the end, my whole investigation boiled down to one question of Jerome: "What is different about Jerry from previous White House turkeys?"
His candid answer made my investigation, and got my story on the coveted front page of the Post's Style section.
"Actually, he isn't a commercial turkey, he's a breeder tom; one of a very small minority," Jerome explained, adding: "He's a production bird, not an eating bird – he wouldn't have been slaughtered anyway."
Talk about a gravy injustice!
In that euphoric junior reporter moment, I realized I had an incredibly tiny scoop: the turkey Bill Clinton was pardoning was, in fact, in no danger of being eaten, and in no need of being pardoned. More than that: Jerry had usurped some other, unnamed turkey, I realized in triumph, who did qualify for amnesty, and could have been spared from a slow-roasted fate that very day.
My story stated: "And there it was, the farce behind the farce… Slaughtergate!"
While conceding that Jerry had been in no imminent danger of a Thanksgiving knife, another official at the Federation – "in damage control mode" – insisted that the bird would likely have met the chopping block eventually.
White House Denials, and Press Freedom
My flockbuster story sent feathers flying at the Clinton White House, where the press office served up surprisingly vehement denials. One official even insisted to me that – if it were true that Jerry had not been qualified for an executive reprieve – no one in the administration, least of all the president, had any knowledge of it. (It's always the cover-up that gets them.)
In hindsight, connecting my discovery of the turkey's ineligibility for clemency with the famous Watergate investigative series that eventually brought down a president seems slightly overdone.
But – to the joy of my editors – the revelation presented a cornucopia of new pun opportunities about Bill Clinton, who had recently survived being impeached for having a sexual relationship with a White House intern. And so we ladled on these double entendres with gusto.
For instance, in comparing the turkey and the president, the story discussed how "Two studs, born magically immune to disaster, rise from obscure states to occupy the White House limelight together."
What's more, the experience convinced me that there is no government topic too silly for watchdog journalists to investigate.
Looking back on that not-so-deep exposé, I think I'm most proud of the scolding I got from the senior Post editor who finalized the draft for printing.
Knowing that I was in the US, and at the Post, on a journalism visa from my home country of South Africa, the editor singled out one paragraph in my piece as "the worst set of puns ever written in the history of The Washington Post." Jokes so bad, he claimed with a barely-suppressed grin, that I could be deported for them.
Here is that paragraph, for posterity:
"A massive turkey – the specter of the death sentence surrounding it… More than 45 pounds of prime, edible Beltsville White, fronted by a giant and visibly tender breast. Ah, yes: the smoking gun – the veritable Poult-.45, if you will. Guilty beyond a seasonable doubt."
He published the paragraph anyway.
---

Rowan Philp is GIJN's senior reporter. He was formerly chief reporter for South Africa's Sunday Times. As a foreign correspondent, he has reported on news, politics, corruption, and conflict from more than two dozen countries around the world.