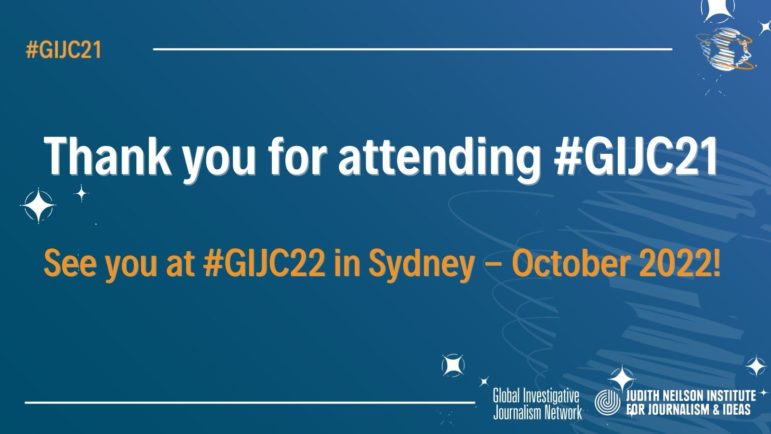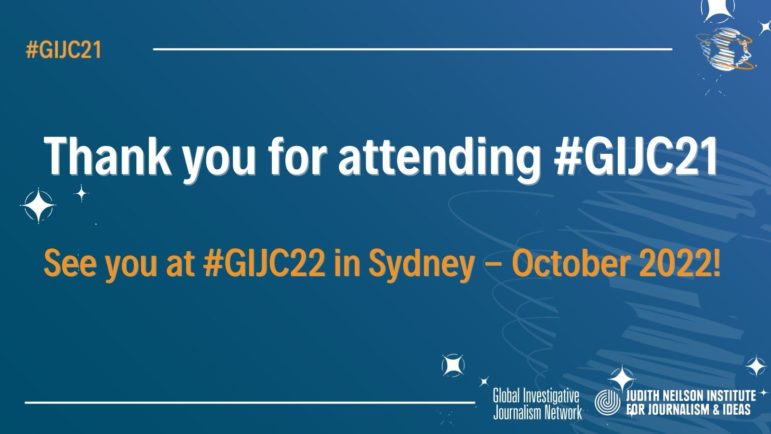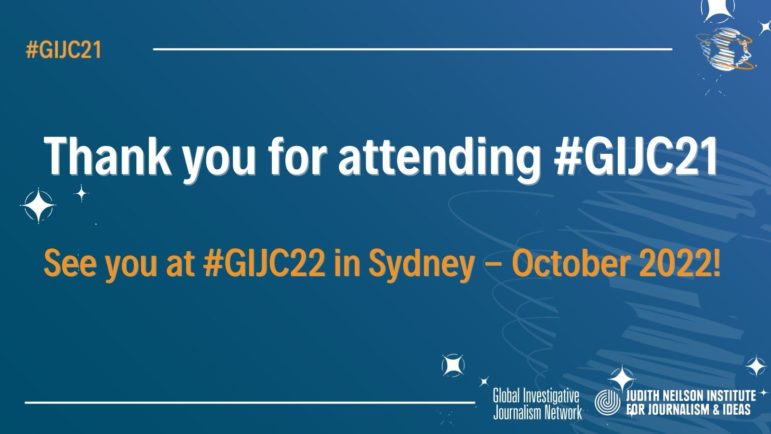 With 1,667 attendees from a record 144 countries — and after 80 panels, workshops, and networking sessions — this year's Global Investigative Journalism Conference (#GIJC21) closed Nov. 5 with renewed resolve for watchdog reporting around the world, and an invitation for global muckrakers to meet in-person next year in Sydney, Australia.
The five-day conference — the 12th since 2001, and the first entirely online — featured sessions on threats from autocrats and oligarchs, journalist security, climate change, and Indigenous communities. Topics included the Pandora Papers and financial crime, the Pegasus Project and spyware, and online investigative techniques. 
The event's nearly 200 speakers from 65 countries included pioneers in cutting-edge investigative fields; experts on security and law; and courageous reporters on the front lines from Brazil to Zimbabwe. More than a dozen sessions focused on data journalism, from database management and coding to mapping and visualization.
GIJC21 also saw the launch of a number of new guides and tools. Among them: a Reporter's Guide to Investigating Organized Crime; a manual for newsroom fact-checking; a guide to setting up video units in small newsrooms; Icarus Flights, a tracking system to identify aircraft worldwide; and the Journalist Security Assessment Tool, a self-test for newsrooms developed by the Global Investigative Journalism Network and Ford Foundation security experts.
Access to conference videos is limited for six months to attendees. However, the GIJN Resource Center has publicly posted links to nearly 200 tip sheets, presentations, and guides offered at the conference.
The conference's 1,667 participants were drawn from around the world, with roughly a third each from Europe and the Asia/Pacific region, over 150 each from Africa and Latin America, and hundreds more from North America and the Middle East. A GIJN fellowship program ensured participation for more than 300 journalists from the Global South.
This first fully digital GIJC — held online due to the coronavirus — featured a number of innovations. Various sessions were translated into a record seven languages: Arabic, Chinese, Japanese, French, Portuguese, Russian, and Spanish. The conference itself was covered extensively in 12 languages: those seven, plus Bahasa Indonesian, Bangla, Hindi, Turkish, and Urdu. (Find our coverage in more than 30 stories here.) The #GIJC21 hashtag was cited worldwide in 6,000 Tweets, reaching an estimated 30 million people, according to analytics platform Keyhole.
In addition to training and skills sharing, the conference featured an unprecedented level of networking for the world's investigative journalists. More than 800 people attended GIJC21's record number of 17 networking sessions, where journalists shared ideas for cross-border collaborations, professors shared teaching innovations, and experts on nonprofits brainstormed about new structures to support in-depth reporting. The conference site hosted 921 public conversations and more than 1200 messages among the participants, according to data from Pathable, the host platform.
GIJC21 also featured a shifting global schedule, allowing for regional programming in three sets of time zones around the world. Teams in Europe/Africa, the Americas, and Asia/Pacific worked literally around the clock to ensure a truly global audience.
GIJC21 was co-hosted by the Global Investigative Journalism Network and the Judith Neilson Institute. "Big thanks to the GIJN and JNI staffs, who put together an extraordinarily complex event," said David E. Kaplan, executive director of GIJN. "Thanks also to our terrific speakers, our co-sponsors, and all the enthusiastic journalists in 144 countries who joined us.
"Despite all the challenges we face — lawsuits, intimidation, prison, physical threats, online harassment, lack of funds — GIJC21 shows that investigative journalism around the world is alive and well," Kaplan noted. "Autocrats and oligarchs take note: You are not putting this genie back in the bottle." 
The conference ended with a call to the world's most enterprising journalists to join co-hosts GIJN and JNI in Sydney in October next year for the 13th Global Investigative Journalism Conference. "This a big invitation to #GIJC22 in Australia next year," Kaplan said. "We're ready to see you all in person."