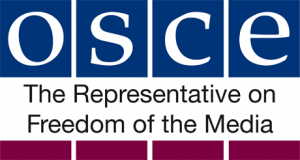 The Organization for Security and Cooperation in Europe (OSCE) representative on Freedom of the Media plays a vital role that is valued by journalists and media freedom groups for its ability to speak out in defense of press freedom.
At a time when press freedom is deteriorating in many OSCE states — including Turkey, where President Recep Tayyip Erdoğan is jailing large numbers of journalists; Russia, where journalists are murdered with impunity; and Hungary and Poland, where state media is tightly controlled by government — having a voice to raise journalist cases and hold states to account is vital.
In an interview with the Committee to Protect Journalists, the new OSCE representative Harlem Désir discusses his plans for the role and explains why he is prioritizing journalist safety, fighting impunity and combating violent extremism online.
[This interview has been edited for clarity and length.]
---
Press freedom organizations have been grateful for the support and dynamism that the OSCE representative on Freedom of the Media has provided to champion press freedom. How are you going to develop the role?
It is an honor to have been appointed to this position at what I consider to be an extremely important time for media freedom in the OSCE region. In meetings with my team, ambassadors and many of our partners, it is clear we need a holistic approach to effectively address the broad and complex range of issues that affect media freedom.
I plan to apply this in every one of my priority areas: working with authorities and civil society, especially in regions of the OSCE where freedom of the media is especially at risk. The institution plays an integral role in addressing challenges to media freedom including safety of journalists and impunity, hate speech and a lack of safeguards for freedom of expression when countering illegal activities — to name a few.
In a statement to mark the first anniversary of the murder of journalist Pavel Sheremet, who was killed in a car bombing in Ukraine, you said you are looking to address the safety of journalists and the issue of impunity. Are you going to focus on key countries in the first year? Where is your attention most needed?
The safety of journalists is my absolute priority. In terms of the physical safety of journalists and impunity for crimes committed against them, I will address this issue whenever it occurs in the OSCE region. There are a number of participating states where impunity has become a growing problem and where serious attention is required.
Moreover, online threats and intimidation are a growing problem everywhere, with female journalists being specific targets when it comes to this kind of abuse. These threats have become part of daily life for many, often leading to self-censorship. It is imperative that law enforcement bodies follow up on cases and take these issues seriously.
Without question, impunity continues to be one of the leading challenges in terms of media freedom, though certainly not the only one. In several participating OSCE states, the media situation continues to decline on a daily basis, leading to the imprisonment of journalists based on their work  — a clear violation of OSCE commitments. In the past year, we have witnessed hundreds of criminal investigations launched by authorities against critical voices and more than 150 journalists are currently in prison.
You were involved in activism during the 80s and 90s with SOS-Racisme, a movement committed to ending racism, and then moved to politics in France. How do you think your background will influence the new role?
I am a great believer in, and fighter for, fair and democratic societies in which everyone has the opportunity to be heard and represented. My work has always been and will continue to be shaped through working with and listening to all stakeholders.
I have had the privilege of working with partners from every group in society — government, parliament, academia, civil society and representatives of majority and marginalized groups. In my work as representative on Freedom of the Media, I will continue to strive for an OSCE region where every person enjoys the fundamental freedom of expression and media freedom so necessary for full participation in society.
In your candidacy, you mentioned taking action on "the challenges and threats specific to online media." Could you outline these specific challenges and what can be done to overcome them?
The digitization of the media has brought its own set of new challenges. Many of these challenges have been dealt with by the office in past years and will continue to be priorities during my tenure: maintaining a free and open internet, the ever-changing role of intermediaries and the accompanying response of states, net neutrality, the issue of quality of information, fake news and the increasing role that propaganda and disinformation play in shaping public discourse.
I will give special attention to the issue of harassment and countering violent extremism online which, I believe, will only become more pressing in the coming years. We must look at these challenges as an opportunity to develop innovative and cooperative solutions whilst maintaining absolute commitment to our fundamental freedoms.
Independent journalists around the OSCE region had a strong, outspoken advocate in your predecessor, Dunja Mijatović. What will you say to them to reassure them you will honor her legacy and continue in her footsteps?
Dunja Mijatović was indeed a phenomenal advocate for media freedom and freedom of expression. She and I have very similar strategies on how to best tackle the ongoing issues facing media freedom in the region today. I will make it my mission to continue to be as outspoken and tenacious as she was, focusing on the independent and impartial analysis of facts.
I will support and bolster strong partnerships with civil society and representatives of the media. We need to strengthen this coalition, especially given the complexities and increasing number of challenges facing media freedom. I will also work very closely with representatives of OSCE participating states in Vienna and with national authorities.
Is there anything else that you would like to say to journalists and press freedom advocates?
The role of journalists in our societies is one that cannot be overstated. In many parts of the OSCE, you risk your life and your privacy to provide valuable information so that we can better inform ourselves on the world around us, engage in our societies, voice our needs, find support and connect with one another. Our democracies grow stronger through open debate, including on difficult issues and disagreement. [Journalists] have a dedicated advocate in me. I promise to raise my voice for you when you, or the crucial work that you do, is threatened or silenced.
---
This piece originally appeared on the website of the Committee to Protect Journalists and is reproduced here with permission.

Tom Gibson is CPJ's lead advocate in Brussels, covering the EU. Before joining CPJ, Gibson managed Protection International's Burundi and Congo desks, advocating for state accountability for protection of human rights defenders and journalists. Gibson was also part of Amnesty International's Africa program in London and Nairobi.