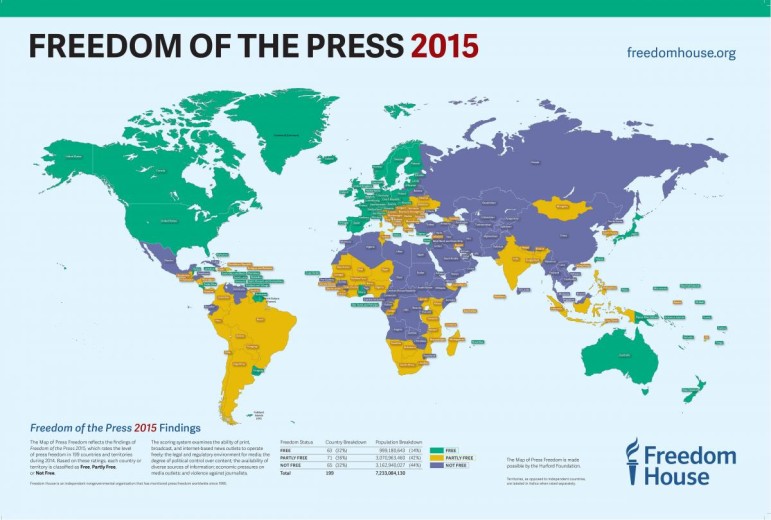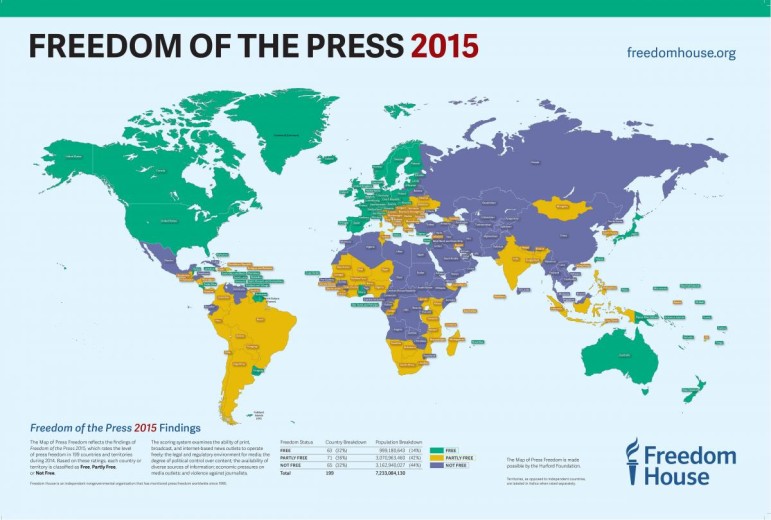 Global press freedom declined to its lowest point in 12 years in 2015, as political, criminal, and terrorist forces sought to co-opt or silence the media in their broader struggle for power, according to Freedom of the Press 2016, Freedom House's annual report on media freedom worldwide.
"The forces against press freedom were strongest in the Middle East and Turkey, where governments and militant groups pressured journalists and media outlets to take sides, creating a 'with us or against us' climate and attacking those who refused to be cowed," said Jennifer Dunham, director of research for Freedom of the Press.
"Media freedom declined not just in repressive societies but also in Europe," Dunham said.  "Journalists in much of Europe had to contend with new threats from terrorists as well as new surveillance and security laws that could hamper their work. Political leaders in Poland, Serbia, and other countries sought greater control over national media."
"In China, censorship of news and internet content related to the financial system and environmental pollution increased," Dunham said. "Professional journalists from established news outlets—as well as Hong Kong–based booksellers—were detained, imprisoned, and forced to give televised confessions, representing a disturbing new pattern of repression."
Despite the many threats to press freedom, journalists and bloggers worldwide have shown resilience, often at great risk to their lives. Examples include journalists with the Syrian media collective Raqqa Is Being Slaughtered Silently, who clandestinely document rights violations by the Islamic State (IS) militant group; investigative reporters in Mexico, Brazil, and Colombia, who persist in the face of threats from organized crime; and reporters in China who disregard government directives and publicize politically sensitive information.
KEY GLOBAL FINDINGS
Only 14 percent of the world's population enjoys a free press—that is, where coverage of political news is robust, the safety of journalists is guaranteed, state intrusion in media affairs is minimal, and the press is not subject to onerous legal or economic pressures.
Forty percent of the world's population has a Partly Free press, and 46 percent live in Not Free media environments.
Steep declines worldwide were primarily linked to heightened partisanship and polarization in many countries, and the degree of extralegal intimidation and physical violence faced by journalists.
Among the countries that suffered the largest declines in 2015 were Bangladesh (7 points), Turkey (6), Burundi (6), France (5), Serbia (5), Yemen (5), Egypt (4), Macedonia (4), and Zimbabwe (4).
The world's 10 worst-rated countries and territories were Belarus, Crimea, Cuba, Equatorial Guinea, Eritrea, Iran, North Korea, Syria, Turkmenistan, and Uzbekistan.
You can find the full report, along with back-up reports and methodology, at this link.
---
Freedom House is an independent watchdog organization that supports democratic change, monitors the status of freedom around the world, and advocates for democracy and human rights. @freedomhousedc