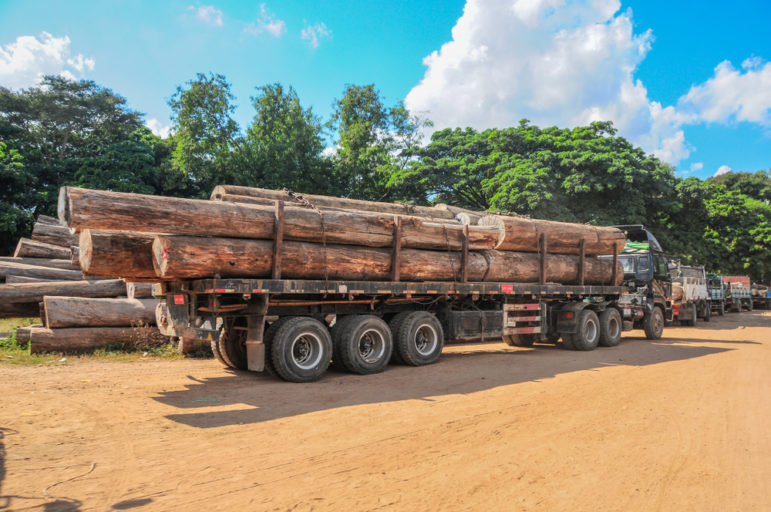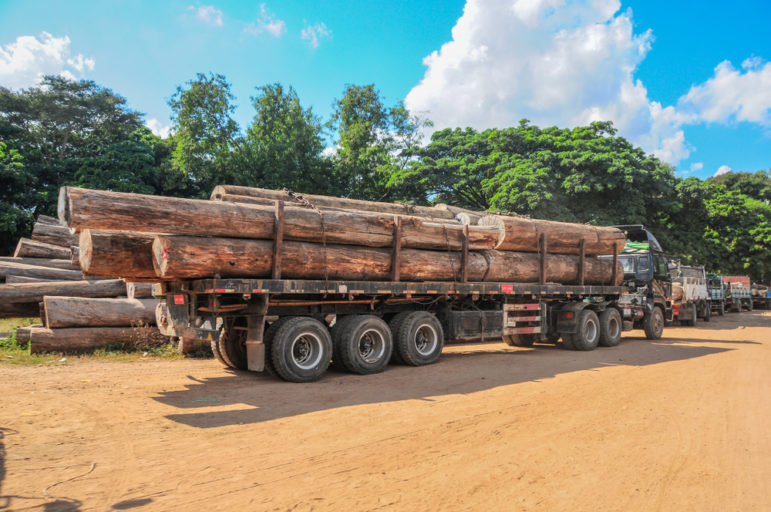 Teak logs loaded onto a logging truck in Monywa, Myanmar. Image: Shutterstock, Ron Emmons
Will Myanmar's Press Crackdown Muzzle Reporting on Environmental Crimes?
Myanmar's military authorities have followed their February 1 coup with a sweeping clampdown on press freedom, including the arrest of reporters, closing of news outlets, and driving of journalists underground or into exile.
Industry experts say the measures have effectively criminalized independent journalism in the country.
As conflict and violence spreads throughout the country, monitoring forests, illegal logging, and the associated illicit trade on the ground is increasingly risky. Satellite platforms that monitor forest loss will likely become increasingly useful.
With the loss of the independent press watchdog a reality, experts say they fear the circumstances are ripe for overexploitation of natural resources.
In the wake of the military coup in February, Myanmar's new regime leaders escalated their forceful crackdown on nationwide protests, with sweeping restrictions on the media severely curtailing independent journalism in particular.
Authorities have stripped at least seven local media outlets of their licenses, enforced strict censorship of satellite television, and limited access to the country for international reporters. Widespread internet restrictions imposed immediately after the coup are largely still in place.
Reporters and photographers are also being detained.
As of late July, 98 journalists had been arrested, 46 of whom remained imprisoned and six had been convicted, according to the most recent information available from US-based rights group Human Rights Watch (HRW). Five convictions were under a new provision of the Myanmar penal code that makes it a crime to publish or circulate comments that the regime deems to "cause fear" or spread "false news."
A recent report from HRW reiterates that international human rights law prohibits arbitrary restrictions on the rights to freedom of speech and expression, including detaining journalists and banning media outlets. The organization says the military regime's crackdown on journalists in Myanmar is part of an effort to suppress independent media coverage of the situation to conceal the serious rights violations being committed across the country.
"Myanmar's junta has made the mass arrest of journalists and control over the media a key component of its seizure of power from a democratically elected government," Phil Robertson, HRW's deputy Asia director, said in a statement. "The junta's intensifying surveillance, harassment, and detention of journalists is rapidly turning Myanmar into one of the region's most dangerous places to be a journalist."
Ecosystems at Risk
While security concerns and communication restrictions have incapacitated journalists trying to report on post-coup Myanmar, experts forecast that a return to direct military rule could undermine the few existing environmental protections as the regime and its allies seek to fund themselves via resource extraction. Local reports say that, since the coup, rare-earth mining has ramped up in the Kachin region and illegal logging has swelled in the Sagaing region, causing widespread environmental devastation in locations harboring some of the country's most biodiverse intact forests.
Yet the political turmoil has effectively halted much forest protection work, in part through restrictions on rights to peaceful assembly. Local environmental watchdogs also report being unable to speak out on forest incursions due to personal security concerns. Neither can they travel to forest areas to complete ongoing monitoring work because of the risks of interrupting illegal activities, the political unrest, and the COVID-19 surge.
The coup has also hampered the work of international organizations alongside local partners to strengthen forest governance in Myanmar. Progress toward transparency in the timber sector and incorporation of communities and civil society in forest protection solutions were "destroyed overnight" by the coup, according to a recent report from the UK-based timber trade watchdog Environmental Investigation Agency (EIA).
"Monitoring illegal logging and the associated illicit trade on the ground was never safe, but now, as the violence and brutality reach all corners of the country, it is almost impossible," the EIA report said.
For environmental journalists in Myanmar, severe risk is nothing new.
According to Shawn Crispin, senior Southeast Asia representative for the Committee to Protect Journalists (CPJ), the media clampdown makes environmental reporting in Myanmar more hazardous than ever. "It was always a risky endeavor considering how much of the environmental degradation in Myanmar is illicit," he told Mongabay. "So, at any time, putting a focus on these acts was dangerous. But now it is doubly dangerous even to be a reporter. They've created a culture of fear just to be a journalist."
CPJ's recent report on the media clampdown says Myanmar's junta has effectively criminalized independent journalism.
The jeopardy in which Myanmar's environmental reporters place themselves was exposed in 2016 when reporter Soe Moe Tun was killed in the Sagaing region while reporting on illegal logging and timber smuggling. Also in 2016, a reporter in the Mandalay region was forced into hiding following threats from timber traders.
Illustrating the severity of perceived risks in Myanmar, especially during the military crackdowns, Mongabay recently contacted numerous researchers and NGOs that operate in Myanmar to ask them about pressures on forests in the country, but many expressed hesitancy to comment for fear of endangering local staff and associates.
Eye in the Sky
To continue covering regions such as Myanmar, where reporting on the ground is difficult and dangerous, Mongabay sources data provided by the World Resources Institute's monitoring platform, Global Forest Watch (GFW). The GFW platform uses satellite images, spatial data sets, and algorithms to display up-to-date forest coverage worldwide.
Since it is open source, GFW enables internet users to view forest loss trends regardless of sociopolitical boundaries and conflicts. Data can also be downloaded to use offline in remote locations with patchy internet access, making it useful for community monitoring efforts and on-the-ground reporting.
Areas that are particularly threatened by forest loss are flagged automatically through GFW's Global Land Analysis and Discovery (GLAD) lab at the University of Maryland. The GLAD system compares NASA's Landsat imagery over time to identify locations where the forest canopy has been disturbed, and produces deforestation alerts. Each of these alerts indicates a 30-by-30-meter (100-by-100-foot) area where tree loss may have occurred.
Between January 1 and August 23, 2021, there were 185,628 high-confidence GLAD alerts in the Kachin region; 117,704 in the Sagaing region; and 218,811 in the Tanintharyi region. Each of these regions hosts significant tracts of intact forest. The 2021 alert data are preliminary and still subject to verification, making meaningful comparison between deforestation levels pre- and post-coup unfeasible. Notwithstanding, the spatial data indicate that forest loss is expanding along existing fronts as well as in areas that were previously undisturbed.
The GFW platform allows GLAD alert locations to be viewed in more detail through frequently updated 30-meter (100-foot), 10-meter (33-foot) and 5-meter (16-foot) per-pixel resolution satellite imagery. This level of clarity can help confirm whether forest loss is from human or natural causes and what the likely driver of the clearing was; for example, commercial agriculture, mining, logging, fire, or road construction.
Although GFW is widely used by journalists, forest researchers, and monitoring groups to detect deforestation, the platform cannot determine whether forest loss is legal or illegal. Carefully planned investigation through paper trails and source interviews is essential.
By such means, Mongabay has been able to report on illicit deforestation in conflict zones and in locations where the prevalence of hazards prevents access on the ground. For instance, in 2020, Mongabay reported on deforestation spikes in the Prey Lang Wildlife Sanctuary, one of the largest remaining old-growth forests in Cambodia, where authorities had banned access for a local forest monitoring network and even threatened the group for using satellite data. In another case, Mongabay used GFW data to report on deforestation in Myanmar's southern Tanintharyi region that was driven by expanding commercial oil palm and rubber plantations, many of which were never planted even though land had been cleared and timber extracted.
Ethnic Media Targeted
While satellite tools have proved invaluable in helping reporters shed light on deforestation in Myanmar amid the political turbulence, local media groups are still striving to cover events on the ground. In particular, outlets in ethnic territories where many tracts of forest remain are continuing to cover creative resistance, conflicts, and illicit resource extraction.
Prior to Myanmar's transition to a quasi-civilian government in 2012, there was an outright ban on media outlets operating in ethnic territories. Since then, the country has seen a proliferation of news sites and publications based in these areas, including English-language outlets that Mongabay has partnered with. However, the current military clampdown on journalism has been particularly harsh on these outlets, forcing many to close down their bureaus in government controlled areas and effectively operate underground.
Crispin of CPJ told Mongabay that one positive upshot of the [prior] loosening of Myanmar's press restrictions was that media had been taking root and shedding light on environmental issues. "But now that they've been run underground," he said. "With many of them fleeing arrest warrants or considering going into exile because they fear they could be arrested next, they're going to be a lot more reluctant to go out into the field and put their camera on someone cutting down a tree."
There is a risk that the press freedoms gained over the past decade in Myanmar will be revoked, he said. "I anticipate in the months ahead that [military authorities] will just move to outlaw ethnic state media altogether again," Crispin warned. "It looks like they have a death by a thousand cuts policy for the media."
Moreover, with tensions between military forces and ethnic armed organizations rising, conflicts are likely. Historically, conflict has provided a shadow for environmental degradation in Myanmar, Crispin said, and with less protection from independent reporting, the circumstances are conducive to overexploitation of natural resources.
"All the perpetrators of environmental crimes are just going to be emboldened," Crispin said. "It could potentially be absolutely devastating for the environment because we've effectively lost the independent press watchdog that we had just a few months ago."
This story was first published on Mongabay. It has been reprinted here with permission per the site's Creative Commons Attribution – No Derivatives 4.0 International License.
Additional Resources
Powering Up Geo-Journalism for Investigative Environmental Reporting
Resources for Finding and Using Satellite Images
When a Picture Tells the Story: 9 Investigations That Used Satellite Imagery
Muckraking in Myanmar: Press Freedom "Can End Tomorrow"
---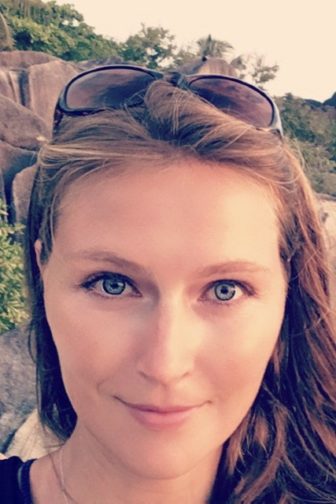 Carolyn Cowan is a staff writer for GIJN member Mongabay, a U.S.-based non-profit conservation and environmental science news platform. Cowan covers Southeast Asia, and is also a photographer and filmmaker. She currently lives in northern Thailand. You can follow her work on Twitter @CarolynCowan11.