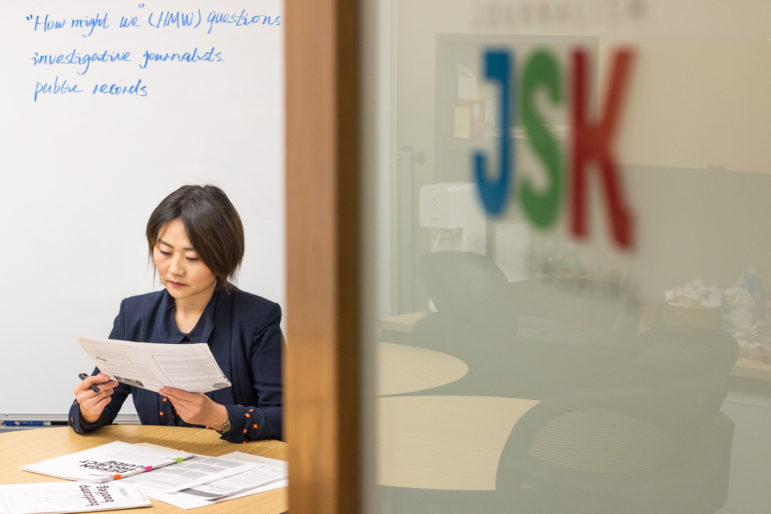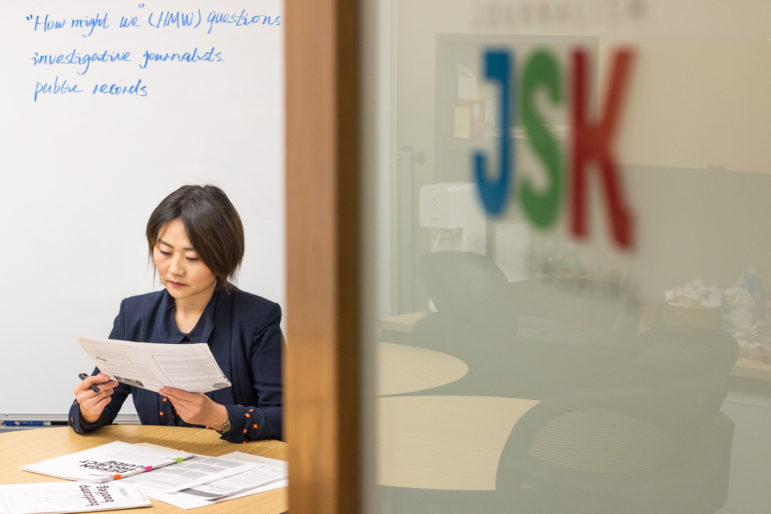 Public records can do a lot for a story. But journalists in China face basic challenges like accessing official figures that could provide important context, or poorly designed government websites that make finding published policies close to impossible.
Chinese journalist Feng Xin was no stranger to these same obstacles when she set out to answer a question during her 2018 John S. Knight Journalism Fellowship at Stanford University: What can be done to help reporters in China search and use public records?
It may be the case that it's "not so much about pushing for greater government transparency but about helping my fellow journalists use existing public records more effectively," Feng said.
Her reporting background has prepared Feng for the task. The award-winning television producer and investigative reporter once established a broadcast news program at China Daily called "Digest China," the first bilingual interview show in the country. Then, at state-owned China Central Television, she initiated "Rural Recovery," probing the impact of the country's rapid economic transition on rural communities.
Feng recently spoke with GIJN Assistant Editor Lizzy Huang about her experience reporting with public records and her ongoing research at Stanford University.
Why did you choose this particular problem as the theme of your research project?
I've been doing investigative journalism since I got into the profession, and I've maintained interest in it. When I did research for investigative pieces, I often experienced difficulties. I'll tell you about two stories that inspired me.
Around 2016 I produced the investigative TV show "Rural Recovery." It was a series of reports uncovering the changes and problems in rural China over the years when the economy grew rapidly, including left-behind children and seniors, rural decay and the separation of families. In one episode, I wanted to conduct some interviews for a report on child sexual abuse in rural areas. From late 2016 to now, we can see a growing trend of news covering this topic due to the #MeToo movement, but child abuse had very little attention at that time; our society didn't take it seriously.
Fortunately, I got to know some people working at non-governmental organizations. From them I learned that the problem of child sex abuse was severe in the countryside. Following a tip-off, I went to northeast China and contacted a rural family with the help of a volunteer organization. The child was sexually harassed by another villager, and the same thing happened to the children of five other families in the village. I not only wanted to tell the story of a single family or village, but to illuminate the bigger picture by broadcasting investigations. And then came the problem. I was eager to find more data — how many child sex abuse cases occurred in the past few years in China? It was not supposed to be difficult to find out. I merely wanted the figure, but even so I failed.
Back then, the government never kept records on data of this kind — the final statistics I used were from an NGO. They had hired volunteers to collate all media coverage on child sex abuse in the past three years, and their final report concluded that there was, on average, one case every day. But the scope and accuracy of the statistics could not be ensured. First of all, searching for cases online was very time-consuming, and the research process was largely depending on volunteers searching on Baidu, the dominant search engine in China. Later, they aggregated the records in a spreadsheet with entries of places, frequency, victims' age, gender, identity, etc. Second, the majority of the cases were not reported by the media. The ones the volunteers aggregated were only the tip of the iceberg, and we couldn't know the actual number of cases.
Another example is from September 2016. Some running tracks at schools were found to have caused illness in a lot of children. I was on my own at that time, so I didn't have the ability to investigate more than 20 schools; consequently, the project was suspended. However, I had a lot of material at hand and I was thinking whether it would be better if I shared it with other journalists who were interested so we could work together to report the facts and collect data. If we had all the materials and data at hand, we could figure out what the data implies.
How did you find out what sort of issues other journalists in China were having problems around data?
What I did first was dig deep into the problems that journalists are facing. To put it simply, searching through public records is a common problem not only for investigative journalists, but also for general journalists who cover breaking news. For example, if a journalist needs to cite a policy to support some information she has collected, she has to quote the policy. If a policy is led by several departments, such as the Ministry of Health, along with the State Food and Drug Administration, it may not be found on the website of the State Food and Drug Administration. Journalists often need to look through a lot of official government websites. It's not difficult, but it is very time-consuming. This problem is very common and should be solved by a smarter approach.
Journalists also need other data. For example, when I see a report online that quotes a policy, I want to know when this policy first came out. Who suggested the policy and posted it? It is also difficult to find the first source of information. This problem is actually very basic, but an unresolved issue. Talking with my peers, I found that these are problems that everyone has encountered. Many reporters work very hard, and it is a pity if too much time is wasted in this kind of mechanical research.
Do website administrators not want journalists to dig too far into the data? Would better training help journalists?
No, I don't think so. An abundance of data and policies are available online, and they will never disappear. However, due to lack of programming skills or even well-designed menus and optimized search engines, it takes a lot of time to find information. So, I don't think training will help journalists to improve their ability to find open data, because they have already done their best. They are not capable of solving the structural problems of the website on their own.
Do you have plans to work with Silicon Valley technicians to solve the problem?
I came to California to learn a very important way of thinking, called "design thinking," a solution first proposed by Stanford University. This kind of research method is different from ordinary scientific research. Scientific research is where you go to find the facts and make an argument in order to carry out the next step of research and development. For example, someone wants to study rockets, so they have to go through a lot of calculations to finally build the rocket.
But the problems we are studying are not scientific research, it is development research. Development research means that the first thing we have to do is to think about whether this question is the correct question. Does anyone else have this problem, or is it only me? So first I have to understand what my colleagues need and what other journalists need. This is what I have been doing so far. What can I do to help them solve the problem? The process of asking "How can I help?" is the process of creation. I may not need to use technology to solve it, maybe it can be solved by organizational structure, or it can be solved by better training.
But you asked if I would work with people in Silicon Valley. I can't answer this question right now, because my research has not yet reached that point. That would be (something to pursue) if I already had a solution. Right now, I have no solution and am still exploring. Technology may just be one solution. There may be other ways to give journalists better support and promote cooperation and the mutual exchange of information.
Maybe I will have some soft solutions to reach the final goal. The middle process is iterative, it is spiral, not linear.
---

Lizzy Huang is a writer, translator and journalist based in Hong Kong. She is currently serves as Chinese assistant editor for the Global Investigative Journalism Network. Previously, she was an editorial intern at Initium Media covering Chinese culture and society.