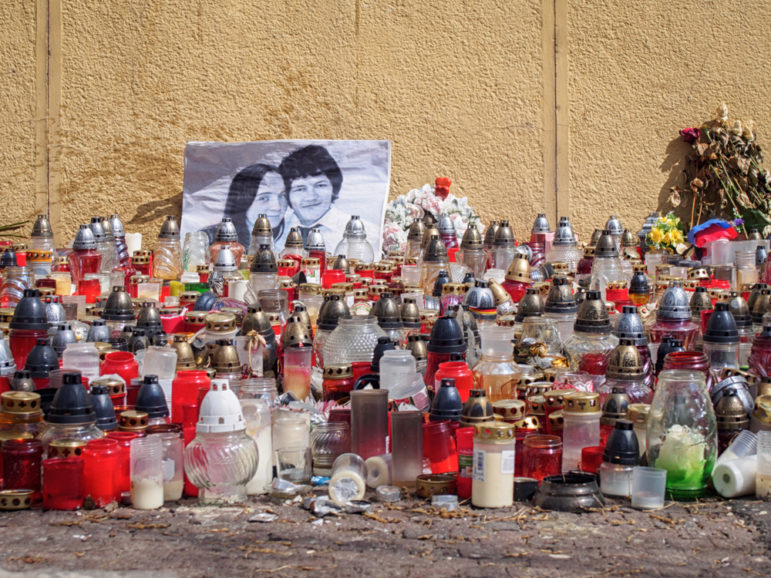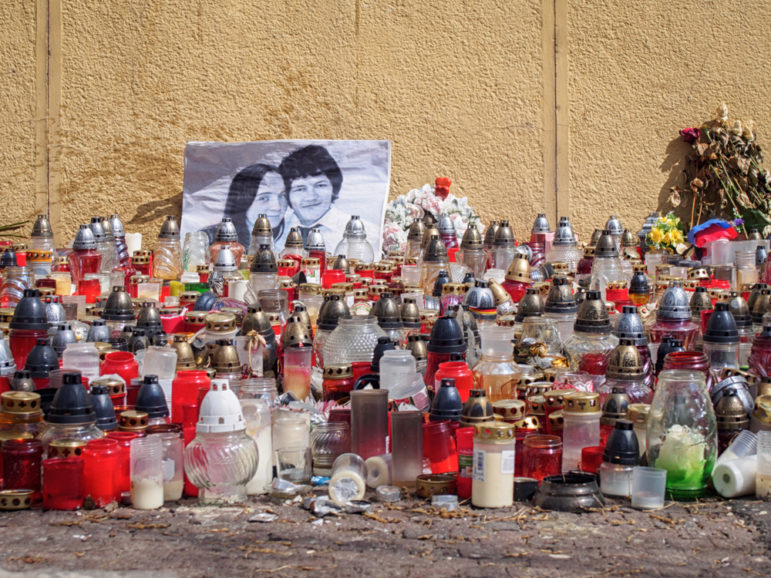 Killing the Messenger Won't Kill the Message: The Investigative Center of Ján Kuciak
Read this article in
On a cold February morning in 2018, Tomáš Madleňák sat down with a cup of coffee in his parents' kitchen. He opened his laptop and logged into Facebook. His feed was filled with dozens of newly uploaded black profile pictures.
Madleňák kept scrolling to find clues to what was happening. Suddenly, the news hit him. An investigative journalist had been killed.
"The name was Ján Kuciak. I was like, 'No, no, no. Not that Ján,'" says Madleňák, recalling the sense of disbelief that consumed him in the aftermath of an attack he never expected to happen in Slovakia, a central European country of 5.5 million people that was once part of communist-era Czechoslovakia. "The immediate reaction was more shock than anger. Basically, we are still shocked."
Ján Kuciak and his fiancée, Martina Kušnírová, both 27, were found shot dead in their home in the village of Veľká Mača. The attack on Kuciak, who was building a reputation with his investigations on corruption, was the first targeted killing of a journalist in Slovakia's modern history. The killing ignited mass protests and sent shockwaves across Europe. Amid a growing political crisis, the prime minister, interior minister, and the head of the police, all resigned.
But the tragedy also revolutionized the local news media environment and inspired the creation of a pioneering nonprofit founded in Kuciak's honor: the Investigative Center of Ján Kuciak (ICJK). Almost four years after his death, a small team of journalists, including Madleňák, continues to dig into the activities of organized crime in Slovakia, train aspiring reporters, and facilitate collaboration between newsrooms. In December 2021, GIJN welcomed the Investigative Center as one of its newest members.
Strength in Working Together
Before he was killed, Kuciak had been looking into possible ties between the notorious Italian organized crime syndicate 'Ndrangheta and Slovak government officials. Following the fatal attack on Kuciak, several news organizations, including his former colleagues at the website Aktuality.sk, joined forces to finish and publish his last report.
The project involved three other GIJN members — the Organized Crime and Corruption Reporting Project (OCCRP), the Investigative Reporting Project Italy (IRPI), and the Czech Center for Investigative Journalism (Investigace.cz). This sort of cross-border collaboration was an approach Kuciak himself had admired and promoted throughout his career.
In late 2018, a group of investigative journalists, some of whom had worked with Kuciak in the past, set up the new organization in his name. The team, made up of Arpád Soltész, Zuzana Petkova, and Czech reporter Pavla Holcová of Investigace.cz, founded the ICJK on the idea that, instead of competing, newsrooms can produce more powerful and influential reporting by sharing knowledge, resources, and expertise.
"One of the greatest outcomes that happened after the murder was that journalists started cooperating more closely," ICJK's editor-in-chief Lukáš Diko explains. He says that collaboration not only increases a team's "analytical potential," but can also help reporters in terms of protection.
Diko illustrates his point by citing one of ICJK's first major projects. In 2019, the center partnered with Investigace.cz and the OCCRP to examine 70 terabytes of data with materials implicating businessman Marian Kočner and officials in corrupt activities.
Kuciak had been investigating Kočner before his death. The businessman – who was later sentenced to 19 years for forgery – was also charged with ordering the killing of Kuciak and his fiancée. He denied the allegation, and was acquitted, but the Supreme Court has ordered a retrial.
The so-called "Kočner Library" enabled journalists in Slovakia to access the database for free, using a huge data haul to hold power to account. This unique initiative resulted in multiple reports across Slovak outlets. And collaboration still lies at the heart of the center's work today.
"Our mission is to facilitate this cooperation," says Madleňák. "If we publish articles, we are more than happy for people to take them, rewrite them, and publish them in their own name."
Madleňák admits that the "drive for exclusivity" remains widespread across the Slovak media landscape as publishers strive to earn revenue from original work. But ICJK's efforts have paved the way for future partnerships among rival newsrooms.
On an international level, the center has taken part in many cross-border projects, including a major investigation into the influence of Hungarian Prime Minister Viktor Orban's government in neighboring countries, the growing impact of ultra-conservative movements in Central in Eastern Europe, and the illegal trade of tigers in the region.
Attacks in Europe
Five months before the slaying of Kuciak, another journalist murder on a European island 900 miles away reminded reporters of the price of uncovering secrets and illegal activities.
Daphne Caruana Galizia, a "one-woman Wikileaks" who had uncovered networks of corruption in her home country of Malta and abroad, was killed in a car bomb attack in October 2017.
After her death, her family created a foundation in her name (the Daphne Caruana Galizia Foundation, also a recent GIJN member) that supports efforts to protect investigative reporters and end impunity. The murder also prompted France-based nonprofit Forbidden Stories to pick up and expand Galizia's reporting through a team investigation. Such efforts have a noble history in investigative journalism, going back to the Arizona Project in 1976, launched after Arizona Republic reporter Don Bolles was murdered in a car bombing.
Slovak journalists had a similar response to the attack on Kuciak. Instead of backing down, organizations like ICJK believe that now, more than ever, is the time to act. Their efforts are part of a growing trend, where attacks on investigative journalists end up backfiring — and ultimately strengthen the resolve of the press.
"Those killings changed the approach of investigative journalists to their work. In order to not become the next victim, in order to survive, they had to continue that investigative work," says Gulnoza Said, Europe and Central Asia program coordinator at the Committee to Protect Journalists. Said highlighted that such initiatives widen the space for press freedom and make a clear statement: "By killing the messenger, you cannot kill the message itself."
Indeed, it was Kuciak's death that inspired Madleňák to quit a well-paid job as an analyst at a think tank and become an investigative journalist. He knew Kuciak and had collaborated with him when they both studied at college. The murder changed his life.
Madleňák wanted to work in the public interest and contribute to the improvement of Slovak democracy – the attack on Kuciak gave him the impetus he needed to change his path. One of the investigations he's most proud of – into a rehabilitation center where vulnerable addicts were allegedly given drugs and sexually abused – was based on data that came out thanks to the Kočner Library project.
Diko, who became the center's editor-in-chief in 2020, says the country needs more capable and driven investigative reporters.
"It's not the romantic ideal from the books," Diko explains. "When people find out what investigative journalism is about, they don't want to sit down and examine data for hours, days, and months, looking for connections."
For Diko, the challenge of finding and training new journalists can be even more difficult than the reporting process itself. That's why the center offers assistance and resources to other newsrooms in Slovakia and its international partners. But ICJK's mission has also made them a target of intimidation and threats. According to Diko, the center has faced three lawsuits in the last six months, providing an unwelcome distraction from his plans to slowly expand and build a sustainable business model.
Continuing the Legacy
To retain its position in the Slovak media landscape, ICJK relies on three equally important sources of funding. These include institutional donors, such as embassies and foundations, as well as project grants. Diko puts an emphasis on the third pillar — ordinary people who donate small sums from two to five dollars per month. The center's annual revenue in 2020 was modest, at roughly €90,000 ($US$102,000).
"We have transparent accounts. Everyone can check what we are doing with the money," Diko says, noting the importance of public trust, particularly in a venture like this. Building a loyal audience and producing powerful stories has allowed the center to hire three new staff members in 2022, doubling the site's total. Its team now includes three journalists, two interns, and one part-time office manager. The expansion should allow ICJK to keep pursuing ambitious projects.
"Investigative journalism is expensive in terms of time and money," Said notes. "But if a media outlet wants to survive long-term, it should go after stories nobody else is going after."
With its distinctive approach, the center has demonstrated that original reporting and collaboration are not mutually exclusive. Madleňák believes that his team is doing its best to continue Kuciak's fight for democracy and freedom of expression through exposing abuse of power.
"Cooperation between journalists, for the greater good, in the name of public interest is a lasting legacy. That is something that will always be important," Madleňák says.
It's something that Kuciak's family thinks he would be proud of.
"I am sorry that Janko did not live to see it," his brother, Jozef Kuciak, told the founders of the center, using the diminutive or affectionate version of the name Ján in Slovak. "A large number of our domestic cases have connections that reach beyond borders, especially to tax havens. That is why I am very pleased that the ICJK will continue Janko's work and expose cases with an international dimension, which may prove to be fundamental."
Additional Resources
Jan's and Daphne's Laws: How to Stop the Murder of Journalists
Investigation Keeps Work of Silenced Journalists Alive
How to Investigate Attacks on Journalists — and Make Them Backfire on Culprits
---

Peter Georgiev is a broadcast reporter and editor at Bulgarian National Television. Previously, he was GIJN's social media and engagement editor and was part of NBC News' investigative unit in New York. His reporting has been published by the Guardian, Deutsche Welle, and other international outlets.