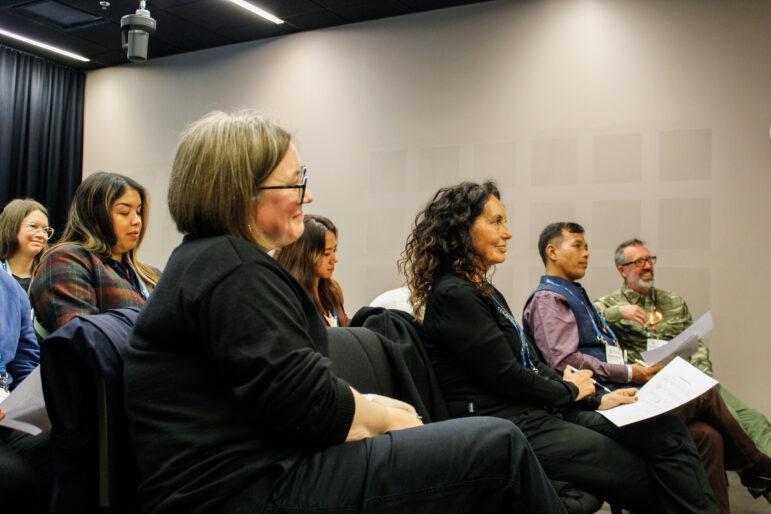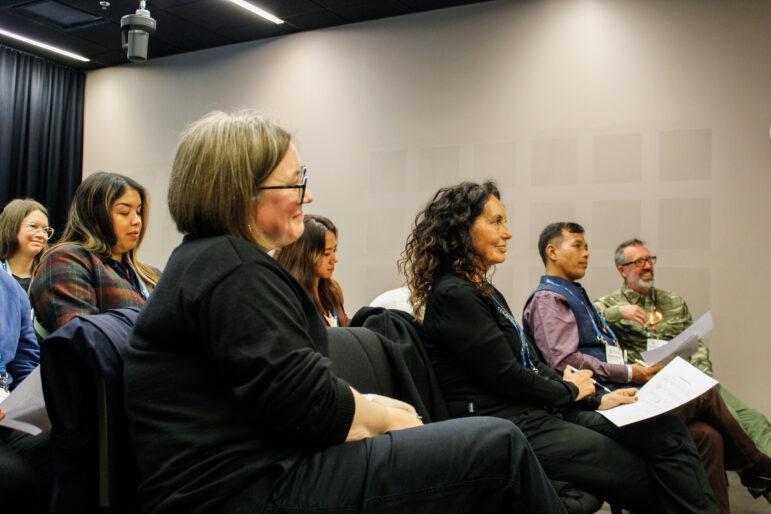 The Indigenous Reporters Workshop at the Lindholmen Science Center, GIJC23. Photo: Heino Ollin for GIJN
From the impact of green energy projects on land rights to the mis- and disinformation campaigns that target marginalized communities, there are a number of investigative topics that unite Indigenous reporters, be they in Nepal or the United States.
Speaking at a workshop at the 13th Global Investigative Journalism Conference, a cohort of journalists from Nepal, Taiwan, Canada, the US, New Zealand, and Finland brought together by the Indigenous Journalists Association (IJA) and GIJN discussed the topics, tools, and potential collaborations that can aid their investigative work. Among the key issues:
How media and political groups "weaponize" Indigenous people in the run-up to elections.
The impact of new environmental and industrial policies on Indigenous lands and communities.
How projects to protect biodiversity have led to violence against Indigenous peoples.
The green energy projects that in fact threaten Indigenous land rights, and their impact on traditional food sources and practices.
How bureaucracy is used to deter or stifle Indigenous voices from public consultations.
Land rights, including the "Land Back" movements that attempt to get Indigenous lands back into Indigenous hands, and the poor implementation of Indigenous peoples' free, prior, and informed consent (also known as FPIC) emerged as common themes across countries and communities for journalists in the workshop.
Tristan Ahtone, editor-at-large at Grist, a nonprofit outlet focused on climate stories, and a member of the Kiowa Tribe in the US, highlighted the need for ongoing investigation into how international plans to protect 30% of the planet's biodiversity by 2030 have led to violence against Indigenous peoples, from forced displacement from their lands to the disappearance of community leaders.
Dev Kumar Sunuwar, a TV and radio broadcaster and online news source for Indigenous peoples, who is also chair of Nepal's Indigenous Television, said a similar issue was happening with government-backed hydropower plants built on Indigenous land in his region. But relations between the country's biggest media outlets, corporations, and the government mean the Indigenous angle is often neglected, he said.
Why Collaboration Matters
Francine Compton, associate director of the IJA, and a citizen of the Sandy Bay Ojibway First Nation in Canada, said there are multiple benefits for Indigenous journalists from collaborating across borders and communities.
"Collaborations [show] there's other people out there doing similar stories facing the same challenges," she said. "It's important for these voices to be brought together, so that they can be more powerful."
Building a collaborative network of Indigenous investigative journalists and newsrooms will help support knowledge-sharing, the provision of tools for investigations, and additional professional support such as peer mentoring, she added.
Working together can also bring issues that affect Indigenous peoples to the attention of international audiences and bodies, such as the UN, said Compton. "The more we can come together and bring our investigations, our data, our proof, the more we can have a loud global voice and fight for what we want collectively while also representing our communities," she said.
Opportunities for Indigenous Journalism
Investigating issues that disproportionately affect Indigenous populations is one part of this network of journalists' work. Finding ways to represent and reach Indigenous people in their journalism is also crucial and can present an audience growth opportunity for Indigenous newsrooms.
Most media in Nepal, for example, operate in Nepalese or English, despite upwards of 100 languages being spoken in the country.
"Indigenous peoples for [a long time] had no access to media, no participation, no voice in the media in the language that they speak and understand," said Kumar Sunuwar, whose TV station broadcasts and publishes in 17 Indigenous languages. "[When] the so-called mainstream media write about Indigenous peoples, they are negatively portrayed."
Radio and television are the best media formats for many Indigenous peoples in Nepal who do not have a written culture, he added: "We are producing TV programs, not only giving voice to Indigenous peoples, but also documenting, preserving, or revitalizing Indigenous languages."
Generating interest in Indigenous stories within non-Indigenous newsrooms and audiences is an ongoing challenge, as is funding, with many of the Indigenous newsrooms represented at the workshop operating independently. Working outside of — or to counter — more "mainstream" media distribution channels can cause further issues for Indigenous reporters, Sunuwar said.
"We are trying to highlight human rights violations, to bring land or forest claims to the attention of international communities. Therefore, we have been the target of government authorities and targeted by corporate entities," he explained.
But Nepal is fortunate in some respects, he added, as other countries with state-run media will not grant licenses for independent radio or TV stations that could be developed for Indigenous audiences.
"Some of our home countries hinder us in ways that our [Indigenous] media outlets are not supported either monetarily or through legitimacy, such as being licensed or recognized as a media entity," added the IJA's Compton.
She urged Indigenous investigators not to give up when working on collaborative, international investigations and to keep the "common goal" top of mind.
"Storytelling was passed down to us from our ancestors; we have been storytellers since time immemorial, since before journalism," she said. "We're not imposters — we are inherently storytellers."
---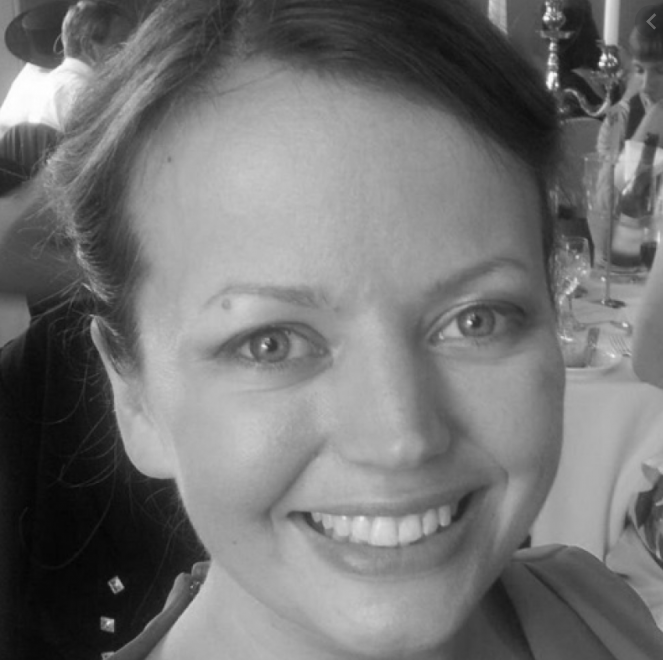 Laura Oliver is a freelance journalist based in the UK. She has written for the Guardian, BBC, Euronews, and others. She is a regular journalism trainer for the Thomson Foundation and Thomson Reuters Foundation and works as an audience strategy consultant for newsrooms. You can find her work here.