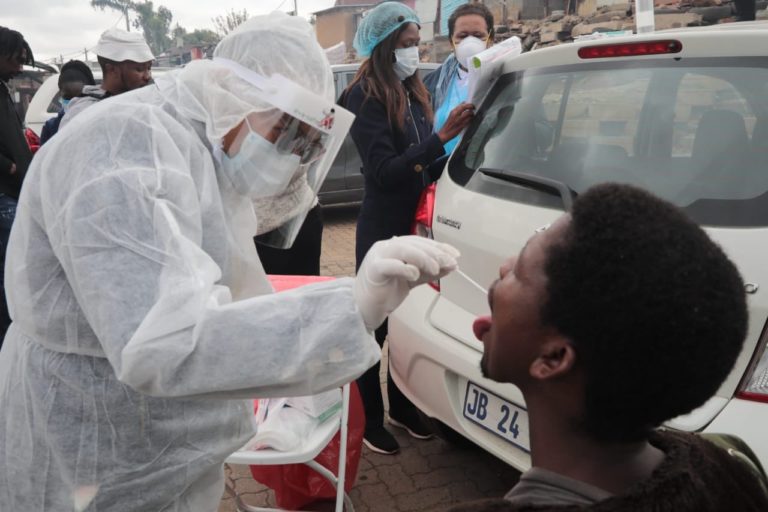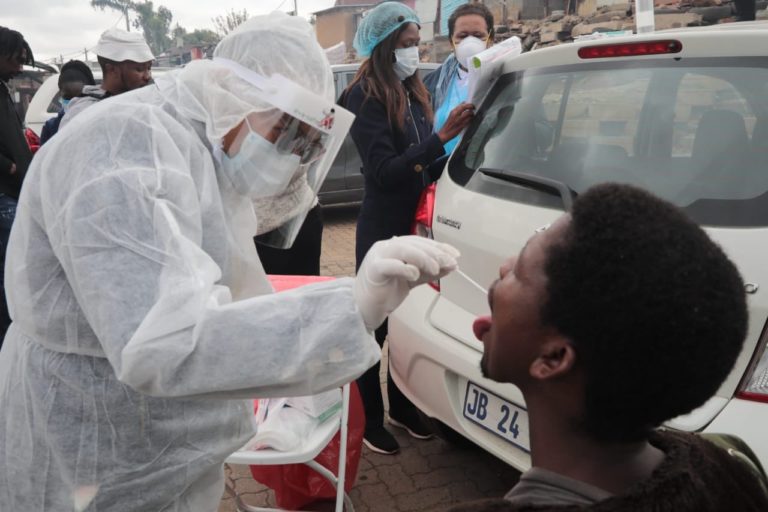 Mia Malan from the Bhekisisa Centre for Health Journalism will be a panelist on GIJN's next webinar on Thursday, May 14 at 9 a.m. EDT. Find out more and register for Investigating the Pandemic: The Threat to Africa.
Mia Malan is the founding editor-in-chief of the Bhekisisa Centre for Health Journalism, a pioneering, donor-funded media start-up in South Africa. A former Journalist Fellow of the Reuters Institute, Mia has grown Bhekisisa from a specialist desk at a legacy outlet to an independent nonprofit and has won dozens awards for her journalistic work.
The current pandemic has made Bhekisisa's work more relevant than ever. Its journalists are reaching out to new audiences, publishing useful explainers and adapting their outstanding coverage to the specific problems of the Global South. In this interview Mia Malan gives an overview of the work of her colleagues and gives some tips on how to cover the current crisis.
COVID-19 is an all-consuming story for every newsroom and it's pulling in journalists without the right expertise. As the head of a news organization that is focused on health, what would be your advice for non-specialists covering the current crisis?
The method that has always worked best for me when I'm confused about science is to simply pick up the phone, call a scientist and ask. It's an old but proven method. Don't be intimidated. You'll be surprised at how open scientists are to giving you their time, and how much they appreciate your willingness to get it right.
Promoting unproven treatments such as chloroquine, or saying nonsense such as drinking hot water will kill the novel coronavirus in your body, or that the virus doesn't spread in hot weather, is very dangerous.
Most professional journalists, however, don't get facts wrong intentionally. In the case of COVID-19, it's often because everything — including the science around the virus — is moving fast and changes all the time. With this disease, you'd rather want to miss a story, or put it out late, than to get it wrong. It's far more important to make science and policies meaningful to audiences than to be the first to publish or broadcast them.
Which resources do you recommend? 
I garner information from credible websites that have been reviewed by scientists and doctors. One of my favorite websites is that of the Mayo Clinic, the United States-based research organization. For instance, if you've not reported on infectious diseases before, and you'd like to know what a concept such as "herd immunity" is, you'll be able to find a definition there. If you'd like to take it a step further and understand why a COVID-19 strategy based on herd immunity is bad — because 19% of people with the disease have serious symptoms requiring medical (often hospital) care — then Pubmed.gov is useful to find studies (it's a free search engine).
For statistics, we have a rule at Bhekisisa: we never use a number quoted by someone, no matter how important that person is, unless we can source it from the original peer-reviewed study or document it comes from. You'd be surprised at how often experts quote incorrect numbers.
We mostly only use information from studies published in peer-reviewed journals. But with COVID-19 that's complex because finding a vaccine or cure is so crucial, and we have so little time, that peer-reviewed processes are largely skipped and scientists publish preprints, which makes it even harder to know if such findings are correct — and even more important to contact a scientist for help with figuring that out.
Many governments are implementing lockdowns. But lockdowns can be really difficult, even counterproductive, in countries with housing, inequality and poverty problems. How have you approached this issue in your reporting?
South Africa has extremely high levels of inequality — about 3 million people pay 97% of the country's income tax (we have a population of about 56 million). Most people in the country earn too little to be taxed on their income, or are unemployed.
A recent survey showed that two out of three people living in townships said they had no money for food during lockdown. Although there has been a lot of support for our lockdown, civil unrest started to brew in the fourth week [the lockdown began March 27], quite literally because of hunger. Hungry people began to loot grocery stores and pressure mounted on the government to be more efficient with the delivery of food parcels to communities in need.
Access to food is not the only issue: many communities don't have running water, so their ability to wash their hands is limited and they live in overcrowded conditions where social distancing is close to impossible — and staying indoors is simply not feasible.
If the news media doesn't report on this, it would be ignoring what's happening in two thirds of the country.
One of the reasons that the news media in South Africa has reported so extensively on inequality in the case of COVID-19 is because acknowledging inequality has been part of journalists' reporting for decades. The lockdown merely exposes to a greater degree what already exists. Many journalists also live that inequality themselves; reporters have family members and friends who lack access to food during this time.
Journalists and countries don't trust government figures in countries such as Brazil and Nicaragua. Some are even trying to collect their own figures on infections and deaths. Is this something Bhekisisa has ever considered in South Africa or any other African country? 
We're fortunate in South Africa in that we have a well-equipped National Institute for Communicable Diseases (NICD) with world-class scientists. They collect all our figures and release them daily. We get to know how many tests were done, what percentage tested positive, in which provinces the infections occurred, how many deaths there were and where those deaths happened.
The information doesn't always arrive in a perfectly packaged format and sometimes it doesn't contain all of the above details — on some days the provincial breakdown or deaths are, for instance, not provided, and are released a few days thereafter. But the data is mostly accurate. And the NICD is pretty transparent about it.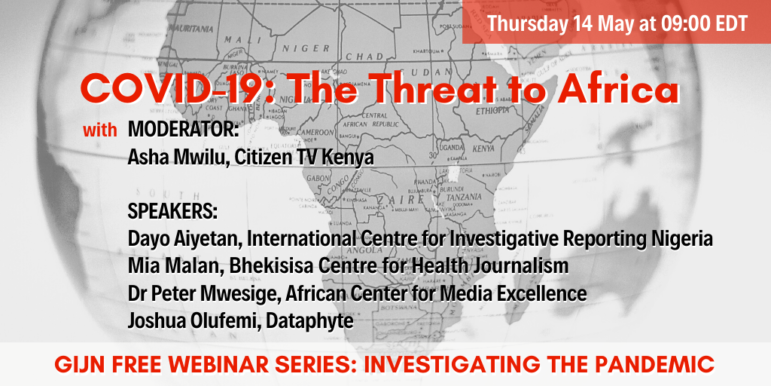 What is important is that the news media breaks this information down so that it becomes meaningful to its audience. And that is tricky, because it's impossible to do that without a thorough understanding of statistical methods and data collection.
Bhekisisa has partnered with another media start-up, MediaHack, to publish a daily breakdown of our figures, as well as comparisons of our COVID-19 cases with other countries. The map has become widely known and one of the country's most credible sources for COVID-19 information and is now also being used by the South African Broadcasting Corporation and some government departments. When the South African health department informed the country on where we're at with COVID-19 two weeks ago, on national television, it used our graphs and breakdowns.
The power of the quality of the map lies in the nature of this partnership: Bhekisisa doesn't have the data journalism skills of MediaHack. They're the brains behind the data analysis. But we have access to information and contacts that MediaHack doesn't necessarily have and we've got an audience that facilitates targeted distribution of the map.
Is there any South African politician or public figure sharing misinformation about the coronavirus? 
With South Africa's history of HIV denialism during the presidency of Thabo Mbeki, and the levels of misinformation that surfaced during the late 1990s and early 2000s, there is a sigh of relief in the country that COVID-19 is playing out differently. But that doesn't mean that there's no misinformation.
A mayor of a large city near Johannesburg, Ekurhuleni, decided to allocate part of his budget to a skin cancer treatment, known as interferon, for COVID-19 patients. There is absolutely no proof that it works. In fact, the mayor understood so little about this treatment that he thought it was a vaccine. We therefore exposed the mayor with a story and this article was used by our ministerial committee to explain to the health minister what was happening and why it should be stopped. As far as we know, the mayor has not been able to implement his policy.
We've also exposed a politician from an opposition party who encouraged his ward members to discriminate against the homeless because of COVID-19. There is a large body of evidence showing that one sure way to help the virus spread is to marginalize vulnerable groups. We told the story from that point of view: that the politician's views were unscientific and dangerous.
How do you decide whether it's worth debunking a claim? 
Reporting on misinformation requires a fine balance: our policy at Bhekisisa is that we don't report on all of it, because often reporting that information amplifies the misinformation rather than correcting it. In the case of the Ekurhuleni mayor, we exposed him because his beliefs could lead to a dangerous policy that would give patients false hope or even lead to deaths. In the case of the politician and the homeless people, our reporting was important because it could put pressure on a politician to stop promoting ward policies that would make the virus spread faster.
However, we've skipped reporting on many other incidents of misinformation. Although stories focusing on well-known people saying the wrong things about COVID-19 attract large audiences, making such stories meaningful is more important to us than gaining page views. We have therefore bundled together some of those myths in a short video, without attributing the misinformation to the people who distributed it, and we then explained why those statements were incorrect. We wanted the information to be as widely accessible as possible, which is why we decided to distribute it in a video so it would also attract younger audiences.
More generally, and recognizing the fact every country is going through different circumstances, what stories or topics around COVID-19 do you think are important for people living in the Global South? Which kind of things should journalists from those countries be looking at?  
Epidemics are like mirrors: they reflect the society in which they occur and highlight what works and what doesn't. In many societies, outbreaks highlight inequality. In most, who has access to healthcare and who doesn't and the (in)ability of governments to work together.
In the Global South, some of the COVID-19 issues countries deal with are the same as those in the Global North: governments struggle to get hold of enough tests, ventilators and protective gear for health workers, there's no treatment, health systems are overwhelmed and there's misinformation. But there's one, consistent difference between the Global North and South: the South has less of everything — less money, less infrastructure, less negotiating power and fewer healthy people because health systems are so under resourced.
That means that when it comes to buying tests and protective gear, countries in the Global South can't afford to buy a lot of it, and they're also unable to bid for desperately needed equipment, for which there is a global shortage, on the same level as the Global North. In the event of sweeping epidemics, the suffering and loss of lives will — inevitably — be worse in the Global South.
So, while journalists in the Global South will be covering general COVID-19 issues such as the rise in coronavirus cases, deaths and the strain on their health systems, it's important to also cover outbreak issues that are particular to the Global South, for instance:
Is the Global South being exploited with COVID-19 trials being conducted in their countries?
Are the United Nations and international aid and activist organizations working towards creating mechanisms that will help the Global South to negotiate for affordable prices for equipment?
What specific COVID-19 lessons can the countries in the Global South learn from each other?
How are philanthropic organizations restructuring their objectives to make provision for Covid-19 assistance in the Global South?
Which journalistic formats or genres and which channels have been more efficient for you when covering this crisis? 
At Bhekisisa we have found that packaging the same story in different formats mostly results in reaching a much broader audience. COVID-19 lends itself to explanatory journalism, so we often take a print story and package it into an explainer video or podcast. Some videos and podcasts we deliberately make two minutes and 20 seconds or shorter, so that we can publish them directly on Twitter.
We've learned to promote stories on Instagram in very different ways — with social media cards formatted for Instagram and narrative, suspense-driven introductions below the cards. This has resulted in a tremendous growth in our Instagram followers.
We don't cover news. We specialize in the news-behind-the-news, we produce solutions-driven analysis and features. But with COVID-19 there are many press conferences broadcast live on national television and YouTube and that gives us the opportunity to provide our audience with real-time news and facts and to grow our social media audience. We use live-tweeting as a channel for these press events and we also publish the live-stream links on our website to drive our own traffic.
Additionally, we started a resource page three weeks ago on which we upload COVID-19 studies or official guidelines and explain them in a more formal way. This serves a different purpose. It's a page on which journalists, activists and academics can find valuable information for their research.
In addition to publishing content on our own website, Bhekisisa syndicates copy to [national news outlets] News24, the Daily Maverick and the Mail & Guardian. We think carefully about which format would work best for which publication and dispatch our content accordingly.
Finally, in terms of funding, how will Bhekisisa be affected by this crisis? It's a difficult moment for many organizations. However, health journalism is more important than ever and I'm sure your funders are pretty aware of that. 
When a health issue like COVID-19 became the only global news issue, practically overnight, it highlighted the need for quality health journalism. It opened up opportunities for Bhekisisa to become more visible through partnerships with other media houses.
Television and radio stations needed journalists who could analyze the epidemic, something general reporters are mostly not equipped to do. As a result, Bhekisisa formed a partnership with a local television network, Newzroom Afrika, to fill a prime slot each afternoon to analyze developments or to talk about one of our stories. We also regularly talk on other television networks, such as eNCA and the South African Broadcasting Corporation.
Bhekisisa [hosted] its first webinar on 30 April and managed to get it sponsored — we had close to 900 people registered — four days before the event … We're used to hosting events. We host two to three public discussions every year, but they're for specialist audiences of about 80 to 100 guests. COVID-19 has changed that — we had no idea our forum, which looks at life between now and September, when South Africa's epidemic is likely to peak, would draw such a big audience.
Bhekisisa is a donor-funded media start-up. This means that our finances are less affected by the devastating economic consequences of the crisis, because we're not dependent on events and advertising for financial sustainability, as for-profit media houses are.
Our donors, mostly philanthropic foundations such as the Bill & Melinda Gates Foundation and Open Society Foundations, have been appreciative of the importance of health journalism during this time, but also impressively flexible and proactive: before we even thought of it, they sent out emails saying that it's fine to adjust project goals. For instance, the issues our stories focus on, travel-related assignments or the dates of writing workshops that we offer. I think donors are likely to invest more in health journalism because of COVID-19, but the type of activities and stories that they invest in, might change.
Three Great Reads on COVID-19
Here are three articles from Bhekisisa on the pandemic along with the story behind them, explained by Mia Malan. They are absolutely worth your time.
The facts beat the quacks. South Africa's COVID-19 response is the opposite of its HIV response. It is evidence-based, decisive and we responded very early in our outbreak with a lockdown. Our HIV response was, at least initially, a denialist one that was based on quack science. As a journalist who reported on HIV denialism in South Africa, I was struck by this difference and wanted to reflect on it. I decided to write it as an op-ed, early on in our outbreak, when people were still in the process of trying to understand the government's response, in an effort to open people's minds, and to contextualize our COVID-19 response.
The lockdown women planning their escape from abusive homes. One of the most devastating consequences of our lockdown is a dramatic increase in reports of gender-based violence, because women and children are essentially locked up in homes with their abusers. Our government established a call-in center for women who needed help with gender-based violence during the lockdown. Bhekisisa's senior health journalist, Joan van Dyk, wanted to do a story on the call center, but then, in the process, discovered studies looking at the science behind isolation and gender-based violence. Our Bhekisisa motto is to make science meaningful and easy to understand, so Joan then searched for a case study to whom these studies apply. The result was a long-form narrative feature, every bit done over the phone and WhatsApp, because I've decided not to send our reporters into the field during the lockdown.
Doctors warned against prescribing unproven treatment. Chloroquine, the treatment that Donald Trump promoted as a cure for COVID-19 at some stage, is widely known in South Africa as a malaria treatment that many people used a few years ago (until mosquitoes become resistant to it). It is now also used to treat autoimmune diseases such as arthritis and lupus. Reporter Aisha Abdool Karim heard reports that pharmacies in the country were running out of chloroquine because doctors were prescribing it as a COVID-19 treatment. That was a great opportunity to explain the (lack of) science behind chloroquine — in essence, why there's no conclusive evidence that it works, or is even safe to use — and the government's guidelines on it. This information would ordinarily be boring: but mix it with the fact that lupus and arthritis patients can't get hold of their treatment because doctors are prescribing it for COVID-19 patients, and you've created an appetite for readers to stomach the science. Because we wanted to make sure that we reached as wide an audience as possible, Aisha and our senior multimedia journalist, Dylan Bush, also packaged a much shorter version of this story as a video explainer, which we circulated on social media.