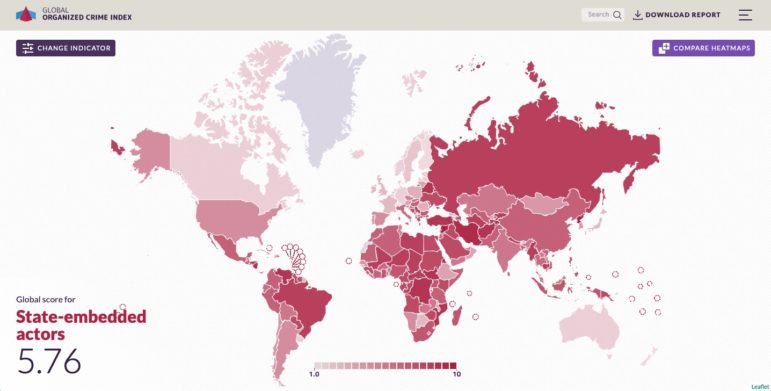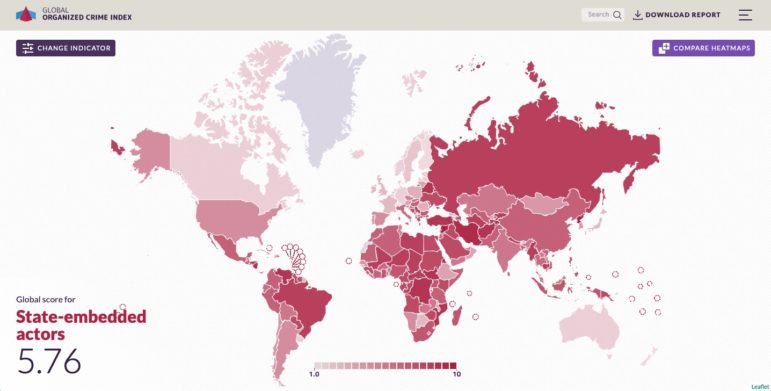 The Global Initiative Against Transnational Organized Crime last week released its first worldwide assessment, the 2021 Global Organized Crime Index, a 188-page report which finds a disturbing rise in organized crime across a number of fronts worldwide.
"It is a sobering thought, for instance, that nearly 80% of the world's population today live in countries with high levels of criminality," the report notes. "It is equally alarming to consider that the exploitation of people, in the form of human trafficking, has become the most pervasive criminal economy in the world — a development that serves as a dark reminder of the dehumanizing impact of organized crime."
Along with the report, the Global Initiative released an online tool that lets users compare global "heat maps" of various forms of organized crime, as well as different countries' resilience to corruption. In the wake of the theocratic takeover of Afghanistan by the Taliban, concern about the ongoing plague of state-embedded criminality and "mafia states" has gained new urgency.
"State-embedded actors are the most dominant criminal actor type in the world," the report concludes. "The degree to which criminality permeates state institutions varies, from low-level corruption to full state capture, but, across the spectrum, this involvement has implications for countries' capacity to respond to organized crime."
In the report's rankings, countries like Afghanistan, Myanmar, Iran, and Russia — where press freedom is rapidly vanishing if not already disappeared — rank among the worst of these state-embedded criminal actors. Syria's corrupt Assad regime and North Korea's repressive dictatorship get the report's lowest possible score: 10 out of 10.
Note: The Global Initiative Against Transnational Organized Crime is a financial supporter of GIJN, partnering with us on educational and training programs that help journalists investigate criminal organizations.