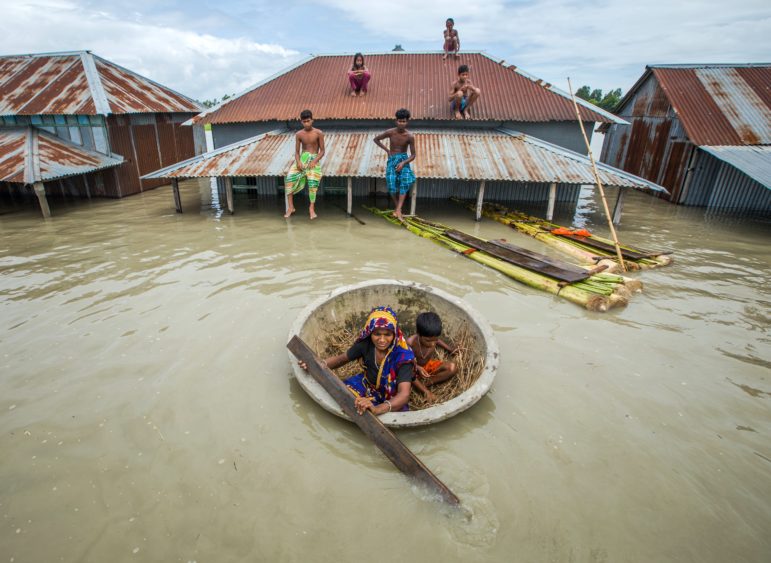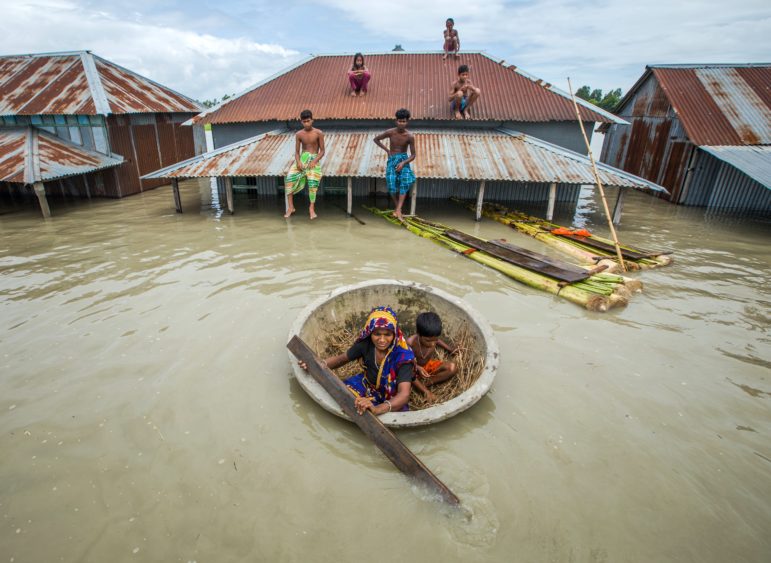 Reduced river gradients, higher rainfall in the Ganges-Meghna-Brahmaputra river basins, and the melting of glaciers in the Himalayas, are considered the major reasons for migration in the context of climate change in Bangladesh over all. Credit: Moniruzzaman Sazal / Climate Visuals Countdown
Sea levels are rising because of global warming. The scientific evidence at this point is indisputable, and the consequences are likely severe. Much of humanity lives along coastlines, where even small changes in sea levels can result in record flooding, loss of communities, forced human migration, and damage to fishing and agriculture.
To what levels the seas rise will depend on human activity, but serious negative consequences are evident already.
For journalists, explaining the causes and consequences of rising sea levels is a critical and challenging assignment. There are many stories that can be told through the eyes of those already being affected.
To help journalists worldwide report, investigate, and analyze this critical issue, GIJN is publishing this extensive guide. For five quick tips on covering this topic, see GIJN's video at the end of this post.
This guide was written by GIJN's Resource Center Senior Advisor, Toby McIntosh. It was edited by Nikolia Apostolou, Laura Dixon, and Reed Richardson, with fact-checking by Miranda Wollen. Photos resources from Climate Visuals.
TABLE OF CONTENTS
Looking at Predictable Future Impacts | Key Questions to Ask
Key Reports that Journalists Should Read | Higher Risk of Adverse Consequences
Documenting Sea Level Rise | Climate Central: Most Journalist-Friendly Resource | Other Sources on Projected Sea Level Increases | Seek Access to National Data | Build on Reports | Regional and National Sources | Studying Historic Records
Pursue Accountability | Watching for Misinformation | Making Science Part of the Narrative | Practice Coastal Journalism | Story Angles on Sea Level Rise
Impact on Well-Known Places | Interactive Maps | Photographs and Graphics | Artists at Work
The Big Picture: Coastal Communities Threatened | Migration | Impact on Women, Children, the Poor, and the Vulnerable | Impact on Farming and Fishing | Loss of Wildlife Habitats | Impact on Businesses | Real Estate Values | Loss of Affordable Housing | Effects on Roads and Transportation | Impact on Landfills and Other Low-Lying Public Facilities | Historic and Iconic Places | Insurance Implications | Lack of Good Data | Adaptation Debates Emerging