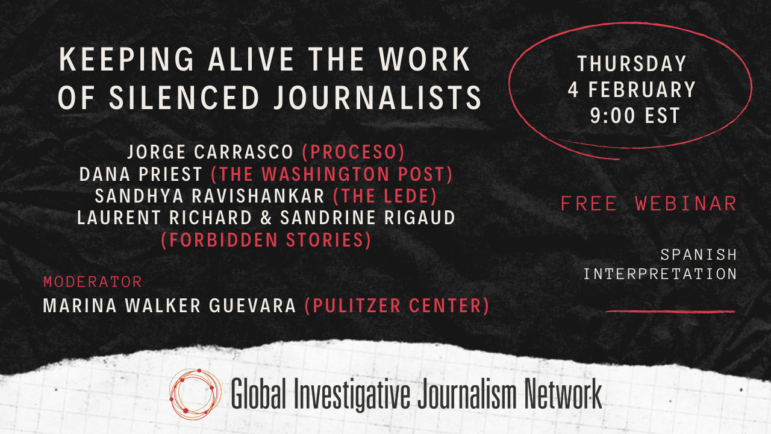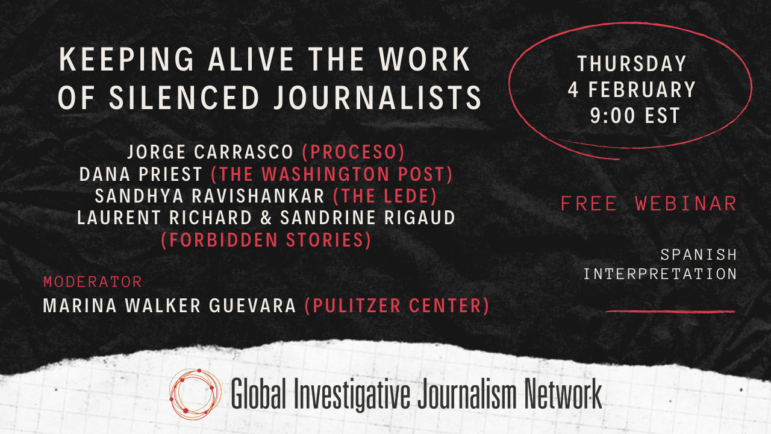 GIJN Webinar: Keeping Alive the Work of Silenced Journalists
Read this article in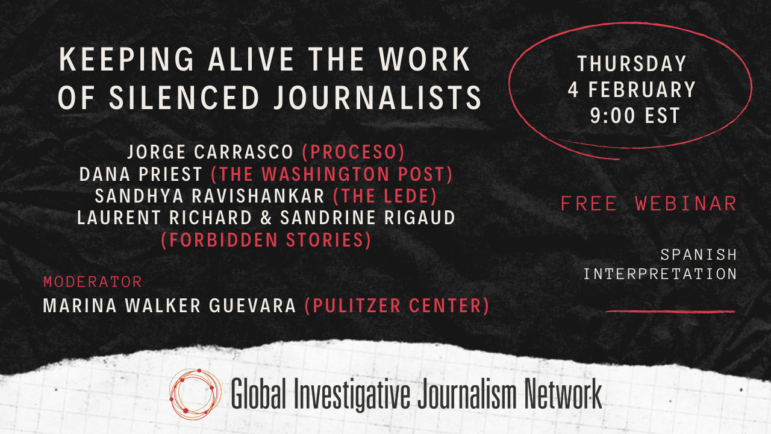 Editor's note: This webinar has now taken place. You can see the recording on GIJN's YouTube channel.
Practicing investigative journalism can be extraordinarily dangerous in much of the world. Reporting on corruption and human rights has claimed the lives of more journalists than working in war zones, as powerful people seek to silence the stories the press investigates. And they do it with impunity, with conviction rates for murdering journalists at just 14%. Often, the only way to keep alive our colleagues' reporting is through collaboration. This was seen when teams of journalists came together after the murders of Daphne Caruana Galizia from Malta and Jan Kuciak in Slovakia. The resulting investigations are having lasting impact.
In this GIJN webinar, we bring together five investigative journalists from Mexico, France, India and the United States. They will offer tips and tools on how to continue the work of murdered journalists, with a focus on working collaboratively and across borders. This webinar is inspired by the work of The Cartel Project, which took up the work of Mexican journalist Regina Martinez after she was found beaten and strangled in her home in 2012.
Jorge Carrasco is director of Proceso, the largest political magazine in Mexico, where Martinez worked when she was murdered. Carrasco has worked as a correspondent, political writer, and investigative reporter covering corruption and transnational crime. He has been part of projects coordinated by the International Consortium of Investigative Journalism (ICIJ), including the Panama Papers.
Dana Priest has been a reporter at The Washington Post for 30 years. She has covered the Pentagon, intelligence agencies, Russian disinformation operations, veterans issues, to name a handful. She won two Pulitzer Prizes, for reporting on conditions at the Walter Reed Army Medical Center (2008) and the CIA's secret prisons and other counterterrorism operations (2006).
Sandhya Ravishankar is a political and investigative journalist. Based in Chennai, she is the founder and editor of The Lede, an independent digital journalism start-up that focuses on stories in five South Indian states. She won India's top journalism prize, the Ramnath Goenka Award, in 2018 for her series of exposés on illegal sand mining in Tamil Nadu.
Laurent Richard is a French documentary filmmaker, producer, and founder of Forbidden Stories, a network of investigative journalists devoted to keeping alive the stories of slain journalists. Richard has directed documentaries for 20 years. He was a Knight-Wallace Fellow in 2017 at the University of Michigan and was named European Journalist of the year 2018 by the Prix Europa in Berlin.
Sandrine Rigaud is Forbidden Stories' Editor-in-Chief and is a documentary maker with many directorial titles to her credit. She has directed feature-length documentaries, investigating the corporate sector while working at Première Lignes Télévision, and previously worked as an investigative reporter for the program Cash Investigation, covering a wide range of stories.
The session will be moderated by Marina Walker Guevara, Executive Editor at the Pulitzer Center for Crisis Reporting and formerly Deputy Director at the International Consortium of Investigative Journalists.
Watch our Twitter feed @gijn and newsletter for details on future events.
NOTE: This webinar includes Spanish interpretation.