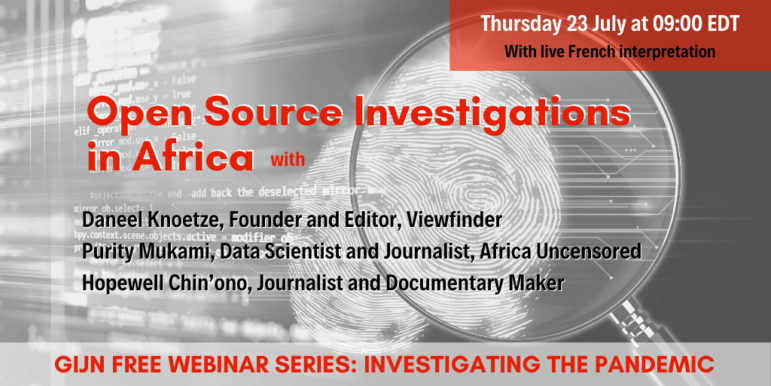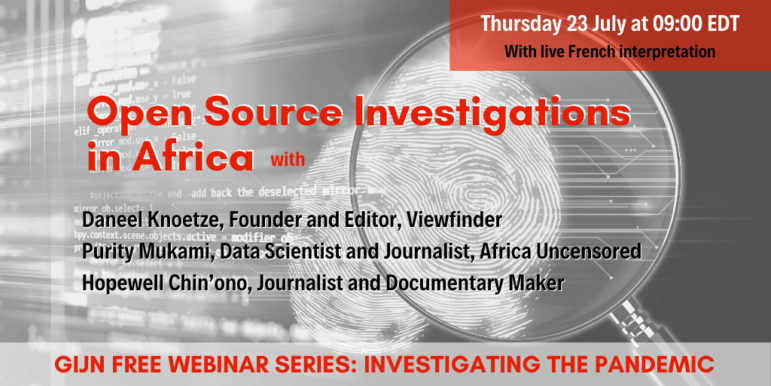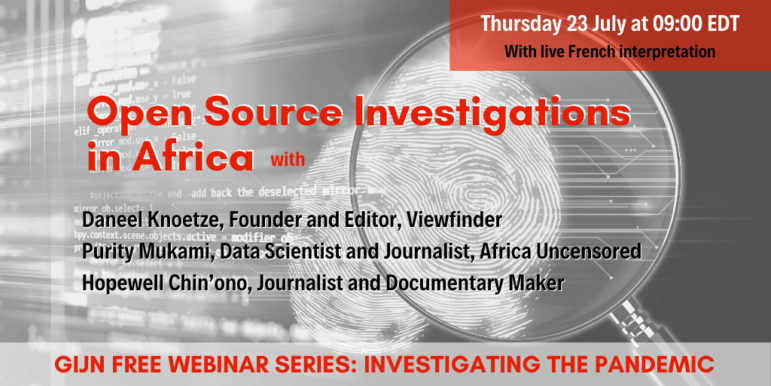 Editor's note: This webinar has now taken place. You can see the recording on GIJN's YouTube channel.
Although internet penetration in Africa is lower than other parts of the world, open-source investigative journalism tools can be accessed by journalists anywhere on the continent. Yet despite easy access, many reporters are still unfamiliar with these tools.
The COVID-19 pandemic is changing that quickly. From Lesotho to Liberia, the pandemic lockdowns imposed by governments have compelled investigative journalists to seek out open-source investigative tools to continue their work. As a result, despite the restrictive environment, a significant number of important investigations have been released.
In this third Africa-focused GIJN webinar, Open Source Investigations in Africa, we bring together three journalists from Zimbabwe, South Africa and Kenya who have used open-source tools during the COVID-19 crisis to produce groundbreaking investigations. They will share tips and insights on the tools they have used, the information they unearthed, how they turned their findings into compelling stories, and the impact that those stories have had.
Daneel Knoetze (@danknoetze) is the founder and editor of Viewfinder, an accountability journalism nonprofit in South Africa. His reporting focuses on police criminality and the failure of police oversight mechanisms in South Africa. He is a graduate of Rhodes University and, in 2017-18, was a Hubert H. Humphrey Fellow in the United States, where he worked with Reveal at the Center for Investigative Reporting in San Francisco.
Purity Mukami (@MukamiPurity) is a data scientist and journalist affiliated with Africa Uncensored, an investigative journalism production house in Kenya. She has also worked with the BBC Africa Eye investigations team. She is an expert on open source investigations, user-generated content and fact-checking techniques. Purity holds a degree in Mathematics and Computer Science and a Master of Science in Applied Statistics. She was part of the team that produced "Sudan's Livestream Massacre," which she presented at the 11th Global Investigative Journalism Conference in Hamburg, Germany.
Hopewell Chin'ono (@daddyhope) is an award-winning investigative journalist and documentary maker, working for media organisations including the New York Times, ITV News, the BBC World Service and South Africa's eNCA. He received his journalism training at the Zimbabwe Institute of Mass Communications, and has a Masters in International Journalism from City University in London, and a Masters in Documentary Film Making from Brunel University in London. He is a Harvard University Nieman Fellow and a University of Oxford African Leadership Fellow. He won the 2008 CNN African Journalist of the year award and was nominated for the Rory Peck Awards among others.
The moderator is Asha Mwilu, a Kenyan investigative journalist and filmmaker. In early July she founded a digital media outlet, Debunk Media, pioneering explanatory journalism for young African audiences. She has worked for the leading broadcasters in Kenya and is known for high impact investigations on security and corruption.
This one-hour webinar is free and designed for journalists interested in investigating the COVID-19 crisis. It's the seventeenth in a GIJN series, Investigating the Pandemic. Watch our Twitter feed @gijn and newsletter for future events.
NOTE: GIJN will offer French interpretation for this webinar.