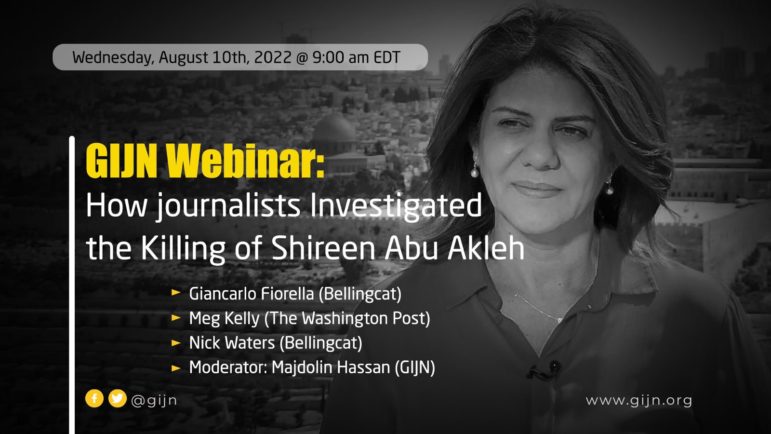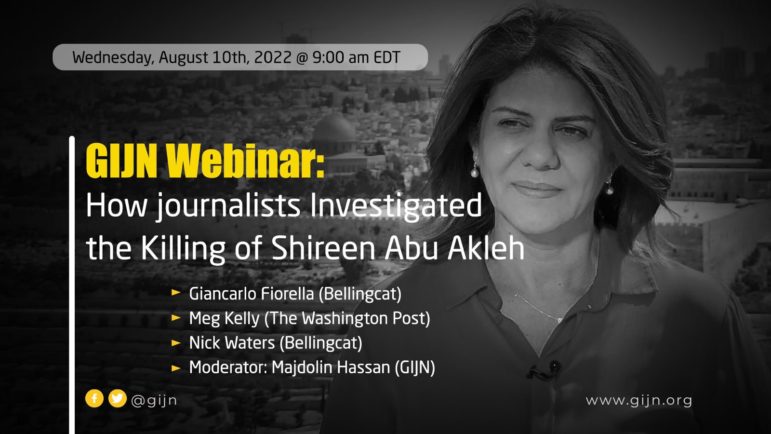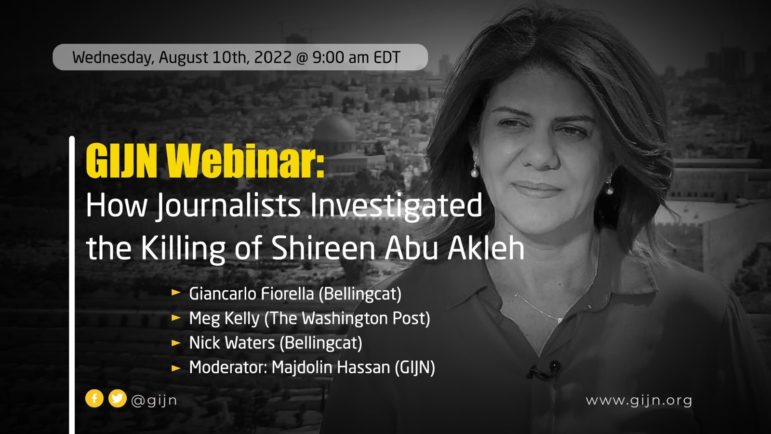 Shireen Abu Akleh, a prominent Palestinian-American journalist working with Al Jazeera, was killed by a gunshot to the head on the morning of May 11, 2022, while reporting from Jenin, a city in the West Bank. Abu Akleh was covering a raid by the Israeli Defense Forces (IDF). 
The controversial killing has drawn global media attention and sparked a number of in-depth inquiries by the news media. Two of the most comprehensive investigations were done by Bellingcat and The Washington Post – and members from both teams will be joining this GIJN webinar. Among the techniques they'll talk about: collecting video and audio, subjecting it to forensic analysis, and taking detailed witness statements. Although neither team can conclude definitively who killed Abu Akleh, they both find that it is likely an Israeli soldier who fired the fatal shot. 
Speakers:
Giancarlo Fiorella is from the Bellingcat team that produced "Unravelling the Killing of Shireen Abu Akleh." He is an investigator and trainer for the Latin American region. 
Nick Waters is also from the Bellingcat team that produced "Unravelling the Killing of Shireen Abu Akleh." He's a former British Army officer and currently an open source data analyst and trainer. He has a special interest in the conflict in Syria, as well as social media, civil society, intelligence, and security. 
Meg Kelly is a video reporter for The Washington Post's Visual Forensics team and one of the team who worked on the investigation "How Shireen Abu Akleh Was Killed." She is also a co-author of the book "Donald Trump and His Assault on Truth: The President's Falsehoods, Misleading Claims and Flat-Out Lies".
Moderator: Majdolin Hassan is an award-winning journalist and GIJN's Arabic Editor.
Watch our Twitter feed @gijn and newsletter for details on future events.
Date: Wednesday 10 August 2022
Time: 9:00 AM EDT – What time is it in my city?
Note: This webinar includes Arabic interpretation.