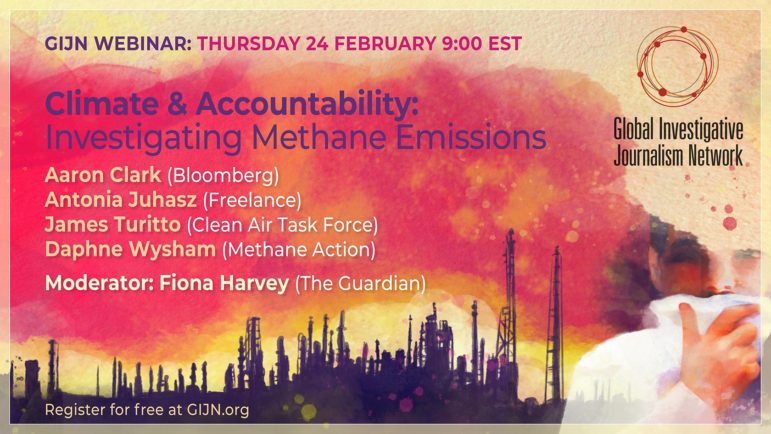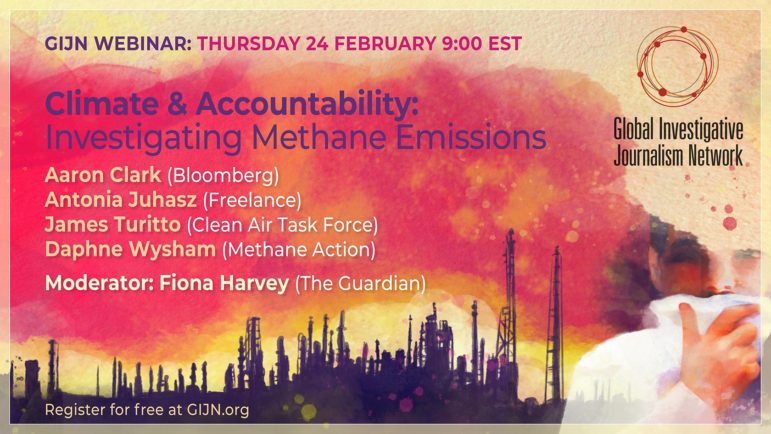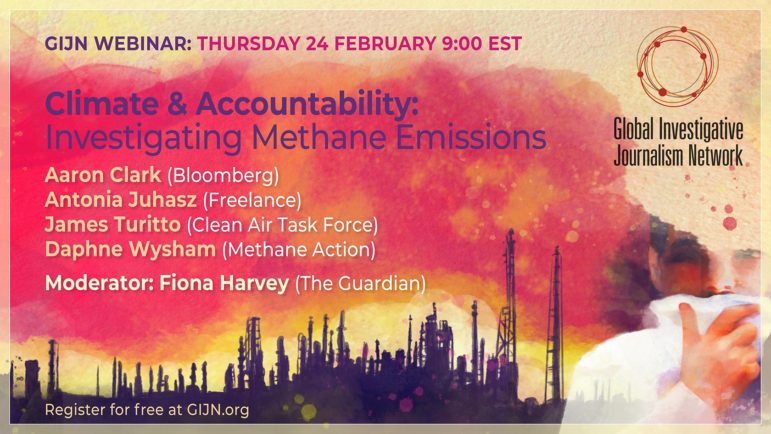 The fastest way to reduce global warming, say climate scientists, is to reduce methane emissions. Studies have found methane responsible for almost a quarter of global warming. Methane is the second most abundant greenhouse gas after carbon dioxide, and 60% of its global emissions are due to human activities, according to the United Nations Environmental Programme. Of those emissions, 40% come from the energy sector (mainly oil and gas, but also coal), 30% from agricultural sources (livestock and some crops), and 30% from waste management sources (landfills and wastewater treatment facilities).
One hundred countries have signed the Global Methane Pledge – commiting to the goal of reducing global methane emissions by at least 30 percent by 2030. Yet many questions remain: about the measurement and reporting of methane emissions and about compliance by both governments and companies.
Watchdog journalists around the world have an important role to play in digging into this urgent issue. An understanding of the science is important but the climate change crisis is fundamentally a political issue – with accountability to the public interest at its heart. One study found that 100 active fossil fuel producers have been responsible for 71% of industrial greenhouse gas emissions since 1988 — so will companies and governments fulfill the promises they have made and the pledges they have signed?
In this GIJN webinar, we bring together two senior reporters and two experts who will offer tools and techniques to identify specific methane emitters, find the data, and look closely at measurement systems. They will also present tips and resources to research what companies and governments are doing to reduce methane emissions.
Aaron Clark has been a reporter at Bloomberg for 13 years and recently joined Bloomberg Green to help expand and deepen emissions coverage. Previously he was energy editor, and also was a technology editor and energy markets reporter there. Prior to joining Bloomberg, Clark worked at the Associated Press as a reporter.
Antonia Juhasz is a New Orleans-based investigative journalist specializing in energy and climate. Her bylines include Rolling Stone, National Geographic, Harper's Magazine, Newsweek, The Atlantic, The Guardian, and The New York Times. She is the author of three books, most recently, Black Tide, on the BP Deepwater Horizon disaster.
James Turitto is a campaign manager and thermographer at Clean Air Task Force which works with media, civil society groups, industry, and government on methane emissions reduction worldwide. Working closely with journalists across Europe, Turitto operates an infra-red camera and has documented 433 methane-emitting sources within Europe's oil and gas network, according to a December 2021 report.
Daphne Wysham is the chief executive officer of Methane Action, a US nonprofit seeking to identify solutions that can rapidly reduce atmospheric methane concentrations to pre-industrial levels. Previously Wysham was a fellow at the Institute for Policy Studies (IPS) in Washington, DC, where she founded and directed its climate justice program. She is also a fellow at the Center for Sustainable Economy (CSE).
The moderator is Fiona Harvey, the environment correspondent at The Guardian who has been reporting on the issue for almost 20 years. She has written extensively on environmental issues, from air pollution and biodiversity to ocean plastic and climate change.
GIJN has just released a major new reporting guide, GIJN's Guide to Investigating Methane — A Key to Fighting Climate Change, aimed at journalists seeking to report on methane.
Watch our Twitter feed @gijn and newsletter for details on future events.
Date: Thursday 24 February 2022
Time:
9:00 AM (Washington, DC, Toronto)
14:00 (London)
15:00 (Berlin, Tunis,, Paris)
16:00 (Cairo, Johannesburg, Amman)
17:00 (Moscow, Kampala, Nairobi, Istanbul)
19:00 (Islamabad)
19:30 (Delhi)
20:00 (Dhaka)
21:00 (Bangkok, Jakarta, Hanoi)
22:00 (Hong Kong, Kuala Lumpur, Manila)
23:00 (Tokyo, Seoul)
01:00 Feb 25 (Sydney)