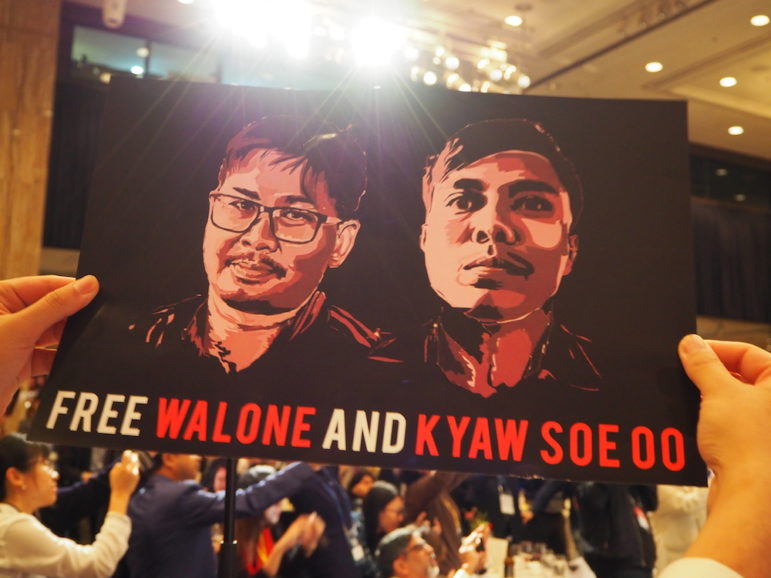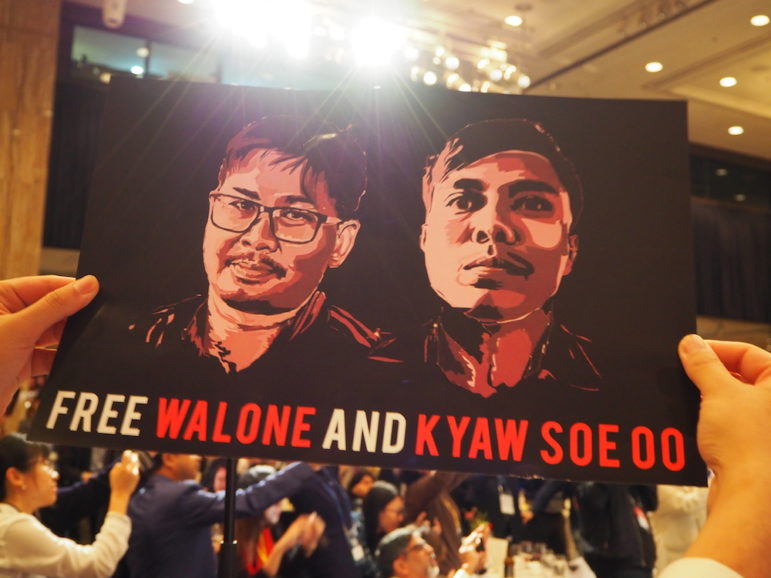 Free Wa Lone and Kyaw Soe Oo: Investigative Journalists in Asia Endorse Call to Free Jailed Reporters
Journalists at the Third Asian Investigative Journalism Conference today strongly endorsed a call for governments worldwide to free imprisoned journalists.
In particular, they urged the government of Myanmar and its civilian leader Aung San Suu Kyi to immediately and unconditionally release two Reuters reporters Wa Lone and Kyaw Soe Oo.
"It's a sad commentary on where the world is that we have far too many panels at this conference devoted to dealing with the harassment, hate and violence directed at journalists," Reuters News chief operating officer Reg Chua told the crowd. "Forty-two journalists have been killed so far this year. And a record 262 imprisoned last year."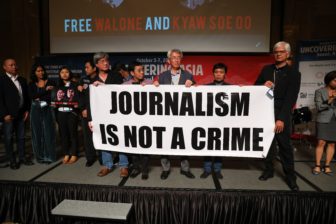 "You surely have heard about two of them — Wa Lone and Kyaw Soe Oo, Reuters journalists in Myanmar. Despite the toll on them personally — Wa Lone has a young baby girl but hasn't met her yet — they have called at every trial hearing and every opportunity for the need for a free press and the need for independent journalism," Chua said.
The two reporters were tried on Official Secrets charges and last month were sentenced to seven years imprisonment for their work investigating the killings of 10 Rohingya men and boys by the military and their accomplices in Rakhine state.
"They stood by us and we need to stand with them — to call for their freedom and the freedom of journalists everywhere who face a similar plight," Chua said to enthusiastic applause from the attendees. The 400-strong crowd stood in solidarity in support of the statement below:
Given the increased and alarming levels of harassment, persecution, violence and imprisonment directed at investigative journalists and their colleagues worldwide;

Given the widespread impunity among those who employ these measures;

And given the importance of investigative journalism in exposing corruption, unmasking organized crime, revealing abuse of power; and its value in holding power to account, strengthening civil society and supporting democracy;

Be it resolved that the attendees of the Third Asian Investigative Journalism Conference, representing over 40 countries, demand that governments, multilateral agencies and authorities worldwide commit to protecting the press, freeing those held arbitrarily, and ending impunity for those who attack journalists;

Be it further resolved that we call upon the government of Myanmar and Daw Aung San Suu Kyi to immediately and unconditionally release Wa Lone and Kyaw Soe Oo, both unjustly convicted and jailed, simply for doing their crime of exemplary reporting on a matter of great public interest.
As the statement was read, attendees held portraits of the two imprisoned journalists while supporters carried a banner reading "Journalism Is Not a Crime."