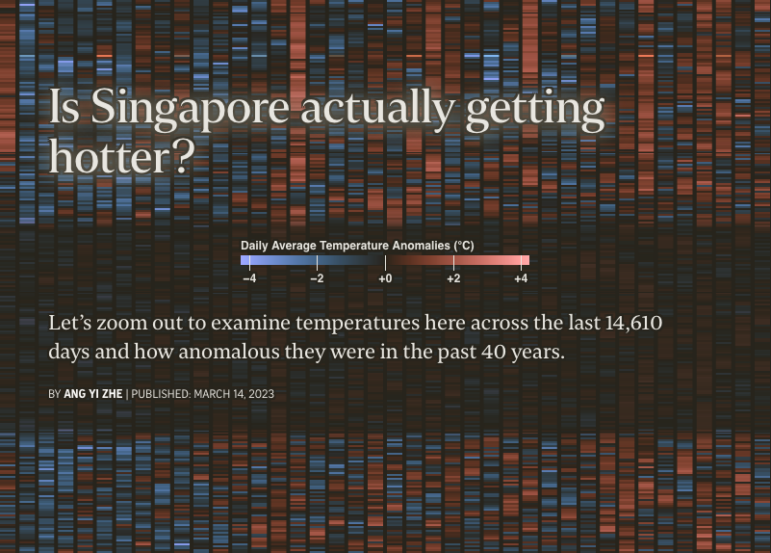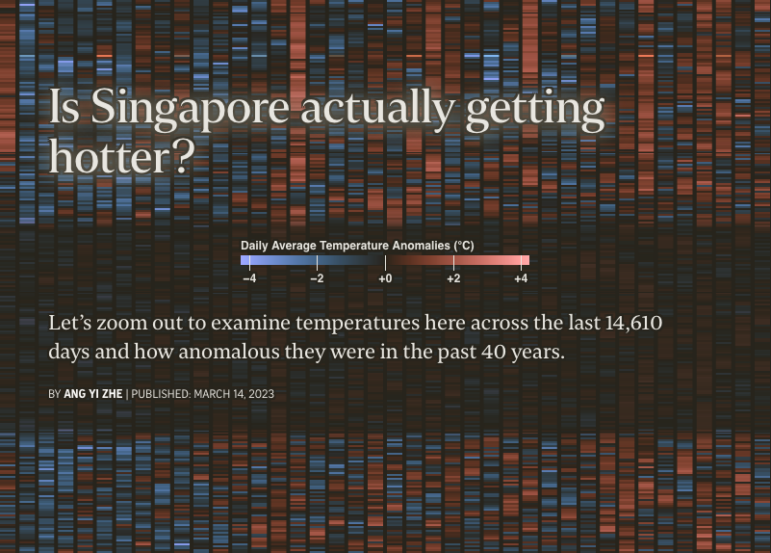 Image: Screenshot, Straits Times
Data Journalism Top 10: Climate Crises, Tech Layoffs, Border Fences, and Banned Books
The link between Ebola outbreaks and deforestation; the stark impact of global warming on everything from crop yields to species loss; and the undeniable increase in the number of hot nights in Singapore. This week, we look at some strong data journalism exploring various — and urgent — environmental issues. Our weekly NodeXL and human curation of the most popular data journalism stories on Twitter also looks into tech layoffs, border fences in Europe, the Sigma awards for the best in data journalism, and banned books.
Deforestation: Driver of the Next Pandemic?
The next pandemic could emerge from the edge of a forest. Scientists have linked Ebola outbreaks, such as the 2013-2016 epidemic, to specific patterns of deforestation. Patchy clearings, where trees have been chopped down for farming or to burn for charcoal, create large "mixing" zones where humans and wild animals are more likely to come into contact. A team at ProPublica used academic research and satellite imagery of tree loss, plus maps, charts, and a player simulator, to show how the sites of five previous Ebola outbreaks have a higher chance of seeing another outbreak than other places. The risk is particularly high in Guinea — the origin of the 2013 epidemic. Read ProPublica data reporter Irena Hwang's Twitter thread for the methodology and behind-the-scenes insights into this story.
Non-Negotiable Climate Target
A Financial Times longread explored whether the goal of limiting the rise of global average temperatures to 1.5°C above pre-industrial levels — a key target of the 2015 Paris Agreement signed by 195 countries — is realistic. The aim of the agreement was to limit the rise to well under 2°C, and ideally 1.5°C. Graphics produced for this article illustrate the difference this half-degree will make to various global warming impacts. Achieving the more ambitious target will have huge implications for crop yields, species loss, extreme heat, and coral reef decline — as well as our health. But is it still feasible?
How Much Hotter Is Singapore?
The visual department of the Singapore-based Straits Times dug into 40 years of temperature trends, and created a striking graphic showing 14,610 days of recorded temperatures to illustrate that the tiny nation is definitely getting hotter — particularly at night. Long-term temperature data such as this, the team explained, yields more reliable observations about overall trends and anomalous patterns or seasons. The average temperature for the past decade, for instance, rose to a record high of 28°C (82.4°F) — and the number of warmer-than-usual nights is increasing.
Sigma Award Winners
The Sigma Awards celebrate the best data journalism from around the world, and the list of 2023's winners is now out — whittled down from 638 entries across 80 countries. Among this year's winners: AP and PBS Frontline's documenting of war crimes in Ukraine and Game of Votes, a creative, gamified project from Colombian outlet Cuestión Pública, built to help people decide how to vote in 2022 elections in that country. Winners are awarded US$5,000 and a trip to the International Journalism Festival in Perugia, Italy.
Tech's 'Very Bad Year'
After a turbulent few months in the tech sector, nonprofit outlet Rest of World explored how a downturn has impacted both startups and multinational giants around the globe. The "frothy optimism of the last decade," the reporters write, has given way to concerns about the impact of geopolitical conflict, inflation, and rising interest rates, all impacting investment. One figure shows 280,000 tech workers — from California's Silicon Valley to India's Bengaluru — have lost their jobs since the start of 2022. The story charts the reduction in venture funding by region, how the biggest investors are now being more cautious, and layoffs by country, with the US the worst hit, suffering roughly 200,000 lost jobs.
'Barbed Wire Curtain'
History hasn't shown border walls or fences to be a huge success: think of the wall that divided East and West Berlin, those built to separate parts of Belfast, or in more recent times, former US President Donald Trump's much-criticized campaign to fortify the US-Mexico border. But in Europe, a number of countries have been quietly reinforcing their borders, essentially building a "barbed wire curtain" with Europe on one side, Russia and Belarus on the other. This Washington Post story visualized the length of Europe's eastern border with Russia and details how Finland — which shares the largest land border with Russia of any European Union country — has joined its neighbors in building a fence.
Banned Books in Prison
Last year, The Marshall Project, a US nonprofit newsroom focused on criminal justice issues, published a searchable database of books banned in 18 state prison systems across the country. Last week, it updated the list to include summaries and a searchable database of prison banned book policies in every state. Some conclusions so far: The process to appeal a book rejection is long and arduous; 24 states restrict who can send books to prisons; and some systems don't track their own banned books, so decisions are made case-by-case. You can download the policies and banned book lists.
Spain's Renewable Energy Boom
In northern Spain, officials have decommissioned an old coal-fired power station, while a European veto on subsidies makes the region's coal mines impractical to operate. In their place? The local authority has given the green light for a solar farm big enough to provide power to 180,000 homes. Journalists at El Pais call this part of "an unprecedented explosion" in renewable energy that includes more than 1,400 planned projects. To document this growth, they mapped the country's biggest existing solar and wind projects, and where new facilities are expected. El Pais also made its database available.
Mapping Same Name Places in US
Data viz experts from The Pudding are here to clear up confusion around same place names– at least in the US. They've created an interactive that explores which city people are probably referring to when they talk about geographic places with the same name. Their project — which they admit is a "very opinionated take on answering this question" — shows how pretty much everyone in the US will think of New York when you say that name, except a very small number living in — or very near to — New York, Texas. And Houston? To those who live nearby, it's more likely to mean Houston, Ohio or Houston, Pennsylvania, than its Texas counterpart. Here's their interactive explainer showing how they did it.
Save On Streaming Subscriptions
Spending too much on streaming subscriptions? Axios's Rahul Mukherjee confesses this is also his story: like most "TV junkies," he says he has a number of services he needs to cut down. So he and his colleagues built a "streaming optimizer" tool to show how to save money while still being able to watch your favorite shows. How does it work? You tell the tool what shows you want to watch, and it figures out the rest, telling you which subscriptions are most cost-effective given your tastes, and which months you should subscribe for.
Bonus: Behind the Kowloon Walled City Infographic
It was 10 years ago that Adolfo Arranz, then the creative director of the South China Morning Post, published his celebrated City of Anarchy infographic. It revealed the intricacies of life in the Kowloon Walled City — a settlement in Hong Kong that was once the most densely populated place in the world, known for its opium dens and the ruthless gangsters that ruled the tower blocks. Arranz's original idea came from a trip to a park built on the site of the settlement. A Twitter thread features details on his early inspiration, a behind-the-scenes look at how he drew it, and how his project about the walled city, which was demolished in 1994, won a Malofiej medal — the "Pulitzers for infographics."
Thanks again to Marc Smith and Harald Meier of Connected Action for gathering the links and graphing them. GIJN's Data Journalism Top 10 list is curated weekly.

---
Laura Dixon is an associate editor at GIJN and a freelance journalist from the UK. She has reported from Colombia, the US, and Mexico, and her work has been published by The Times, The Washington Post, and The Atlantic. She has received fellowships from the IWMF and the Pulitzer Center.

Alexa van Sickle is an associate editor at GIJN. She was previously a senior editor for the foreign correspondence magazine Roads and Kingdoms. She has also been an editor at the International Institute for Strategic Studies and a publisher at an international law non-profit in London. She lives in Vienna, Austria.
For a look at NodeXL's mapping on #ddj and data journalism on Twitter, check out this map.