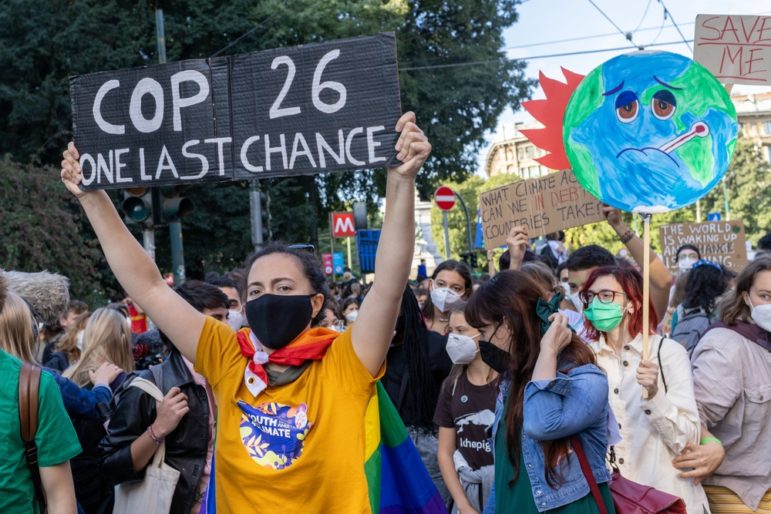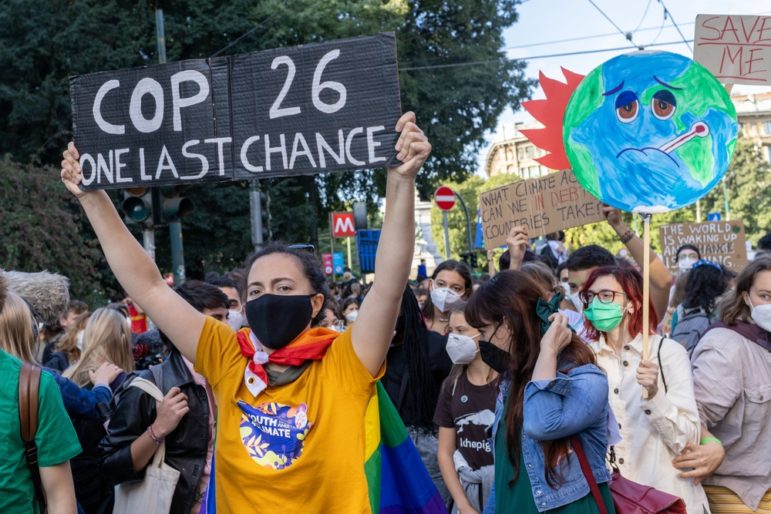 Image: Shutterstock, Mauro Ujetto
Challenges in Climate Change Coverage Remain: Report from COP26
Read this article in
As the world's climate change conference comes to a close in Glasgow, Scotland, five renowned journalists sized up the state of environmental reporting.
"Climate change will be the biggest story of this century. A hundred years from now, people will ask, 'What did you do to cover this issue?'" James Fahn said during a panel at the 12th Global Investigative Journalism Conference (#GIJC21). Fahn, who is executive director of Internews' Earth Journalism Network — a global community of over 7,000 reporters who cover environmental topics — moderated the session of EJN fellows, who dug into the unique challenges of covering what is increasingly seen as an existential threat to the world.
Broadcast live at the 26th Conference of the Parties (COP26), also known as the United Nations Climate Change Conference, the panel — drawn from five countries — shared their insights on key environmental stories for investigative journalists, including those still not getting enough attention.
There were mixed feelings towards the most important climate summit since 2015's COP21 in Paris. "These negotiations are three steps forward, two-and-a-half steps back," said veteran environmental journalist Joydeep Gupta, South Asia director of the Third Pole Project. "We definitely need to do more, much more… Negotiations have always been bedeviled by various very short-term interests which are essentially reflected by various national governments."
The GIJC21 session took place a little after the world leaders left Glasgow, leaving lower-level officials and bureaucrats to hammer out deals on which the future of the planet rests. "This is my sixth COP and from what we have seen there is definitely room for optimism," said Fermín Koop, an Argentinian environmental journalist who is Latin American editor for Diálogo Chino (China Dialogue). "I think we've seen a fair number of announcements during the week covering coal, fossil fuels, deforestation, then we have to see if the governments actually deliver, and that's going to be the challenge after COP."
During the GIJC21 panel, Zambia-based Mildred Mulenga, senior correspondent of the Pan African News Agency, touched on the sensitive issue of inequality among the parties. "The Africa negotiating group wants to see commitments to finance different projects for adaptation and mitigation in Africa, because they are saying that the continent only contributes 4% of global total greenhouse gases, the lowest of any region," she noted. "But they are saying that the social and economic development of the continent is threatened by the climate crisis."
One of COP26's most contentious topics involved transitioning away from heavily polluting fossil fuels like coal. "Major coal-using countries, including Poland, Vietnam, and Chile, are amongst those that made some commitments," noted Imelda Abano, founder of the Philippine Network of Environmental Journalists (PNEJ).
"The sad thing is that some of the world's biggest coal-dependent countries, including China and the United States did not sign up on this," she said, though she added that the US did pledge to end public financing for "unabated" coal projects by the end of 2022. Unabated coal projects do not use any technology to capture emitted carbon for storage or conversion to other substances. In September, China announced it would no longer fund overseas coal power plants.
Indigenous peoples, which studies have shown to be the best stewards of rainforests and other natural habitats, secured a $1.7 billion pledge from governments and private funders, in recognition of their role as protectors of the planet's lands and forests. "Every year at COP, Indigenous people take a leading role, they hold a key responsibility, and they have a lot of power in terms of what they can do to tackle the climate crisis," said Koop.
However, Indigenous communities are being targeted by environmental criminals, such as illegal loggers and miners. Half of the 30 lethal attacks in Mexico last year related to climate issues were against Indigenous communities. "Latin America is the most affected region in terms of violence against environmental defenders and Indigenous leaders," Koop added.
Violence against environmental activists, in general, is on the rise. During 2020, 65 "land and environmental defenders" were killed in Colombia, almost a third of the 227 recorded killings of defenders around the world, according to Global Witness, a London-based investigative NGO. This figure was even higher than the 212 killed in 2019, the previous annual record. Global Witness said 70% of the environmental activists killed around the world in 2020 were resisting deforestation and industrial development.
James Fahn reminded journalists that EJN offers fellowships and grants for investigative environmental reporting, while other panelists highlighted a wide range of underreported stories related to climate change, including:
How transparent will climate change funding be and who will receive this money? Not all funding has the same level of transparency. So, this is a promising area where data journalists can weigh in, analyzing and building stories around following the money.
How will coastal cities and communities adapt to climate change? For instance, how will they adapt to sea-level rises? Are governments going to promote enormous concrete sea walls that generate coastal erosion, or more environmentally friendly options, like protective mangrove forests?
What are the effects of the intrusion of seawater on people's health? As salinity increases beyond coastal areas with the increased presence of seawater, drinking and irrigation water might be causing higher levels of sodium in human and animal organisms.
Which hyper-local climate change stories could be told? Climate change will impact everyone on the planet, and very local stories that focus on the human face of this phenomenon can be compelling.
Are there negative environmental or social impacts from policies that are presented as solutions to climate change? For example, if there is a problem with a renewable energy project, journalists must investigate that as well.
Notwithstanding the challenges and shortcomings of COP26 and environmental protection, Fahn stressed the importance of journalism in highlighting this critical issue. "Your investigations have a real impact," he emphasized. "They really do help people, and especially in the face of this monumental challenge of climate change."