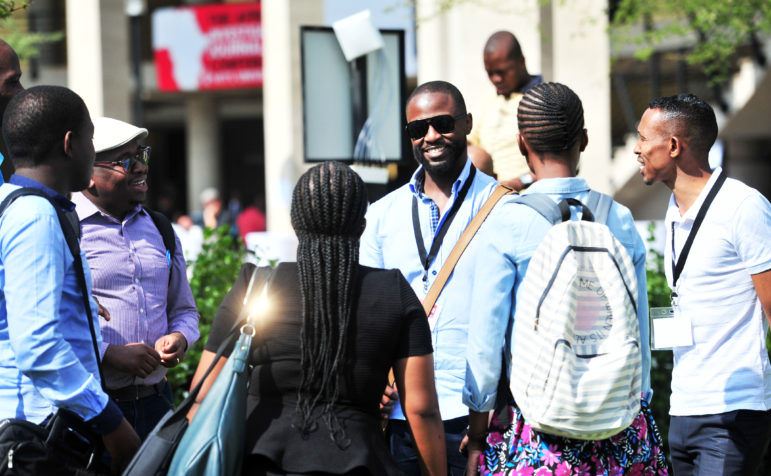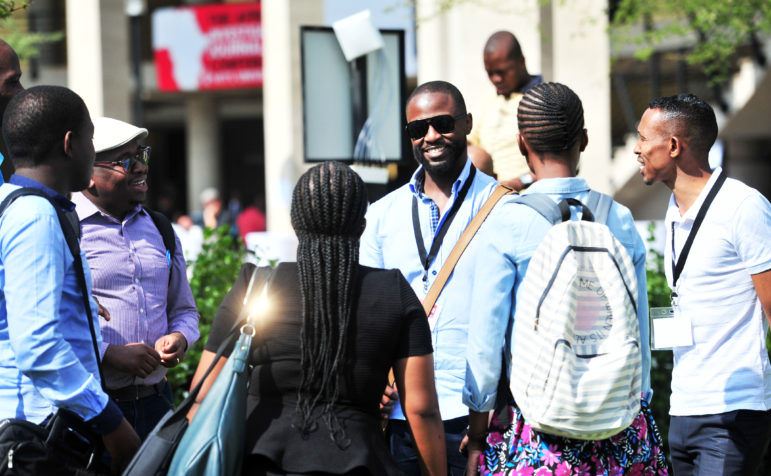 Cross-border enthusiasm: The 2016 AIJC drew 250 people from 28 countries. Photo: Leon Sadiki
This year's African Investigative Journalism Conference, boasting about 250 attendees from 28 countries, concluded an enthusiastic three days of workshops and presentations on Wednesday in Johannesburg, South Africa.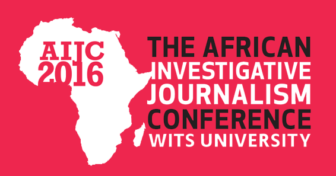 Now in its eleventh year, the AIJC is the largest gathering of investigative journalists in Africa. The conference, previously called Power Reporting, has adopted the new name to reflect the host of countries it aims to represent and serve.
Anton Harber, adjunct professor at the host Journalism Programme at the University of Witwatersrand (Wits), who was instrumental in founding the conference, said the event has impact beyond just reporting: "We felt that this could be our contribution to build up our democracy by encouraging probing, passionate investigative journalism."
Candy Store for Journalists
Enthusiasm was high among the 250 participants. With 70 sessions, the conference was, as one attendee put it, "a candy store for journalists."
Laura Ranca, a program officer at the Open Society Foundations, an AIJC donor, noted a unique energy and desire for knowledge among the participants. "It inspired collaboration and thirst for new stories, new investigative techniques, and more courage to uncover massive wrongdoings across Africa," she said.
The AIJC aims to fill a gap in African journalism, helping to arm journalists with the best investigative tools as they operate in an increasingly digital sphere, while also helping to set standards for the profession.
Khadija Sharife, Africa coordinator for the Organized Crime and Corruption Reporting Project (OCCRP), stressed the importance of bringing enterprising journalists from across Africa to one place. "Africa isn't a country," she said. "It's a broad continent where many countries are frequently left off the 'networking' map. The AIJC allows for people to spark off each other, listen and learn from one another, and in so doing, lay the groundwork for future collaborations."
Elles van Gelder, who put together the conference program, was most struck by the diversity of work presented. "We had stories from journalists covering terrorism in Africa, journalists who are trying to dig deep into the poaching of rhino horn in Namibia, and a journalist who looked into the trade of conflict diamonds in Cameroon," she said.
Other sessions featured financial investigations, a popular topic. "We all know that when you follow the money you undercover great stories," Van Gelder added.
The sessions generated a dozen tips sheets, from data journalism basics to social media search tools.
As at other conferences, data journalism workshops were popular. Indeed, for Zimbabwean journalist Byron Mutingwende, they were the highlight of the conference. "The art of analyzing data equips journalists with investigative skills," he said.
Also on the program: tips on legally "bulletproofing" your stories, the ABC's of putting together a hard-hitting investigation, cyber-security, and practical lessons on how to protect yourself when covering demonstrations and riots. Among the presenters were veteran journalists from The New York Times, the International Consortium of Investigative Journalism (ICIJ), South Africa's amaBhungane and Sunday Times, The Namibian, Africa Check, Nigeria's The Cable, Botswana's INK Centre, Kenya's Africa Uncensored, Senegal's Ouestaf News, and the Global Investigative Journalism Network.
Journalist under Threat
The AIJC features the Carlos Cardoso Memorial Lecture, an annual university event in memory of slain Mozambican investigative journalist Carlos Cardoso. This year it was presented by exiled Burundian journalist Bob Rugurika of Radio Publique Africaine.
Rugurika's talk was a highlight of the conference but almost did not happen when the Burundian government issued a warrant for his arrest and extradition. All was resolved swiftly, however, as South Africa does not have an extradition treaty with Burundi and was therefore not compelled to hand him over.
Rugurika detailed the dangers of working in Burundi, saying that more than a 100 journalists have been exiled and more than 2000 people killed in the recent conflict. The news media, he said was under particular threat. He spoke of how Radio Publique Africaine is circumventing a government crackdown on the media by broadcasting via shortwave.
"I am convinced that if journalists do their job well, we can make world better," he said.
"Global Conference, African Flavor"
Next year, the AIJC will be integrated with the 10th Global Investigative Journalism Conference, the first time the international gathering will be held in Africa. Co-hosts Wits University Journalism and the Global Investigative Journalism Network will be bringing in journalists from across the globe from November 16-19, 2017.
"It is very important to bring the GIJC to Africa," said Wits Journalism's Harber. Having the global conference in the region, he explained, will help encourage investigative journalism in places where it is most needed, highlight and encourage the work being done in Africa, and to take it to a global stage.
The #GIJC17 team is already at work planning what should be a seminal event. Says Harber: "Delegates attending the GIJC can look forward to a global conference with an African flavor."
---
To find out more about sessions and training that took place at the African Investigative Journalism Conference, go to @AIJC_Conference, @gijnAfrica, and GIJNAfrica's Facebook page. Conference tip sheets are available here.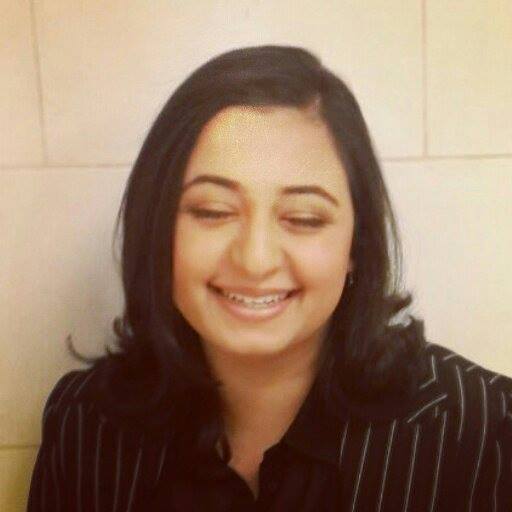 Safeeyah Kharsany is GIJN's Africa Editor, based in Johannesburg. She (@safeeyah) has worked in Qatar at Al Jazeera English, in Italy at United Colors of Benetton's Colors magazine, and in South Africa at Media24. At Al Jazeera she co-headed a project to create a platform for African coverage and worked as an online producer for the AJE English website.